Just days after he graduated from La Vega High School, young Dave Campbell's career path began to take shape.
The 17-year-old kid had just taken a job as a copyboy at the Waco Tribune-Herald . It seemed like all the excitement in the world sprung from that newsroom on South Sixth Street in 1942.
The United States had plunged into World War II when the Japanese bombed Pearl Harbor in December 1941. Major news from the European and Pacific fronts seemed to pop across the Associated Press teletype machine hourly.
"If something big happened, five bells would ring on the machine," Campbell said. "If it was something really big, seven bells would ring. It was just great fun to work at a newspaper back then."
When he returned from a three-year tour of duty with the U.S. Army in Europe, Campbell began fashioning a newspaper career. It led to 40 years as sports editor of the Tribune-Herald , and editor and publisher of Texas Football magazine.
Now 86, Campbell is still one of the most respected sports journalists in the country as Texas Football magazine enters its 52nd year of publication.
"Dave revolutionized the media aspect of football in the state," said former Baylor coach Grant Teaff, who is executive director of the American Football Coaches Association. "He's had a profound impact on the growth and improvement of high school football because he brought it to everybody's attention. People still can't wait to see Texas Football because they want to see where they rank."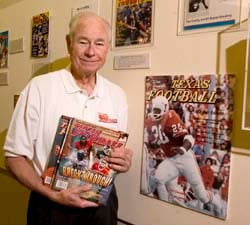 Though Campbell sold the magazine in 1985, his name still is on the cover, and the content maintains the same high standards that it started with in 1960. He continues to be editor-in-chief of the magazine and leads off every summer issue with a column that is always insightful and timely.
Making the cover of the magazine is a lofty accomplishment in a football crazy state like Texas.
"One time Dave put me on the cover and that was a significant thing," said former Texas A&M coach R.C. Slocum. "I felt like I had really arrived. When I got to meet Dave it was a real honor, and I felt he was one of the nicest and classiest men that I'd ever met. If he called me at 4 in the morning, I'd be happy to get the phone call because I think the world of him."
Campbell has been honored in many ways during his illustrious career, including induction into the Texas Sports Hall of Fame and as a Baylor distinguished alumnus. He's also served as president of the Football Writers Association of America and Southwest sectional representative for the Heisman Trophy voting committee.
But he's always been like an unassuming next-door neighbor who has never sought praise for his many accomplishments.
Born in 1925, Campbell was the son of a mechanic who contacted double pneumonia and was later forced to have both legs amputated. When Campbell was 7, his world was shaken when his father suffered a ruptured artery and died on Christmas Eve.
Campbell's mother moved Dave and his younger sister, Jo, to a small farm outside Bellmead. By his junior high years, he was beginning to develop an interest in Baylor football.
"I saw my first Baylor game in 1937 when the Bears upset Arkansas at old Muni Stadium," Campbell said. "I was a Boy Scout and an usher at the game. I'd find a vacant seat and watch the game for free. Baylor had Billy Patterson at quarterback and later that season beat TCU, which had Davey O'Brien. After that, Waco was all ablaze about football."
After starting college at Baylor in 1942, Campbell got some experience in the Tribune-Herald sports department as his older newspaper colleagues were drafted into the military. Campbell got his call in 1943 and served in the 14th Armored Division, which fought in France and Germany.
He still remembers New Year's Eve 1944 like it was yesterday.
"We were a little south of the Battle of the Bulge, and the Germans attacked us," Campbell said. "It was a very scary New Year's Eve with shells raining down. We were going to have a big New Year's Day meal, but shells blew glass all over the food, and we didn't get our meal."
The 14th Armored Division pushed across the Rhine River into Germany, and Campbell was among the soldiers who received the Bronze Star, which honors heroic or meritorious service. After Germany surrendered, Campbell expected to be sent to the Pacific, but those plans changed after the United States dropped the atomic bomb on Japan, leading them to end the war.
Back in Waco in 1946, Campbell arrived in time for a glorious era of Baylor athletics. The men's basketball team reached the Final Four in 1948 , and the football team began to thrive under coach Bob Woodruff and All-America quarterback Adrian Burk.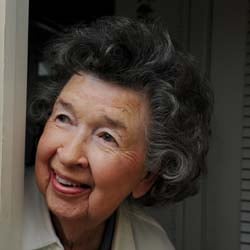 Campbell continued to work at the newspaper and received his degree from Baylor in 1950. He married his college sweetheart, Reba, in 1949, and they celebrated their 61st anniversary in December.
When Tribune-Herald sports editor Jinx Tucker died in 1953, Campbell took his place and stayed there 40 years. One of his earliest assignments was covering the 1954 Southwest Conference press tour. It made a stop in Junction, Texas, where first-year Texas A&M coach Bear Bryant was holding a preseason football camp.
"It was an unforgettable sight," Campbell said. "The field was full of gravel and cockle-burrs, and it was so hot that you couldn't stand it. By the time we got there, Bryant had run off half the team. The coaches usually give you a 3-deep roster, but Bryant only had 29 players."
During the late 1950s, Campbell looked through some national preseason football magazines and noticed that they didn't devote enough space to SWC teams. One magazine left out Baylor entirely.
Campbell came up with the idea of a magazine focusing on colleges and high schools throughout the state. Texas Football was born, and Texas Longhorns back Jack Collins was on the first cover in 1960.
"We gave six full pages to each SWC team," Campbell said. "We had a feature on its most interesting player, and a column on the best sophomore (freshmen weren't eligible for varsity sports in that era). We also ran predictions on the high schools and had stories on Friday night heroes. There was really nothing like it when we started."
About 10 days after Texas Football hit the market, Campbell started getting telegrams from stores across the state that needed more magazines. After originally printing 60,000 copies, Campbell printed 20,000 more.
"What we really needed to do was redistribute the magazines," Campbell said. "We ended up throwing away most of the 20,000 extra copies, and those would be priceless now. I ended up eating $5,000, which was a lot of money on a newspaper salary."
With some of the best writers in the state, Texas Football continued to grow in popularity every year. Tribune-Herald colleague Hollis Biddle assisted with the layout and content of the magazine in Waco.
Although the SWC section was always popular, players and coaches across the state highly anticipated the thorough high school section that provided detailed information on schools across the state.
"In those days, if you lived in southeast Texas, you didn't know a lot about the rest of the state," said Slocum, who grew up in Orange. "With Dave's magazine, you could read about schools in Corpus Christi, Amarillo and Wichita Falls, and there were pictures of the players. It made the state relevant to all of us."
Texas Football became so popular that Campbell began producing an Arkansas Football magazine. He later designed magazines devoted to the Dallas Cowboys, Houston Oilers and even the New Orleans Saints for a brief period.
Over the years, talented Texas writers such as Dan Jenkins, Jack Gallagher, Steve Perkins and Kevin Sherrington have written for the magazine.
"There are probably over 400 people who have contributed to the magazine as writers and photographers," said former Texas Football managing editor David Barron. "I think most people who worked for Texas Football wanted to do it because Dave's name is on the cover. That always inspired me to do my best on the magazine."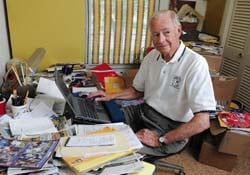 Campbell sold Texas Football to Host Communications in 1985, and the magazine continues to thrive under current publisher IMG College.
"I knew I wasn't getting any younger, and I was still enjoying my job as sports editor of the Tribune-Herald ," Campbell said. "I'm so pleased with the way the current people are running the magazine, and how they've kept it up and augmented it."
As sports editor of the Tribune-Herald , Campbell saw countless memorable football games, such as the 1969 Texas-Arkansas contest that was dubbed the Game of the Century. The No. 1 Longhorns rallied to beat the No. 2 Razorbacks, 15-14, in Fayetteville and went on to win the national championship.
"A lot of people think that was the greatest game ever," Campbell said. "President (Richard) Nixon and the Secret Service were there, and Texas had to win with a great comeback."
Baylor's 1974 "Miracle on the Brazos" win over Texas was another highlight for Campbell after seeing the Bears struggle for so long. Other unforgettable games were the Longhorns' 7-0 win over Baylor in Austin that paved the way to the 1963 national title, and Texas A&M's riveting 31-30 comeback win over the Bears in 1986 in College Station.
From earlier in his career, Texas A&M's 7-6 win over TCU in 1956 at Kyle Field still stands out in Campbell's memory.
"It was called the Hurricane Game," Campbell said. "The wind was blowing so hard that the light standards at Kyle Field were bending back and forth. The game should have been stopped."
After retiring from the Tribune-Herald in 1993, Campbell served as editor of the Baylor Bear Foundation's Insider for 15 years until 2008. He continues to attend Baylor home football games and was glad to see the Bears break a 16-year bowl drought with an appearance in the Texas Bowl.
Campbell has enjoyed attending Lady Bears basketball games in recent years with Reba, and likes to spend time with daughters Julie Carlson and Becky Roche and his three grandchildren.
Through the years, Campbell always gained great respect for the integrity he brought to his writing. Whenever another school was trying to lure Teaff from Baylor, the coach always consulted with Campbell because he thought so much of his judgment.
"Dave was one of my real confidants in any decision I had to make on whether to stay or go," Teaff said. "I knew he'd always be very honest with me. He's not just a great writer, he's a tremendous friend."