Editor's note: Betty and Bob Gianella of Waco have made humorous Christmas cards for 30 years. Both say this 30th edition of the cards will be their last as they've gotten older and making them has proved more difficult. They have mailed out about 300 cards each year to family and friends as the cards became more and more popular and requested. Betty shares their card story here along with a glimpse of their cards through the years.
It all began at Lake Louise in Banff National Park, Canada. Bob, my husband, and I had been attending the '88 Winter Olympics in Calgary, Canada.
A side trip found us in a horse-drawn carriage slight in a snow-covered wonderland. I was enchanted with the stunning beauty – all I could think of was to get a photo to capture this magnificent site! And, of course, I wanted us to be in that picture so that we could relive the memory of it.
That photo of us by the horse-drawn sleigh carriage on frozen Lake Louise became our first Christmas card.
The response from our friends was mundane: "Where was that taken?"
I was disappointed. I loved the card. Why didn't they? Objectivity, here I come.
It really looked like a travel ad. The background was pretty – there are millions of pretty backgrounds on this planet. There are millions of Christmas cards with pretty backgrounds with people staring mindlessly into the camera with fake smiles.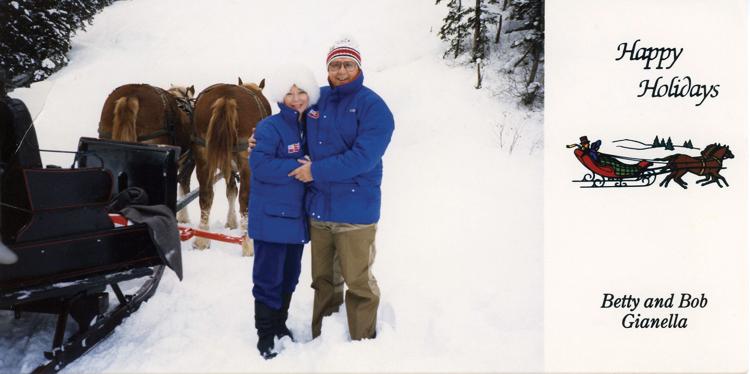 What makes a good card? Interest, action, or words that tell a good story and humor. I had an epiphany! My card was boring. I needed to make a paradigm change.
That was the beginning of my designing a card that is unique, personal, humorous and based on a Bible verse. This is to be a Christmas card. I decided my cards are to be my ministry.
Jacqueline Frahm had just returned from Europe. She received our Christmas card. Jackie loved it she had seen the original "Stairway to Heaven" in Europe. It is a mosaic-tiled staircase with a colorful nature theme. It was made by artists of note.
Jackie made 100 copies of our card with the angels prancing on the "Stairway to Heaven" and mailed them to her friends and family in Europe. I was thrilled! Imitation is the sincerest form of flattery.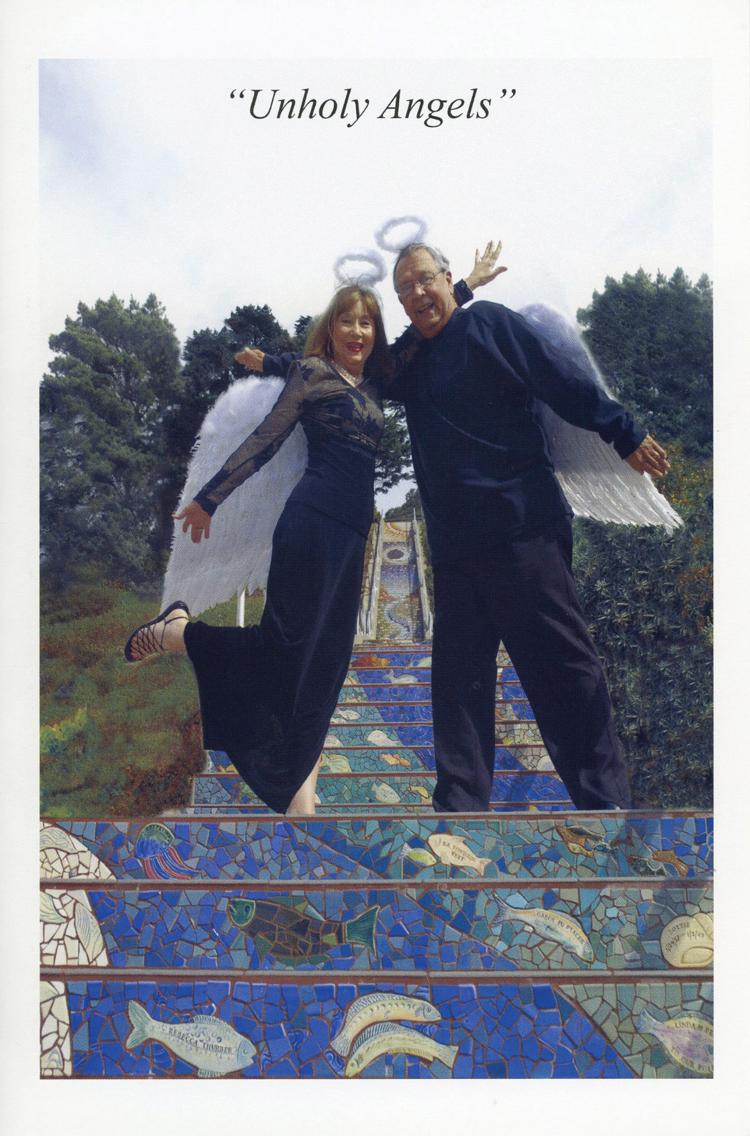 This card, which I named "Unholy Angels," is my favorite of the cards. Bob's favorite is the pink tutus. We are dressed like ballet dancers and I am trying to teach Bob to dance ballet. This card has been the most popular of all.
"The Stairway to Heaven" is located in downtown San Francisco. I had to convince Bob that we had to dress up as angels for our story. Reluctantly, he acquiesced.
We climbed up the staircase. Then we started to dance down the staircase. As we were dancing, Gabrielle was shooting the photos. By now, a small crowd was gathering. Bob told them that the photo was for People magazine. They clapped and told us to have a nice trip. What a fun time we had.
Dr. Patricia Prewitt wrote, "When are you two leaving for Hollywood? I'm sure you get offers daily."
The Rev. Aaron Zimmerman said, "I love the cards. I think my favorite is 'The Bishop and the Nun.' "
Special Treat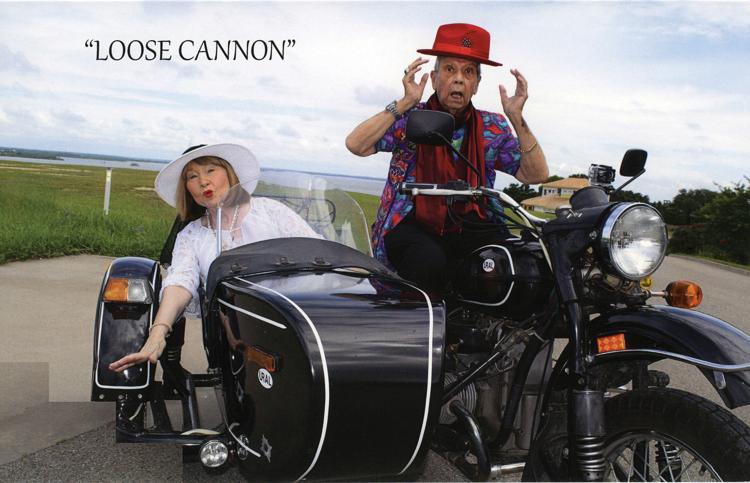 Last year I happened to be reading the Austin American-Statesman newspaper and Nancy Flores wrote an article about dads celebrating a Father's Day in their favorite chair. She asked readers to send in photos of their dad in his favorite chair.
Gabrielle, our daughter, had just done a photo shoot of Bob and me on the motorcycle sidecar for our Christmas card. Just for fun, I asked her to send in the photo. Much to my surprise, the Statesman published the photo on the front page of the Sunday edition!
I called our other daughter Stephnie, who lives in Austin. I asked her, "Have you read the newspaper this morning?
I mumbled, "There is something in it that you may find of interest."
A few minutes later she was screaming on the phone, "Oh my God! No wonder why our friends have been leaving us so many messages."
I explained to her how our picture appeared in Austin's newspaper. We laughed and laughed.
Personal Note
I have tremendous gratitude for my family's role in assisting me with our Christmas cards.
Bob, my husband, has the major role of being a clown in my story. There would be no cards without him. He is truly "the star" of the show.
I wish to thank our daughter, Gabrielle, who has been our photographer for most of the cards. She earned a Bachelor of Arts degree in psychology from the University of Texas in Austin. Later, she returned to the university to get a B.S. degree in science to prepare herself to apply to the University of St. Augustine Health Sciences Institute of Physical Therapy. She is now a doctor of physical therapy, employed at a rehabilitation facility in Austin.
Our daughter Stephnie was our photographer when Gabrielle was away at school. She is a social worker in Austin. In her free time she is a licensed tour guide of Austin and Texas.