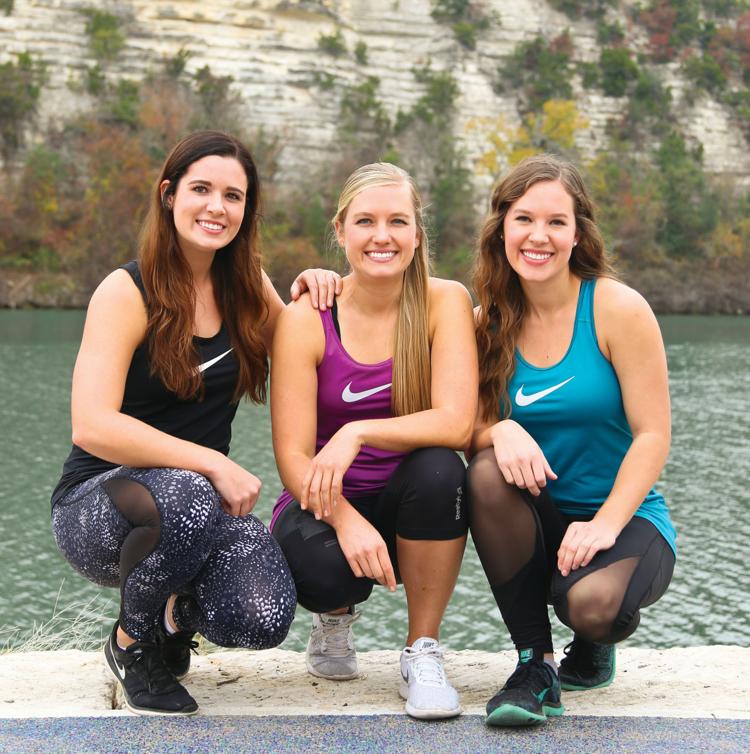 Competitive bond: Sisters have passion for intense physical contests
Sisters Chelsey, Calley and Cassidey Crye are far removed from the days of competing in scholarship pageants.
The competition they enjoy today leads to exhaustion, bruises and overall soreness. And they love it.
The sisters, all Lorena High School graduates, are among those hard-core weekend warriors who push themselves physically in Reebok Spartan Races. They are not unlike marathon runners or triathletes, although Spartan competitions are decidedly different.
Spartan Races are obstacle courses with sometimes odd physical and mental challenges, from collecting and carrying a bucket of rocks for a certain distance, to climbing over a wall, or even crawling beneath barbed wire.
But all three say they have fallen in love with Spartan Races and enjoying competing together as a unit.
"We help each other and work as a team," Chelsey said.
"You suffer together," Calley interjected, referring to the physical challenge of the races.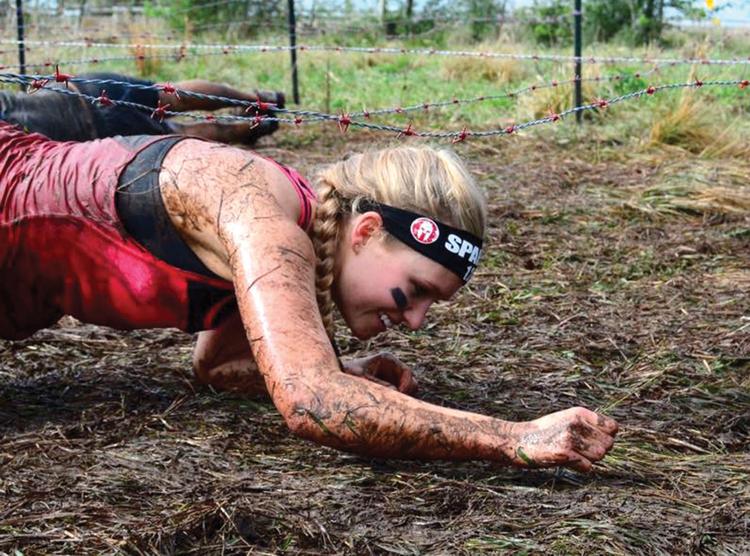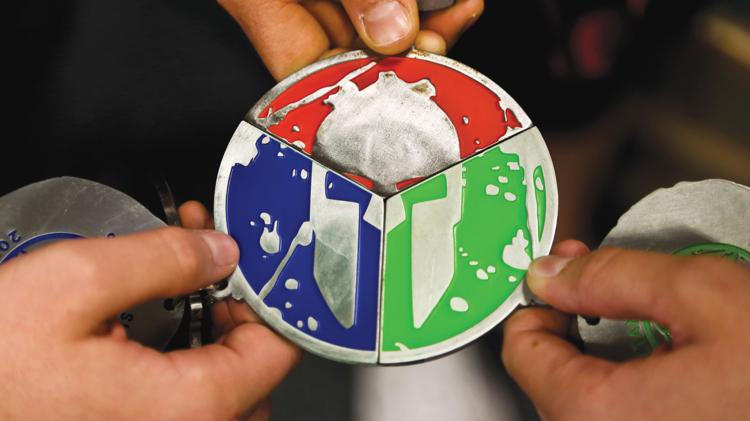 Spartan Races are color-coded based on distance and number of obstacles, which lends to the difficulty level. They are divided into Spartan Sprint (red, the "easiest"), Spartan Super (blue) and Spartan Beast (green and the most challenging). Events are held worldwide.
The girls mostly compete in the Texas contests but they did go to Hawaii in August to compete in the Ultra Beast, a 24-mile, 64-obstacle course that included going up a mountain.
"It was just an awesome accomplishment," Calley said. "I can't believe we got through it. It was really empowering."
Physical Challenge
They all said it's not that surprising that all three enjoy the physical challenge of the races.
"We're pretty competitive," Calley said. "We all do Camp Gladiator (workouts) three to four times a week."
All three played sports during their Lorena High School years. Chelsey, 27, played basketball as a freshman and sophomore, then moved to tennis for her junior and senior years.
Calley, 23, played volleyball, basketball and tennis. Cassidey, 21, was a sprinter in track through her junior year.
Chelsey and Calley are both nurses and Baylor graduates. Chelsey has worked at Hillcrest Baptist Medical Center for 5½ years while Calley works in the oncology and hematology departments at Children's Medical Center in Dallas.
Cassidey is a dental assistant at Kool Smiles in Waco, but is taking dental hygiene classes at McLennan Community College.
Chelsey and Cassidey began competing in Spartan Races in 2015. Calley was busy in nursing school then, but joined them beginning in 2016.
Spartan Races aren't really about finishing in a certain time, they said. It's about finishing at all.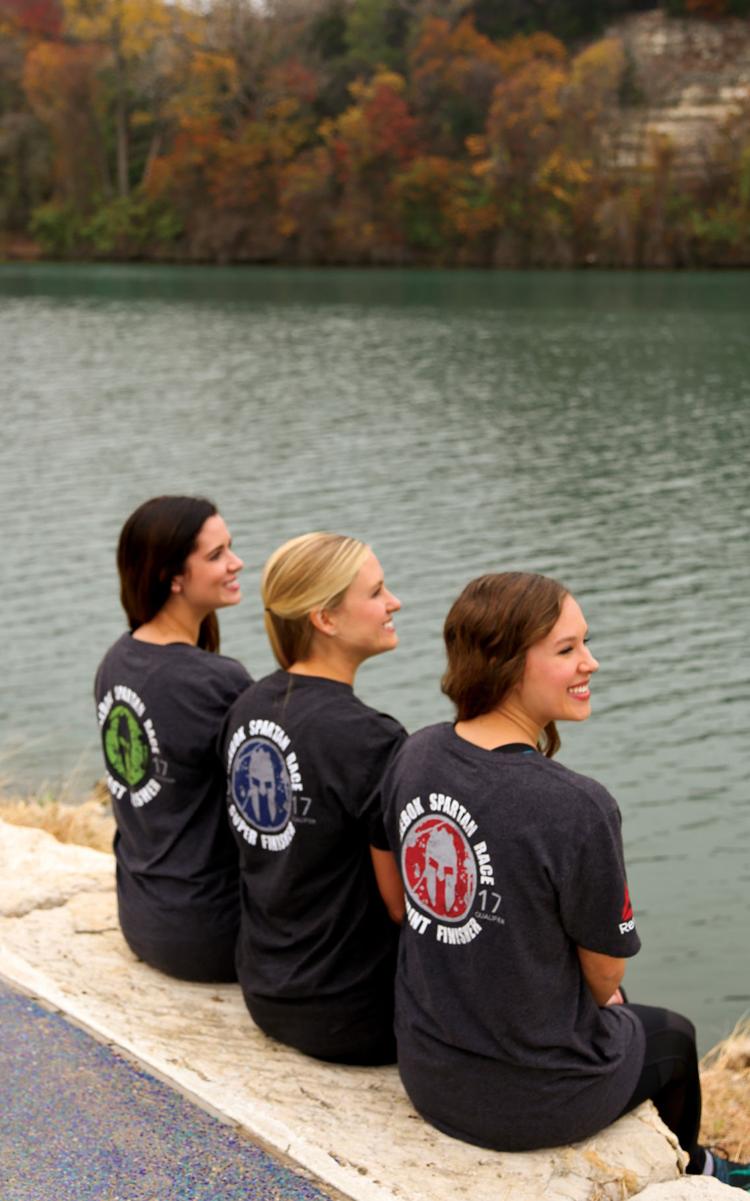 The Hawaii Spartan Ultra Beat, however, did require reaching checkpoints within a certain amount of time.
"I compared it to the 'Hunger Games,' " Calley said, referring to the Jennifer Lawrence movie. "You had to get to the next box and then refuel."
It took 12½ hours to complete the course, she said.
"I went through all the emotions," Calley said. "Before we started I was nervous and excited. Two miles in, there was dread. Then delirium. Then hysterical laughing, crying and denial."
Going almost straight up the side of a mountain was a real test, she said.
Chelsey added that the best thing about competing together is being there to help each other on the obstacles.
"You never leave a fallen comrade," she said.
Everyone finishes a Spartan Race, unless they give up or suffer an injury. Luckily, they haven't experienced anything worse than scratches and bruises.
But not every obstacle can be overcome, they said.
When you can't complete an obstacle, you have to do 30 burpees (similar to a pushup that ends in leaping out) before being allowed to continue.
Painful Memories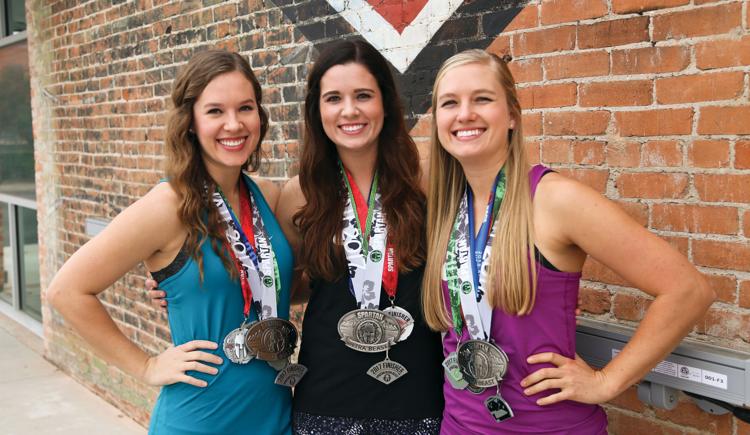 While they were proud to finish the Ultra Beast in Hawaii, the next day was not pleasant.
"We were so sore," Calley said. "We went to church the next morning and could barely step onto the curb we were so sore. Mom had been at a spa. She was feeling great."
The Hawaii trip was one of the rare times their mother Kathy Crye, attended her daughters' Spartan Races.
And that's for the best, they said, admitting that the grueling nature of the contests usually leads to a "Don't tell Mom" approach to what they did.
The Crye sisters usually compare bruises with each other after a Spartan Race. Chelsey said one of her worst experiences was at a Spartan event in Glen Rose where she had swim under a wall that dipped below the surface – in 32-degree weather.
For Cassidey, it was losing the sole of her shoe two miles into a 10-mile trail run. She had switched to her old track shoes, minus the spikes, thinking it would serve her well on the course. She didn't count on the sole completely coming off and leaving just the cloth bottom. The sole for her other shoe eventually ripped off, too, on that run, she said.
"That was the rockiest trail ever," she said, with a half-hearted laugh.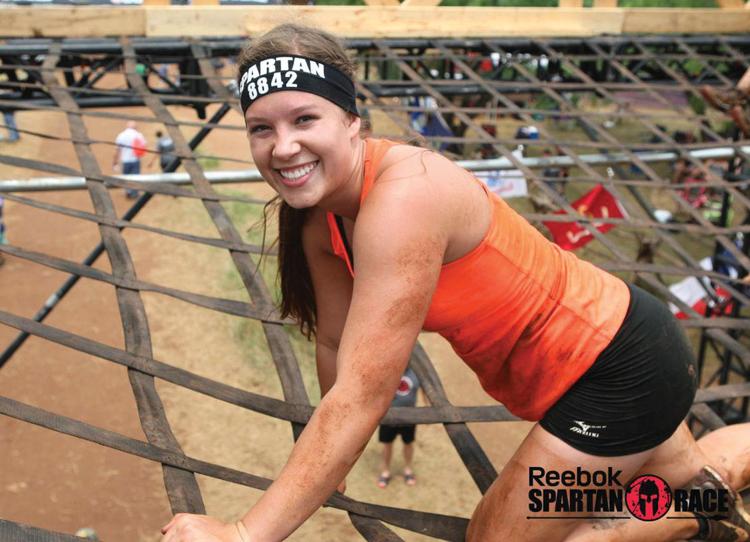 They have each other certain personas at the races. Chelsey, as the eldest, is "the team mom." She registers the sisters for the events and usually loads up the car to pick up Cassidey to drive to the race.
Cassidey has the reputation of the "warden," for her stern encouragement. Calley is "the therapist," as the one who tries to be the calming influence during the intensity of the race, she said.
When they go to compete they volunteer to help, which allows them to compete for free.
Their dad, Daron Crye, came up with a "team name" that plays off their surname: Crye-sis Mode.
Their greatest enjoyment of doing the Spartan Races together is just that – the chance to be together as sisters .
"For me it's being challenged and completing something together," Cassidey said. "Struggling through it is part of it. When you finish it's very encouraging."
Spartan Successes
Chris DeCluitt likewise has embraced Spartan Races. He did his first OCR (obstacle course race) in 2013 and it got him hooked, he said.
"I was approaching 45 and just felt that I was getting complacent," said the now 49-year-old said. "I did a Tough Mudder with a friend of mine and that ignited a fire in me."
The Spartan Races give that challenge that he continues to enjoy, he said.
"It's considered the bad mother of obstacle courses," he said. " A Spartan will really challenge you."
Competitors can earn Spartan trifectas by completing a Sprint, Super and Beast race in a calendar year. He earned his first trifecta in 2014 and scored a double-trifecta in 2015, competing in six of those races.
But it can have some drawbacks.
He blew out a knee earlier this year doing a Spartan Race in Massachusetts. It happened early in the race, but he still completed the 8.5-mile distance, which gave him a sense of satisfaction, he said.
He'll be getting ACL surgery to repair that knee soon.
Beyond the physical challenge of a Spartan Race, the Beast version offers a mental component that can be difficult.
At the start of the Beast race, participants are given a word and a series of numbers to memorize. About three-fourths of the way through the course they reach an obstacle requiring them to recite that word and numbers. If you can't do it, then it's 30 burpees before continuing.
DeCluitt said he doesn't consider himself an athlete, but completing those races are a source of pride.
"It becomes a little bit of an obsession," he said, adding that he's also started during triathlons.
But a Spartan Race is something special, he said.
"It's been one of the most enjoyable and rewarding things I can do as an individual," DeCluitt said.
Keep Running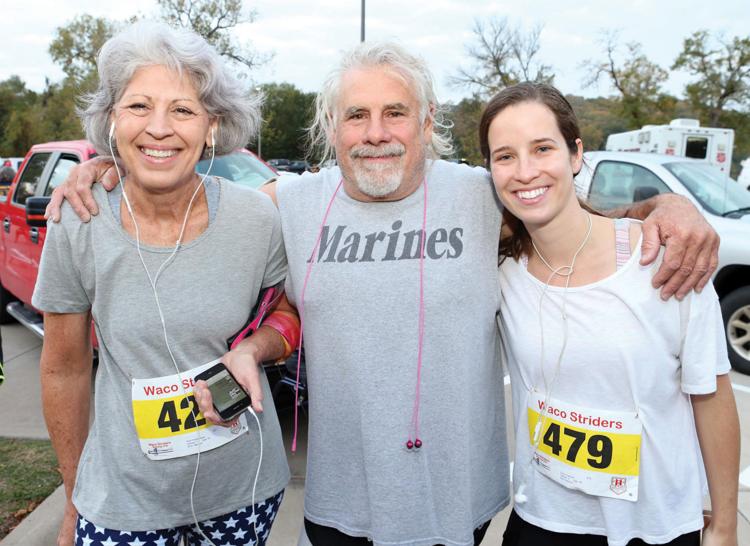 Ralph Getman was been running since 1985, finding a new challenge after getting out of the U.S. Marine Corps and he's a regular participant in 5K races in the area.
"I don't feel the same if I'm not running," he said, even though as he's gotten older he competes against people in his age group compared with the overall titles he used to chase.
He's a longtime member of the Waco Striders Running Club and said it's a lot easier today to find races in which to compete.
"When I was president of the Striders in the '90s you were lucky to find a race in the area once a month or once every two months," he said. "Now you can find something nearly every week."
He notes a great example of that is in November. The Leatherneck Run, which is a personal favorite, is usually the first Saturday of November. Then comes the Zoo Stampede at the Cameron Park Zoo the following Saturday, and after that, the Central Texas Turkey Trot the next weekend.
These days he runs mainly for fitness, usually about three times a week instead of the daily runs when he regularly logged 50-60 miles in a week and trained for marathons.
"The thinking once was you've got to do a marathon to really be a runner," he said. But that mind-set has gone away.
"The Striders are one of the best groups," he said. "You have from a woman pushing a stroller to elite runners, and everyone is accepting of all levels."
Getman said these days he tries to run three times a week, mostly for fitness. He usually joins the Striders on their run Monday evenings in Woodway, Wednesdays at Cameron Park, and then often a 5K in the area.
Half-marathons have gotten popular and don't require as much training time as a full marathon, yet it's still challenging, he said.
Getman has participated in 15 marathons, but today prefers the 5K distance.
Although he's no longer racing against the younger runners for overall medals, he said he finds the age group competition challenging.
"In my 60-65 age group, there's still five to 10 good runners in most races going for those three places (to get a medal)," he said. "I've got so many medals already, but I still want to win that medal."
More Options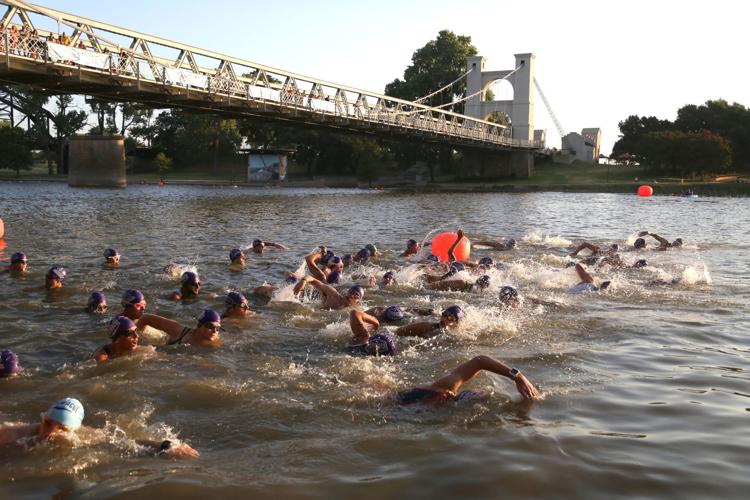 Waco has been a great place to find running competitions and is burnishing its reputation even more now that it will host an IronMan 70.3 contest in October.
It's a five-year contract with Waco, said Nancy Goodnight, a longtime runner who will serve as volunteer coordinator for it. It complements other big Waco events, such as the XTERRA and the TriWaco triathlon, she said.
Goodnight was an obvious choice for that role. She serves as race director for five to six events each year, including the Miracle Match Marathon at the end of the month.
As a coordinator Goodnight won't get to compete in that Ironman event, though she's done many others, and sees more non-athletes entering the field.
"It used to be the really elite competitors who would do marathons," she said. "But now other people do it more for completion than competition. It's definitely evolving."
Goodnight's own story as a runner didn't start until after her kids were born. She notes she was not athletically inclined growing up.
"I was a fat kid in band," she said of her youth. "I couldn't run around the block."
After having her fourth daughter, she wanted to focus on getting healthier and running was the choice.
"It was totally an escape for me," she said. "I would drop my kids off at the YMCA and have two hours to myself."
The passion for running grew and she was competing in her first marathon at age 35.
The passion for her continues as a member of the Waco Striders.
"It's just such a community," said of the group, which numbers about 160 regular members but expands to around 350 when including the families.
For her and others, while there is the health aspect to running, it's also a social thing.
"My friends and I don't have coffee," Goodnight said. "We go for a run."