Coach's Smoke is one of the newest restaurants to join the downtown scene. Occupying one corner of a multimillion-dollar building in Waco Town Square, the facade features distressed lumber and metal accents.
It's quite a change from the modern, streamlined look of the previous occupant, Sam's On The Square.
The inside décor is an eclectic mix of trophy mounts, Baylor memorabilia, neon beer signs and a giant metal Texas studded with sports equipment.
Owner Gary Zacharias said the look was strategically designed to distinguish it from other area businesses and to be a conversation starter amongst downtown patrons and employees.
The restaurant opened in May, and business has been booming.
Zacharias is not only the owner of Coach's, he is also the namesake. After graduating from Tarleton State University, he became a teacher and coach at Glen Rose High School. He later transferred to McGregor High School, where he also served on the school board, and then to China Spring.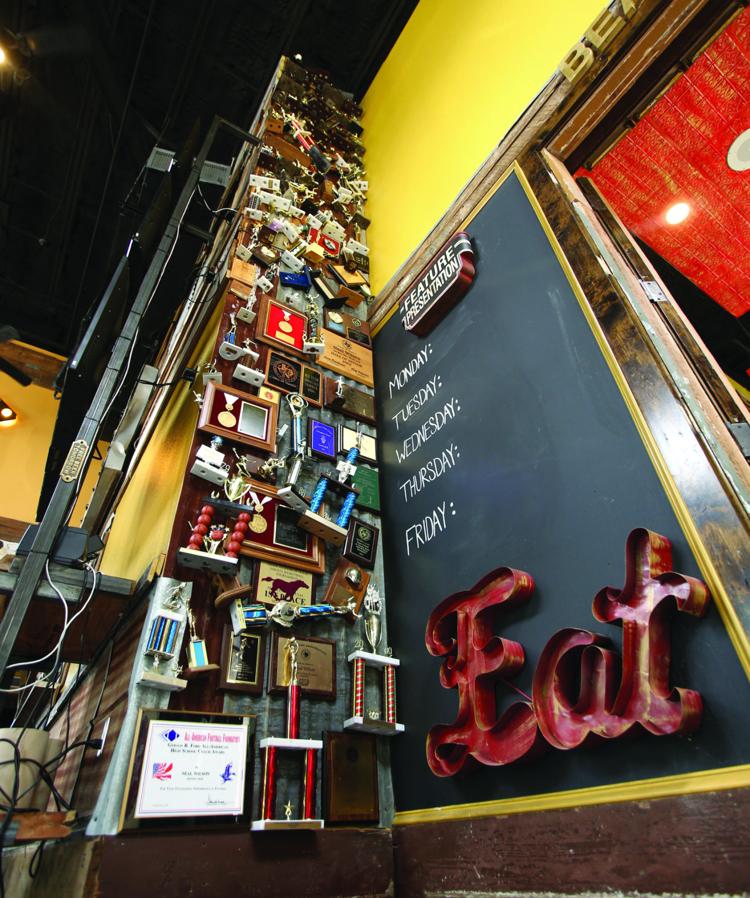 After 12 years in education, Zacharias retired from coaching and went into sales. Eventually, he decided to pursue his dream of going into business for himself. In 2011, he opened Coach's Bar-B-Que in McGregor with a partner, who happened to be a barbecue competition champ.
The restaurant was a huge success, and Zacharias decided to try his hand at expanding to a second location. He partnered with Lance Wilson, whom he had met through a mutual friend when he was launching the original Coach's.
Wilson, an entrepreneur and restaurant owner from the Dallas area, had experience with growing a brand. Together, the two friends decided on the downtown location.
"Lance has been integral in launching Coach's Smoke," Zacharias said. "He's really good at growing a business, and we talked a lot about the changes we wanted to make with this second location, starting with the name."
They intentionally left out the word "barbecue" this time to reinforce the fact they had much more to offer. Zacharias still wanted to serve the barbecue his patrons knew and loved, but the menu greatly expanded from there.
"It's hard to compete in some markets when you just do barbecue," Wilson said. "Our barbecue is fantastic, but at the same time there was so much more we could do. We wanted to cater to the diverse demographic that downtown brings by having a larger variety of dishes."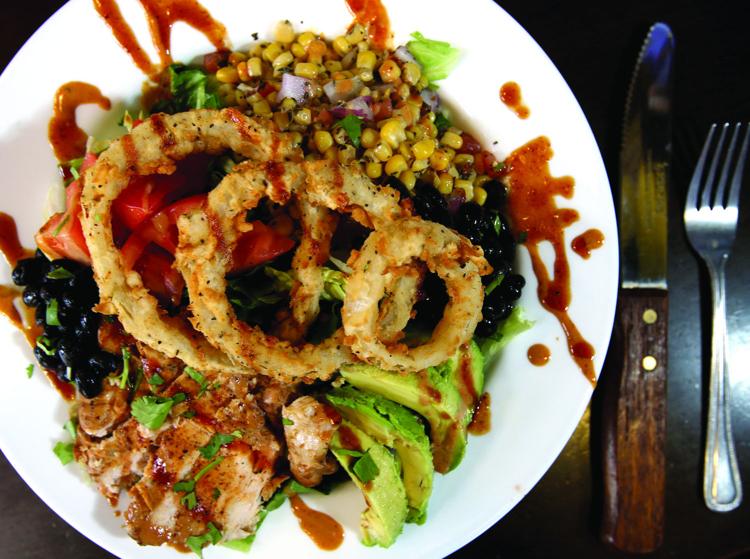 Several salads grace the menu, the most popular being the BBQ Salad. Tomatoes, smoked chicken, avocado, black beans, corn and cilantro are piled on high on a bed of greens and topped with onion rings and barbecue ranch dressing for $8.95. Other salad choices include smoked chicken, fried chicken, chopped club and a simple salad of greens, tomato and mozzarella cheese.
The giant potatoes that are so popular at the original Coach's are better than ever with new toppings such as smoked chicken, chopped brisket, fried jalapenos and barbecue sour cream. Prices range from $6.49 to $8.95 for the big spuds.
Of course, you can't have the word "smoke" in your name without having some serious barbecue. Coach's has a pit out back that is constantly cranking out melt-in-your-mouth brisket, regular and jalapeno sausage, pulled pork, ribs, turkey, ham and chicken breast, all smoked with pecan wood.
Barbecue plates range from $9.95 to $13.95 and come with a choice of one, two or three meats, a half-rack of ribs or a half-chicken. All plates are served with two sides. Side choices include coleslaw, mustard potato salad, Coach's beans, kickin' beans, mac and cheese, French fries and onion rings.
Everything at Coach's Smoke is homemade, Zacharias said, with nothing pre-packaged or frozen, including their signature sauces, which are slathered on everything from the giant baked potatoes to the brisket tacos.
"Everyone asks what the triple X's are on the door," Wilson said. "Besides being another talking point, they really represent our three sauces. We have one X, two X and three X, with three X being the hottest."
Some of the most popular items have been the burgers, a new addition to the Coach's menu and a favorite of Zacharias.
"We already knew meat really well, so we figured, why not try our hand at burgers?" he said. "We make all our own burger patties and hope to make a name for ourselves as a top burger joint in town."
With names like The Cure, Dirty Bird and Funky Mushroom, it's no wonder diners are intrigued into ordering one. The XXX Burger is a traditional cheeseburger with bacon and jalapenos, while the Pit Boss is served on Texas toast and topped with brisket, bacon, fried onion strings and crispy jalapenos.
All burgers are served with a choice of fries, onion rings, potato salad or beans and will cost about $9.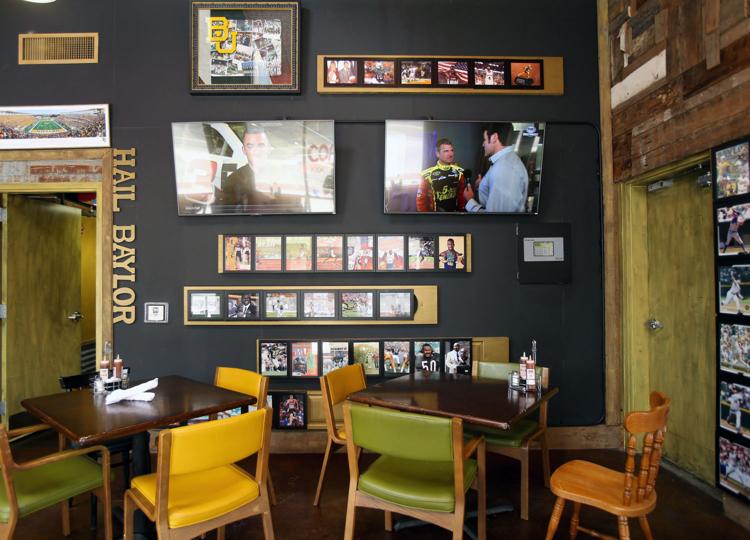 With this restaurant in Waco, Zacharias and Wilson wanted to embrace the rich history of Baylor University. Coach's Smoke has a "Bear Room," which can be rented out for meetings and events. The space is decorated with framed newspaper and magazine articles, jerseys, helmets and other Baylor memorabilia. A flat-screen TV can be wheeled to any location in the room for presentations, and the room even has its own bar.
Coach's had a contract with McLane Stadium last season to sell some of its favorites out of four kiosks throughout the stadium. Lines stretched down the concourse to get the BangBang Nachos, piled high with brisket, chicken, or pulled pork and topped with cheese, jalapenos, sour cream, guacamole and pico de gallo. The nachos are available at the restaurant as a starter for $9.95.
Other appetizers include sliders, potato skins, quesadillas, fried pickles, onion rings and chicken tenders. A favorite is the Big Boy Fries, topped with cheddar, bacon, chives and jalapenos and served with house-made ranch dressing.
Happy hour is from 2 to 7 p.m. daily and offers $2 draft beers, $2 wells and $3 appetizers. Live music can be heard on Thursday nights and the patio out back is a great spot to spend a summer evening.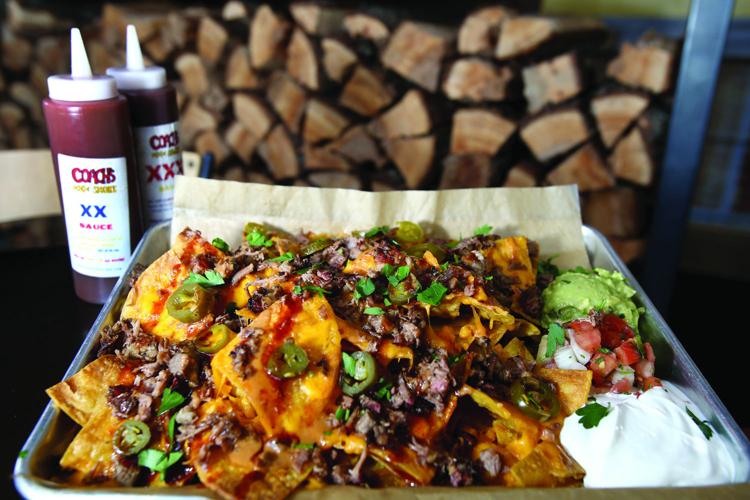 It was important to Zacharias to utilize all the space in the expansive location, including the second floor. Additional seating can be found upstairs, along with shuffleboard and an electronic Golden Tee arcade game. The restaurant also houses 35 big-screen TVs and a full bar.
"We just like to have fun, and we wanted the restaurant to have a fun atmosphere," Zacharias said. "We plan on showing all the big games and sporting events, and we want to be a place for people to come relax and hang out."
Wilson said to look out for upcoming specials such as fried catfish or chicken wing nights, and also a Saturday and Sunday brunch in the fall with a build-your-own Bloody Mary bar.
"Right now we're just focusing on our core menu and building the brand," Wilson said, "but then we have plans for expansion in the area and franchise opportunities. Gary came to me because he wanted to build something special, and I think we're off to a great start with this place."
Zacharias splits his time between Coach's Bar-B-Que and Coach's Smoke, and most days he rarely sees more than his bed at home, but he said he couldn't be happier.
"We hope people come out and try us," he said. "We still have that great barbecue we're known for, but I think people will really be surprised at everything else we have to offer."
Daily, 11 a.m. to 11 p.m.