One day in September Jerry Schramko glanced at his computer and saw an alert to the Texas wing of the Civil Air Patrol: The group needed to be ready to respond to any havoc that Tropical Storm Imelda might wreak as she blew ashore on the state's Gulf Coast.
While Imelda did bring heavy rains and some damage to Southeast Texas, the Civil Air Patrol ultimately wasn't needed. At least, not that time.
But providing help in those situations is part of what the Civil Air Patrol does, said Schramko, who serves as the Waco Composite Squadron's public affairs officer.
The Civil Air Patrol, an official auxiliary of the U.S. Air Force, is open to males and females ages 12 to 18. Activities and skills taught include aviation, aerospace education, model rocketry, community service, and search and rescue.
The Civil Air Patrol began on Dec. 1, 1941, a week before the Japanese attack on Pearl Harbor. Nationwide recruiting began with a vengeance the day after the attack.
"Did you know that we had German submarines hiding off of the East Coast?" Schramko asked. Much of CAP's work during World War II was hunting submarines attacking Allied shipping off the U.S. coasts.
CAP succeeded other organizations with similar missions that had been forming largely under civilian leadership since 1936. Those groups soon merged with the new organization under the command of Maj. Gen. John F. Curry. It became the Air Force's auxiliary when that service branch was created out of the Army after the war.
Today's Organization
Since then, the group has become a nonprofit organization of 57,000 members grouped into regional wings and local squadrons under the leadership of the Air Force.
Its pilots fly single-engine Cessna propeller airplanes with crews of observers, radio operators and photographers who find people in trouble. It also maps and defines wildfires, photographs flood areas and other hot spots for civilian and military first responders, medical and damage control personnel.
"The CAP had numerous aircraft helping in recovery efforts after Hurricane Dorian in Bermuda," Schramko said, "and the Texas Wing was heavily involved in finding pieces of the space shuttle Columbia after it disintegrated upon re-entry in 2003."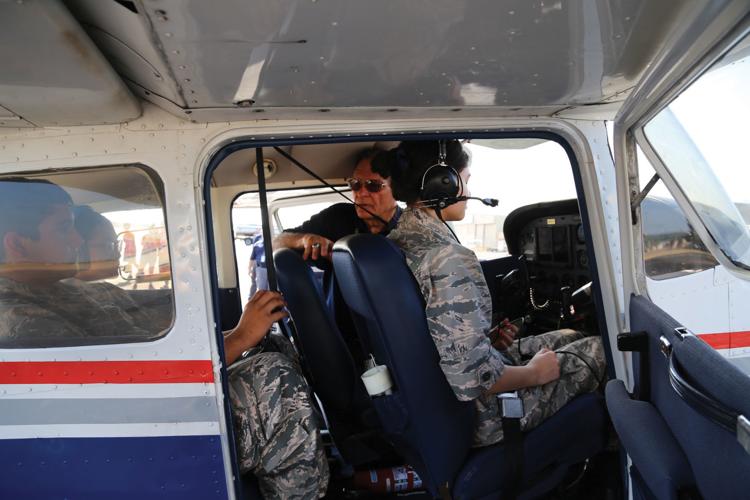 The local squadron, formed in the late 1970s, was called to help with finding people and property in danger after Hurricane Harvey hammered parts of Texas in 2017.
The Waco squadron has 19 cadets and 17 senior members, many with military experience. The squadron commander, with the CAP rank of first lieutenant, is Steven Wright, who retired from the Army and had served in the Gulf War.
"I was a CAP cadet in my youth and then joined the Army," Wright said. "After I retired, I was talking with some friends about it and came back as a senior member about eight months ago. They tagged me for a leadership role because of my experience.
"The main reason I'm involved is that it teaches selfless service and patriotism. I always want to support those things."
The Waco squadron is able to meet with the backdrop of airplanes on the Texas State Technical College campus.
"We're thankful and so fortunate to have the John Connally Aerospace Building at Texas State Technical College for our meetings," Schramko said. "It's designed for instruction, and it gives us a lot of advantages we wouldn't have otherwise."
The squadron has a Cessna 172 based at Waco Regional Airport.
Cadet Training
Schramko, whose profession is selling painting equipment to industry, said his son, Christopher, got him interested in the CAP.
Christopher, who is the cadet commander, is a junior at Reicher Catholic High School. He hopes to attend the U.S. Air Force Academy and become an aviator.
One of Jerry Schramko's main duty assignments is getting the word out to future cadets.
"We're the best-kept secret in the world for young adults," he said. "We're building the future leaders of America."
Six of the squadron's 19 cadets are home-schooled. Five of that total are girls. Schramko said the program is ideal for home-schooled youth for its opportunities in corporate discipline and teamwork as well as friendship and comradeship.
Parents often become senior members when their sons and daughters become cadets, he added. The cadets meet every Monday at 6:45 p.m. at the John Connally Aerospace Building at the TSTC Airport.
Potential cadets must attend three meetings as guests before joining. Once in, they can "rank up," or be promoted, every 56 days through 21 ranks topped by the rank of colonel. Christopher Schramko recently was promoted to major, a rank held by less than 1 percent of 28,554 cadets nationwide.
"Among other opportunities, cadets can get their pilot's licenses for powered or glider aircraft through CAP training," Jerry Schramko said. "Whether that's their goal or not, they get five orientation flights with senior pilots during which they fly the aircraft and perform all other functions under close supervision of our CAP pilot."
Christopher added, "Cadets are strongly encouraged to go to a seven-day encampment, which is like a boot camp, very hard and rough."
The encampment for the Texas Wing is held at Lackland Air Force Base in San Antonio.
For the elder Schramko, the growth he sees in the cadets after attending encampment and through the program is inspiring, he said.
"I get a sense of fulfillment out of seeing our young adults grow," Schramko said. "I share their pride in getting that first chevron to cadet airman as they start advancing. And you never see an older cadet bullying or lording it over a junior one, but you see them encouraging and helping teach them."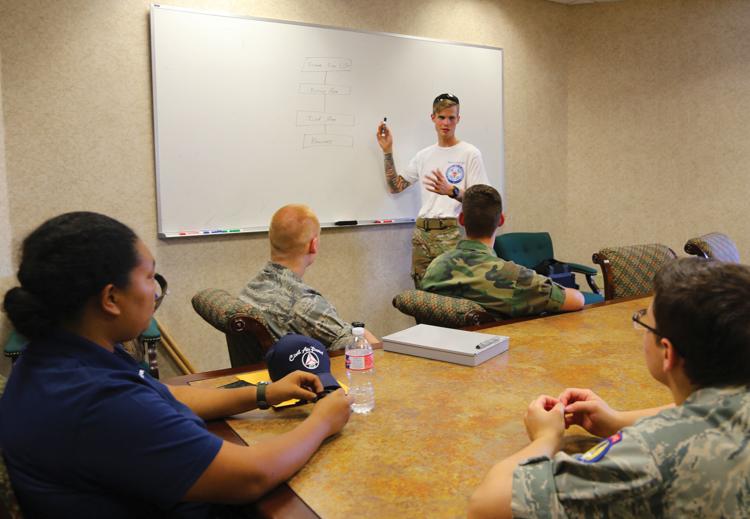 Cadet 1st Sgt. Stephen Parker, 18, a colleague of Christopher's, joined when he was 13.
"I really appreciate all the training opportunities and discipline, experiences that would have been hard to find at my age otherwise," Parker said.
Parker has finished an emergency medical responder course that has gone a long way in preparing him for emergency medical technician licensing tests, and he plans to pursue that path. He said he may go to the Air Force Academy, but if not, he might try for the AFROTC at a civilian college.
"One outstanding program we have is a collaboration with the Army ROTC for simulated live-fire training in their infantry preparations," he said.
Family Involvement
Deputy Squadron Commander 1st Lt. Kenneth Miller and his son Kenneth, called "Kenny," and daughter Katya, 14, are also making the CAP a family affair. Kenny, 12, plans to join the cadets soon, and Katya, 14, has been in the program since July.
"I was thrilled when I got my first promotion (to cadet airman), and I'm thrilled to think I'll get another one soon (to airman 1st class)," Katya said.
Kenneth Miller, a pilot, joined the CAP while he was still in the Navy in California in 1988. He said the organization "can take all the talents you use in your private life and put them to work in service to the nation."
A member of the local squadron since April, he is the professional development officer for both the senior members and the cadets, in whom he takes a keen interest.
"They get a lot of hands-on practical experience," he said. "They are our future. They learn how not to be wallflowers. They learn how to lead and also how to follow."
---
Civil Air Patrol
For more information about the organization, visit its national website at www.GoCivilAirPatrol.com or visit at a meeting, which are held Mondays at 6:45 p.m. at the TSTC Airport.