Editor's note: Information on the dates for the Salado Christmas Stroll were incorrect in the magazine. They are correct here.
Clifton is proud of its status as the Norwegian Capital of Texas, and that is fully on display during Christmastime.
The Bosque County city joins other Central Texas towns in exuding the holiday spirit with parades and Christmas activities.
Santa Claus arrives on a Viking ship during the 27th annual lighted Christmas parade through downtown Clifton on Friday, Nov. 30. The parade gets underway at 6:30 p.m.
The parade begins the weekend's Norwegian Country Christmas Tour. Some venues are open following the parade, while the tour officially begins on Saturday, Dec. 1, at 9 a.m. and lasts until 5 p.m.
Visitors can tour the Clifton and Norse districts as well as homes and buildings, including the Old Rock Church and Our Savior's Lutheran Church in nearby Norse. Cleng Peerson, "the father of Norwegian Immigration" who brought settlers to the area in 1854, is buried in the church's cemetery.
Tour guides and storytellers greet visitors at historic homes and churches to enlighten newcomers of the history of the early Scandinavians. Popular stops often include the 1850s-era Questad and Ringness homes. The Ringness house was the site of the first Lutheran church services in the county and has been restored as the headquarters for the Bosque County Chapter of the Norwegian Society of Texas.
Tickets for the tour, which can be done at a leisurely pace, cost $12.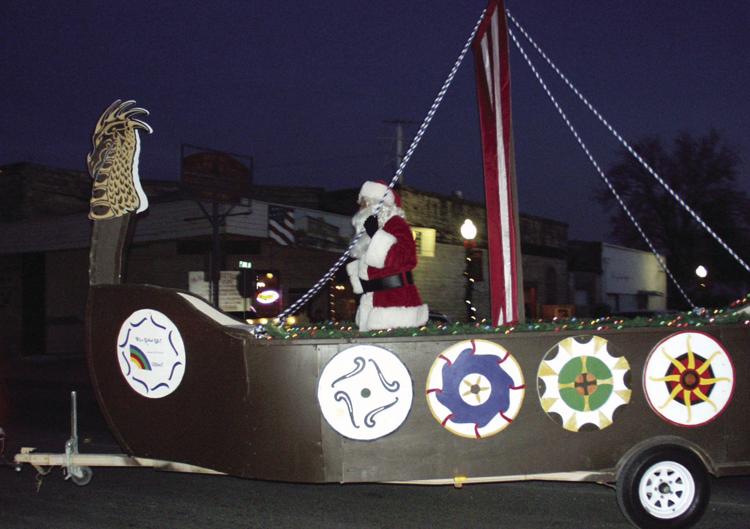 The Clifton Norwegian Country Christmas has ushered in the holiday season since it began in 1992. The Bosque Museum holds its annual Christmas Open House, where rooms are decorated to reflect the Norwegian and pioneer heritage of the community.
Visitors may want to include Heritage Village on the tour. Located in the Armory at Clifton City Park, Heritage Village is filled with dozens of vendor booths showcasing foods, arts and crafts. Artisan demonstrations normally include quilting, Norwegian paintings and wood carvings.
Those wishing to experience authentic Norwegian cuisine can go to the Clifton Civic Center, where lunch is served by reservation from 11 a.m. to 1:30 p.m.
Other activities for the busy Saturday include a quilt show and free downtown carriage rides from 3 to 6 p.m.
Call the Clifton Chamber of Commerce at 254-675-3720 or 800-344-3720 to purchase tickets.
West
Not only will Santa Claus visit with the kids in downtown West on Dec. 1, he will be joined by the missus.
Mrs. Claus and Santa will hand out bags of candy and be available for photographs with the kids as the West Chamber of Commerce presents the holiday duo at the History of West Museum, from 4 to 5:30 p.m. that day.
Chamber President David Pareya said the museum will be especially nostalgic for longtime West residents because years ago it was the location of the Ben Franklin five-and-dime store, which hosted Santa for the kids at Christmas.
Children will receive bags of candy, which will include Czech cookies and treats made by the Junior Catholic Daughters of America. A crafts area also will be set up within the museum.
A couple of new holiday-themed events are happening that morning. The Front Street Women's League, a new group of local business owners, is hosting Cocoa in the Comma.
This event invites visitors to "sip and stroll" the participating businesses in West and to purchase a collectible mug that can be filled with cocoa at the various shops.
The West Warrior Kids Foundation at 8 a.m. is hosting the Jingle Jog 5K and Fun Run, which includes a pancake breakfast, silent auction, raffle and face painting.
The event benefits Avery Stone and her family. Avery is a young child battling cancer.
Salado
The Salado Christmas Stroll is held the first two weekends of December, with a holiday parade, home tours, a live nativity scene, live entertainment and late-night shopping.
The Christmas parade at 6 p.m. Nov. 29 gets the stroll underway on Main Street. Following the parade, the Salado Historical Society kicks off its traditional historical homes tour with a fundraising gala. The Robertson Plantation will open its entire home to gala ticket-holders from 7 p.m. to 10 p.m.
On the Friday and Saturday night during stroll weekends, holiday carolers will serenade late-evening shoppers along Main Street. Many shops will host a variety of live entertainment at their shops all day and evening during the stroll.
A live nativity scene, sponsored by the First Baptist Church, will be presented the evenings on both weekends of the stroll.
Tickets cost $20 and children age 11 and under are free. Tickets can be purchased at the Salado Visitors Center, 831 N. Main St., or at each stop on the days of the events.
Tablerock Amphitheater's live performance of Dickens's "A Christmas Carol" will take place Dec. 4-5 and Dec. 11-12 at 7 p.m. on Royal Street.
Lorena
Lorena's annual Christmas in the Country event returns the Saturday following Thanksgiving Day.
Vendors and shops will be open with a variety of items available.
A classic car show is from 9 a.m. to 1 p.m. in McBrayer Park and those vehicles can take part in the parade, which brings Santa to downtown Lorena at 11 a.m.
The Lorena Volunteer Fire Department will be cooking up hamburgers.
Crawford
Downtown Crawford is welcoming visitors by opening its shops for holiday shopping on Dec. 1.
Craft and food vendors will be available from 10 a.m. to 9 p.m. with Christmas caroling starting at 5 p.m.
Visits with Santa get started at 2 p.m.
The Christmas parade starts at 6 p.m., with the lighting of the Christmas tree set for 7:30.
For more details, contact Donna Conrad, event coordinator, at 855-4733, or chamber President Tommy Nowlain at 498-6081.
McGregor
The annual Christmas parade will be held Dec. 8 on Main Street in downtown McGregor.
The 6 p.m. parade features floats, classic cars and tractors decorated for Christmas.
Santa will arrive with the volunteer fire department, who will quickly take him to nearby Legacy Park. There, children will have the opportunity to have cookies and hot chocolate with Santa and tell him their Christmas wishes.
Hewitt
Hewitt will have its annual tree-lighting ceremony and other activities from 5 to 7 p.m. Dec. 8 at the Hewitt Public Library, 200 Patriot Court.
The Spring Valley Elementary third-grade choir will sing Christmas carols and the Jubilee Woodwind Quartet will perform. Cookies and hot chocolate will be served. Photos can be taken with Santa and crafts and story time will be among the activities.
Participants are invited to bring a new, unwrapped toy to donate to Toys for Tots. Cash donations also will be accepted.