"What do you mean he don't eat no meat?
Oh, that's okay. I make lamb."
Someone in my family quotes this favorite line by Aunt Voula from "My Big Fat Greek Wedding" whenever I suggest making lamb. I still laugh every time I hear it.
And I still salivate at the thought of the savory goodness of lamb — leg of lamb, lamb chops, stew, meatballs. There are so many flavor-bursting options with lamb that I am often surprised at how seldom lamb pops up on restaurant menus in the United States.
Apparently, most Americans don't share my passion for the other red meat. The Agricultural Marketing Resource Center states that in 2014, Americans consumed about 0.7 pounds of lamb per capita compared to 19 pounds per capita in Australia and 14 pounds per capita in Kazakhstan.
Americans DO, however, like their other meats. According to an article by David Widmar for Agricultural Economics Insight, Americans ate about 57 pounds of beefs, 50 pounds of pork, and more than 100 pounds of poultry in 2017. That's per person!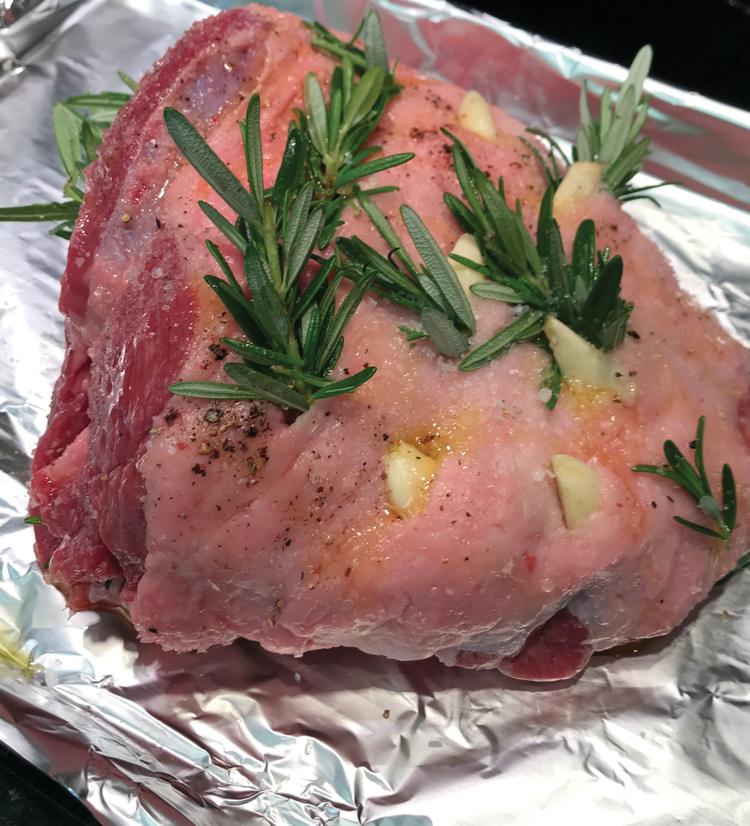 Jennifer Howze, a journalist and blogger for Huffington Post's UK edition offers this reason for our low lamb consumption:
"It's simple, really. It's not about flavour or fat content at all. If lamb wants to find its way into more American mouths, it just needs to get onto the promotional bandwagon, toot its own horn, and recast itself as 'the Cute Meat' or 'Lamb: we're not all baaaaad' or similar slogan. Hire Beyonce to one-up Lady Gaga and wear a lamb dress."
I would feel bad about eating "cute meat," so let's get back to Aunt Voula and what she might make for Easter dinner. While this leg of lamb recipe may not be exactly what she would cook, it is likely very similar.
It is quite simple and is my personal favorite. One of the main secrets to a successful lamb is not to overcook it. A nice medium rare is perfect. Paired with a hearty Cabernet Sauvignon, your Easter or Passover meal will be complete (especially if your brother brings his scalloped potatoes).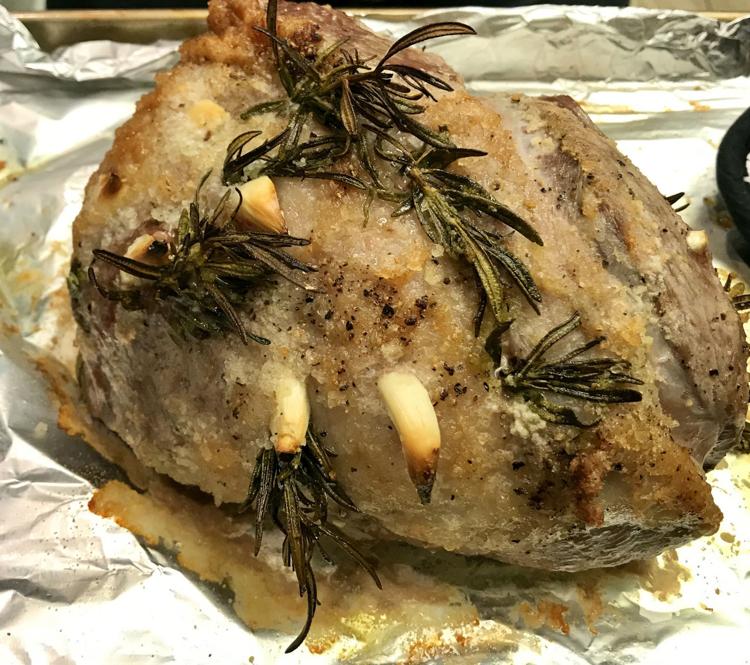 Roast Leg of Lamb with Rosemary and Garlic
8 lb bone-in leg of lamb
2 T Kosher salt
2 t freshly ground black pepper
3 T olive oil
About 15 cloves garlic, peeled
About 15 small, tender rosemary sprigs, washed and dried, about 1 inch each
Preheat oven to 350 degrees F. Pat dry leg of lamb. Rub with salt and sprinkle with pepper. With a paring knife, make about 15 1-inch cuts into the meat of the lamb. Insert a garlic clove and a rosemary sprig into each cut.
You may need to stick a finger or spoon handle into each hole to make sure there is ample room for the garlic and the rosemary. Drizzle olive oil over.
Place in roasting pan and roast until internal temperature reaches 130 F (for medium rare), about 1½ to 1¾ hours. Remove from oven and let sit for 15-20 minutes. The internal temperature will increase to 135 F.
My brother found this potato recipe on epicurious.com, an excellent recipe resource. We beg him to make it every year.
It is a cumbersome recipe (and Gary complains about it aptly) partially because the fennel and potatoes are best when sliced very thin, preferably with a mandoline, a kitchen gadget with a razor-sharp blade.
Because they are so sharp, they can be dangerous if you're not careful. I recommend using the guard if this is new to you.
Gary's Scalloped Potatoes
Serves 12 in most families and 8 in ours
6 garlic cloves, peeled, smashed
4 2-inch-long fresh rosemary sprigs
2¼ c heavy whipping cream
2½ t coarse kosher salt
3/4 teaspoon ground white pepper
2 large fresh fennel bulbs with fronds
3½ pounds medium russet potatoes
¼ c (½ stick) unsalted butter, cut into ½-inch cubes
Position rack in center of oven and preheat to 350 degrees F. Butter a 13x9x2-inch glass baking dish. Place garlic cloves and rosemary sprigs in bottom of prepared baking dish. Combine cream, coarse salt and white pepper in large bowl.
Cut off any stalks and fronds from fennel bulbs; discard stalks. Finely chop fennel fronds; cover and chill. Using a mandoline, thinly slice fennel bulbs. Layer half of fennel slices evenly atop garlic and rosemary in baking dish.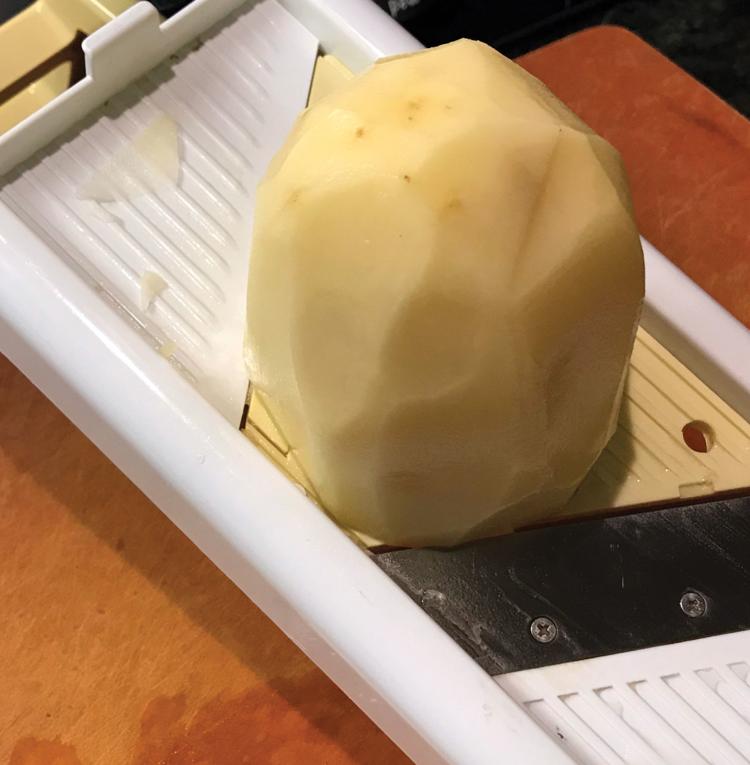 Peel potatoes and place immediately in large bowl of cold water to prevent discoloration. Working with 1 potato at a time, use a mandoline to thinly slice into rounds. Immediately add potatoes to bowl with cream mixture, turning to coat potatoes.
Arrange half of potato slices evenly over fennel slices in baking dish, reserving cream mixture in bowl. Repeat layering with remaining fennel slices, then remaining potato slices. Pour remaining cream mixture in bowl over fennel-potato mixture in baking dish.
Dot with butter cubes. Cover baking dish with foil, doming foil slightly. (Do not allow foil to touch potatoes).
Bake scalloped potatoes until almost tender when pierced with knife, about 1 hour 15 minutes. Increase oven temperature to 425 degrees. Remove foil and bake uncovered until potatoes are tender and top is deep golden brown, about 20 minutes longer.
Remove from oven and let rest 15 minutes. Sprinkle with reserved fennel fronds and serve.
Let us not forget Easter dessert. Strawberries make a beautiful presentation for an Easter table. This strawberry meringue torte is also a favorite in our family. My mother has made it for years, and I have shared it in previous food articles, but it is well worth re-sharing.
Jo Ann's Strawberry Meringue Torte
3 egg whites
½ t baking powder
1 c sugar
10 square (2-inch) soda crackers, rolled fine
½ c cut-up pecans
½ qt unsweetened strawberries
1 cup chilled whipped cream (or Gran Marnier cream. See recipe next page)
Heat oven to 300. Butter generously a 9-inch pie pan. Beat egg whites with baking powder until frothy. Gradually beat in sugar until whites are stiff. Fold in cracker crumbs and pecans.
Spread in pie pan. Bake 30 minutes. Cool completely. Fill with strawberries. Chill several hours. Spread whipped cream or Gran Marnier cream on top and serve.
We sometimes make individual-sized portions by spooning meringue onto parchment paper before baking. Fill with sliced strawberries. Top with a tablespoon of whipped cream or Gran Marnier Cream and some orange peel. It makes a beautiful presentation.
2 c heavy whipping cream
2 T confectioners/powdered sugar
2 T Gran Marnier liqueur
In a large mixing bowl, whip cream and sugar until you have soft peaks. Fold in the liqueur. Chill for an hour (or more, but not overnight).
If you are interested in a fun Easter dinner dessert adult cocktail, Michael Foley suggests an "Easter Bunny," in his book "Drinking with the Saints." He attributes the tasty drink recipe to drinksmixer.com.
Easter Bunny
1½ oz dark crème de cacao
½ oz vodka
1 t chocolate syrup
1 t cherry brandy
Pour crème de cacao and vodka into a shaker filled with ice and shake 40 times. Strain into an old fashioned glass filled with ice.
Float cherry brandy on top and drizzle with chocolate syrup. Enjoy responsibly.
Don't wait until Beyoncé dons a lamb dress. Just give the other red meat a try. You might find it as wonderful as Aunt Voula and I do.
Wishing you happy times in the kitchen!