cook's block (ko͝oks bläk) n. the condition of being unable to create a meal because something in your mind or because the lack of something in your kitchen prevents you from being able to do it.
Sometimes I get cook's block. It's frustrating for someone who relies on cooking as therapy. It can be debilitating.
For me, cook's block occurs most often when I am really tired, when I am juggling more things than I can really do well, or when I haven't gone to the grocery store for more than three days. When it's all three of those things, the only relief is pasta.
One afternoon Joe, my husband, sent me a text that ended a bout of cook's block. It read, "Puttenesa." (He watched a food show featuring spaghetti alla puttenesca. He often gets the spelling of foods wrong. It's a source of great amusement to me, like the time he requested "coco van.")
While we don't eat a lot of pastas, we always have some in the house. Even when all the fresh vegetables in the refrigerator have wilted, the milk has soured, and the cheeses have molded, there is pasta, often some unusual type that I found at a farmer's market while on some road trip, that has been on my shelf for years. Thank goodness dried pasta lasts almost as long as a Twinkie.
Armed with all of the puttenesca ingredients in my pantry — even the anchovies — I set out to craft the requested dish. And over the next several days, I rediscovered several comforting pasta recipes that helped me snap out of my cooking dilemma.
Pasta gets a bad rap because of its high carbohydrate content, but it actually can be a part of a very healthy lifestyle. Consider the Mediterranean "diet." In moderation, pasta is a wonderful vehicle for delicious and often healthful meals.
That said, I would like to introduce you to some interesting pasta dishes that, frankly, aren't all that healthy, but they are really fun. The final recipe IS healthy and very satisfying.
All of these recipes should make ample servings for four main courses or six pasta courses.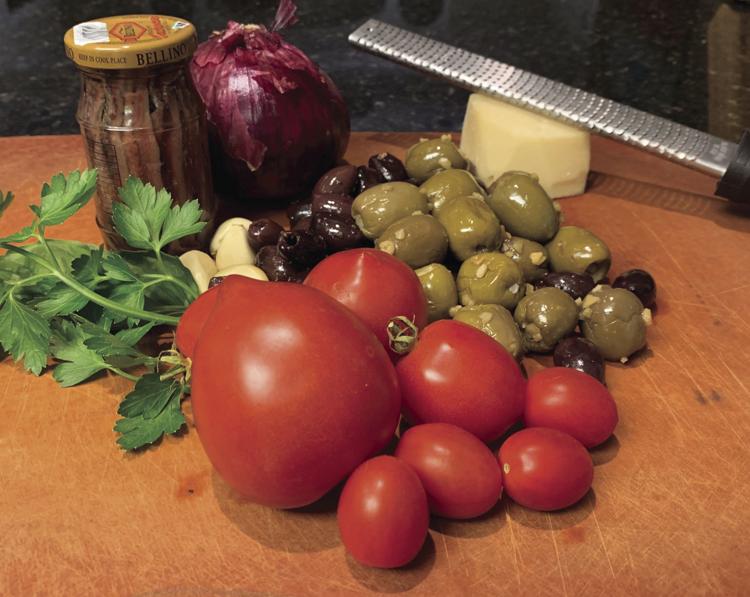 Spaghetti alla Puttanesca
12 oz. spaghetti, cooked al dente
2 T olive oil
½ c chicken or vegetable broth
½ c dry white wine
3 cloves garlic, minced
4 anchovy fillets, chopped
½ c large green olives, chopped
½ c Kalamata olives, chopped
1 small red onion, thinly sliced
1 pint cherry or grape tomatoes, cut in half, or any other fresh tomatoes you have on hand, coarsely chopped
4 T capers
Salt*
Black pepper
Pinch of cayenne pepper
1 small bunch fresh parsley chopped
8 basil leaves, chiffonade cut
½ c freshly-grated Parmesan cheese
Heat olive oil in a large skillet over medium-high heat. Add onions and cook until light brown. Add garlic, anchovies, olives, tomatoes. Add wine and broth.
Let cook for about 10 minutes, until liquid is reduced by half. Stir in capers and half of the parsley. Serve over hot spaghetti, garnishing with remaining herbs and topping off with Parmesan cheese.
*This dish is very salty with all the brined ingredients. Resist the temptation to add salt until after you've tasted the sauce.
Puttanesca is a wonderful dish just about any time of year. If really fresh tomatoes are not available, you can comfortably substitute one 14-ounce can of plum tomatoes, coarsely chopped.
With the advent of spring, and all the delicious produce available, another favorite dish to keep in mind is Pasta alla Primavera, or Spring Pasta. The following recipe is modified from a cookbook I purchased years ago by Diane Seed called "The Top One Hundred Pasta Sauces" If you come across a copy, buy it. It's a gem.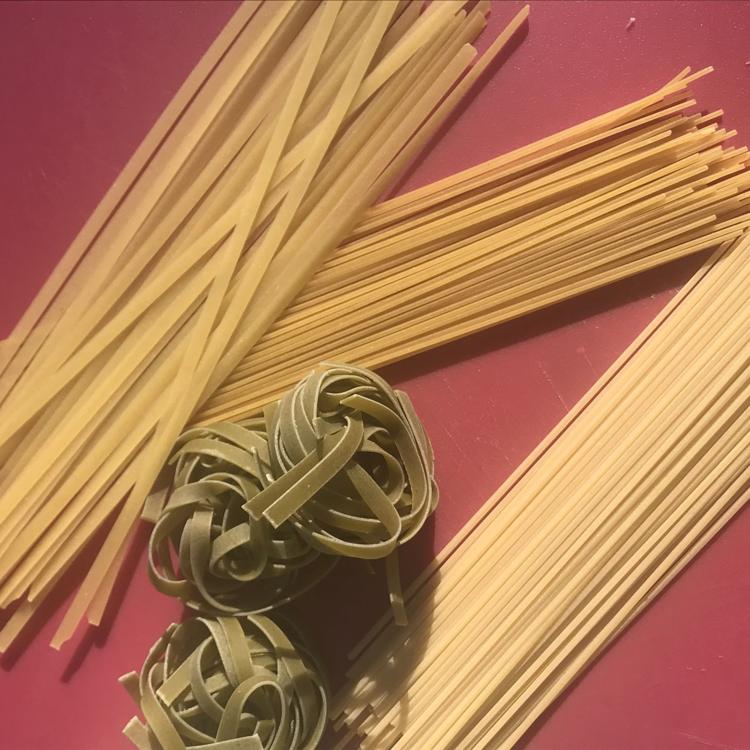 Pasta alla Primavera
1 lb. tagliatelle pasta, green if available, cooked al dente
2 cloves garlic, minced
1 pint grape tomatoes, halved
12 spears tender young asparagus, cut into 1" pieces
1½ c shelled fresh peas, the smaller the better
1½ c fine green beans, cut into 1" pieces
Salt and pepper
2 T butter
Juice of 2 small lemons
1/8 t cayenne
1 c heavy cream OR half and half
¾ c freshly-grated Parmesan cheese
Cook the asparagus, peas, and beans separately in a small amount of boiling salted water. It is better to slightly under-cook so that they remain crisp and bright green. Drain and immediately plunge them in a bowl of ice water. Set aside.
Melt the butter in a skillet over medium heat. Drain the vegetables from the ice water and toss them into the skillet.
Cook about two minutes. Add the tomatoes, lemon juice, salt and pepper, and cayenne pepper to the skillet and gently stir. Add the half and half last.
Serve on top of pasta with Parmesan cheese.
The next recipe may really throw you off, but please give it a try if you have even one adventurous bone in your body. Originally developed in Venice by "a young cook named Silvano," Tonnarelli with Cantaloupe is a real treat. I found the recipe in "Marcella's Italian Kitchen" by Marcella Hazan.
This recipe is created purely as a first or pasta course rather than a meal. Enjoy!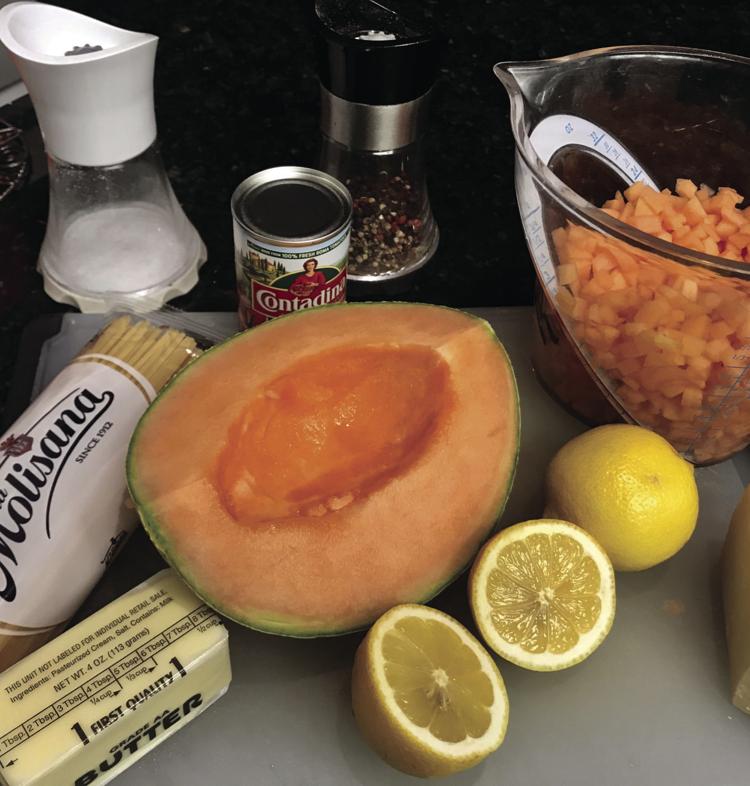 Tonnarelli with Cantaloupe
12 oz tonnarelli or chitarra, cooked al dente
4 T butter
1 T canola oil
3 cups cantaloupe, rind and seeds removed, diced into 1/8" cubes
1 c heavy cream
2 T freshly squeezed lemon juice
Zest from one lemon
1 t tomato paste
1 t salt
Freshly-ground black pepper
Pinch cayenne pepper
Parmesan cheese
Heat the butter and oil in a 12-inch sauté pan on medium high heat. When the oil is hot but not smoking, add the melon. Cook for about two minutes, stirring frequently. The melon must be soft but not dissolving.
In a separate small bowl, whisk together the cream, lemon juice and tomato paste. Stir into the cantaloupe and cook at high heat until the cream is reduced by half.
Add salt, a pinch of cayenne and black pepper, stirring just to combine.
Serve on top of pasta and garnish with Parmesan and parsley.
And now for something a bit healthier. I ran across this dish when I lived in California many moons ago. It's made it through several moves, across the pond, and back to the States.
It's a keeper. It is satisfying as is, but if you MUST have a protein in it, shrimp or chicken would work nicely.
Pasta with Spinach, Artichokes and Asiago Cheese
8 oz. fettuccini, cooked al dente
10 oz can artichokes packed in water, quartered
1/3 c scallions or green onions, sliced thin
2 T olive oil
½ c chicken stock
2 c fresh spinach, chiffonade cut
1 T fresh oregano, chopped plus more for garnish
2 t lemon zest
Juice of one lemon
3 + T Asiago cheese
Salt & pepper to taste
In a large skillet, heat olive oil over medium-high heat. Add garlic and cook about 1 minute. Add artichokes.
Deglaze with chicken stock and bring to a boil. Reduce to heat to medium and add spinach. Cook about 3 minutes. Add lemon juice and zest. Toss with drained pasta and Asiago cheese. Garnish with a hint of fresh oregano and a bit more Asiago.
Diane Seed says, "Italians eat pasta every day and they are not a people amused by monotony. Pasta has to appear in many guises to continue to arouse applause." I guess that's how they avoid cook's block. Maybe these recipes can help you when you just can't figure out what to cook.
Happy cooking and eating!