I looked up "umami" in the Webster's New Collegiate Dictionary that my parents gave me for Valentine's Day in 1983. The word was conspicuously missing between "Ulysses" and "umbel."
Even though Chinese gourmands recognized the flavor centuries ago and the Japanese chemist Kikunea Ikeda acknowledged this fifth taste in 1912, "Its very existence was disputed until 2002," according to a Dec. 22, 2014 article on huffpost.com. Indeed today, Urban Dictionary, calls it "a (expletive) flavor . . . that TV chefs pretend to be able to recognize. …"
This is what I know: there is a savory, delicious and satisfying flavor in some foods that can't adequately be defined as sweet, sour, salty or bitter (the four traditional taste categories we grew up learning).
Foods like pork, beef, lamb, mushrooms, salmon, tuna, oysters and aged parmesan cheese all have that certain je ne sais quoi that we now call umami. It is fitting that it was a Japanese chemist who defined this fifth flavor category. Although not exclusive to Asian cuisines, umami is abundant in most Eastern dishes.
Until noted chef, instructor and cookbook author Dorothy Huang began teaching cooking classes for us at Gourmet Gallery, Asian cooking intimidated me. Thanks to Dorothy and to Chef Rachel Solano, some of our family favorites now include dishes like Thai coconut curry soup, Asian chicken salad, Chinese dumplings, as well as our weekly stir fry or noodle bowl.
The ingredients for most of these recipes are available at our local grocers, including fish sauce which provides a healthy dose of umami. (Don't be fooled by how strong — and, frankly, awful — fish sauce smells in the bottle. It adds a depth to foods that can't quite be duplicated with any other ingredient.)
Below is Rachel's Thai Coconut Soup. Shrimp, chicken, or tofu are excellent proteins to add if you prefer something meatier, but it can certainly stand on its own. Use less curry paste if you're sensitive to spiciness (heat). With two full tablespoons, it packs quite a bite.
Thai Coconut Soup
2 T vegetable oil
2 T fresh Lemongrass, grated*
1 T fish sauce
1-2 T sriracha chili sauce
1 T light brown sugar
¼-½ lb. sliced white mushrooms
2 T grated fresh ginger*
2 T red curry paste
2 T soy sauce
6 c chicken broth
2 14-oz. cans coconut milk (or light coconut milk)
4 T fresh lime juice
Large handful of fresh cilantro leaves
Salt to taste
* The pre-grated ginger and lemon grass in a tube are suitable alternatives. You can usually find Gourmet Garden brand in the produce section.
In an 8-quart Dutch oven or stockpot, heat vegetable oil over medium heat.
Add ginger, lemongrass, chili sauce, and curry; cook for 1 minute.
Add about a cup of chicken broth to dissolve curry mixture.
Add the remaining broth, fish sauce, soy sauce, and brown sugar and simmer for 10 minutes.
Add the coconut milk and mushrooms and simmer 10 minutes.
Finally, stir in the lime juice and add salt if necessary. Serve with chopped cilantro.
Make it a meal: Serve over steamed white rice.
This cucumber chicken salad ranks at the top of my favorites for flavor and healthfulness.
You can replace the chicken in this recipe with store-bought rotisserie chicken and still get excellent results.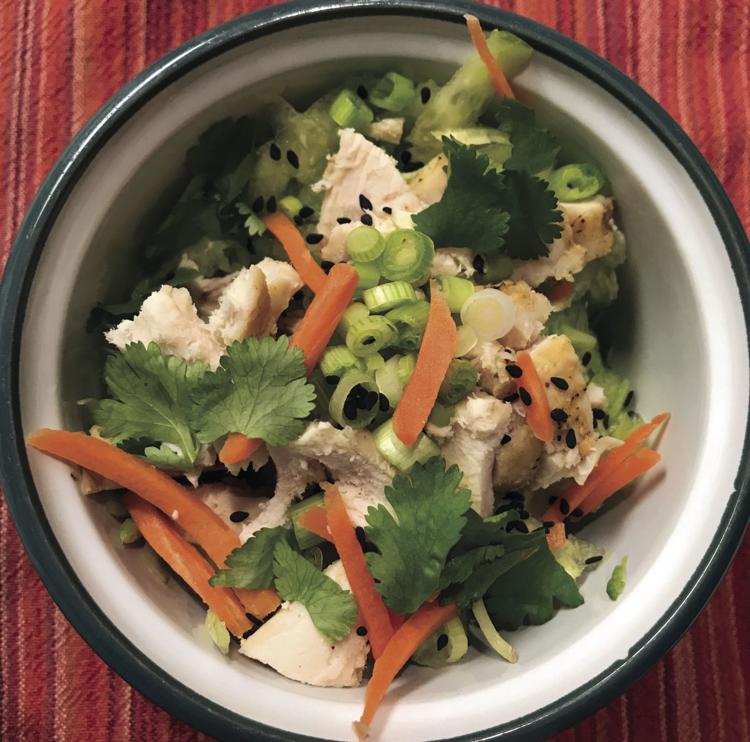 Chinese Chicken Salad with Bean Thread Noodles
1 pound chicken breast meat
¼ t salt
1/8 t freshly ground pepper
4 oz dried cellophane noodles (aka bean thread)
2 T oyster sauce
1 t minced garlic
1 T soy sauce
2 T sesame oil
1 T sugar
2 T oyster sauce
4 T rice vinegar
2 c shredded carrot (or shredded slaw mix)
2 c shredded cucumber, drained
Several sprigs of cilantro
Black sesame seeds (for garnish)
In a mixing bowl, mix chicken with oyster sauce, salt and pepper. Preheat oven to broil. Broil chicken on the upper rack for 5 to 7 minutes on each side, or until golden brown. Slice chicken across the grain into 1/8-inch thick slices.
Soak dried cellophane noodles in a pot of hot water for 10 minutes. Drain well. Cut into 3-4 inch lengths with scissors.
Combine salad dressing ingredients in a jar with a tight lid. Shake well.
In a mixing bowl, toss noodles, carrots, and cucumber with 2/3 of dressing. Transfer to a serving platter. Place chicken slices on noodles. Drizzle the rest of the dressing over. Garnish with sprigs of cilantro. Sprinkle sesame seeds on top. Serve at once.
Finally we come to our family favorite, Chinese dumplings. These tasty morsels are best made as a group project – a labor of love. Wrapping these little dumplings is the time-consuming and messy part, but it's also part of the fun. If have trouble finding Gyoza (dumpling) wrappers, just use won ton wrappers instead. Gyoza are usually round and won ton are square. Ground Pork is the primary filling in this recipe, but vegetable dumplings or ground chicken pot stickers are also delicious. It's all about the sauce to me.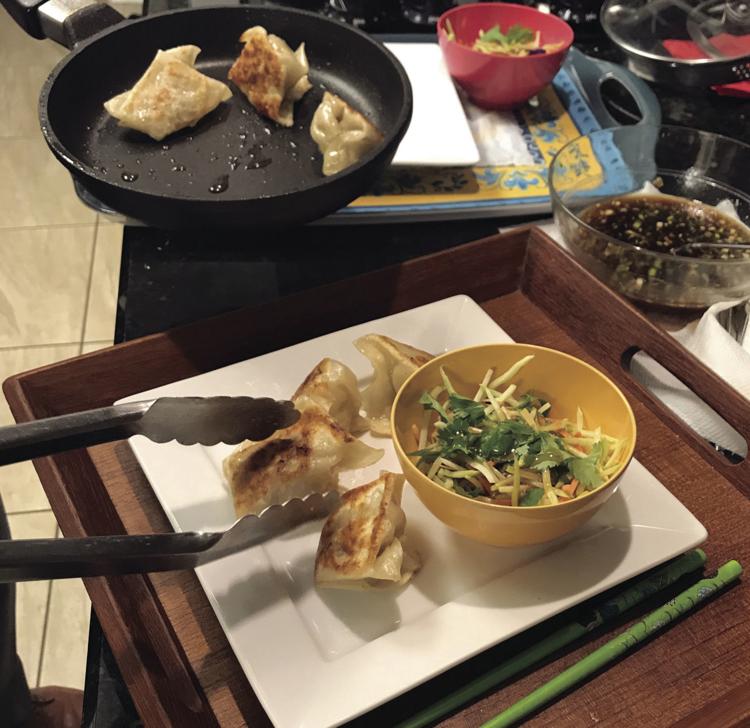 Chinese Dumplings (Potstickers)
36 dumpling wrappers
1 lb ground pork
4 large Napa cabbage leaves or slaw mix, minced
3 stalks green onions, minced
7 small mushrooms (preferably shitake), minced
¼ c ginger root, minced
3 T soy sauce
2 T sesame oil
2 T corn starch
¼ c soy sauce
2 T rice vinegar
1-2 T hoisin sauce
½ t sesame oil
2 t honey
½-1 t chili garlic sauce
¼ t fish sauce
1 t minced garlic
½ t grated ginger
Dumplings are traditionally cooked in stacked Asian bamboo or metal steamers, you can also use a pasta pot with a deep perforated colander-steamer insert.
Combine all filling ingredients in a large mixing bowl and mix thoroughly (preferably by hand). Cover and refrigerate until ready to use.
Cover a countertop with plastic wrap or parchment paper. Have a small bowl of water next to the parchment. Lay out several wrappers and place a scant tablespoon of the filling mixture in each. With your fingers, dampen the edges of the wrapper. Pinch the edges together in a "purse" to seal the dumpling.
Don't crowd your dumplings when you cook them or they will stick together.
To boil: Bring a large pot of water to a boil and add dumpling to pot. Boil the dumplings until they float.
To steam: Place dumplings on a single layer of napa cabbage leaves or on a well-greased steaming insert in a large pot of boiling water and steam for about 6 minutes.
To pan fry (potstickers): Place dumplings in a frying pan with 2-3 T of vegetable oil. Heat on high and fry for a few minutes until bottoms are golden. Add ½ c water and cover. Cook until the water has boiled away and then uncover and reduce heat to medium or medium low. Let the dumplings cook for another 2 minutes then remove from heat and serve.
To freeze: Assemble dumplings on a baking sheet so they are not touching. Freeze for 20-30 minutes until dumplings are no longer soft. Place in a Ziploc bag and freeze for up to a couple of months. Prepare per the above instructions, but allow extra time to ensure the filling is thoroughly cooked.
Whisk sauce ingredients in a medium bowl. Set aside until ready to serve.
Serve dumplings hot with hoisin dipping sauce. If we don't eat them as we take them out of the pot, we keep them warm by covering them and putting them in the oven at its lowest setting.
There are many beautiful ways to seal dumplings. Pressing them into a purse isn't one of them. It's the way we do it because Molly and Joe aren't patient enough to make them look beautiful. Regardless of how they look, they have that wonderful umami flavor, that pleasant savory taste, that yumminess — whether you acknowledge a fifth flavor profile or not.