First of all, Marie-Antoinette probably never said that. Agreed, she was likely oblivious to the plight of her people, but according to Encyclopedia Britannica, the phrase, which would more accurately translate to "Let them eat brioche," was originally penned by the French philosopher Jean-Jacques Rousseau when Marie-Antoinette was probably too young to have said such. But this is a food article, not a history lesson.
But I just can't leave history out of this. Let's explore this history of another cake: cheesecake. Apparently cheesecake was served at the first Olympics in 776 B.C. as an energy booster to the athletes. The essential ingredients were cheese, honey and flour. According to The Vintage News, the first written recipe, recorded by Atheneaus in 230 A.D., went something like this:
Pound the cheese until it is smooth. Mix it in a brass pan with honey and spring wheat flour, heat the cheesecake "in one mass," allow to cool, then serve.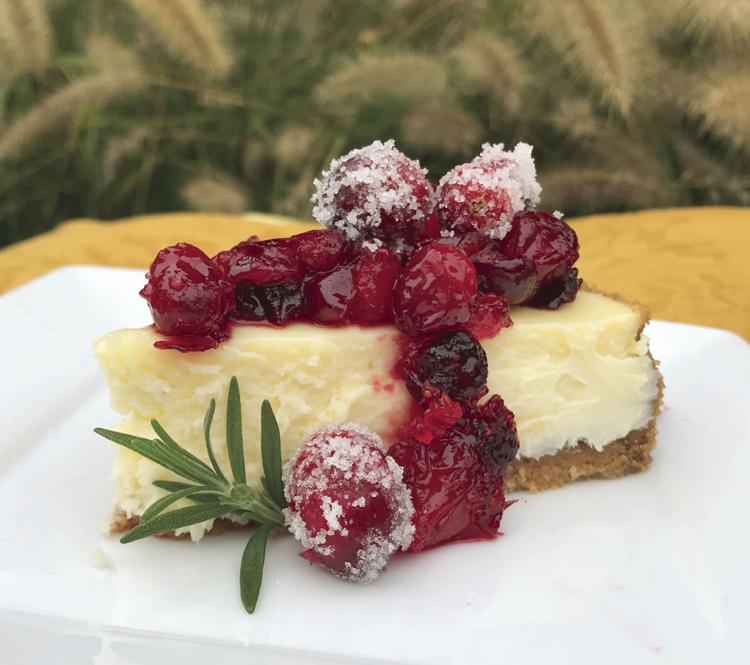 Fast-forward to 1912 when James Kraft created a form of pasteurized cheese that eventually morphed into Philadelphia Cream Cheese. In 1929 Arnold Reuben, owner of Turf Restaurant in New York City, made the first New York-style cheesecake, or so he claims, with cream cheese.
His original cheesecake crust may or may not have been made with graham crackers, but this is the one I like — with along with some pecans and almonds. (You can substitute other nuts like walnuts, hazelnuts, even pistachios if you like.)
Cheesecake
Crust
8 graham crackers (I like to use a few cinnamon grahams as well as plain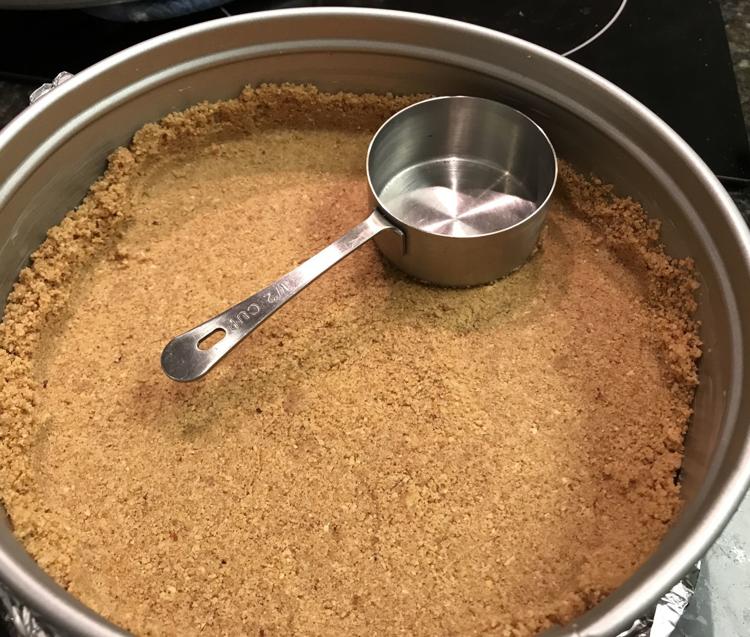 Preheat oven to 350 degrees F and toast nuts in pan for 10 minutes. When cool, put nuts and crackers into food processor and pulse until it looks like very coarse meal. Pour in butter and process until it is completely incorporated.
Wrap the bottom portion of an 8- or 9-inch springform pan as tightly as possible in aluminum foil. Butter the springform pan. Press crust firmly into pan, coming up the sides. (I use the bottom of my metal measuring cup to press it in firmly and to get an even crust.)
4 eggs at room temperature
4 8-oz. packages cream cheese at room temperature
With an electric mixer, beat the cream cheese GENTLY, cream and sugar until smooth. Add eggs one at a time, beating each until it is incorporated into the mix. Mix in zest and vanilla.
Place springform pan with crust in a larger cake pan or even a roasting pan. Pour cheese mixture on top of the crust. Place both pans in the oven, THEN pour hot water into the larger pan up to about half to two-thirds of the way up the springform pan. Bake for 50-60 minutes. Turn off the oven and let sit for additional 30 minutes.
Let the cake cool completely (4-6 hours) and run a thin knife around the edges of the crust before releasing the springform latch.
Making a cheesecake isn't for the faint at heart. It is time-consuming and can end up not looking perfect. It will still taste perfect if you follow the directions. (And you can always hide a blemished top with a lovely sauce, though that isn't what a purist would do.) Here are a few tricks that make cheesecakes inch a bit closer to the perfect mark:
1. Use Philadelphia Cream Cheese by Kraft, even though Arnold Reuben used Breakstone's brand cream cheese. No, I am not receiving any compensation from Kraft for saying this. From experience, however, this brand has consistently produced a better tasting cheesecake with a more consistent texture than with any other brand of cream cheese I have used. Kraft is typically more expensive but always worth the extra cost.
2. Make sure your cream cheese is at room temperature. Otherwise, you will have lumps of cream cheese in your cake. You can even pop the cream cheese bricks in the microwave for 15-20 seconds to get it soft enough to mix without lumps.
3. Beat the cream cheese as gently as possible to blend the ingredients. (If working with a heavy stand mixer, use the paddle attachment rather than the whisk attachment.) This helps avoid adding extra air which can create bubbles in your cheesecake.
4. Double wrap your springform pan in extra wide (18") aluminum foil to prevent water leaking into the pan and making the crust soggy.
5. For storing a baked and cooled cheesecake, The Best of America's Test Kitchen suggests placing two layers of paper towels over the springform pan then wrapping in plastic or foil. This keeps the condensation off your precious creation.
Cheesecake can certainly stand on its own, but to give it a festive flair, you might consider a cranberry compote made of fresh and dried cranberries, or a simple caramel or chocolate sauce. During the holiday season, my family will likely enjoy some of our usual sweets including my mom's pralines (famous in these parts!), pecan pie and maybe an apple pie. But this year, I say let them eat cake – cheesecake, that is.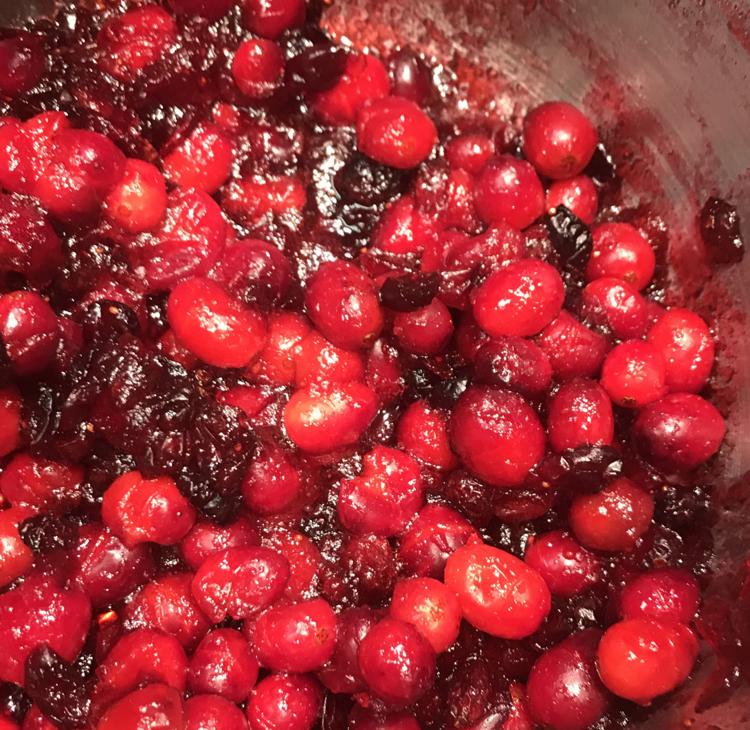 Cranberry Compote for Cheesecake
In a medium saucepan, stir all ingredients over medium-high heat. Allow mixture to come to a boil, reduce to a simmer and cook for an additional 8-10 minutes. Remove from heat and cool completely before pouring over cheesecake. Serve with a sprig of rosemary. This can be made a few days in advance and kept in an airtight container in the refrigerator.