Believe it or not, there are academic journal articles about tailgating. Indeed the Journal of Consumer Research published "Domesticating Public Space through Ritual: Tailgating as Vestaval" by Tonya Williams Bradford and John F. Sherry Jr. in April of 2015.
My daughter said, "A journal article about tailgating is the least tailgating thing I can think of."
My best guess is that the JCR coined the term "vestaval" to describe a public gathering intended to create community. Vesta is the ancient Roman goddess of the hearth and fire and of the state. According to Encyclopedia Mythica, the hearth, much like the kitchen, was the gathering place of the family and each shared meal "was a fresh bond of union and affection among the members of a family."
Romans created a sanctuary for Vesta, a public form of the hearth that "united all the citizens of the state into one large family." Thus, the term "vestaval." So, tailgating is the vestaval of sports, namely football.
When I was in middle school (we called it junior high) I was a cheerleader. We had an introduction chant, and each cheerleader had a quirky phrase. My chant was pure adolescent poetry and went like this:
Yes, really. I share this embarassing story to tell you that I didn't — and still don't — know or care much about football. I do, however, care a great deal about tailgating. It blends some of my most treasured things — family, friends and food.
I like to think of my eldest nephew Thomas as one of the best tailgaters I know mostly because he loves to be around his friends and to share his masterful "Bacon Explosion." It's just as unhealthy as it sounds, but once or twice a football season, it's worth every calorie.
Tom's original recipe came from the New York Times. He has tinkered with it for a few years, and we made it together recently, using a homemade Dr Pepper BBQ sauce that I will share with you.
Bacon Explosion
2 lb thick cut bacon (14 slices), preferably low sodium
1 lb Italian sausage
1 lb turkey Italian sausage
3-4 T Spicet (Waco made and available online or at local markets)
1 c Dr Pepper BBQ Sauce
Preheat oven to 225° F. Line a large jellyroll pan with foil. Set aside.
Secure a large piece of foil or parchment paper onto a workspace. Create a lattice (like a pie) with the 14 slices of bacon. Place 7 bacon slices side by side on the foil, parallel to one another, sides touching.
Place another strip of bacon on one end, perpendicular to the other strips. Fold first, third, fifth, and seventh bacon strips back over this new strip, then place another strip next to it, parallel to it. Unfold first, third and fifth strips; fold back second and fourth strips. Repeat with remaining bacon until all 14 strips are tightly woven. Sprinkle 1 tablespoon of rub over the bacon.
Blend the two sausages together and place it on top of the bacon lattice, spreading sausage to the upper and lower ends of the bacon but leaving about 1 inch of bacon on both of the sides. Sprinkle 1 tablespoon of barbecue rub onto sausage and rub into the meat.
Very carefully separate front edge of sausage layer from bacon weave and begin rolling sausage away from you, pressing slightly as you go to decrease air pockets. Bacon weave should stay where it was, flat. Press sausage roll to remove any air pockets and pinch together seams and ends.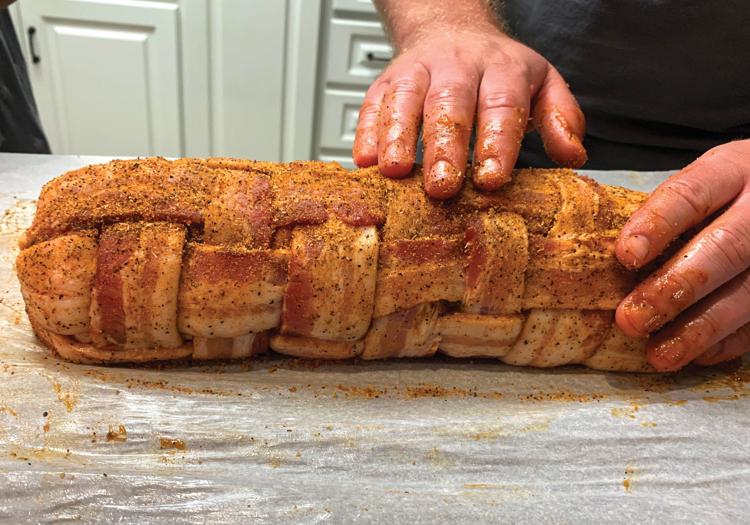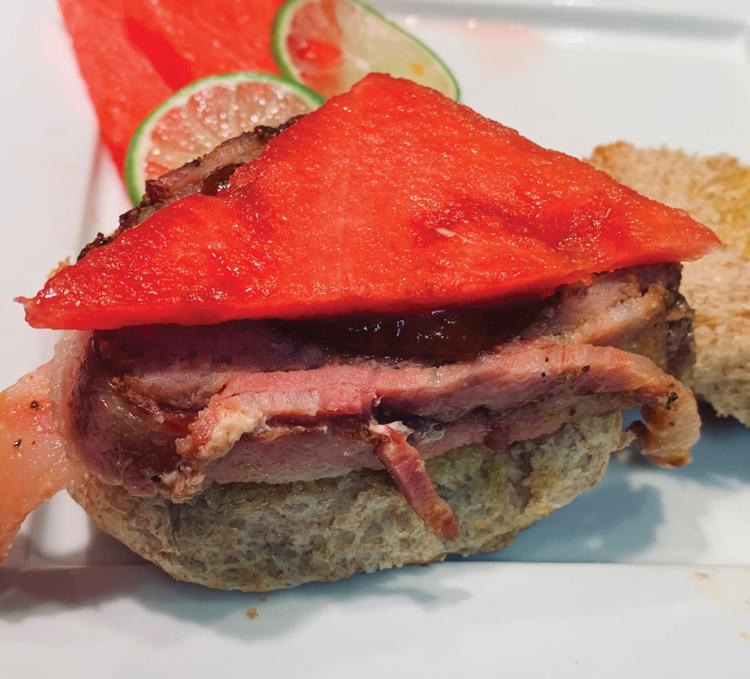 Now roll sausage toward you, this time with bacon weave, until it is completely wrapped. Turn it so seam faces down. Sprinkle with 1 tablespoon BBQ rub.
Place roll on a baking sheet in oven. Cook until internal temperature reaches 165° on a meat thermometer, about 1 hour for each inch of thickness. (A smoker works well for this, too.) When done, glaze roll with more sauce. To serve, slice into 1/4- to ½-inch rounds and serve on Hawaiian or wheat rolls with a thin slice of watermelon and another drizzle of BBQ sauce.
Dr Pepper BBQ Sauce
4 tablespoons (1/2 stick) unsalted butter
1 large yellow onion, finely chopped
3 cloves garlic, minced
1 c ketchup
4 T tomato paste
12 oz Dr Pepper
½ cup cider vinegar
½ c orange juice
3 T Dijon mustard
2 T yellow mustard
1/3 c Worcestershire sauce
½ c packed dark brown sugar
2 t chipotle chili powder
1-2 T Italian seasoning
In a heavy saucepan, melt the butter. Sauté the onion and garlic in the butter until translucent, about 10 minutes. Add all the remaining ingredients and simmer for about 15 minutes to blend flavors.
Cook an additional 20 to 30 minutes until the sauce is thick and reduced by about one-third. Taste and adjust the seasonings with salt and pepper if desired.
Let the sauce cool. Use a blender to puree the sauce if you prefer it to be completely smooth. The sauce will keep in the refrigerator for two weeks.
Because it is quite salty and spicy, a Bacon Explosion sandwich needs a little something fresh, slightly sweet, and not as heavy to pair with it.
This slaw is an adaptation of one from The Southern Junior League Cookbook, published in 1977, a go-to resource for some of our favorite family dishes.
Slaw
Adapted from the Junior League of Greenville, South Carolina
1 small purple cabbage, shredded fine
1 small green cabbage, shredded fine
1 large onion, shredded
3/4 c sugar
1 c apple cider vinegar
¾ c canola oil
1 t dry mustard
1 t celery seed
1 T salt
Put the cabbage and onion in a bean pot. Top with sugar.
Combine vinegar, oil, mustard, celery seed, and salt. Bring to a boil. Pour hot mixture of cabbage and cool. Cover and refrigerate for at least two days.
Of course, any good tailgate requires some fun beverages. We experimented with different beverages for pairing and came up with three good options.
My personal favorite was Becker Vineyards 2017 Indian Summer red wine. Thomas, having just returned from Spain, chose to drink a localized version of Kalimotxo, a drink made popular in the Basque region in the 1970s. According to Huffpost.com, "It was originally called Rioja Libre or Cuba Libre del pobre (poor man's Cuba Libre), but during a Basque festivity in 1972 it was renamed by a group of friends who were serving bad wine and decided to doctor it with cola to make it drinkable."
Kalimotxo
4 oz cheap red wine
4 oz cola
Ice
Fill a glass with ice. Add red wine and cola. Stir.
To "Waco-ize" this beverage for pairing with our Waco version of Bacon Explosion, my nephew came up with this recipe.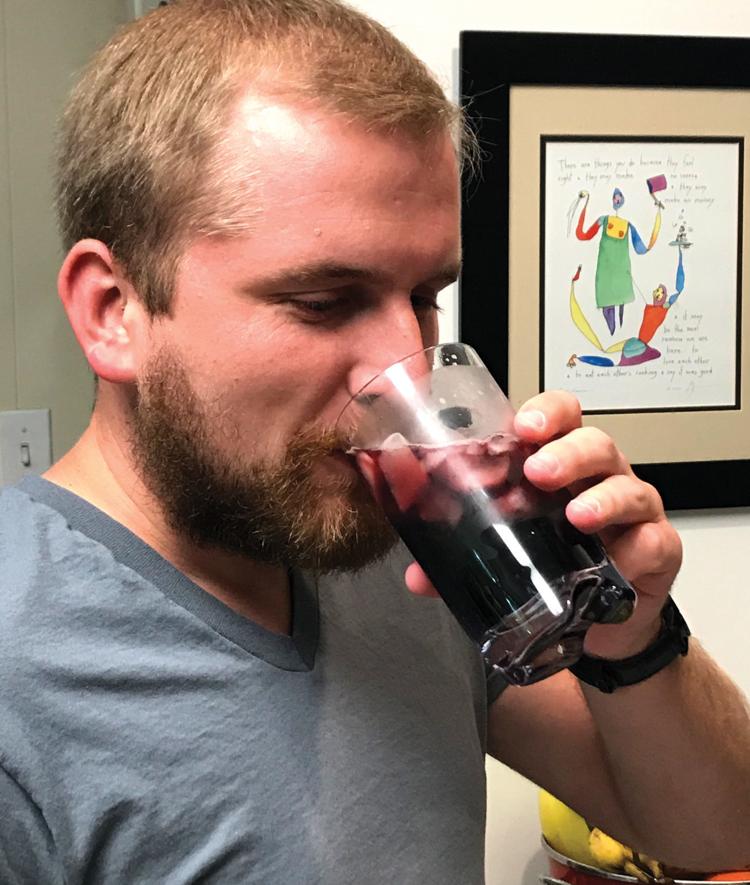 Tom's Tex-motxo
4 oz Cupcake Red Velvet wine
4 oz Dr Pepper
Squeeze of lemon
Ice
Follow same directions as above. Garnish with a slice of lemon.
Even though I still don't "get" football, I'm glad it inspired the "vestaval" of tailgating and of "domesticating public space," even if it's really just having a good time with good friends and good food and drinks before, during and after a football game.
Thanks, Vesta, for creating the hearth and fire. Happy tailgating!