There are few things that make me happier than a gathering of people cooking and eating together. Just ask my family. They probably get tired of my insisting on Sunday evening dinners at our house, but they always seem to be grateful for a free-ish meal.
The consolation is that they don't have to do much of the cleanup.
I'm even happier when the menu tastes lavish but is simple to prepare. For a recent gathering, we invited a several new and unindoctrinated friends. They didn't realize they would be Guinea pigs for untested recipes including some "cheater" recipes.
By "cheater" I mean that the description of the dish is more extravagant than its components. This doesn't always work out well, but with this time, it did.
The menu may sound a bit intimidating, but with these cheater recipes, it's doable.
I think this would be a wonderful Dad's Day Dinner in lieu of hamburgers or steaks and beer (not that there's anything wrong with that), and, frankly, it's easier than manning or woman-ning a grill.
Dinner party menu
Watermelon spritzer
Potato-crusted whole roast salmon
Roasted asparagus
Spring greens with honey pecans and bleu cheese
Crusty French bread
White chocolate mousse
The highlights of this menu are the Watermelon Spritzer, (Cheater) Potato-crusted Salmon and (Cheater) White Chocolate Mousse.
You can prepare most of these recipes beforehand and give yourself time to enjoy yourself at your next dinner party.
Not only is this beverage beautiful, it is also versatile. Using sparkling water makes a delicious kid-friendly treat, or add a sparkling wine to create a summery adult beverage.
---
Watermelon Spritzer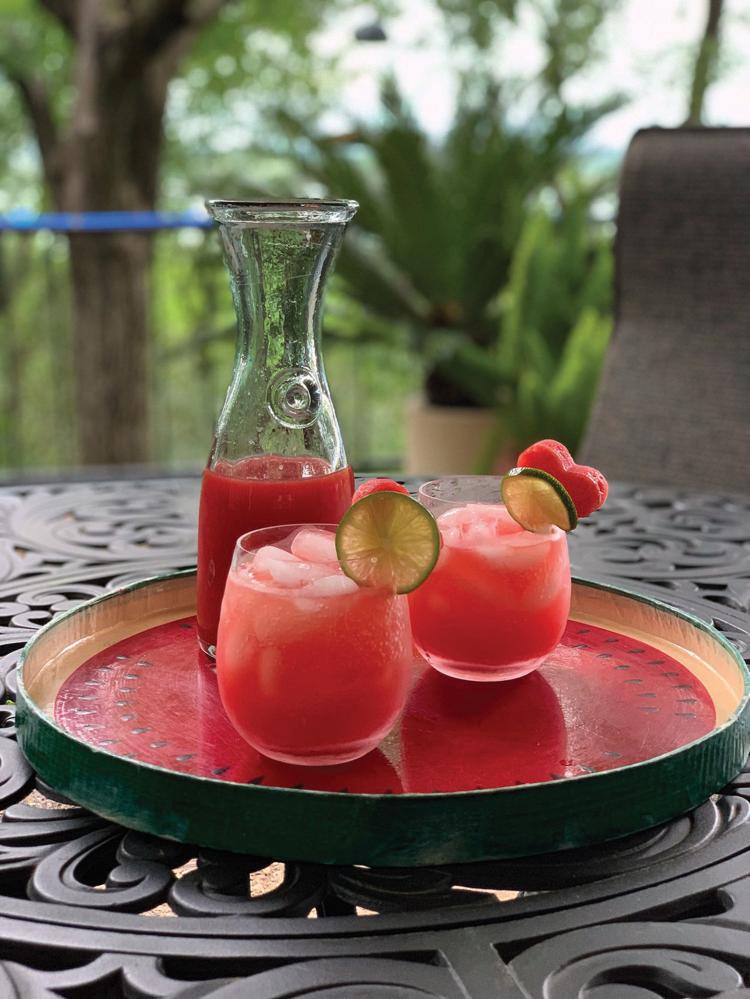 1 c super-fine sugar
1 ½ c water
1 c crushed ice
6 c diced watermelon, pureed and strained (enough to make about
3½ c juice)
2/3 c freshly-squeezed lime juice
2 c sparkling water or dry sparkling wine (I like an inexpensive Cava like Jaume Serra Cristalino Brut)
Extra watermelon "hearts" and lime for garnish
In a medium saucepan, combine sugar and water and heat over medium-high until mixture comes to a boil. Reduce and simmer until sugar is completely dissolved. Set aside and cool thoroughly.
To puree the watermelon, cut into small chunks and process in food processor or blender until smooth. Strain through a sieve to remove extra pulp so that you have mostly juice.
Combine the simple syrup, lime juice and watermelon juice in a large jar or pitcher. Chill. When ready to serve, stir or shake juices (The solids in the juice will separate from the liquids a bit.)
In a glass of crushed ice, fill half full with watermelon-lime juice. Top with sparkling water or Cava. Garnish glass with watermelon hearts and lime circles. If Dad wants something a little stiffer, try a shot of light rum and ¼ cup of ginger beer in place of the sparkling water/wine.
Potato-crusted salmon is a real pleaser. It can be cooked in individual sizes, but a whole roast salmon creates a lovely presentation for a crowd. It also allows for a range of doneness for the fish.
An instant-read thermometer will make cooking this dish much simpler and safer. I prefer mine still swimming just a bit, about 125° F. The thought of this makes my brother-in-law almost sick. He prefers his at about 135°F, which is the temperature for medium-rare steak.
Using the thermometer on a whole roast salmon can ensure a nice medium-rare center cut piece and well-done pieces toward the ends – something to please everyone.
Four to 6 ounces is typically considered a serving. If you purchase a whole salmon and have some left over, it freezes well when cut into individual portions, wrapped in plastic wrap and then in foil. (The leftovers also make delicious salmon burgers or salmon croquettes. All you have to do is add an egg, a little mayonnaise, and some additional bread crumbs, form into patties, and panfry. Email me if you want to know more.)
---
Cheater Potato-Crusted Whole Roast Salmon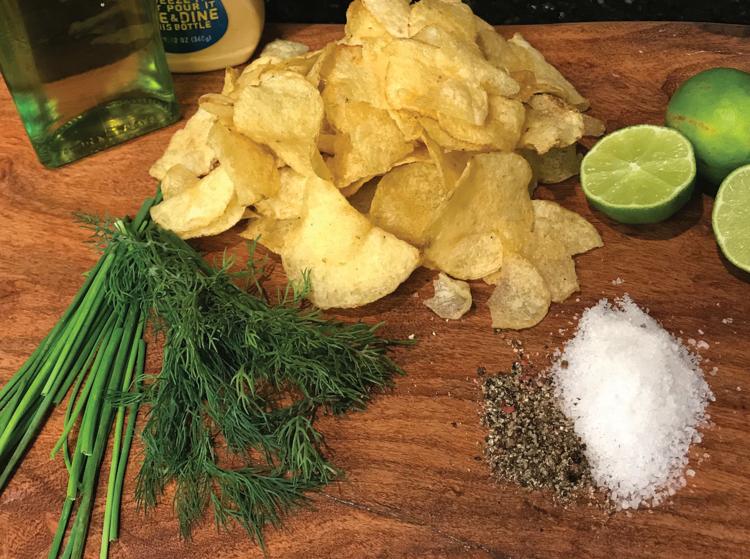 One 6-7 lb. side of salmon, skin on
¼ c Dijon mustard
2 T plus 1 t olive oil
One 8-oz bag of kettle cooked potato chips
Zest and juice of three limes
¼ c chopped fresh dill
1 bunch chopped fresh chives
You can assemble this recipe one day prior to cooking. Cooking times should be adjusted to the cut/size of salmon you are cooking. Take the salmon out of the refrigerator 30 minutes prior to cooking.
Preheat oven to 400°F. Line a half-sheet baking pan with foil. Place the salmon on the lined baking sheet, skin side down. Season generously with salt and pepper.
Pulse kettle chips in a food processor or blender for 30-45 seconds. Add dill and chives and process for another 30 seconds, or until chips are crumbly and dill is well-combined.
Add lime zest, juice, and 1 t olive oil and pulse another 30 seconds. (Alternatively, you can coarsely crush the chips in a large zip-lock bag with a rolling pin. Add the dill, chives, lime zest, lime juice and olive oil and shake in the bag. The chips will not crush as evenly as in a food processor, but they will provide a pleasant varied texture to the potato crust.) Set aside.
In a small mixing bowl, combine Dijon and 2 T olive oil. Using a pastry brush, coat the salmon with the mustard-olive oil mixture.
Sprinkle the kettle chip mixture on top of the salmon and press in to form a firm crust. Use as much of the mixture as possible. Spray or sprinkle with olive oil.
Bake for 30-40 minutes or until center of salmon reaches 125° F. Remove from oven and let it rest for about 10 minutes. Cut into 4- to 6-ounce slices and serve. Needs no embellishments.
Pairing notes: My favorite wine with salmon is a Willamette Valley Pinot Noir. Joe and I recently had a 2014 Cumberland Reserve from Bergstrom Cellars. It was a perfect match. You can purchase this at The Olive Branch downtown Waco for under $50.
If you are a white wine drinker, Chardonnay is one that is hearty enough to pair with salmon. The BV Carneros Chardonnay (typically $20 or less) fits the bill nicely.
According to upprox.com, the best beer to pair with salmon is a German pilsner, but my brother Gary says that Belgian Stella Artois works well. When I pressed my brother further (because he knows dad stuff), he said that a good Scotch whisky to pair with salmon would be either a Tomatin 10-12 year or an Arran 10-year.
Let's move on to dessert.
Typically, I am not a fan of white chocolate anything. (It's not really chocolate.) But recently when asked to make a white chocolate mousse, I discovered a cheater recipe with a flavor that was unmatched by the more traditional white chocolate mousse recipes.
Admittedly, the texture is not as refined as a traditional mousse but the flavor was more pleasing. I didn't believe that this recipe would work, but it does. Trust it – and me.
Cheater White Chocolate Mousse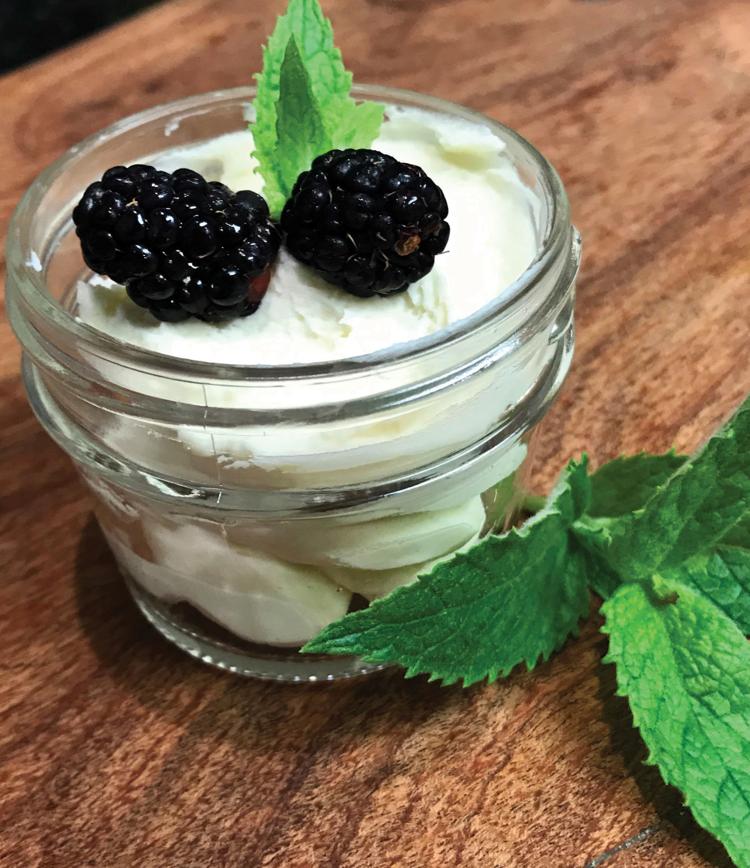 2 cups heavy cream
12 ounces vanilla baking chips
1 T confections sugar
1 t high quality vanilla extract
In a medium saucepan over medium heat, warm cream until it's very warm but not boiling. Add vanilla baking chips and stir constantly until melted. Add extract and stir until completely smooth and blended.
Pour mixture into a large mixing bowl. Cover well with plastic wrap and refrigerate until completely cool — at least 3 hours and even overnight.
Remove from refrigerator, add confectioner's sugar, and beat with an electric mixer until stiff peaks form. Spoon or pipe into serving vessels. This can be made two days in advance and it holds beautifully. Garnish with fresh berries and mint.
Father's Day dinners don't have to be complicated. In fact, most dads are just happy to have their families around them.
Gather your family and try these recipes. I think that my dad, Boyd Miller, God rest his soul, would have loved this menu — except the alcohol. He was never much of a drinker, but I bet he would have enjoyed a Stella Artois with Gary.