After four years at University of Nebraska Lincoln, my stepdaughter is graduating, moving into her own place, and starting medical school. Her mom suggested to me that a good gift for Becky would be a few simple recipes that she and her roommates could make that wouldn't take a lot of time or money. So, Joe and I set out to compile 22 recipes for her 22nd birthday.
Her generation didn't grow up taking "home ec," the class in high school focusing on cooking, sewing and managing a household, and families cooked at home less during her formative years, but she IS of a generation more concerned about healthy eating and she wants to cook at home.
According to a Jan. 23, 2017 article in the Huffington Post, "Millennials in particular — those who came of age at the turn of the century — are leading the charge by making health-promoting diet and lifestyle choices a priority. …"
The same article indicates that finally, millennials and baby boomers have something in common. "Aging baby boomers — those born between 1946 and 1964 — seem to become more engaged in their quest for good health, active retirement, longevity and independence."
If such disparate generations share these goals, now seems like a good time for parents and grandparents to be sharing some healthy and time-honored recipes with their children and grandchildren.
How can a younger generation incorporate grandmom's cooking into their super-busy lives? A fairly recent innovation provides the answer: sheet pan dinners.
When I asked a very reliable source (my mother) if sheet pan dinners were around when she was growing up, she said no.
In an utterly unscientific survey of my foodie friends, I learned that their families didn't make sheet pan dinners either. Nor did my family when I was young.
I wish I could claim that I invented the concept, but I think it may be attributable to Molly Gilbert's editor at Workman Publishing. Gilbert wrote "Sheet Pan Suppers," an excellent resource for additional sheet pan dinners.
So, what are sheet pan dinners anyhow? They are a simple way to cook meals with a variety of ingredients and fewer cooking utensils. With a little practice from more formulaic recipes, you might be ready to incorporate some of your family recipes into this newish format.
Helpful Hints
There are a few helpful hints when cooking this way:
1. Line your sheet pan with foil or parchment paper. This makes clean up much faster. If you are going to broil during any point of cooking, use foil so that you don't start a fire.
2. Don't overcrowd your foods.
3. Aim for similar size cuts of vegetables.
4. Either pair proteins and vegetables that require similar cooking times OR add food in stages.
5. Use a thermometer to test for meat doneness.
Here are two of our favorite sheet pan recipes. You can add a starch with either, but these are full meals even without it.
---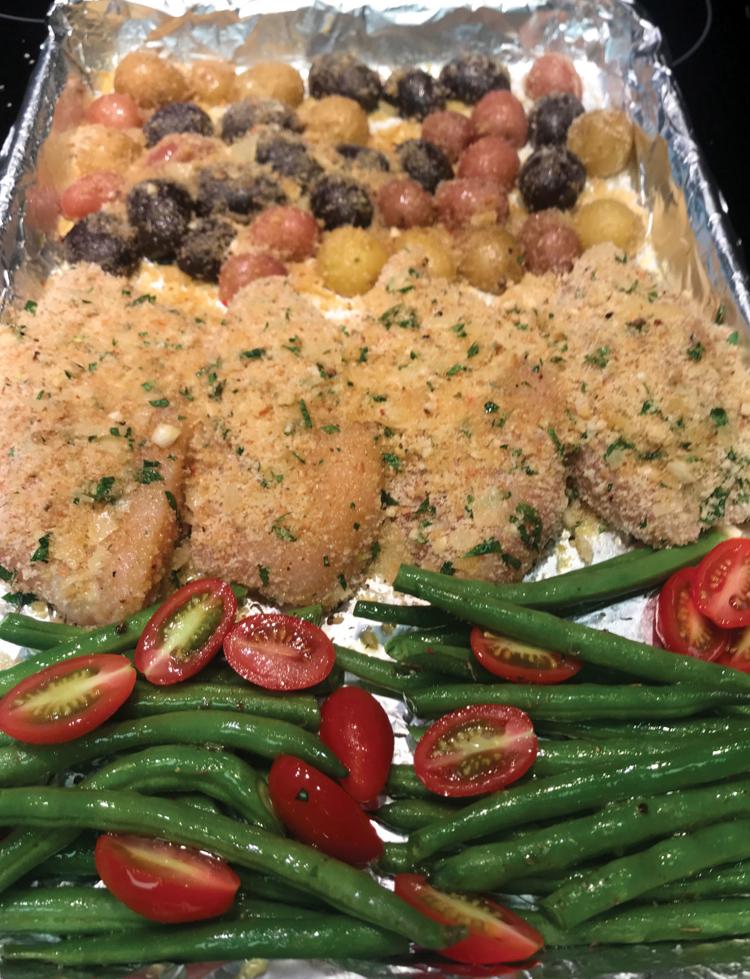 Molly's Favorite Sheet Pan Dinner
6 four-ounce boneless skinless chicken breasts
¼ c freshly grated Parmesan
½ t pepper
½ c olive oil, divided
3 lbs baby potatoes, cut in half
1 lb fresh green beans, washed and trimmed
½ c dried breadcrumbs
1 T dried Italian herb blend
½+ t salt, divided
4 garlic cloves, minced
2 T fresh parsley
Additional olive oil for drizzling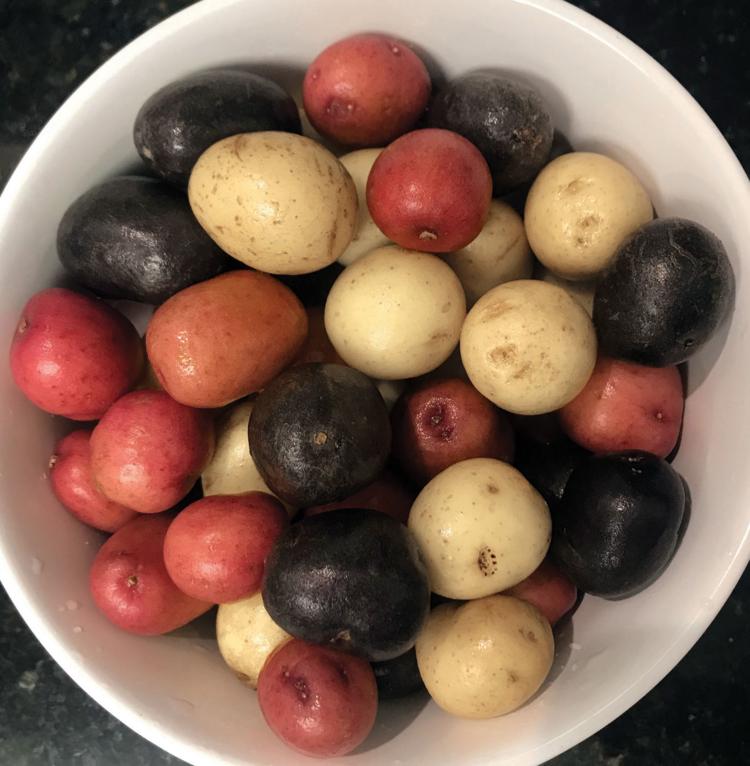 1. Parboil baby potatoes. (Boil them covered in water for about 5 minutes. This ensures that they are completely cooked, finishing off in the oven.)
2. Line a 13x18 sheet pan with foil. Spray with olive oil.
3. Preheat oven to 375° F.
4. Combine breadcrumbs, Parmesan, Italian herbs, minced garlic, pepper and ¼ t salt in a shallow pan. Set aside.
5. Drain potatoes and add ¼ cup olive oil to coat potatoes. Gently toss the potatoes in the bread crumb mixture.
6. Place potatoes cut side down on one side of the sheet pan.
7. Add the fresh parsley to the remaining bread crumb mixture.
8. Pat dry chicken breasts. Drizzle with olive oil. Dip chicken breasts in the bread crumb mixture, turning to coat evenly. Place in the middle of the sheet pan, pressing remaining breadcrumbs on top of the chicken.
9. Line green beans at the opposite end of the sheet pan from the potatoes. Drizzle with olive oils, salt and pepper.
10. Bake 15 minutes, then turn the chicken.
11. Bake additional 10 minutes or until internal temperature of chicken reaches at least 160°F.
12. Remove from oven and let meat rest for five minutes before serving. It will continue to cook and should reach 165° F before serving.
• Progresso or any other store-bought brand breadcrumb is fine. Panko crumbs work well, too. You can also use stale bread that you've processed in a blender or food processor.
• For extra golden potatoes, you can broil the potatoes for 2-4 minutes after roasting.
• Parboiling potatoes is optional (and dirties another cooking vessel). If you want to skip this step, just roast potatoes for 35-40 minutes, adding the chicken and beans after about 10 minutes of cooking.
---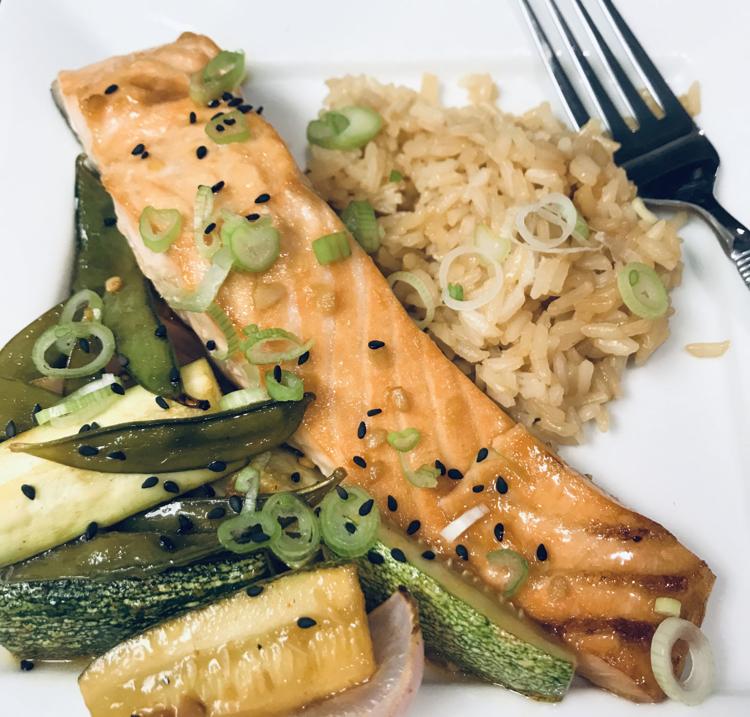 Honey-soy Glazed Salmon Sheet Pan Dinner
Cooking spray
3 T olive oil, divided
1 T fresh lime juice (from 1 lime)
½ t freshly grated ginger
6 ounces zucchini squash, quartered and cut into 2 ½" pieces
1 red onion, quartered
2 green onions, sliced thin
2 T reduced sodium soy sauce
2 T honey
2 cloves garlic, minced, divided
4 (4-5 oz) skin-on salmon fillets
6 ounces cauliflower, trimmed into small florets
¼ t smoked paprika
1 T black sesame seeds
1. Line a 13x18 sheet pan with foil. Coat with cooking spray or olive oil.
2. Preheat oven to 400° F.
3. Combine soy sauce, 1 tablespoon of the oil, honey, lime juice, 1 clove of garlic, and ginger in a cake pan. Place salmon in pan and spoon sauce on top. Set aside.
4. In a separate bowl, combine remaining 2 tablespoons of oil, remaining clove of garlic, squash, cauliflower, red onion, salt, pepper, and paprika. Toss to coat. Spread on baking sheet, avoiding overcrowding. Bake at 400° F for 12 minutes. Stir vegetables and push to edges of pan, creating an open center.
5. Place marinated salmon fillets in the open center space of pan. Pour any leftover marinade over salmon. Bake at 400° for 15 minutes. Top salmon with green onion and sesame seeds. Serve with cauliflower, zucchini and onion over jasmine rice (if you need a starch).
When Becky received the compilation of recipes, she called to thank us, almost teary with excitement. I couldn't have been more honored, and I can't think of a nicer tribute to our families than updating and sharing recipes with those we love.
Regardless of your generation — so-called silent generation, baby boomer, Gen X, millennial, or other — please share your recipes with your children and grandchildren, and with your parents and grandparents. It will be a gift that will keep on giving through even more generations.