My husband married me because I am a good cook. I'm okay with this. I married him because of his exceeding good looks, and superior intellect — especially his ability to choose a good cook.
Occasionally, however, I miss the mark in the kitchen. My well-intentioned attempts at a new dish go awry and my culinary "experiments" go south.
When I was 24, a friend gave me a recipe for chicken cordon bleu. I, prematurely confident in my culinary skills, invited friends over to dine with me on this never-before-attempted-by-me recipe. The instructions said to microwave for 10-12 minutes OR to bake for 30-35 minutes in the oven.
Because I didn't read judiciously, I did both. One of my guests said, "Have you ever tasted chicken cordon bleu? This tastes a little bit like it."
More recently, we had friends over for another experiment — my first attempt at making Vietnamese pho. We warned our guests that this was a test-kitchen experiment when we invited them. Willing participants Anne and Nelson were very gracious, but my pho attempt was less than successful.
We all ate it, but it was not great. Thank goodness we had lots of good wine to make up for my lackluster version of an otherwise flavorful soup.
I haven't tried to make pho again, but I still test friendships with kitchen experiments. For last year's Super Bowl, Joe and I made Philly cheesesteak sandwiches and New England clam chowder for a small crowd.
Both were successful and the chowder turned out to be the warming comfort soup I had in Massachusetts. Since we tested and approved the chowder recipe, I feel confident sharing it along with a couple of other tried and true soup recipes that I rely on almost every winter.
Karyn's Clam Chowder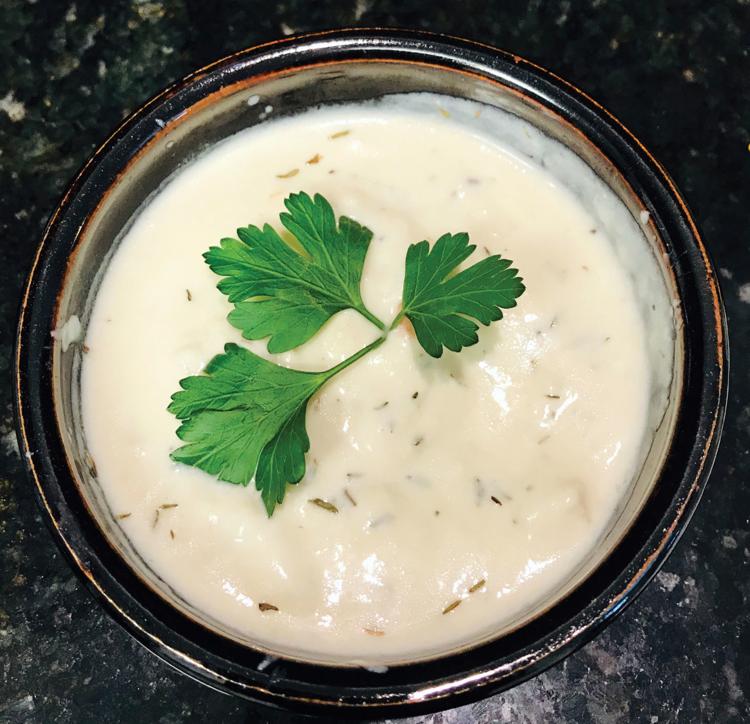 Meat from 40 (about 4 pounds) little neck clams* OR 4 6.5-ounce cans chopped clams
6 slices thick-cut bacon, chopped
2 T butter
1 large onion, diced
2 stalks celery, diced
3 T flour
2½ cups clam juice*
½ cup water (or more if desired for thinner broth)
1 cup heavy cream
1 lb potatoes, preferably yellow like Yukon Gold, peeled and cut into ½" dice
2 t chopped fresh thyme
1 bay leaf
Pinch of cayenne pepper
¼ t seafood seasoning such as Old Bay
2 T chopped flat-leaf parsley, plus a little more for garnish
Salt and pepper to taste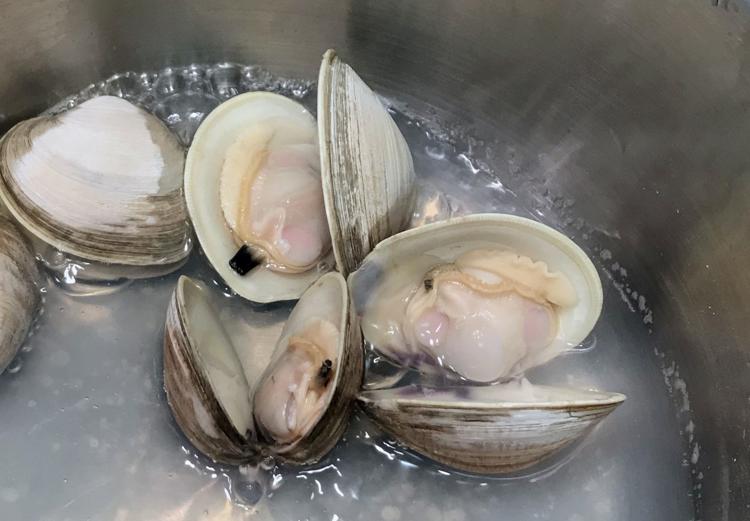 Over medium heat, melt the butter then cook the chopped bacon in a 4-quart Dutch oven for 4 to 5 minutes, stirring frequently. Add diced onion and celery and cook until vegetables are translucent.
Stir in flour and cook for 4 to 5 minutes. Add clam juice, cream, and water. Bring to a low boil. Add potatoes, fresh thyme, bay leaf, cayenne, and seafood seasoning. Cook until the potatoes are tender, about 12 minutes. Discard bay leaf.
Puree 1 cup of soup solids in a blender or in a separate container with an immersion blender. Return puree to soup pot. Stir in clams and parsley and simmer for 5 minutes. Season with salt and pepper.
Serve hot with crusty French bread or oyster crackers.
*While it requires a few extra steps, steaming clams is simple and really boosts the flavors of clam chowder. H-E-B sells little neck clams that are already cleaned and scrubbed. Discard any clams that are already open. Bring 2 cups of salted water to a boil in a stock pot. Add the clams, cover pot and cook for 5 minutes. Removed open clams with a slotted spoon. Reserve the clam broth for your chowder. Remove clams from shells, discard shells, and roughly chop clam meat.
Now for something a bit healthier:
While leading a cooking class with me for cancer patients, a Baylor professor introduced me to the following soup. Admittedly, I thought the recipe sounded boring. Kale has never been at the top of my favorite leafy greens list, but Allison Adelman, author of the recipe, incorporated it into a delicious and comforting soup. (You can find it and a multitude of other unique recipes on Allison's blog Spontaneoustomato.com.) The author gave me specific permission to print her recipe. I encourage you to look up some of her others.
Turkey Lentil Soup with Kale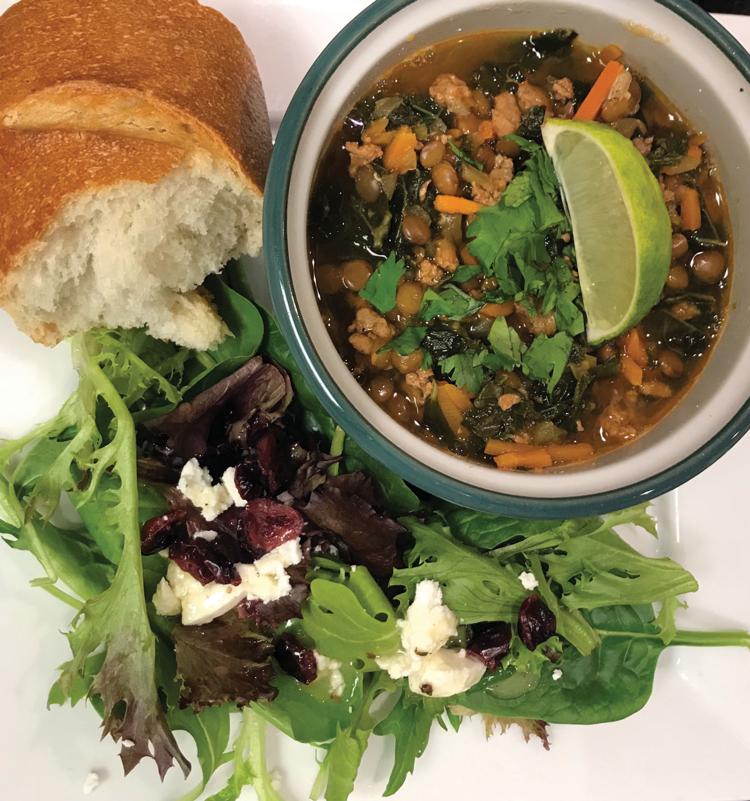 1 lb ground turkey (extra lean)
1 c lentils
1 bunch kale, roughly chopped, with wide stems removed
5 c chicken broth (or other stock)
2 carrots, finely chopped
3-4 stalks celery, finely chopped
½ an onion, finely diced
3 cloves garlic, finely diced
several tablespoons olive oil
3 T tomato paste
½ t each of cumin, paprika, chili powder
salt, black pepper, and chipotle to taste
lemon (or lime) juice to taste
OPTIONAL: hot sauce to taste
fresh chopped cilantro to garnish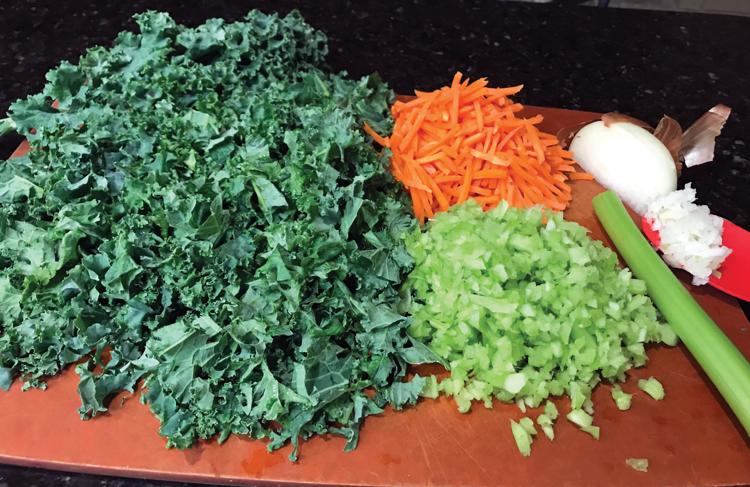 In a shallow pan, heat 2 tablespoons of olive oil. Add the turkey and season with salt, pepper, and chipotle or chili powder. Cook over medium heat until the turkey meat is fully cooked (about 10 minutes).
While the turkey is cooking, start the soup. In a large stockpot, heat 2 tablespoons of olive oil over medium heat, add the onion. Cook the onion, stirring, for 3-4 minutes, then add the garlic and stir for an additional minute. Next, add the carrots and celery to the stockpot, stir, and cook for another 5-10 minutes, just until they've started to sweat and become tender.
Add the tomato paste and the spices (cumin, paprika and chili powder, as well as salt, pepper and chipotle to taste). Transfer the cooked turkey to the large stockpot, and pour in the chicken broth. Increase heat to medium high and bring to a low boil.
Once the soup has reached a boil, add the lentils, reduce heat to simmer, cover pan, and cook for 30-40 minutes. Wait to add the kale when it seems nearly done (in the last 10 minutes). It might seem like the kale won't fit into the pot, but it will shrink down the moment it hits the simmering water and starts cooking.
Garnish with a squeeze or two of lemon or lime juice, some freshly chopped cilantro and a dash of hot sauce. Serve warm.
A sweet friend, Marion Wilkins, shared the following recipe with me when Gourmet Gallery conducted a winter soups and salads class a few years ago. This simple recipe will forever remain a favorite of mine. Thank you, Marion.
Spiced Bosc Pear & Pepper-Jack Soup
7 Bosc pears, peeled, seeded and diced
2 quarts chicken stock
½ tablespoon honey
Pinch of chili powder
Pinch of nutmeg
Pinch of cinnamon
Salt and pepper to taste
1 cup heavy cream
½ cup grated pepper-jack cheese
½ cup crumbled crisp bacon
Bring all ingredients except cream to a boil, reduce heat and simmer 5 minutes or until pears are soft. Puree in blender or food processor until smooth. Return to pot and slowly add cream. Heat through. Serve with cheese and bacon on top.
I hope these soups add some comforting warmth to your winter. You can trust them. They're tested. Happy cooking and eating!