Valentine's Day is not for the faint of heart. Originally Rome celebrated a "feast" in mid-February called Lupercalia involving streaking men, sacrificial goats and dogs, and bizarre matchmaking rituals.
Some historians say that early Christians attempted to incorporate these pagan rituals into their religion, changing it to a more humane (or at least a more fully clothed) matchmaking holiday and eventually called it Valentine's Day because of the saint martyred on Feb. 14.
At that time, the feast had nothing to do with chocolate, flowers or greeting cards. And from these descriptions, it hardly sounds romantic. We have Chaucer and Shakespeare to thank for that, according to a Feb. 13, 2011 NPR article, "The Dark Origins of Valentine's Day."
Alas, in 1913 in the New World, Hallmark cards began its mass-marketing Valentine campaign.
Whether you deem it dark, romantic, silly, or special, why not celebrate it? Here are some recipes to get you started. Even if the celebration isn't for you, these recipes a worth a second look for a cozy dinner at home.
Winter Salad with Pomegranate, Orange and Goat Cheese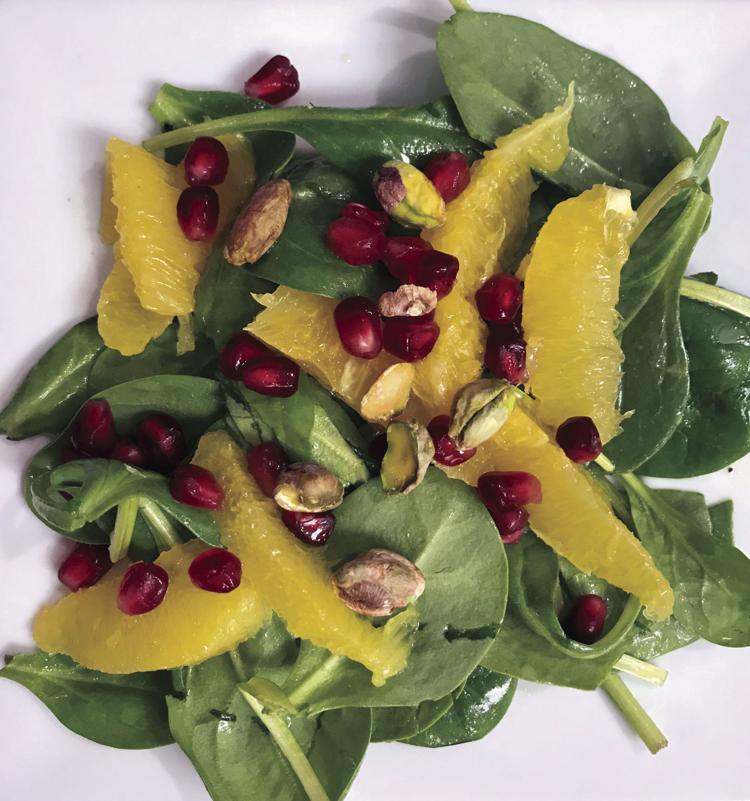 Segments and juices from 2 navel oranges
1 T champagne or rice wine vinegar
1 T honey
2 t extra virgin olive oil
Salt and pepper to taste
5 cups mixed greens
½ c pomegranate seeds (from about one pomegranate)
¼ c pistachios
1 ounce goat cheese, crumbled
To segment the oranges, peel and remove as much pith as possible. Over a medium bowl, use a sharp utility knife (preferably 4- to 6-inch blade) and carefully cut between the skin and meat of each orange slice catching the juice in the bowl. (This is exactly how your mother told you NOT to cut because you are cutting toward your hand. Just be careful. The only red color in this salad should be from the pomegranates.) Set segments aside.
Reserve 1/3 cup of the juice, saving the rest for another use, and whisk in the vinegar, honey, olive oil and salt and pepper. Toss dressing with greens in a large salad bowl. Top with orange segments. Sprinkle with pomegranate seeds, pistachios and goat cheese.
Coq au vin is a simple and inexpensive recipe likely first made by peasants. It's delicious, warming and, well, quite romantic. It works well with my husband and pairs beautifully with a slightly chilled Pinot Noir.
Coq au Vin
Adapted from Julia Child's and Ina Garten's recipes
2 T olive oil
3 slices thick bacon, chopped
4-6 chicken thighs
½ small yellow onion, thinly sliced
½ lb carrots, thickly sliced
2 cloves garlic, minced
¼ c cognac or other brandy
1/8 cup tomato paste
2 T flour
2 c chicken stock or broth, preferably homemade
½ bottle dry red wine such as Burgundy or Cabernet Sauvignon
½ t fresh or ¼ t dried thyme leaves
½ lb pearl onions
½ lb white or baby bella mushrooms, quartered
Heat olive oil in a Dutch oven or braiser over medium heat. While bacon cooks, pat chicken thighs dry and sprinkle with salt and pepper.
Remove bacon and set aside. In the same cooking vessel, brown the chicken thighs and set aside on the same plate as the cooked bacon.
Add the carrots and onions and cook for about five minutes. Add minced garlic and cook an additional minute. Pour in cognac and return the bacon, chicken, and any collected juices and bits to the pan, cover. Reduce temperature to medium low and continue to cook for about 6-7 minutes.
In a small bowl, combine 2 T flour with 3 T of the chicken broth to make a thin paste. Add the wine, remaining chicken stock and thyme. Add the tomato paste and flour/broth paste mixture to the pan and stir until fully incorporated in the mixture. Cover and cook for 20 minutes. Add the pearl onions and mushrooms and cook for an additional 10-15 minutes until pear onions are tender. Season to taste with additional salt and pepper.
Garnish with parsley and serve with crusty French bread.
The following recipe for chocolate mousse has worked every single time I've followed the directions closely. It has failed every single time I tried to speed it up or otherwise abbreviate. Because I'm a bit lazy, I melt my chocolate in the microwave.
Perfect Chocolate Mousse
Makes 8 servings, can be halved
2 cups chilled heavy cream
4 large egg yolks, chalazae* removed
3 tablespoons sugar
1 teaspoon vanilla
7 oz fine-quality bittersweet (not unsweetened) chocolate chips, such as Ghiradelli
Garnish: lightly sweetened whipped cream
Special equipment: Instant-read thermometer.
* The chalaza is the stringy white thing in the egg that holds the yolk in the center of the white. Sometimes it can keep your mousse from being completely smooth. It will usually strain out later in the recipe, but just in case, I always scoop it out with a small spoon before I whisk the yolks.
Heat 3/4 cup cream in a 1-quart heavy saucepan until hot. Whisk together yolks, sugar, and a pinch of salt in a metal bowl until combined well, then add hot cream in a slow stream, whisking until combined.
Transfer mixture to saucepan and cook over moderately low heat, stirring constantly, until it registers 160 degrees F on thermometer. Pour custard through a fine-mesh sieve into a bowl and stir in vanilla.
Melt chocolate in a double boiler or a metal bowl set over a pan of simmering water (or in a glass bowl in a microwave at 50 percent power 3 to 5 minutes), stirring frequently. Whisk custard into chocolate until smooth, then cool.
Beat remaining 1¼ cups cream in a bowl with an electric mixer until it holds stiff peaks. Whisk one-fourth of cream into chocolate custard to lighten, then fold in remaining cream gently but thoroughly.
Spoon mousse into 8 (6-ounce) stemmed glasses or ramekins. Chill, covered, for at least 6 hours. Let stand at room temperature about 20 minutes before serving. Top with whipped cream.
Cook's notes: Mousse can be chilled for up to 1 day.
If the chocolate mousse seems like too much trouble, try the Chocolate Valentine that Michael Foley whips up in his very entertaining book, "Drinking with the Saints." It's a deliciously intoxicating beverage; so, be careful!
Chocolate Valentine
¾ oz vanilla vodka
¾ oz dark crème de cacao
½ oz cherry juice
1 splash cream
1 splash club soda
1 sprig mint
Pour ingredients into a shaker filed with ice and shake forty times. (That's the rule, according to the author.) Strain into a cocktail glass and garnish with mint.
I can think of few things to warm the chill of February better than a delicious dinner celebrated in the company of others, be it one special person or a group of close friends.
Try celebrating the martyred St. Valentine this year. Clothing optional.