"Early to bed, early to rise, work like heck, and advertise!" Those words of advice from Cen-Tex Roof Systems President Tony LeNoir's late father Blanchard "Doc" LeNoir seem to have served him well over the past 20-plus years in the roofing and remodeling business.
Cen-Tex Roof Systems is a fully licensed and bonded company that has earned an A-plus rating from the Better Business Bureau, has been on Angie's List seven straight years and has done jobs at virtually every major location in the Waco area, from L3, SpaceX and Coca-Cola to Baylor University … even the home of Allen Samuels.
In addition to new and repaired roofs, it offers a wide variety of other services, including remodeling, painting, siding, windows, decks, patios, attic insulation and metal building construction.
Among Cen-Tex Roof Systems' numerous employees are LeNoir's wife, Dena, a full-time school teacher who helps as a receptionist during the summer; her mother, Marijean Blount, who is the full-time receptionist; Dena's brother, Cory Tucker, an outside field superintendent; her father, Jimmy Tucker, a job inspector; and her uncle D.L. Wilson, a retired Texas Department of Public Safety officer.
The family members not only get along but thrive with enough jobs to keep seven or more crews of eight to 10 workers going daily under the direction of chief operating officer Dan Baros.
Jimmy Tucker has no problem working for his son-in-law.
"At work, I'm not his father-in-law," he said. "I just work for him, and I don't think you can find a better boss. He treats all his workers well, in the office and on the job, like paying for Gatorade quarts to keep the roofers hydrated. You don't find many bosses that concerned about their employees."
Cory Tucker offers a similar assessment.
"We're a great team because everybody helps each other, so as long as you're doing your job, there's no reason to get mad at anyone," he said. "I enjoy going to work every day and appreciate how he trusts our word. He also takes good care of all his workers. They're always praising him because he builds relationships with them, not just treating them like hired hands."
Getting Started
LeNoir worked summers and spring breaks during high school growing up in the Dallas area, but his parents are Central Texas natives; his father was born in Marlin and his mother is from Groesbeck.
He worked during his college years at Navarro College and Texas A&M for a roofing company run by the father of three brothers who were high school friends. LeNoir started Dalco Roof Systems in 1987 and later that summer worked his first hailstorm-repair job in El Paso, one of many long-distance projects.
LeNoir has used those decades of experience to please customers since, with several comments of appreciation shared on the Cen-Tex Roof Systems website. Visit the office to see walls covered with team photos and plaques of dozens of youth sports teams LeNoir and company have sponsored over the years, along with articles on local jobs, like providing a free roof for a resident in East Waco.
Another summarizes the repair for Mart's Rucker Park concession stand near a framed recognition from St. Jude Children's Research Hospital for helping raise $700,000.
"I really enjoy volunteering as a sponsor and coach at all levels and ages of sports, especially soccer, baseball, basketball and football around Central Texas from Axtell and West to Riesel and Groesbeck," LeNoir said. "Brandon Honea and I started the West Youth Football League in 2001, but my heart is with the Challenger League for baseball and No Limitations football. They even let me be their guest 'celebrity' quarterback recently."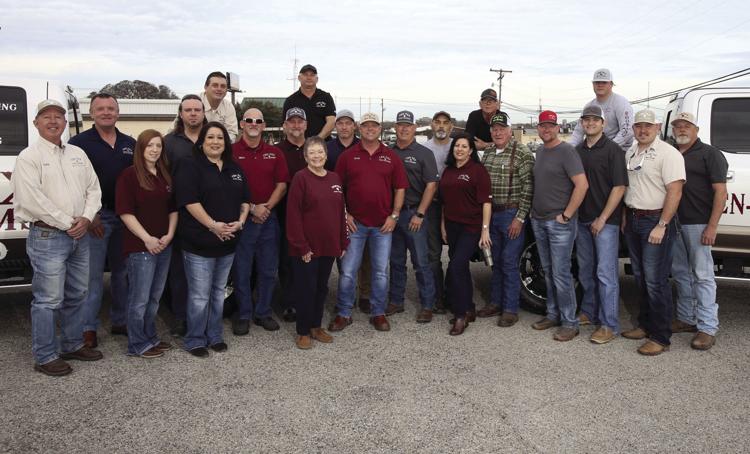 Always Involved
Never one to turn down a good cause, the company president is a member of the chambers of commerce for both Waco and West, and is in the Partners: Friends of McLennan County Inc. group that does special cooking projects, including the McLennan County Junior Livestock Show each year.
"Tony is a good Christian man with a big heart who gives so much to the surrounding communities," D.L. Wilson said. "He's always willing to help unfortunate people like a single mother with two young kids back in January whose insurance didn't give her enough to do her roof. He still made sure we put a roof over their heads.
"He's also a big supporter of law enforcement and fire departments, donating generously after the West explosion and doing any benefits he can for both groups of community servants and many others, going to their cookouts (etc.) and giving auction items like a generator, TV or whatever they need.
"That's what drew me to him in the first place, getting out and meeting folks in the community and even helping with free meals for 100 to 170 at Veterans One Stop on La Salle by the flea market every Wednesday."
He also is an avid rancher who operates the Tucker-LeNoir Cattle Co. in Axtell with brother-in-law Kyle Tucker.
Funny Incident
LeNoir recalled one embarrassing incident when a supplier dropped off the roofing shingles and other materials at the wrong house, and a CTRS crew roofed it anyway before discovering the error. Fortunately, the accidental recipients needed a new roof, too, and didn't get charged.
Laughing that one off, the former business management major has practical advice when it comes to replacing roofs.
"The average roof around here takes about eight hours for my crew to replace and lasts about 13 years with the Texas heat, 15-18 (years) at most," LeNoir said. Cen-Tex does install a lot of metal roofs, but Lenoir said it's important to him to work with customers to provide them the most affordable option.
"Right now, we're labeled residential because we do about 80 percent of our jobs residential, but we hope to maintain our workmanship and reliable customer service while doing more commercial and industrial work in the near future," LeNoir said.
"I look forward to my younger son Zane taking over when I do decide to retire, although I hope I have many more years before I do. My ultimate goal is to be a servant of God, an example to all, and leave a name that will not soon be forgotten in the roofing and service industry."
---
Cen-Tex Roof Systems
4800 W. Waco Drive, Suite 143