Nearly a year ago, as the Waco Symphony Council began batting ideas around for its 2014 fundraising event, council members knew it was time for something fresh. Nonprofit organizations face stiff competition for every charitable dollar, and the council wanted to offer more than the garden-variety fundraiser.
"We have a great resource tool that shares fundraising ideas from symphonies in different cities," explained Julie Burleson, vice president of fundraising with the Waco Symphony Council. "We were inspired by a town in Florida similar to Waco in terms of size and demographics that was experiencing a downtown resurgence like what we're seeing here. We started with just the idea of downtown loft tours and eventually it turned into a two-day celebration."
Preceded by a special preview party the night before, Celebrate Waco! will take place April 12 and includes a one-mile fun run, guided tours of five selected residential lofts, a photography contest for adults and children, activities for kids, merchant booths, food trucks, live music and more, all showcasing the veritable renaissance unfolding in downtown Waco. For safety, the blocks between Sixth and Eighth streets on Austin Avenue will be closed to traffic all day.
"Sharp Flats" is a guided tour of five newly renovated loft homes. The first tour commences at 10 a.m., leaving from the Hippodrome Theatre where ticket-holders are asked to check in.
"These five lofts are all in that same vicinity as the Hippodrome and will offer a good picture of what loft living is like in downtown Waco," said Shelly Phipps, Celebrate Waco! chair.
Tours will be staggered and guides will take off with a small group every 15 to 30 minutes.
"In each loft there will be an event or some type of activity taking place," Phipps said.
These sponsored events will include cooking demonstrations, floral arrangements and visual art, to name a few. Tour guides will also discuss any historical background pertaining to the buildings.
"We can now confirm, too, that our loft tours will include a hard-hat tour of the Hippodrome Theatre," Burleson said. "It's still undergoing a massive renovation, but it's scheduled to re-open soon."
Developers Shane and Cody Turner expect their $2.5 million renovation of the historic Hippodrome Theatre to be completed sometime this spring. In offering this first look at the overhauled venue, the Turners hope to establish a partnership, if not a friendship, with Waco residents and the immediate downtown community in particular.
Ticket prices for the "Sharp Flats" loft tours, including the hard-hat tour of the Hippodrome Theatre, costs $15 for adults and $10 for students ages 10 to 18.
Prior to the tours, the Downtown Diva Dash begins at 9 a.m. in front of the Hippodrome. Nancy Goodnight, director of Waco's Miracle Match Marathon, volunteered to organize the one-mile walk/jog event.
"Initially, there was talk of a 5K, but I suggested we do something that's 100 percent fun," Goodnight said. "Some are walking, some are running. Everyone is encouraged to dress up. Pets are welcome. Strollers are welcome. Men are welcome, too! My emcee is dressing in drag."
All participants receive an event T-shirt to commemorate the day and a medal which Goodnight designed herself.
"It's got some serious bling," she said.
Complimentary mimosas will be served at the finish, and participants can even keep the champagne glass. Tickets cost $45 for adults and $20 for children.
Other events to look for include a Children's Creative Corner — a hands-on opportunity for children to show off their artistic abilities. Entry is included with the Downtown Diva Dash ticket, or armbands are available for individual purchase at $5.
"There will be live music throughout the day and tons of food trucks parked around," Burleson said. "And there will be booths where local shops and boutiques will be selling their wares."
Before a single loft tour commences on Saturday morning, a special Friday-night preview party at The Palladium is already generating buzz.
"If you look at the history of the Hippodrome, its heyday was in the Twenties," Burleson said. "So, naturally, we're throwing a huge Gatsby-themed preview party."
The space inside The Palladium will accommodate 300 partygoers — ahem, honored guests of Mr. Jay Gatsby — and Burleson hopes to see the event sell out.
"We'll be serving hors d'oeuvres, we're working with (new downtown bar) Muddle to have a signature cocktail served at the event, there will be art on display and we'd like to screen 'The Great Gatsby' at some point during the evening," Burleson said. "Maybe in the background during the party."
And for anyone wondering which version might be screened — the one starring Robert Redford or Leonardo DiCaprio — Burleson was quite clear: "Leo!"
Tickets for the Gatsby-themed preview party costs $65 per person and include hors d'oeuvres, beverages and a cocktail.
In addition to continued support by the Waco Symphony's veteran sponsors, Celebrate Waco! is already attracting the interest of a younger crowd that might not otherwise fall within the targeted demographic for a traditional fundraiser.
"I understand lots of young couples are particularly excited about the Gatsby preview party," Burleson said. "The symphony itself is attracting younger patrons and also younger volunteers are helping to put this event together. We actually had people coming to us and asking how they could help — how they could be involved."
As chair of Celebrate Waco!, Phipps was tasked with recruiting, organizing and motivating the chairpersons of each weekend event.
"But, I have to say," she said, "our team is a group of exceptionally self-motivated individuals with incredible ideas. They each have brought so much to the table in bringing Celebrate Waco! to life."
A glimpse of a few of the loft homes — and their gracious owners — that will be featured during the "Sharp Flats" loft tours on April 12.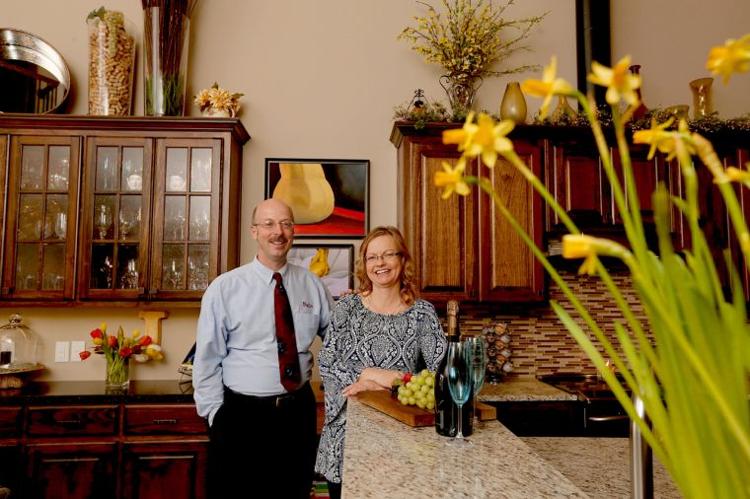 Kress Lofts, 613 Austin Ave, Unit C
Loft size: 1,743 square feet; 3 bedrooms, 3½ bathrooms.
Renovated in 2012 by Shane and Cody Turner of Kunkel Construction, The Kress Building was erected in 1910 and is one of hundreds that was created for the Kress "five and dime" stores. The original blueprints and photos for the building are preserved in the National Building Museum in Washington, DC.
When high school sweethearts, Doyle and Pat James, were driving down Austin Avenue one afternoon in 2012, a series of renovated loft homes in the Kress Building piqued their interest.
"We just stopped in to look around and got to talking to the developer, Cody Turner," said Pat, 51. "And we really liked what we saw. At the time we were looking to downsize since our adult children had moved to the Austin area."
The sale of their 5-acre property in China Spring represented not only a downsize, but a drastic change of scenery and more freedom.
"We wanted to spend more time with our children, but it seemed like we were always working on the house," said Pat, of their four-bedroom, four-bath home. "If it wasn't the house, it was the pool — something was in it that wasn't supposed to be, or it was the wrong color."
The Jameses are not only spending more time with their children and new baby granddaughter, they're able to spend more time with each other at home.
"Doyle works less than five minutes away and he can come home for lunch," Pat said. "And he no longer has that long commute so he's home after work much earlier."
Doyle, 51, works for franchise holding company The Dwyer Group, and is president of the Aire Serv division.
Doyle and Pat aren't the only ones pleased with their new lifestyle.
"Our two cats love it, too," Pat said. "They never got to go outside in China Spring, but they're always out on the patio now. And we still have extra bedrooms and baths so our kids can come and stay with us."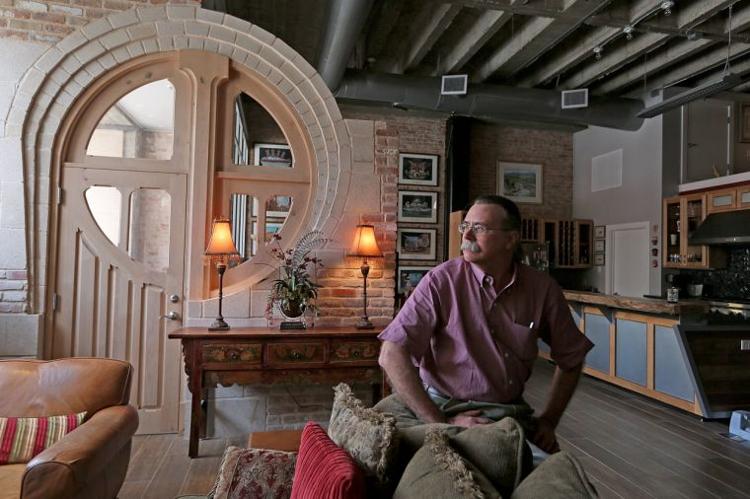 Loft size: 2,600 square feet; 3 bedrooms plus study, 3.5 bathrooms.
Renovated in 2012-13 by Sorrells & Gunn, the upper level of the building includes seven one- and two-bedroom units, while the lower level features one three-bedroom unit and one four-bedroom unit. The project includes parking for 10 vehicles, a courtyard with a pool and deck, a mezzanine patio overlooking Austin Avenue and 88 solar panels on the roof.
In 2010 when Grant Dudley and his wife Teresa were looking to sell their 1920s-built home in Castle Heights for something smaller, they were having trouble finding just what they wanted. But, as the saying goes: If you want something done right, sometimes you have to do it yourself.
"At the time, there wasn't much in the way of condos," said Grant Dudley, 57, a partner at RBDR architectural firm. "But, I found a building that was for sale right next to the Hippodrome. And we kind of decided to pull the trigger and buy the building from the city of Waco so I could develop it myself."
The building at 714 Austin Ave. was constructed in the mid-1950s. Dudley purchased it in 2011 from Waco Performing Arts, which used the structure as storage for the Hippodrome next door.
"Basically, I wanted to build something that was suited for me — in the downtown area — and then I planned to rent the rest," Dudley said. "As an architect, I'd worked with developers for years, so I had some idea about what was involved. But, it's not easy and my hat's off to them!"
Dudley designed the bottom floor of the building, dividing it into two loft spaces, one of which was custom-built for he and his wife. And together they selected materials and interior colors to reflect their varied tastes.
"We took an oak tree and had it sliced in half in Austin — it's a big slab of oak that we use as our countertop. A lot of the materials are very eco-friendly, a lot of recycled materials," Dudley said. "We have some stained glass, European-inspired doors. It's a mix of materials."
Also donning the walls in their new space, the Dudleys maintain an impressive and eclectic personal art collection, including original pieces by Salvador Dali, Alexander Calder and Donald Roller Wilson.
"The Dalis were part of a series of 12 sketches and they're pretty rare," Dudley said. "The Calder has been in the family for a while. My wife and I just love finding good art and adding to the collection."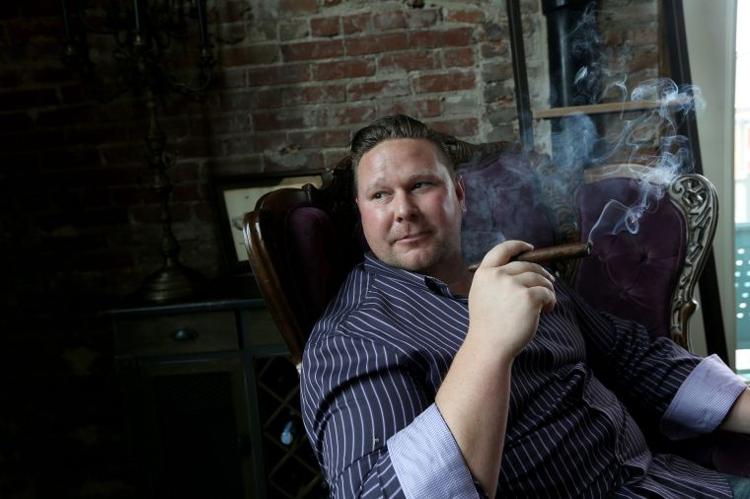 Kress Lofts, 613 Austin Ave., Unit D
Loft size: 2,800 square feet; 2 bedrooms plus a study, 3 bathrooms.
Short bought the building at 613 Austin Ave. with developers Shane and Cody Turner, adding a third floor to the existing structure. Unit D features uncommon custom touches including a built-in beverage tap, LED accent lights in the floors and stairs, a humidor in the study, skylights and floor-to-ceiling windows with automated black-out shades.
While others make the transition from suburban to urban for the purpose of downsizing, Dillon Short, resident at Kress Lofts, is an exception. Boasting close to 2,800 square feet, his loft space is larger than many detached, single-family homes in the Waco area.
"My unit was originally supposed to be 2,100 square feet, then when the design changed to add second stories in each unit, that bumped up the size quite a bit," Short said.
Short, 32, has spent his entire life in the Waco area, attending Reicher Catholic High School and Waco High for a time, but eventually graduating from Midway High School. Today, he co-owns Bear Creek Construction with his father.
"I used to live in the house behind our offices out on Highway 6, near (F.M.) 185," he said. "You could say I used to live in a farmhouse."
Having also lived, for a time, in a duplex off Hewitt Drive and Chapel, Short said he is really enjoying loft living.
"I love coming home to sit on the patio with a cigar and listen to all the activity going on below, on the street," he said. "There's always something going on downtown."
Short may be the youngest loft owner in the building, sharing an address with several empty-nesters, but with the demands of running a construction business by day, he says his evenings are pretty calm and quiet.
"These lofts are pretty upscale and the residents are largely professionals," he said. "There aren't any college kids throwing parties or anything."
Even so, a small gathering in Short's unit wouldn't bother his neighbors, Doyle and Pat James. "When I planned my unit, I laid it out so the common hallway is a buffer between my loft and theirs."
Nothing about the materials used in Short's space is "standard," he said. Among the unique choices is an onyx countertop whose color changes with the seasons.
"I installed LED lighting underneath the surface," Short explained. "And since it's a 'smart home' — where I can automate the lights and temperature and all that — I can control the color glowing through from underneath. So, if I'm having people over for St. Patrick's Day, my countertop might glow green."
Dark-stained custom shelving in the study and flanking the hearth offer old-world sophistication viewers might not expect in a 2012-renovated loft space.
"Everything inside the building was redone except some of the exterior brick and the support beams and columns," Short said. "The building was in a fire at one point, and I like how you can see kind of a smoke ring that remains in the exposed brick."
Furnishings throughout the loft were also carefully selected.
"Everyone says they like my dining room table," Short said. "And I have two high-back, antique chairs which I had recovered in purple and olive green. They're my 'king and queen chairs' at either head of the table."
Short also drove an antique French provincial-style sofa all the way to Louisiana to be recovered in a deep red fabric, rounding out the jewel tones among his upholstered pieces.