People refreshing their homes for spring might find the unique décor they're seeking with a trip down Highway 84 at the Cedar Chest Antique Mall.
Shannon Torn is the owner of the longstanding Cedar Chest Antique Mall, a McGregor staple since 1997.
Cedar Chest began when Torn contemplated a new phase of life after working more than 20 years in the grocery business.
"I heard somewhere that if you have a job doing what you love doing for leisure, you're rich already," Torn said. "I thought to myself, "What do I enjoy? What do I want to do?"'
An opportunity arose when Torn saw an available space in downtown McGregor. She thought the old dentist's office, with its many patient rooms, would make a perfect antique mall.
Her husband asked who would run the store. She replied, "Well, I can!"
Torn's lack of a formal business education was outweighed by a knack for customer service and passion for antiques.
"I thought, "If I can read, then I can learn,"' Torn said. "So I decided to do it myself."
Sometimes he has to painstakingly take apart the wooden furniture and put it back together.
Cedar Chest quickly outgrew downtown McGregor, so in 2002, Torn and her husband, Russell, oversaw construction of the current location along U.S. Highway 84. The site is expansive. Three sections with more than 50 vendors each stretch so far down the center aisle that it's difficult to see the back wall.
A few years ago Torn expanded to a second building, Cedar Chest Too, which offers more space for vendor collections. Independent vendors also set up shop in additional outdoor stalls on weekends.
"I've never counted exactly how many vendors there are," Torn said. "I'm just thankful that so many vendors want to set up here."
Torn's success means there are countless treasures at Cedar Chest.
"This many vendors ensures a lot of variety," she said.
Variety comes in the form of glass cake stands and matching knobby-handled domes sitting atop a white, refinished cabinet. One vendor displays yellow barstools that would add dimension to any modern kitchen. Shirley and Larry Jackson sell pickling crocks similar to the ones you might find in Williams Sonoma or Pottery Barn at a fraction of the price.
The ones with spouts, Larry said, are authentic Kentucky moonshine jugs.
'Fixer Upper' Draw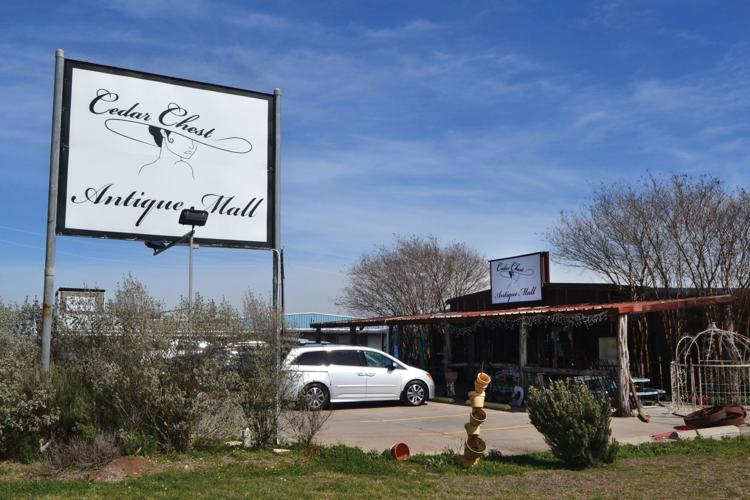 Perhaps it was Cedar Chest's variety that originally drew Joanna Gaines of HGTV's "Fixer Upper," to the store.
"Joanna was a good customer even before the show started," Torn said.
Cedar Chest was featured in five episodes, gaining the store national recognition. It's a kind of advertising you can't buy, Torn said. Visitors still travel to McGregor during their tours of Waco and Magnolia Market to shop where Gaines had frequented.
Torn picked up a particular vase, cobalt blue with white etchings, and ran her fingers across the detailed design.
"You can see the pride that went into making something like this," she said.
It's not something one can find at IKEA. At Cedar Chest, homeowners can find inexpensive furniture with quality wood that was made to last.
"Some of this stuff has been around 100 years – it'll be around another hundred more," Torn said.
Shen personally loves oak pieces – items like the imposing cabinet with tiger-eye, a type of striping in the grain of the wood – in her own booth. She turned her attention to a tall antique (while explaining that technically, "antique" refers to any item over 100 years old, and "vintage" refers to anything less) dresser with a dozen drawers nearby.
"This is an old dental cabinet from the 1800s," she said. "This is interesting to me because there's one certain drawer that must be opened to access any of the other drawers."
She pulled on several of the crystal knobs to no avail; then, she opened the secret drawer and pulled again. They all opened. She then revealed two more hidden drawers disguised as decorative molding.
"I think it would make an incredible jewelry case," Torn said.
Restaurant Addition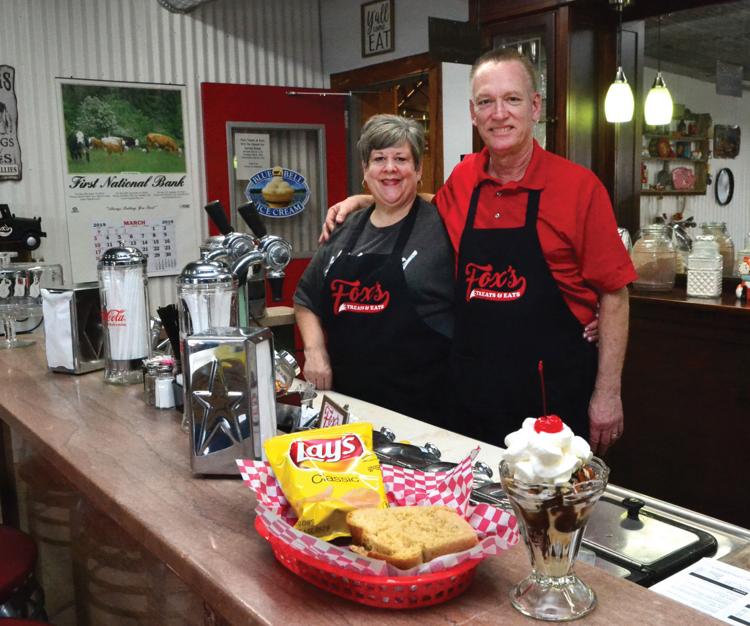 It would be easy to spend an entire afternoon exploring mysterious finds like the dental cabinet, which is why the recent restaurant added to the premise was a dream realized for Torn.
The opportunity to open a restaurant came after Torn visited a flea market in Glen Rose. There she met a seller who offered her a vintage ice cream and soda fountain set. It was serendipity, she thought.
"I took it as a sign from God that it was time to open a restaurant."
Better yet, she knew just the people for the job. On Saturdays, Randy and Gretchen Krupicka sold jams and pastries at the outdoor market. Torn knew they were good cooks, and convinced the couple to open a larger operation inside Cedar Chest.
The restaurant, Fox's Treats and Eats, opened about four months ago and has received raving reviews since (the name is a tribute to Gretchen's maiden name).
Randy bustles behind the counter, serving up sandwiches of all sorts: classics like Reubens , BLTs and their best-selling chicken salad sandwich, and unique favorites like chicken bacon ranch and jalapeno pimento cheese. All sandwiches are served on homemade bread.
A stop at Fox's is incomplete without a shake, malt, sundae, float or dipped ice cream, all made with Blue Bell ice cream.
"We're glad to have good food out here," Torn said. "We've been hungry for about 20 years."
Continued Success
Having been in operation for two decades, Torn is accustomed to welcoming familiar faces like a patron who reminds Torn of the long wooden table she bought from the store years before.
Torn and her husband renovated their first location, hung up an open sign, and the rest they say is history, she said. She has no thoughts of slowing down.
"I am always looking to grow the business," Torn said. "One day I hope to become Waco's version of the historic Canton flea market."
---
Cedar Chest Antique Mall
31707 U.S. Highway 84, at the edge of McGregor
Mon-Sat, 9:30 to 5:30 p.m.
Eats restaurant (inside Cedar Chest Antique Mall)
Mon-Sat, 11 a.m. to 4:30 p.m.