Cattle Baron's Ball 'back to the dirt' in return to Extraco Events Center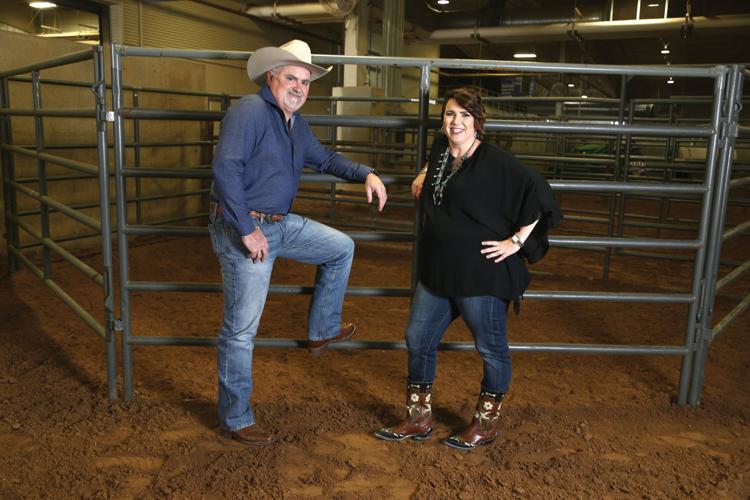 The American Cancer Society's premier annual fundraising event returns to the Extraco Events Center on June 9.
The 2018 Central Texas Cattle Baron's Ball is taking place a little earlier than usual this year, and chairs Mike and Debbie Dennis say they're looking forward to "taking it back to the dirt."
"In the early days of Cattle Baron's, it was outdoors on the dirt," Mike said. "It was beautiful as long as Mother Nature played along. So, instead of the Waco Convention Center, we'll be at Extraco Events Center, on the lower end, down in the practice arena area. We'll be able to roll up all the doors.
"You'll be on the dirt, but you'll have that outside, outdoor feel. So, we're taking it back to the dirt, but we're tricking Mother Nature and putting a roof over our heads."
The event shifted its schedule from a late July date to early June.
Cancer research fundraising has long been a passion of Debbie's, but when their son was diagnosed with stage IIIa testicular cancer six years ago, both Dennises dived headlong into volunteering and fundraising.
"(Our son) endured surgery and a year of treatment, including chemotherapy," Mike said. "He's a survivor. But, that kind of experience really changes your priorities in life. And at that point, we started devoting a lot of time to organizations that help spread cancer awareness and raise funds for cancer research."
The Dennises participated on the event committee for last year's 25th Central Texas Cattle Baron's Ball. And, when asked to chair this year's event, they knew they wanted to emphasize the prevalence of male cancers — both prostate and testicular cancers — and the importance that routine, annual physicals play in early detection.
"It was a total shock to us when our son was diagnosed at age 21," Debbie said. "He was a personal trainer, in the prime of his life, and after he was diagnosed, we started doing a lot of reading about it. We found out that testicular cancer is the No. 1 cancer among men ages 15 to 35, and, frankly, men in that age range don't go to the doctor."
While young women are readily educated about the importance of regular breast self-exams, annual pap tests and mammograms, the Dennises say, that kind of persistent messaging about men's health just isn't out there.
"We want to make sure we get that awareness out there," Debbie said. "And, in addition to testicular cancer, we also chose to focus on prostate cancer because there is a very high occurrence of that in my family as well and it's the same problem there: Men are, in their minds, 10 feet tall and bulletproof."
Kevin Poynter says most of the people he knows here in Waco don't even know his story.
While the majority of net proceeds raised will go to the general cancer research fund and patient services and programs, the Dennises have designated a "restricted gift" which will directly benefit testicular and prostate cancer research.
"I know that our overall fundraising goal this year is $300,000 in net proceeds," said Robyn Trippe, development manager for distinguished events with the American Cancer Society in Waco. "And our goal for the restricted gift is $70,000. This money is raised throughout the year and at the event through pleas and paddle raises. Each year, our chairs choose an area of focus of the restricted gift."
Last year's event raised more than $270,000 in total proceeds.
Exciting Changes
Along with a different location, Trippe says, there will be other exciting changes this year.
"We have Eddie Dean catering again this year, but the food will be set up at stations all around the arena, so that no matter where someone is, they have very quick access to food and drinks," she said. "This eliminates long buffet lines, long waits for second helpings and refills and that kind of thing. And the food stations and drinks will be available all night."
Six stations will offer barbecue, street tacos, an avocado bar, a salad bar, pulled pork sliders and fried quail legs.
The evening's entertainment will be provided by Robert Earl Keen, whose 18 full-length albums so far span musical styles including folk, rock, bluegrass and, of course, country.
"David Willie at CTWP Digital Solutions and Central Texas Urology really stepped up this year in their sponsorship, which allowed us to bring Robert Earl Keen on," Mike said.
The live auction will return this year, as well as Bears of Hope and Stars of Hope.
"For $50, you can purchase a Bear of Hope, a teddy bear, and these are all delivered down to McLane Children's Hospital and given to pediatric cancer patients," Mike said. "And, if you have someone in your life who has fought a battle with cancer, you can purchase a Star of Hope for $25. Their name will be etched onto an acrylic star, and all the stars will hang in the trees at the event. At the end of the night you get to take your star home for a memento."
New this year, patrons may contribute to the Emily Stephens Lil' Wrangler Library, ensuring that pediatric cancer patients in Temple and Waco have plenty of reading material.
"Emily Stephens, a young lady who fought brain cancer for 20 years, passed away on Jan. 23," Trippe said. "She and her family have been very involved for years with both Relay for Life and Cattle Baron's Ball. Emily's parents, Brenda and John, are past chairs of Cattle Baron's and have had a team for Relay for Life every year."
Brenda Stephens, Emily's mom, has said that Emily always looked forward to the book cart coming around to her room during her hospital stays.
"So, at Cattle Baron's this year, we are stocking a Lil' Wrangler Library at McLane Children's Hospital," she said. "We also intend to work with the pediatric oncology wing at Providence."
In addition to the 10-plus months of event committee meetings, fundraising work, planning and PR involved in chairing Cattle Baron's, this year's co-chairs each have full-time jobs of their own. Mike owns two small businesses in the area. Still, they didn't think twice when asked to chair this year's ball.
"They have been amazing over these past 10 and a half months," Trippe said. "Normally, this takes a full year to plan. And we lost six weeks this year since the ball was moved up to June 9.
"It's not just one event: We had our Lil' Wranglers party in March in partnership with Baylor athletics and Collins and Team Orthodontics; we had the poker tournament, Bluffing for a Cure, at The Phoenix Ballroom on April 19; the skeet shoot, Shoot for a Cure, was on April 21; and we have the style show in May, Couture for Cancer. So, it's really four smaller events and then the main event."
Honored to Chair
Despite a lot of work within a crunched timeframe, the Dennises consider their roles as co-chairs nothing less than an honor.
"Last year, we joined ACS on the committee, we chaired the Shoot for a Cure skeet shoot prior to the ball and we had a hand in some of the fundraising last year," Mike said.
"We have chaired a golf tournament in the past here in Waco to raise money for testicular cancer research," Debbie added. "But, Cattle Baron's involves many, many more hours of dedication. When last year's chairs, Mark and Lindsay Benning, asked us to chair the 2018 event, it was quite a surprise since Cattle Baron's has such a long, rich history in Texas. Being asked to chair an event of this scale when we'd only been involved for one year was quite an honor."
---
Central Texas Cattle Baron's Ball
When, where: June 9 at Extraco Events Center, 4601 Bosque Blvd. VIP reception begins at 5:30 p.m. Dinner starts at 6:30 p.m.
Cost: Tickets start at $150. Sponsorships are available.
Related event: The Couture for Cancer Style Show, chaired by Alison Sorley and Tammy Shefa, will be from 5:30 to 8:30 p.m. May 10 at Deerfield Estates. Tickets cost $65 or $600 for a table for 10.
More information: Contact Robyn Trippe or Amy Jordan at 753-0807.