Te'Jun the Texas Cajun has taken its popular food truck business in Robinson to a brick-and-mortar building where its loyal customers can still enjoy blue crab from Lake Pontchartrain, snow crab from the Bering Sea, shrimp from the Texas Gulf, lobster from the North Atlantic and Louisiana farm-raised crawfish.
Owners Joe and Tammy Reid have been in the mobile food truck business for more than 20 years, making fans of their food with their specialty seasonings and sauces and the freshest seafood they can buy.
The couple also is part owners of radio station KNES in Fairfield where they started their food truck business on a seasonal basis. With roots down at the Texas coast, they also own an RV park at Crystal Beach.
Joe Reid says he was inspired to take the business to the next level.
"My grandson became ill at 4 years old and through that God instructed me to build a restaurant in Robinson, Texas. There's a lot more to that story," Reid said. "When you come into the restaurant, you're going to see a lot of Scripture on the walls because that's who we are. He told me to build it, and I built it. It's doing very well, and we're very happy with what's happening so far and we're just getting started."
The restaurant at 711 N. Robinson Drive offers dine-in seating and a drive-through window for to-go orders. Te'jun the Texas Cajun still offers mobile food truck services, rotating weekends among Corsicana, Mexia, Fairfield and Hillsboro. The schedule is posted at www.tejunthetexascajun.com.
"We have a cooking trailer, a serving trailer and a product trailer," Reid said.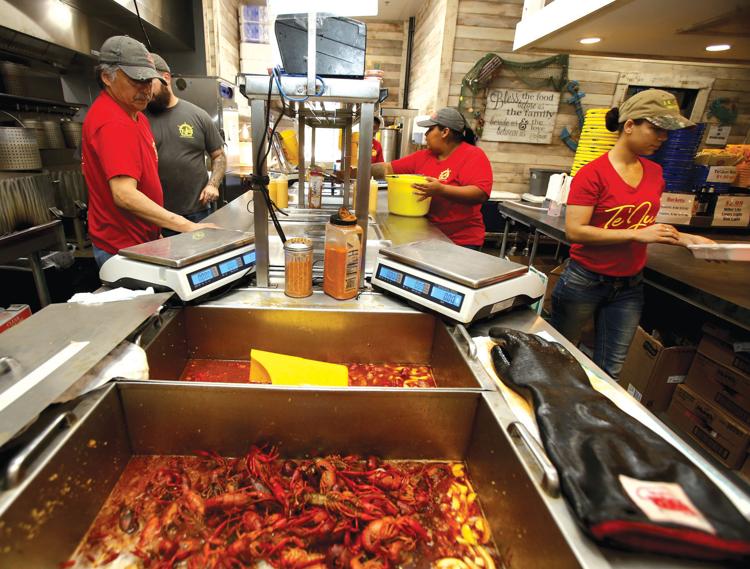 Getting the Name
Reid came up with the name himself when he first opened the food truck.
"Years ago, when we first started, we were trying to come up with a name," he said. "I have family who live in Louisiana, but I'm not really a Cajun. I'm a Texas Cajun, so I was looking at the name and said what if we just took the 'Te' in Texas and the 'jun' in Cajun. You're a Te'jun if you love Cajun cuisine, but you're a Texan."
From there, he carried on the tradition of Cajun cuisine with his own personal touch.
"All of the products we cook, they are not manufactured in a can or by man," he said. "All of our products, God made 'em, and right now 95 percent of our products are cooked with nothing but water."
To offer a diverse menu to customers who might not be open to seafood, the restaurant will offer a chicken platter, so Reid is adding fryers to the facility.
"Our model is very different," he said. "We have people who come in and ask for various things, but we specialize in just a few items and we do them very quickly. I don't think there's a faster-serving restaurant in the country. We do a three-plate average in 60 seconds."
Drive-through Option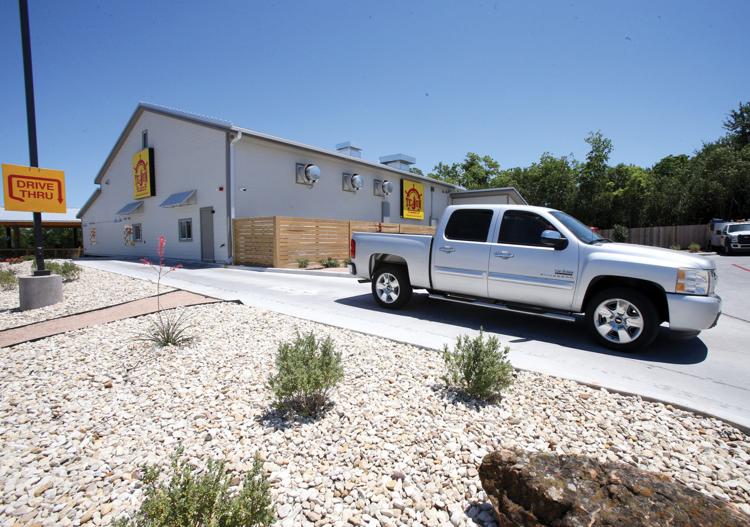 Customers also like to be able to pick up their meal and take it home.
"We are one of the only fast casual restaurants in the United States that offers a drive-through. It's the smartest thing I think I've done," he said. "Te'jun has always been a take-it-home business if that's what you want to do. There's a large group of people who do not dine in. The way our society is today is everybody wants it fast."
He takes pride in giving his customers the highest-quality food without a long wait.
"Impatience is probably the worst thing our culture has come up with," Reid said. "We strive to be very fast in the drive through. We're down to about two minutes a car. We've got a line buster now, which is a handheld point-of-sale system so we can go out and get the line down. We added a second board, which really speeded us up. We're really different. We're kind of breaking the mold."
Since the new location is in its early stages, Reid is working out some of the logistics to make his customers comfortable and get they to come back.
"When we fill up, our parking is somewhat limited. On Friday and Saturday, it's very busy," he said.
Knowing what his customers like is what keeps the restaurant bustling, and the menu at Te'jun the Texas Cajun responds accordingly.
"Our customers have always been our gauge," he said. "If they like it, we like it. It stays or it goes. The most popular item we have is peeled shrimp. We have peeled shrimp and a regular shrimp with the peel on."
Staying Fresh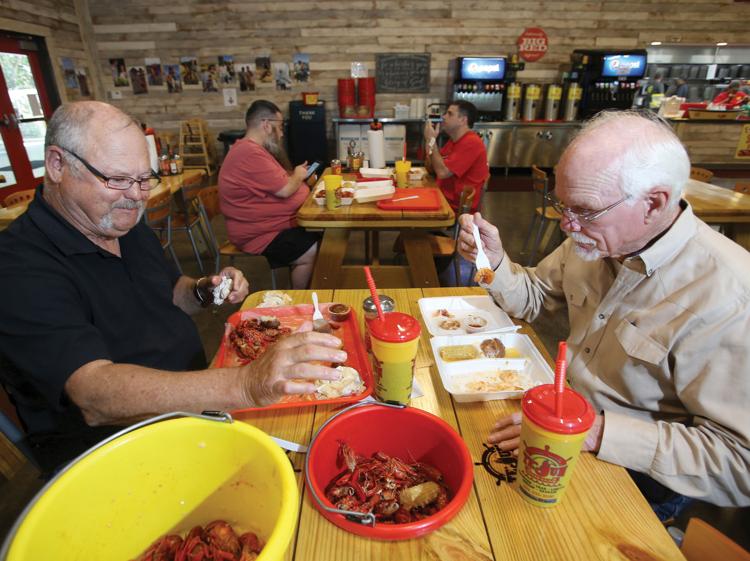 "My uncle was a shrimper and I worked a couple of summers on a shrimp boat," he said. "My grandfather had a marina on Crystal Beach, Texas. As a child, it was kind of entrenched in me."
Learning the shrimp business gave Reid a first-hand glimpse of why fresh is always best when it comes to seafood.
"We focus on buying the best seafood we can find," he said. "We mix all of our own seasonings. We make a couple of different sauces right now. We have become very, very picky about where we buy our crawfish and where our shrimp comes from. All of our energy is focused on buying the best seafood we can find at the best prices."
That also means knowing how and when nature best serves up the delicacies from the sea.
"In seafood, there is a natural cycle," Reid said. "The snow crab comes from the Bering Sea, the lobster comes from Maine. Our blue crab comes from Lake Pontchartrain in Louisiana, our Jonah crab comes from the Northeast."
Sourcing is important, but so is packaging to retain the natural flavor of the products he serves every day.
"You can take a great crab or lobster, and the way you package it can deteriorate it," he said.
"The lobster we buy is done a very specific way that saves the flavor and the quality of the lobster, the texture of the lobster. If you don't use a lobster wholesaler that uses those techniques, it's going to taste differently. There are a lot of things we've learned in 20 years that matter."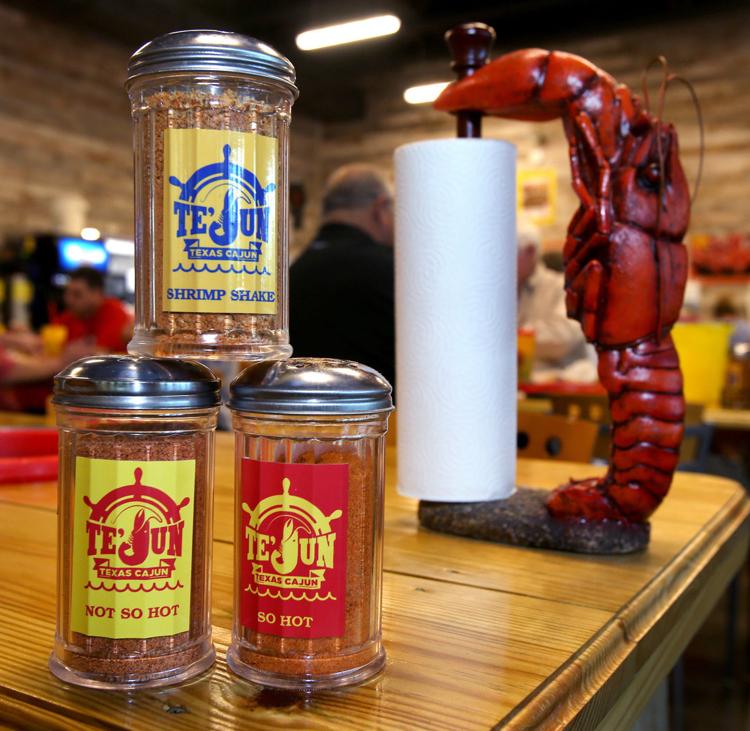 The Reids are wholesalers for crab and shrimp, giving them an edge in the market.
"You probably would not find another mom-and-pop seafood business in the country that has a wholesale business on the side," he said. "We buy our stuff straight. Truthfully, it's what catapulted our business."
Excellent pricing strategies, the freshest seafood and a "secret sauce" have been the perfect ingredients for pleasing customers.
"We make our own seasonings," Reid said. "We make a butter sauce that has about 16 different seasonings in that butter. We have a technique we use that's a secret. We make that ourselves fresh every day. We have a red sauce. It's not hot, it's just a sauce we make daily that goes into our plates. It's a routine we do no matter where you go, the mobile unit, the catering rig or the restaurant, you'll find it."
Favorite Choices
As for menu favorites, Reid has a few of his own.
"Me personally, I'm kind of a crab guy," he said. "I like the Jonah crab. I'm kind of a picker and that's the rock crab. It's not a hamburger. You're actually going to pick the meat out of it and eat it.
"You'll hear people say they don't eat crawfish because it's too much work. There's probably a sermon in that."
Each crab has its own characteristics that seafood lovers savor.
"Snow crab is a favorite crab because it's flavorful, and it's fairly easy to get the meat out of the crab," he said. "The same is true for rock crab. It would take you probably an hour to do. You pick meat and you talk. It's a social crab."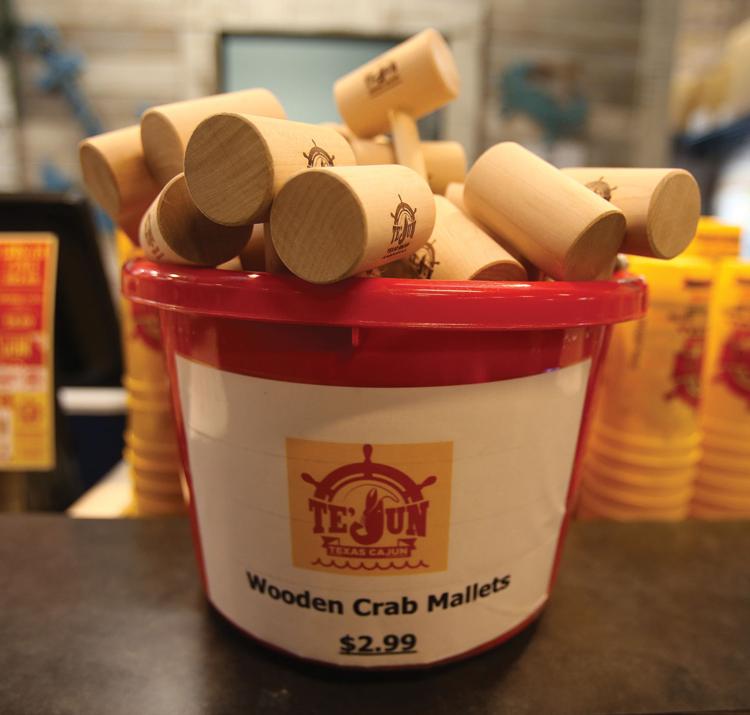 As a crab connoisseur, Reid specializes in finding the best for his customers.
"One of my favorite crabs is the Pontchartrain blue crab," he said. "We have a company there that actually peels the knuckle meat for us. You just pick it and eat. It's a real crab claw that has been hand-peeled in Louisiana. It is so good. It is as expensive wholesale as lobster because each knuckle is taken off by a human being,"
"The Jonah crab is great. We call it a mallet crab because the best way to eat it is to lay it on the table and whack it with a mallet. If you're not getting crab on your neighbor, you're not eating crab."
Trust in God
Reid credits his faith in God for his continued success.
"A lot of people won't understand that statement if they're not Christians," he said. "All things move by his hand. He can cause business to come to you, and they don't even know why they're there. The Bible says he owns the cattle on a thousand hills.
"I purchased the land after this supernatural event that happened with my grandson; basically, the Lord delivered my grandson back to us when he should have died. I was a fence-wobbler. I was God's biggest critic. Through this event, He showed us that He is. I said I'm going to have to see to believe and I was shown. He took me, the most logical and sensible man on the planet, and He said, 'I am that I am.'"
That experience gave Reid another role as a part-time, fill-in preacher. He also sees his restaurant as a testimony to his faith.
"We are a customer-centered business. What our customers want, need and desire, that's what we do," Reid said. "This is a 'mom and pop.' This is Joe and Tammy Reid, who have never inherited a dime from anybody. Everything we have is on the line at that place. Faith is not faith if it's not tested. I believe people need to hear what the Father does. Everything we do there is to glorify the Father."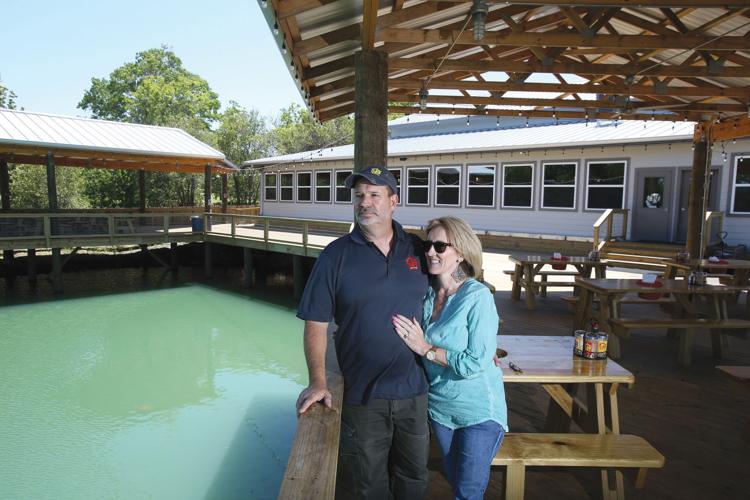 The Reids plan to open up their property beyond the restaurant for special events.
"We have a deck on the back, and there's a pond there," he said. "A couple of times a year, we're going to have an event where the kids can come fish and take pictures. There are lot of kids who live in the city and they don't get to fish. Catching a fish can change a child's life. We also want to have live music out there."
The new permanent location of Te'jun is a culmination of years of hard work and experience and finally, the right timing, he added.
"We've always had people encourage us to build a place," he said. For lack of anything else, I had always been afraid I was going to mess it up. Then our son-in-law came into the picture, and he had a degree in electronics. We said, let's see what this thing will do if we take it year-round. Let's just take a leap. So he ran it full time for about three or four years and then we decided to take it to even more towns, and the next thing we know we are in Robinson, Texas."
---
Te'jun the Texas Cajun
Wed-Thu, 11 a.m. to 9 p.m.