When Lee Bankston said, "I do," to her husband, Brent, she had just one stipulation.
"I made him promise I'd never have to work in his comic book store," she said, laughing, "but God definitely has a sense of humor!"
Brent is the owner of Bankston's Sports Memorabilia, Comics & Collectibles. Comics and gaming are Brent's passion, but Lee never really understood that world. A self-proclaimed foodie, Lee preferred concocting new recipes in her home kitchen to battling giants and dragons in an 8-bit fantasy video game.
She eventually started catering out of her home — completely by accident.
"I brought my friend some food after she had a baby, because that's just what we Southern women do," Lee said. "She told me the food was so good people would pay for it! I didn't believe her, but just for fun I started having 'Tamale Tuesdays' where I'd make a big batch and text my friends to see if anybody wanted some."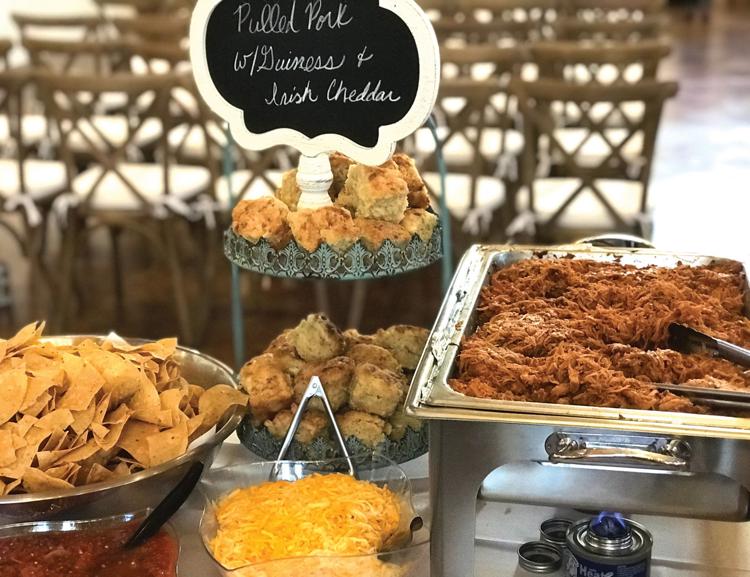 Lee's text list grew quickly as word spread about her delicious food, and customers started asking for more variety. As she expanded her entrée offerings, people hired her to cater their parties, and soon her small business turned into a full-time job.
Meanwhile, Brent was dreaming of expanding Bankston's to put in a gaming center. He imagined a space where families, groups of friends, and even strangers could gather together and play tabletop and board games, socialize, and maybe even have a cup of coffee. When the old Pizza Patron building in the same shopping center as Bankston's became available, Brent jumped at the chance to show it to Lee.
"He called me all excited and said he found a kitchen for me to cater out of," Lee said. "Then he casually mentioned that I could feed the gamers on Friday and Saturday nights with it."
Brent had finally found a way for Lee to be part of his comic store, and in December 2016, a space called King's Landing opened near Bankston's — complete with gaming tables, retro arcade games and the Butter My Biscuit café.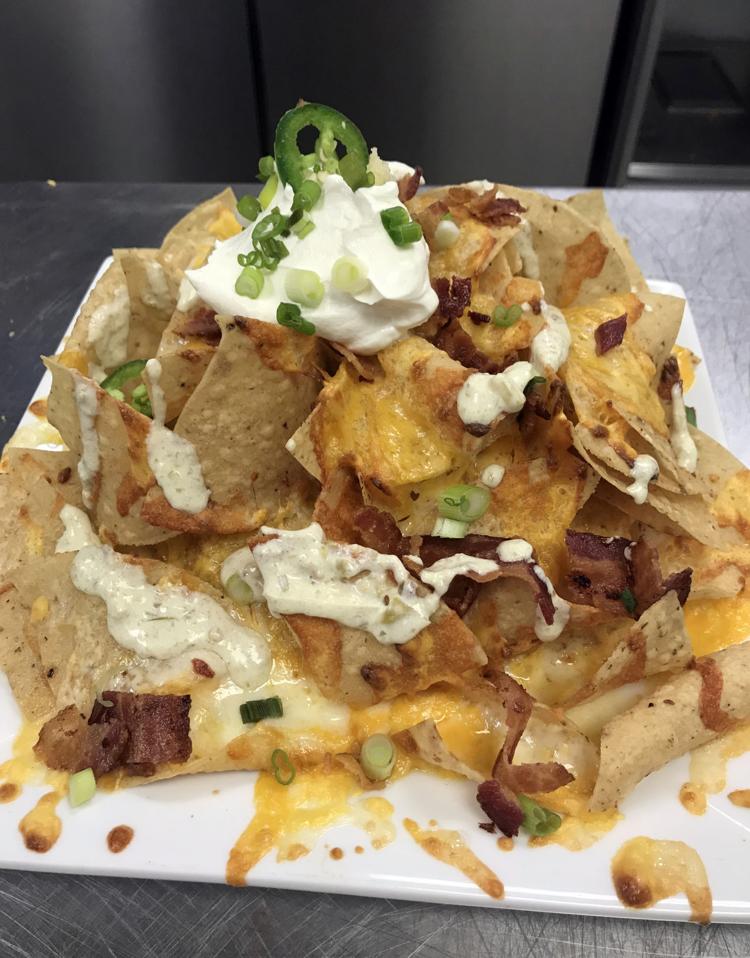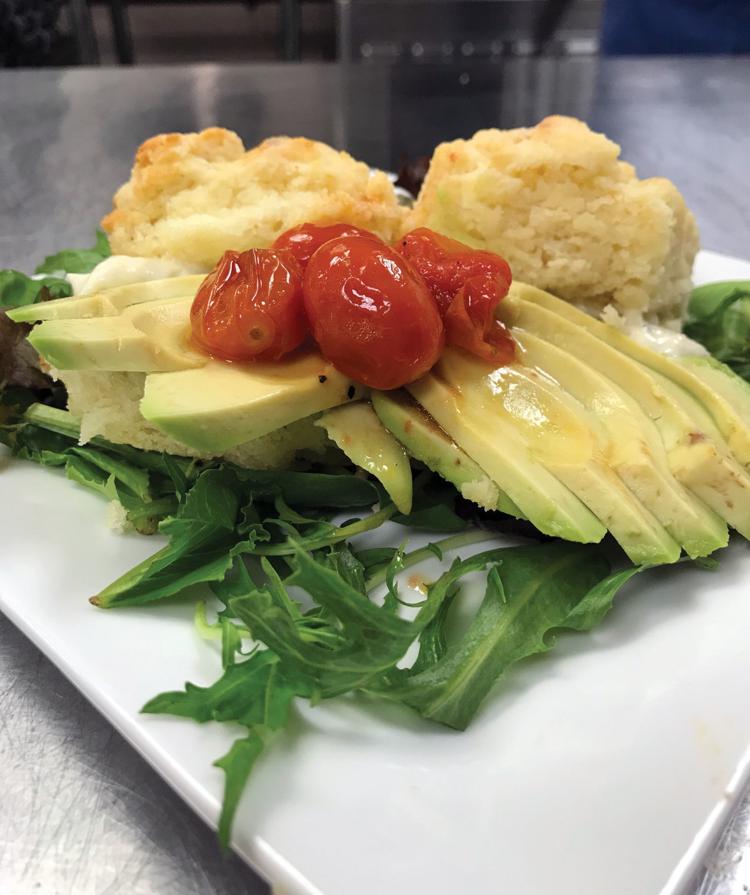 Different Experience
When you walk into King's Landing, it takes you a moment to adjust to your surroundings. Displays full of board games and gaming accessories are interspersed with small café tables. A specials board listing various types of homemade biscuits also reminds you of the next Dungeons and Dragons tournament date. In the back room, the music of Ms. Pac-Man can be heard over the clink of forks and knives as diners vie for a high score while they wait for their food.
Lee can be found in the kitchen making batch after batch of homemade biscuits for the daily brunch rush. True to the café's name, every dish is either served on or alongside a biscuit. On a typical Saturday, Lee goes through 35 pounds of flour — which equates to almost 400 fluffy biscuits.
Lee likes to say she didn't go to culinary school — she went to school in her Granny's kitchen. True to her Southern roots, everything is made from scratch — including the salad dressings and her signature pimiento cheese. A sign on the kitchen door says, "This is real food, not fast food — please be patient," and her customers don't seem to mind the wait at all.
Donna Karl discovered Butter My Biscuit by chance. Her daughter and grandsons were visiting for Christmas last year and she wanted to find a place they could all enjoy.
"We happened upon Butter My Biscuit and we all loved it," she said. "I never thought anything so delicious could be had in such a unique spot. Everything was wonderful — especially What Brent Had."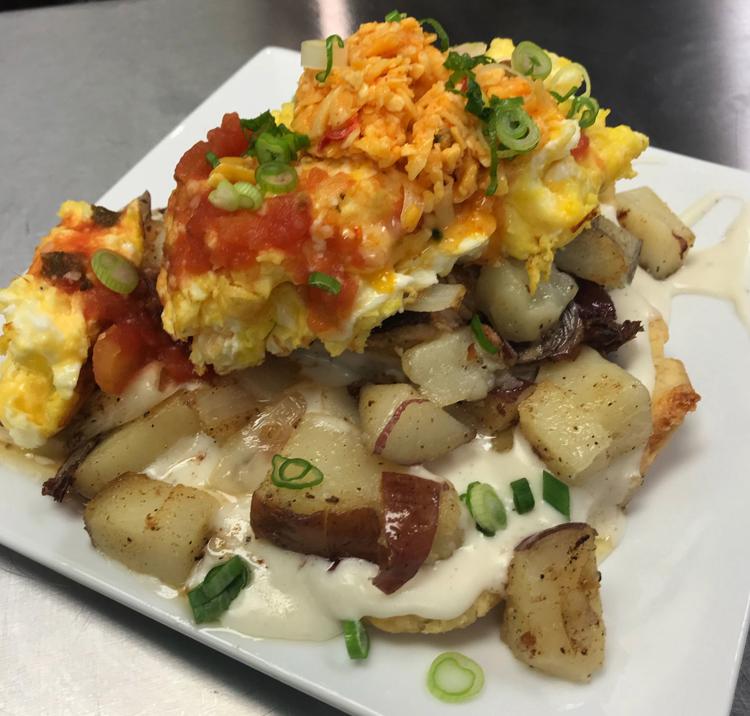 What Brent Had
"What Brent Had" is now the most popular brunch item, but it was never intended to be on the menu originally. The first few weeks after opening day were hectic, so Lee would just throw together whatever she had on hand, put it on a biscuit, and serve it to Brent before starting her shift.
Brent posted a photo of his breakfast on Facebook one morning, and people came in to the restaurant asking for "what Brent had." Lee had to ask Brent to send her the picture so she could remember what she made, and his breakfast became the special of the day every Saturday.
Now a set menu item, What Brent Had consists of two Texas biscuits (with sharp cheddar cheese and fresh jalapenos baked right in) topped with gravy, fried potatoes, sausage patties, cheesy scrambled eggs, salsa, spicy pimiento cheese and green onions, all for $12.
Another brunch favorite is The Boss Boy. Inspired by Brent and Lee's son Baxter, The Boss Boy costs $8 and includes a chopped-up buttermilk biscuit topped with gravy, fried potatoes, bacon and a cheesy scrambled egg. Those who prefer a build-your-own approach can order a sweet or a savory biscuit with their choice of toppings — including fresh jalapenos, avocado, pimiento cheese, honey and more.
Brunch is usually the busiest time at the café, but Lee takes a two-hour break on Friday and Saturday afternoons to make a fresh batch of biscuits for the dinner menu, because all good Southerners know a biscuit works for any meal.
Evening specials range from chicken parmigiana to chicken enchiladas, based on whatever Lee is hungry for that day. One night she had some beautiful center-cut pork chops which she served on top of a rosemary biscuit and topped with a cabernet cream sauce.
"I'm pretty adventurous in the kitchen," she said. "My approach is very 'Ratatouille' — I just get back there and start mixing stuff up!"
Her personal favorite is the BPT — a sandwich she created with melted pimiento cheese, bacon and roasted tomatoes served, of course, on a biscuit. The BPT costs $8 and comes with a side of house chips.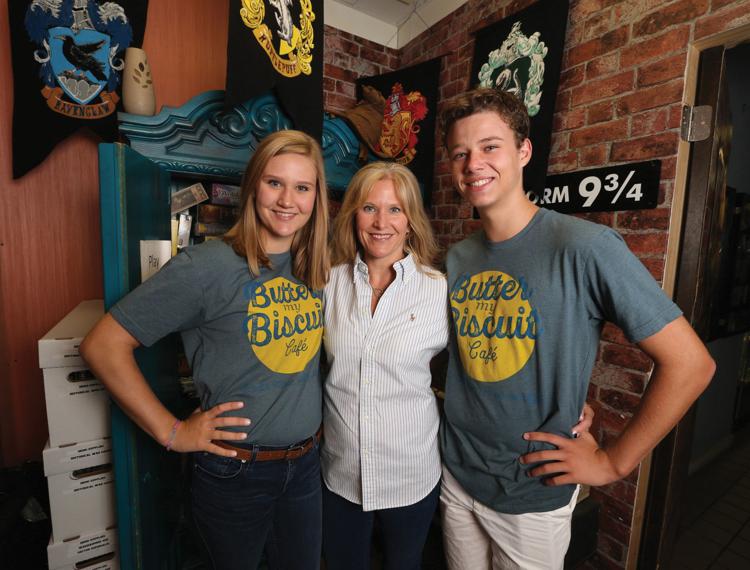 Expanded Hours
No matter what she's serving, Lee has a loyal following — so much so that she decided to expand the café hours this year. In addition to the Friday and Saturday hours, Butter My Biscuit is now open for brunch Tuesday through Thursday as well.
Since Lee is still the only chef in the restaurant and couldn't rely on her school-aged children to pitch in during the weekdays, she needed some help. She had a brilliant idea to recruit her stay-at-home-mom friends and posted on her personal Facebook page asking if anyone was interested in a part-time job one or two days a week. She received immediate responses from several people, and she is now blessed to have five reliable, responsible women who can help her out in the café during the morning and still pick their kids up from school on time in the afternoon. She calls the group "The Midday Moms Club."
Brent still runs Bankston's and handles the gaming side of the King's Landing location, but he is Lee's knight in shining armor on busy days, often running over from the comic store to help bus tables or bring supplies.
"Everything about this venture has just been amazing," Lee said. "It's so much fun working so close to Brent, and the concept we came up with is the perfect marriage of our two passions.
"I love seeing people pull out a board game and hang out for a while after they eat, and I get to learn something new every day. Just don't count on that something new being how to play Dungeons and Dragons!"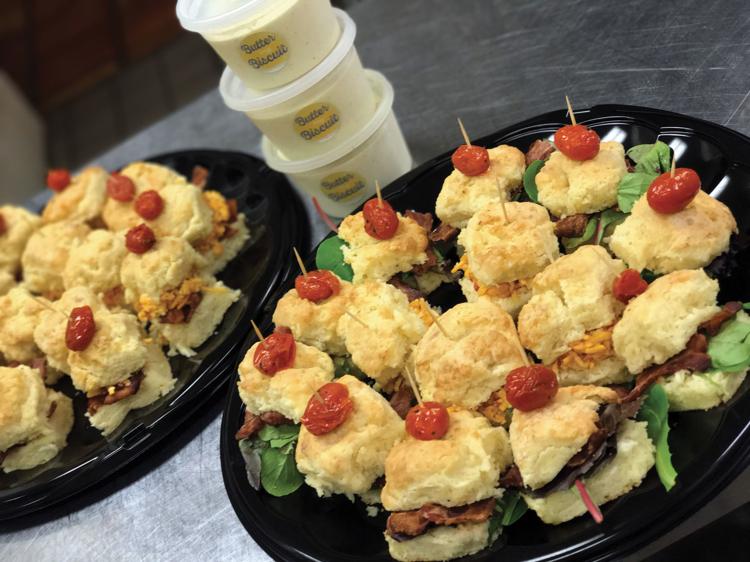 ---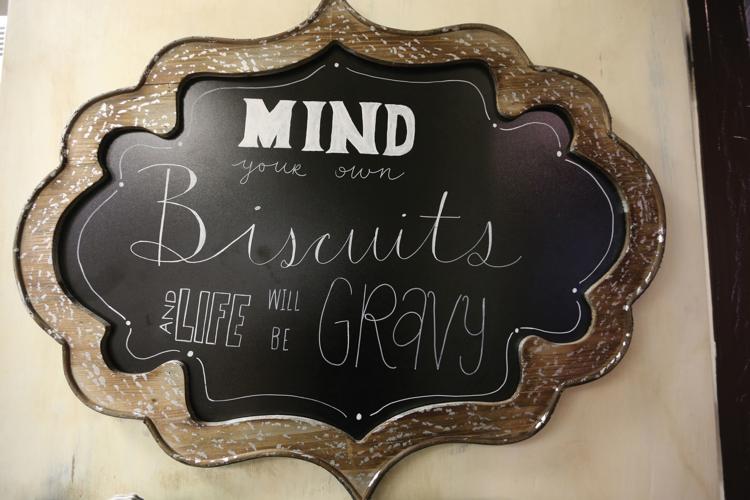 Butter My Biscuit Café
1427 S. Valley Mills Drive
(across corner from Bankston's store)
Tue-Thu, 10 a.m. to 2 p.m.
Fri and Sat, 10 a.m. to 2 p.m., 4 to 9 p.m.