The ALICO, Suspension Bridge, Union Pacific, π35 … Wait a minute. Shouldn't that be I-35?
No, that's just a grilled chicken, spinach and mozzarella pizza with alfredo sauce, one of the eight specialty choices with fun names available at 900 Degrees Pizzeria. The restaurant is just off the freeway next to the railroad tracks on University Parks and comes with the usual soda, bottled or draught beer and build-your-own salads.
Named for the upper temperature of the special domed oven used in cooking the pizzas, the restaurant offers up to six or seven toppings on the standard 11-inch pies (all for $8.75), lets customers watch them bake in an clear-door oven and take it out within 15 minutes. They may also dine in while enjoying TV news or a play mix of old rock, country and oldies over the ceiling speakers.
Oh, and don't forget to look for hidden pictures in the giant "Waco, Texas" mural: Waldo and a mammoth for the kids and a DeLorean and others for the adults.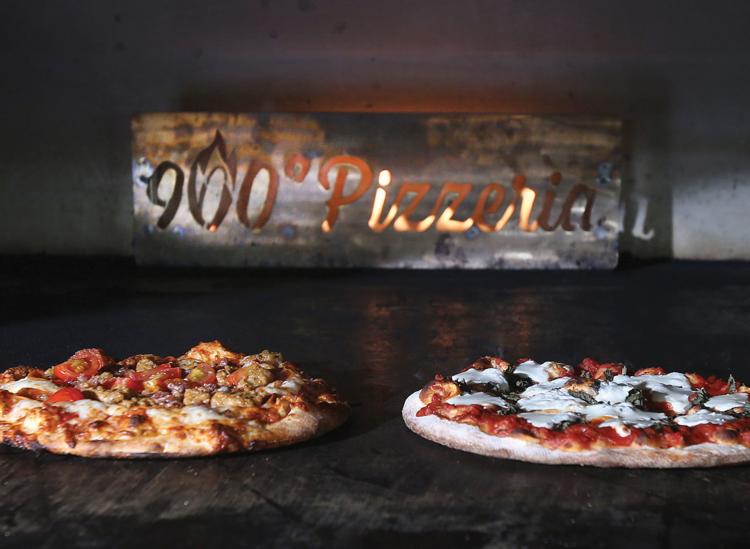 Co-owner brothers Justin and Caleb Duty opened the brick-and-mortar store in December after the success of the 900 Degrees Pizzeria food trailer at University Parks and Franklin Avenue and then at the Magnolia Silos since October 2014.
Neither plans to close the food truck because of the 30,000 tourists visiting there weekly; it's the busiest food truck spot in the state, according to Caleb.
Both learned the pizza business well, working from "well below legal age" for their parents, Roland and Mary Duty of Poppa Rollo's, a Waco institution that celebrated its 50th anniversary in September. Justin took over the main Poppa Rollo's and runs the Hewitt location as well.
Something Different
But the pizzeria is decidedly unlike Poppa Rollo's, long known for its eclectic décor.
"We didn't want to name it the same as my other restaurants because we serve a faster-cooking type of pizza to a different clientele, more commuter traffic off I-35 instead of the sit-down dinners with old movies and hidden doors featured at the Valley Mills location," Caleb says. "There's enough business now for all locations."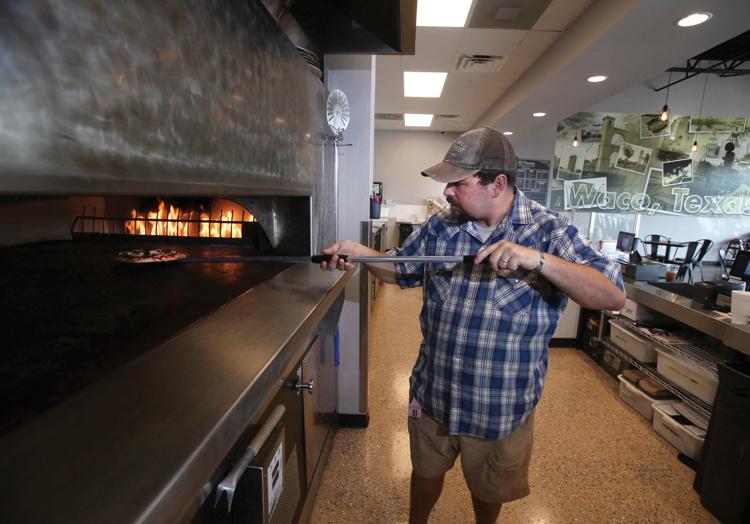 After his Midway High graduation, Caleb stepped away from the family business. He worked at a dry cleaners, a Genie car wash and bailed hay before joining the U.S. Marine Corps. After his military service he toiled in the oilfields for a while.
"I lived in the back seat of my dad's truck a year and out of a sea bag four more, taking showers at truck stops and sleeping under the stars, trying to save money while looking for a better way," Caleb remembered. "When I returned to Waco in 2014, I approached Justin about a food truck and applied my Marine combat training, called BAMCIS (begin planning, arrange for reconnaissance, make reconnaissance, issue orders, complete the plan, issue the order and supervise)."
Justin in turn contributed the money and his years of day-to-day managing, crunching numbers and mastering details like buying supplies and doing the small jobs by certain dates, sort of like a commanding officer to Caleb's first-sergeant role.
"I definitely have more business sense, and Caleb is more in the trenches, getting it done," Justin said. "I don't like being told what to do, but Dad's advice for us was to go for it because we'd never know unless we tried. We've had thousands of good reviews, and only three negative, two of which were constructive."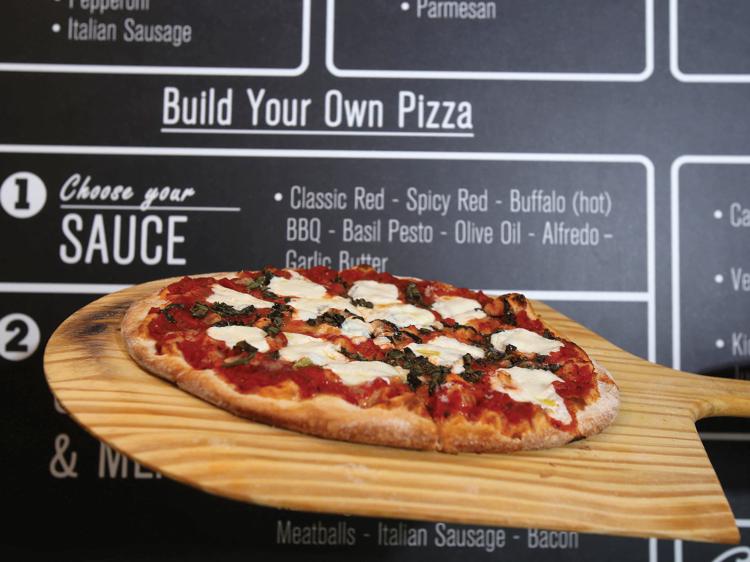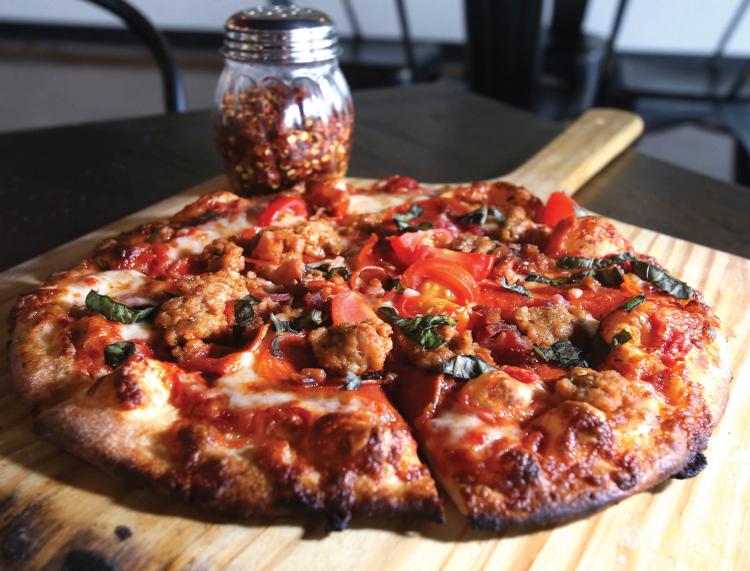 Their most popular pizzas are the Margherita (with basil, parmesan, red sauce and mozzarella) and the Carnivore with red sauce, mozzarella, bacon, pepperoni and Italian sausage, all with added toppings, if desired
Diners have their choice of eight sauces and meats, six cheeses, 16 vegetables and pineapple. Kids' meals run $5.99 with a mini-pizza, Oreo and apple juice or fountain drink, while gluten-free cauliflower crust and vegan cheese are also on standby.
Sibling Rivalry
The Duty sibling rivalry doesn't pop up much; well, not too much.
"It's usually good because I can step in and do things without talking to Justin if I'm stressed (or vice versa), but it's occasionally bad because of the 'little-kid rivalry.' He believes he should get his way since he's older," Caleb said with a laugh, "but all in all, it's worth it."
Justin agreed, saying, "Working with family is always enjoyable and fun; we grew up arguing over little stuff, but we had a core understanding how to run the place eventually and still have some debates, some more vocal than others."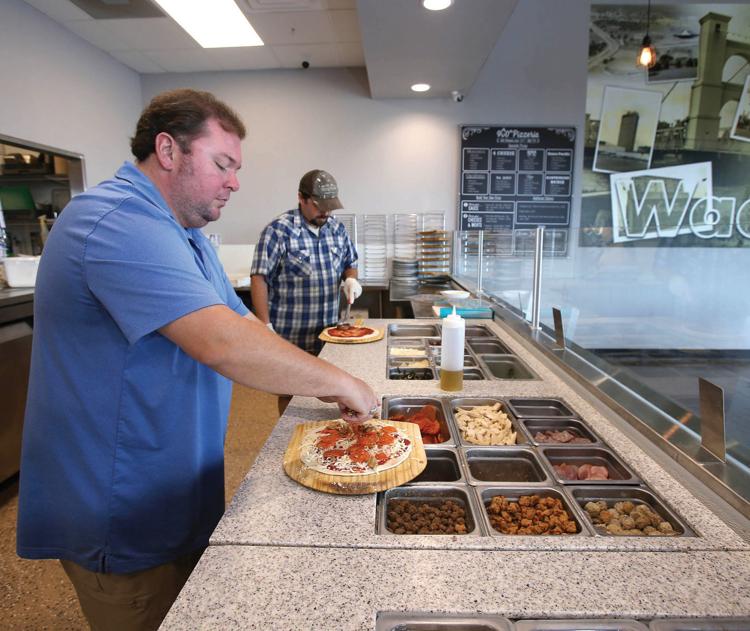 Both of the smaller stores also have well-trained managers to take care of the day-to-day operations (Amber Hardin at 900 Degrees and Luis Guevara at the Hewitt location), so the brothers have more time for family.
Justin met his wife Neeley online and married her at the world's largest annual air show in Oshkosh, Wisconsin. They have three children, Declan, 10, Jonah, 6, and Piper, 3. When he's not having dinner at home with them, he's attending a Karem Shrine meeting or piloting his Bonanza V Tail around town. He's also had his share of white-knuckle flying, having had to land his plane far from runways twice when the engine died.
Caleb, meanwhile, also is a rancher, keeping between 10 to 30 cows. He talked his wife Laury not only into helping around the store but also into camping after she initially hated it. The trick was easy, buy an RV with A/C and a clean bathroom, he said. Now they take their three dogs and son Forrest to South Texas campsites to get away from the grind.
"I like cooking breakfast, and she likes cooking dinner, so we're a match made in heaven," Caleb said. "I get to wake up when I want, watch news in the mornings, relax, and be at work at 8 or 9, a lot better than my old county job starting at 6."
Like-minded
The co-owners do agree on enjoying their work and making their new store a desirable destination.
"900 Degrees is a fun place to meet for a quick and easy lunch because you're in and out in no time with top-notch quality food and drink," Justin says." If you have time for a burger place, then you have time for pizza if you don't mind getting out of your car."
Not surprisingly, Caleb sees his fulfillment from a military point of view.
"The exciting part of working for yourself is that you never have a 'normal' day. If you do, it's bad," he says. "As the old Navy saying goes, 'If you have time to lean, you have time to clean.' I'm never bored or complacent. When I have dead time, I'm organizing the food truck or training."
Like all workplaces, the pizza business has its share of lighter moments as well. A favorite memory for both is when a new employee poured pizza sauce into a mixing bowl but didn't realize it was set on high. When he plugged the machine in, tomato paste went everywhere, floor to ceiling and all over the worker.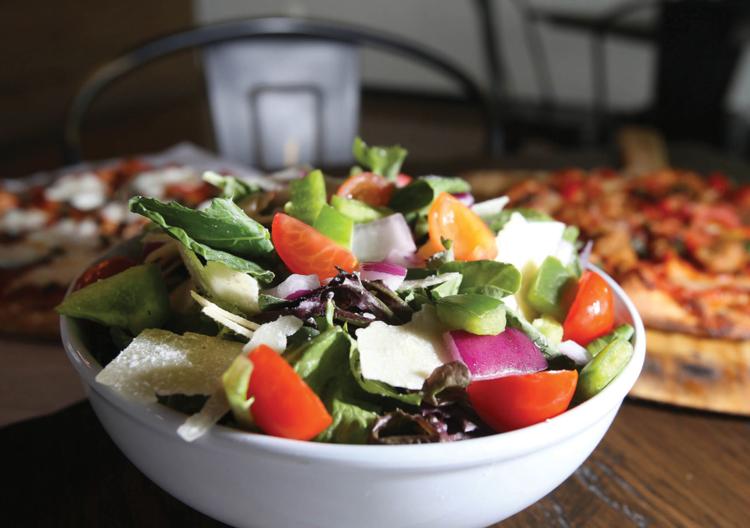 Another time, Caleb told a rookie to wash the lettuce. He returned a few minutes later to see the employee took him literally with the greens sanitized at 150 degrees in the dishwasher. It became a true tossed salad, as in … into the trash.
Justin says they may open another location in College Station, but he wants to see how the first year goes for 900 Degrees. He keeps it all in perspective.
"My industry is making people happy and taking care of them," he said. "That's the coolest part of my job, seeing them smiling and enjoying our product. That makes it all worthwhile."
---
900 Degrees Pizzeria
315 S. University Parks Drive #100
(also a food truck at Magnolia Silos)
Sun-Thu, 11 a.m. to 10 p.m.
Fri-Sat, 11 a.m. to 11 p.m.