Transforming grains into award-winning whisky is a talent that Jared Himstedt discovered almost by accident.
The head distiller and distillery manager for Balcones Distilling received a home-brewing beer kit as a wedding present and became enthralled with the nuances of the process.
His eclectic background in ceramics and social work with a degree from Baylor University, Himstedt the artist was soon to add new skills to his portfolio. These included cutting copper and doing plumbing and roofing as the first employee of Balcones before a product was even ready for market.
Himstedt also was adept at noticing that craft beers were readily available but craft whisky was unique in its own right. He was ready to explore and experiment with the key ingredients and top-notch equipment to which he now has access.
Instead of following market trends, he likes to forge his own path, fine-tuning along the way until arriving at a palette of products that have earned the Balcones brand both industry and consumer accolades worldwide.
The new 65,000-square-foot, nearly $15 million distillery at 225 S. 11th St., the former Texas Fireproof Storage Building, in Waco opened early this year, nearly doubling production capacity with its three-story copper stills from Forsyths, Scotland.
Balcones barreled its first whisky distilled at the new facility in February and celebrated its official grand opening in April with local leaders and community members applauding its success.
The distillery's former location was a much smaller space under the 17th Street railway viaduct.
The new location will present new opportunities for the public to witness the whisky-making process when group tours will begin in July by appointment.
It's another attraction that is drawing attention to the place now known as the home of HGTV's "Fixer Upper" stars Chip and Joanna Gaines and their Magnolia Market only a few blocks away. Waco Convention and Visitors Bureau leaders say the market is bringing in 25,000 people every week to shop, explore and catch a glimpse of the home renovation celebrities.
Balcones President Keith Bellinger said he would like for tourists to have easy access to Waco's many attractions so they can fully enjoy the variety of offerings here.
"We've talked with the city about a trolley system to connect attractions such as the Dr Pepper Museum, the Texas Ranger Hall of Fame and others," Bellinger said.
"One of the problems we have is parking, so they could park in city lots and get around that way. There's been a lot of local uproar about that so we are looking at solutions. We have limited parking in our area primarily because of city ordinances."
That could be a good problem to have Waco as a central location for recreation.
Greater Waco Chamber President Matt Meadors said it brings another facet to the community as well.
"Having a world-renowned whisky distillery in our backyard not only enhances Greater Waco's diverse industry base, but Balcones Distilling brings a cool factor to our community," Meadors said.
"The Waco landscape has a wide variety of attractions that are truly found only in Waco. Balcones Distilling has added another unique attraction to our community that is helping create new experiences for visitors. This is an exciting time for our community, and the momentum continues to grow."
A gift shop and tasting room are in the works as well to offer visitors a well-rounded experience to Central Texas' only whisky distillery.
The expansion is a step forward for Balcones, but Himstedt is not willing to sacrifice the hand-crafted quality. It's that spirit behind the spirits that has created a name for Balcones.
"I think there are a couple of stages at which we take a little extra care, and there is more human interaction with the product," he said.
That is how Balcones was born, and it's an industry secret that has not gone unnoticed.
"It's a lot more common now for the craft distillers to take a lot of care with their ingredients," Himstedt said. "At a smaller size, we can pick ingredients that are going to make the best product."
Blue corn from New Mexico and barley from Scotland are among those ingredients that Himstedt and his team research and find.
"The rye we've been playing with is an heirloom strand that grows really well in the panhandle and parts of Oklahoma," Himstedt said.
When determining the quality of his ingredients and their impact on the taste of his final product, he also considers other factors that make it possible and more environmentally friendly to attain.
"We want to use more localized ingredients," he said. "People like to know we use ingredients that have a connection to where they are. We want to make it worthwhile for people to grow grains we may use."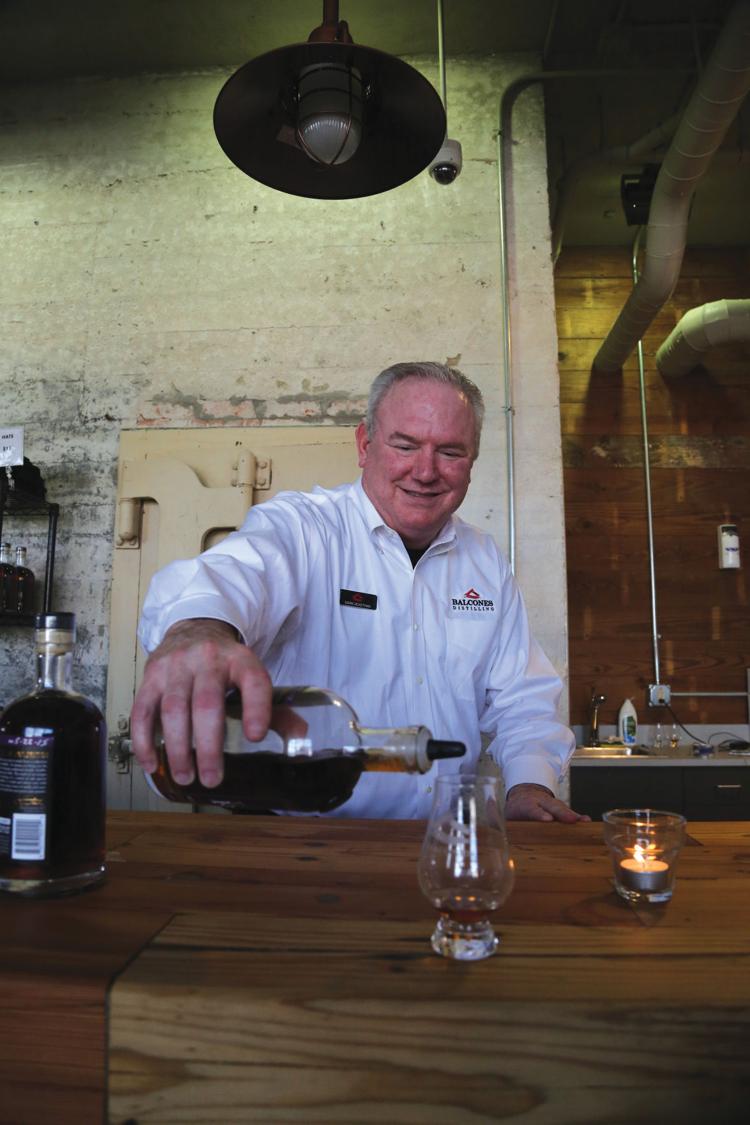 That attention to detail has created whisky blends that speak for themselves on the competitive stage where similar products are judged by the industry's most critical connoisseurs.
Balcones has won more than 200 awards since opening for business in 2008, with 77 of those coming this year and last.
Most recently, Balcones Distilling walked out of the American Distilling Institute Awards with a double gold medal for its Balcones "1" Texas Single Malt, a gold medal for the 2015 Staff Selection and two silver medals for Brimstone and True Blue 100. These prestigious awards pitted the products against 645 craft spirits, with only 2 percent receiving a double gold.
"One of my favorite competitions that we do well everywhere is Whisky Magazine," Himstedt said. "It makes it feel about as objective and as non-partial as you can get. That's the World Whisky competition."
Balcones won three titles from the 2016 World Whiskies Awards in March in New York City. The Best Single Cask American Single Malt award was given for the staff's personally chosen cask of whiskey.
"We like to do a staff selection," Himstedt said. "We will put out some new barrels and see what is the collective favorite. There are only two or three of us who work on blending all the time. To have the staff vote on it makes it pretty cool."
Balcones' True Blue 100 received World's Best Corn Whisky, the highest tier award in the category, and the "1" Single Malt was named the Best American Single Malt.
TheFiftyBest.com awards in February named Balcones' Texas Single Malt Whisky a Double Gold medal winner with judges describing the spirit as "sweet, elegant, smooth and gentle."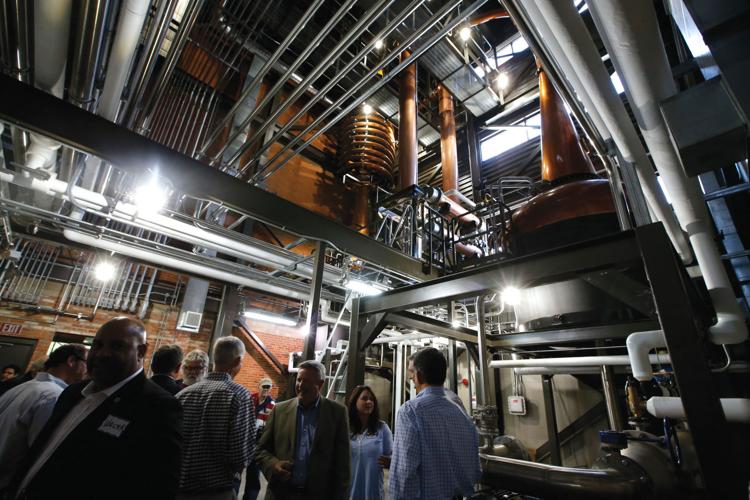 The move to 11th Street signals a new beginning for the distillery after the board bought out founder Chip Tate in 2014.
"Our total focus is about getting the new distillery up and running." Bellinger said. "We feel we are getting to a position where we can focus on the front of the house such as the gift shop and the public tours. The first few months in our new location has been on production."
With its first batches of whisky done and the official grand opening in the recent past, it's time to look at what's next, he added.
"Obviously, with Magnolia Market now people know a lot more about Waco," Bellinger said. "With us, we are getting a lot of Baylor, Magnolia and Balcones fans and not necessarily in that order. They have really helped to put Waco on the map."
Once the tours start, visitors will get a firsthand glimpse of a working distillery.
"They will get to see most of the operation beginning with the brew house," he said. "They will see the actual fermenters, the still house, the blending room through a window and the packaging line, and then in the end they get to come in to the tasting room and the gift shop.
"This will be a different experience from the other distillery where you could stand in the middle of it and see pretty much everything. This makes it look a little more major league. The three-story copper stills are very impressive."
It will be worth the time for day travelers, he said.
"I think people will be pretty enamored to come here and see how everything is made," he added. "For a lot of people in Texas, we are basically right in their backyard. They can drive a couple of hours and see a real distillery."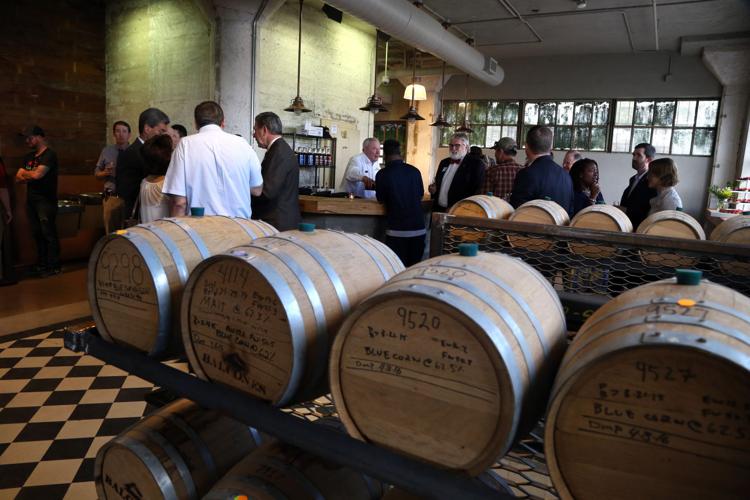 Going forward, Balcones staffers are embracing their location and the ability to expand production.
"We know that our current facility is going to afford us to produce about 4½ times as much as 17th Street while maintaining the quality of the whisky," Bellinger said. "Early indications are that it's actually going to be better."
The 3½ tons of handcrafted copper stills transported over land and sea from Scotland in fall 2015 were custom-made for Balcones and are the centerpiece of the new facility.
The three-story apparatus was specially designed for the new location. It is unusually tall and speaks to the unique process Balcones uses to distill its whiskeys, rums and specialty spirits.
"Every still has all kinds of subtleties in shape and size," Himstedt said. "They all have their own DNA and fingerprint. In trying to get used to how they run and how we want them to run, we already had some ideas of what we want to do differently. Luckily, we were already planning to order another still, so we were able to make some modifications."
When the next stills are installed, Balcones will be at a production level nine times that of the previous location by the end of 2017. The ample space will allow for another six stills, which will be added in phases.
"It's consumer demand that is driving our increased production," Bellinger said. "We will only produce more to maintain the quality and the product that we're known for. We only bottle when we know our product meets or exceeds our standards. We always compare our blends to our award-winning products."
Whisky-making is an age-old tradition, so the ingredients, equipment and process are the defining factors in producing a run-of-the-mill or a stand-up-and-take-notice product, he said.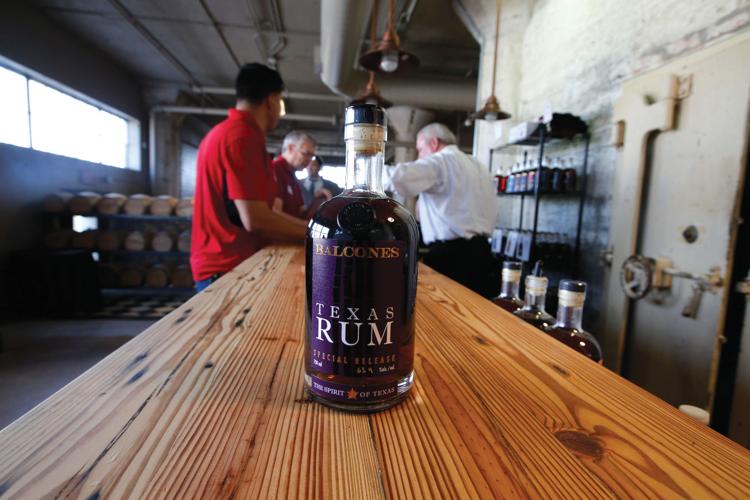 The owners are researching ways to use their previous location.
"We have some city ordinances we have to resolve in order to use it on a part-time basis," Himstedt said. "We do intend to utilize 17th Street. We are just not sure when or how at this point."
People wanting to taste Balcones products can find them at a few area locations, either to purchase by the bottle or the glass.
"There are a handful of stores in Waco that are good to check," Bellinger said. Those include Twin Liquors, Specs, Riverbend Liquor, Waco Bar Supply, Ward's Liquor and Texas Beverages.
For a served experience, Balcones is offered at a select local bars and restaurants including Dichotomy, Muddle, George's, the Indigo Hotel, Diamondbacks and 135 Prime.
While Texas gets more than half of the product, Balcones also distributes to the tri-state area of New York, New Jersey and Connecticut as well as Illinois and California.
"We also ship a very tiny amount," Bellinger said. "We do most of our sales in Dallas. Austin is strong, but Dallas is our No. 1 market and then Houston and San Antonio are really coming on. Even Laredo and Lubbock are markets for us."
Looking down the road a bit, Bellinger expects Balcones to be more widely distributed.
"Our goal in five years is to be in all 50 states and well-distributed in the major whisky states and possibly a little bit on the international side, particularly continental Europe," he said.
"On a daily basis, we get calls from around the world interested in our products. You cannot not focus on London because it is such a huge whisky market. We try to send just enough to whet their appetites, but our predominant focus is on the U.S."
Himstedt echoes that vision.
"In five years, hopefully a lot of people will be less frustrated because they can find our product much more easily," he said. "The fun for us has always been on the creative side. It will be exciting for the production team and the blending team to see some of our R&D products into delicious full-fledged products. People love what we have, and we love what we do."