There are at least three kinds of baseball memorabilia collectors.
One, the largest group of collectors simply keeps all their baseball cards, and maybe a few autographs, from childhood and occasionally fondly goes through them to recall "the good old days." Sometimes these collections show up at garage and estate sales and may include a treasure trove of sought-after items.
Two, there are some people (usually men) of means who will amass a huge collection worth thousands, even millions, of dollars in order to secure very rare items. The famous 1909-11 T206 Honus Wagner card sold for $3.12 million through Golden Auctions in 2016. A different copy of the card sold for $2.8 million in 2007.
One collector has a room full of uniforms of many of the greats of the past. Last year the bat used by Babe Ruth for his 500th home run sold for $1 million. These people often see these items as an investment that will later pay off as the value of the items increase. For some of these folks it is not necessarily a love of the game as much as another way to amass wealth. The market exploded in the '80s and '90s, but has dropped off in recent years.
Three, some just love the game of baseball and collect large amounts of items of their favorite players or teams with no interest in making any money off of them.
Waco has one who fits into the last category. My friend, who shall remain anonymous because of his large collection, started to collect seriously in the late 1970s when he wanted to re-collect cards from 1964 that he himself had thrown away (can't blame Mom this time).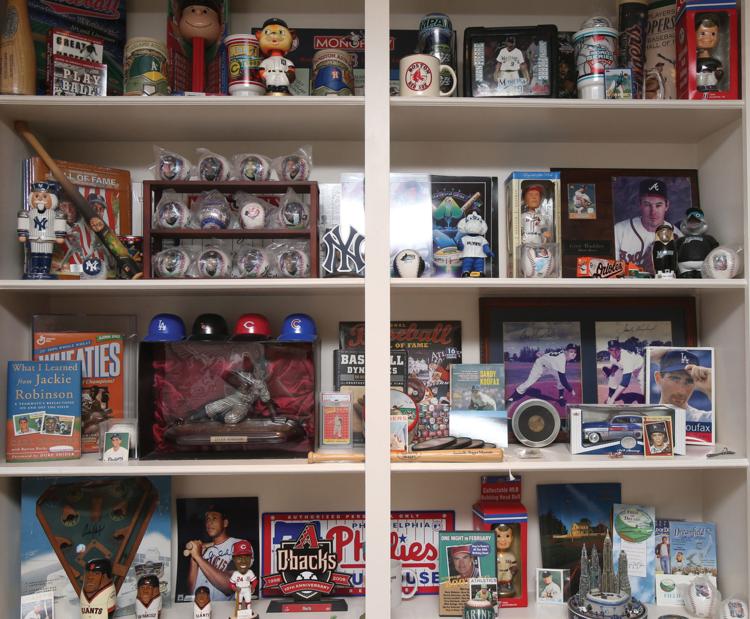 He found those 1964 Topps cards at a signing event in Arlington, Texas, featuring Hall of Famer Enos Slaughter. The excitement he felt propelled him to attend any card shows and signings that he heard about.
Moving to Virginia in 1986 placed him near a large number of card or ball signings by icons such as Mickey Mantle, Willie Mays, Sandy Koufax, Ernie Banks, Johnny Bench, Joe Morgan and other Hall of Famers. Now, he was really hooked.
More Opportunities
When he moved to Florida in 1999 he had access to the many fantasy camps where the old-time ballplayers hung around, and most were willing to sign baseballs or cards or pictures for free. He has especially good memories of Brooks Robinson and Johnny Pesky, who would sign for anyone and talk with fans at length.
Also, current players were more accessible during spring training and, if one was patient enough, and knew when and where to position one's self, he could secure a number of autographs. Of course, some of those autographs really became prizes after the player emerged as a star or member of the Hall of Fame.
Before he knew it, he was going online and bidding on items. His collection grew such that he began to have sections in his cabinets reserved for the different positions, such as a catchers section (Yogi Berra, Johnny Bench), a third baseman's section (Brooks Robinson, Mike Schmidt, Eddie Mathews) , and so on.
Then came sections for managers (Sparky Anderson, Tommy Lasorda, Earl Weaver) and former Negro League players (Jackie Robinson, Monte Irvin, Larry Doby).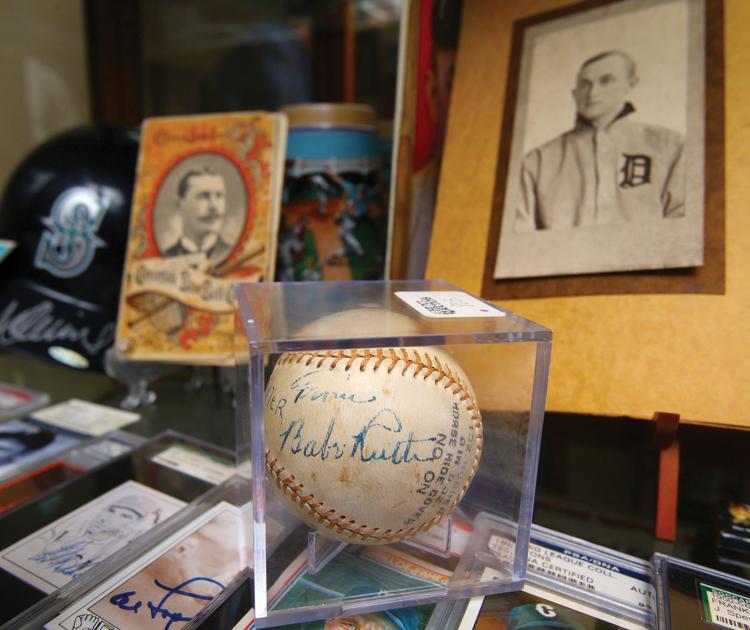 Once in the 1990s he won an autographed ball by Jeff Bagwell from an online game site. Bagwell was just beginning his career, so the prize seemed of little value. That changed in 2017 when Bagwell was inducted into the Hall of Fame.
And though not nearly as valuable as some of the autographed items, the collector and history fanatic is especially proud of an 1888 scorecard of the Cincinnati baseball team that he acquired.
Early Fan
My friend's first hero was a player named Don Demeter, a solid outfielder who played his 11-year career (1956-67) with several teams, mostly the Dodgers, Phillies and Tigers. He wrote to Demeter, who responded with a nice letter, a signed baseball card and a signed glossy print.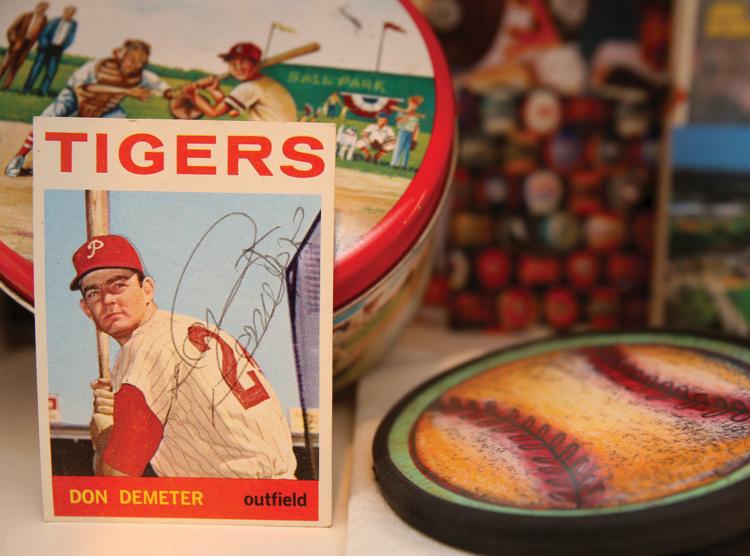 Not all the greats at the signing shows were pleasant and congenial. The collector recalls that Al Kaline and Willie Mays were surly and aloof when he met them. On the other hand, he remembers standing in line for a long time to secure a free autograph of Hall of Fame pitcher Warren Spahn, who was appearing at a furniture store opening in Baltimore, Maryland, and who gladly spent time talking with each fan.
He recalls with regret that at an Ernie Banks signing in the early 1990s, future Hall of Famer Tom Glavine was hanging around, but nobody knew who he was, and thus nobody sought his autograph.
At a Kansas City Royal fantasy camp he saw Hall of Famer George Brett signing autographs as Brett was walking to his car. My friend was literally knocked down by the rush of people trying to get Brett's attention. Getting autographs of the famous can be cut-throat and dangerous to your health!
Another prized possession is a signed poster of St. Louis Cardinal greats, purchased years ago for around $50. When he took it to a shop for framing, the shop owner placed the item in his display window until the collector could pick it up. Within hours the shop owner was offered $500 for it on the spot. It was not for sale.
Special Drawing
From his collection, he is donating a Mickey Mantle autograph and a Joe DiMaggio autograph along with a few other items for a drawing that benefits the McLennan County Hunger Coalition.
Tickets can be purchased on the coalition's website (mclennanhunger.org) for $5 apiece or five tickets for $20. Winners of the drawing will be announced on Opening Day of the 2020 Major League season (March 26).
John A. Wood is professor emeritus of religion at Baylor University. He is the author of "Beyond the Ballpark: The Honorable, Immoral, and Eccentric Lives of Baseball Legends."