I am in awe of visual artists; how they transform an empty canvas or hunk of solid material into something beautiful and compelling fills me with admiration. Jill Mashburn Barrett and Lisa Monroe think others feel like I do. The duo, who are co-chairing the Art Center of Waco's popular Table Toppers, have added a new component to the fundraiser that will highlight artists and their craft.
"Lisa and I are very excited to add a fresh twist to Table Toppers, which is now in its 19th year," Jill said. "The theme of the event will be 'Art in Motion,' and we will have local artists all around the room doing their thing, whether that is painting, drawing, sculpting, you name it. These artists are enthusiastic about participating.
"The Art Center brings beautiful exhibits to Waco and we want to highlight the process artists go through to create their work. We want to bring the focus of Table Toppers back to the arts."
Of course, Table Toppers wouldn't be the same without the imaginative tablescapes that showcase the talents of local designers, businesses and schools. This year, 35 tables will be beautifully decorated.
The fun begins with table and artists viewings and a silent auction at 10:30 a.m. May 20 at the McLennan Community College Conference Center. A seated elegant luncheon complete with celebrity waiters will begin at 11 a.m. Tickets cost $65 per person.
"All proceeds will benefit the educational programming that the Art Center holds year-round, particularly Art Camp for children," Jill said. "Last year, 70 youth were able to attend a week of Art Camp, free of charge, with help of the funds generated by Table Toppers."
Both Jill and Lisa are new Art Center board members and are excited about the opportunities for the organization.
"The Art Center will continue to engage top-notch exhibits, and some fun, new events are on the docket," Jill said. "We have an amazing art community in Waco, and the Art Center should be the hub while supporting other artistic endeavors in town. We want to celebrate the magic that is art and bring it and the community together."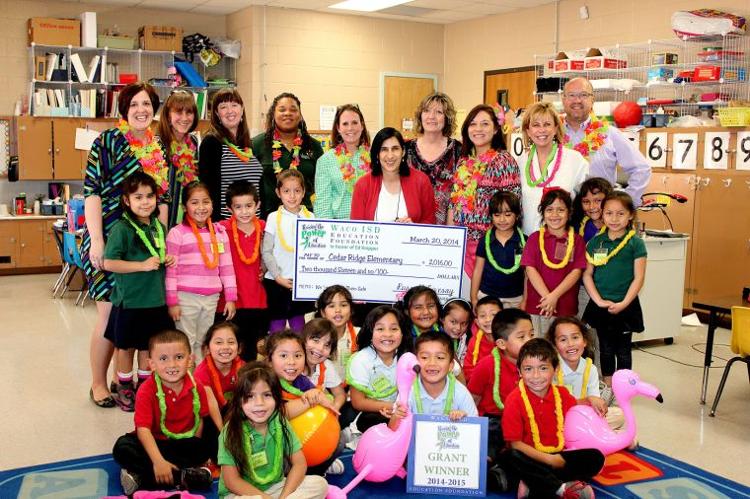 You will want to mark May 7 on your calendar. On that day, the Community Visioning Project will hold its free Community Expo and Celebration from 4 to 6:30 p.m. at the Brazos Room in the Waco Convention Center.
Learn about the community goals that have been achieved by local organizations and businesses, and discover more about ongoing and future projects that will make Waco an even livelier city. This family-friendly event will feature refreshments and entertainment by local groups.
"The Community Visioning Celebration and Expo is an excellent way for Wacoans to come together and celebrate what we all have accomplished and our future endeavors," said Waco City Manager Dale Fisseler.
Every two years, the Community Visioning Project provides an update to area residents at the Community Celebration and Expo. A number of civic groups, businesses, educational institutions and nonprofit organizations will exhibit projects. Just some of the projects highlighted will be Baylor Stadium, the BRIC (Baylor Research & Innovation Collaborative), renovations to the Hippodrome and Stratton Building, Waco ISD's advanced manufacturing and health care academies, and new additions to the Cameron Park Zoo.
"The celebration and expo is an exceptional event to go to for businesses," aid Ed Page, director of retail operations for H-E-B's Central Texas Region. "It's an easy way to check out the ongoing and future projects in Waco and really see the economic growth."
In 2004 and 2005, a group of area leaders gathered to develop a new vision for the community. As part of the information gathering, they made sure that local residents were heard in the process, to share their aspirations and concerns. Out of that meeting of minds, the Community Vision Project was formed to enhance and recognize endeavors that fulfill five priorities — strengthening the heart of the community; increasing economic opportunities; engaging leaders; enhancing life outside the workplace; and developing the area's distinct advantage.
"A wide array of community residents are hard at work enhancing the Greater Waco area," said Gale Edwards, a Downtown Development Corporation board member. "The Community Visioning Celebration and Expo enables members of the community to learn more about these ongoing projects and celebrate the many successful ventures that are positively shaping Waco streets and impacting area neighborhoods."
Shane Turner of the Hippodrome agrees. "I really enjoy the expo. I get to see all the different projects that are happening in Waco and know that I'm a part of something great," he said.
Grants for Waco ISD schools
The Waco ISD Education Foundation's "SurPrizePatrol" has once again produced hundreds of smiles throughout the district by awarding more than $100,000 in grants in March. The decisions were tough, but 20 grants were awarded to 12 campuses.
One grant went to Esperanza Garza at Cedar Ridge Elementary. "We 'Otter' Keep Them Safe" provides 28 OtterBox high-impact cases for the iPads used by kindergarten students. The cases will improve academic performance in the classrooms by allowing the students to use the technology more often, and teachers will be able to focus on instruction instead of keeping the devices safe from the young kindergartners' hands.
The grant was presented in memory of Ed Knipper, the extraordinary Richfield High School teacher who died in May 2013.
Another grant to Cedar Ridge will provide a Counselor's Corner, which will strengthen the counselors' resources in order to increase positive student behavior for higher academic achievement and attendance.
Cedar Ridge principal Andrea Nolan said, "This grant will fund training for our counselors and buy play therapy materials. Keeping it safe has been consistent language we have used this school year with children when we talk about how we are to treat each other. Ask any child in the building, 'What is my job?' and they will tell you, 'To keep me safe.' With funding from our grants we can keep our iPads safe and teach our children safe behavior through play therapy. We are truly fortunate."
Other grants included "Real World Biology Lessons" at Waco High, which will provide students with a combination of laboratory experiments, hands-on models or simulations and interactions with guest speakers; "Double Down for Education: Telepresence in the Classroom" (the ATLAS Academy), which will purchase The Double Robot, a leading-edge "telepresence" device that allows the user to see, hear and move remotely using an iPad mounted atop a motorized base; and "Books on Wheels" (Provident Heights Elementary), which will provide Accelerated Reader books for first- and second-graders.
To date, the foundation has awarded more than $1.2 million in grants to Waco ISD teachers and staff.
Party for 'Tall Blondes' at zoo
Some tall, striking blondes are moving to town, and there is a cocktail party planned to introduce them.
Dane and Penelope have been living in California, but will call Waco home. Why is this news, you ask? Well, the two are juvenile Masai giraffes who will take up residence at the Cameron Park Zoo.
The duo will make their debut at a special "Tall Blondes" party from 6:30 to 8:30 p.m. May 29. The event will feature hors d'oeuvres, blond wines and beer, and a "tall blond giraffe," a signature cocktail created especially for the party. The event also will showcase a new giraffe-feeding platform.
Dane, a 10-foot tall male, was born in April 2013 and comes from the Santa Barbara Zoo. Penelope is smaller at 8 feet and was born May 9, 2013. She has been living at the San Diego Zoo.
Tickets for "Tall Blondes" cost $50 per person and can be purchased at cameronparkzoo.com.
May is a busy month. KidZoobilee! is set for 5 to 8:30 p.m. May 3. Last year was the first time the event was in May to take advantage of the nice weather.
Duane McGregor, marketing/public relations manager for the zoo, said the turnout was good with approximately 1,000 people attending, but organizers hope for a larger turnout this year.
Geared for children ages 2-14, activities will include bounce houses and water slides, water games, karaoke and more. Kids and adults will enjoy interacting with the zoo's featured performers — Baba Kwasi, an African storyteller and drummer, and Kings and Queens, a children's ensemble that performs African dances. There also will be a large climbing tower and a zipline.
As always, KidZoobilee will feature kid-friendly food and beverages from area restaurants. The entire zoo will be open during the event. Tickets for KidZoobilee cost $25 and children must be accompanied by a paid adult.
Additionally, M.O.M. (Missing Orangutan Mothers) Day will be May 4 and include a "baby shower" for Mei, the zoo's orangutan who is expecting her baby on May 22. Guests can visit the zoo's website for gift ideas.
The first 100 mothers to the zoo will receive a carnation and all moms will be admitted free when accompanied by a child. M.O.M. activities are included with admission.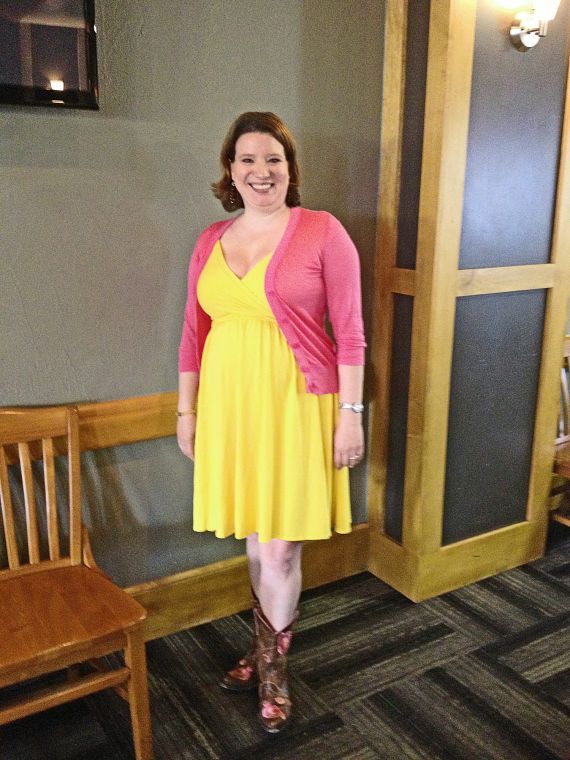 What was a simple Facebook status update in May 2011 by Waco resident Sarah-Jane Menefee has become a habit for a group of local ladies. They are the "A Dress a Day in May" fashionistas who have decided to wear a dress or skirt every day in May.
"Sarah-Jane mentioned she wished she had a reason to dress up," said Autumn Outlaw, who is with the Bear Foundation. "I agreed with her. I had many dresses I just didn't have a reason or place to wear. It gives me a reason to re-examine my wardrobe each year; why haven't I worn this? Does this fit? Why do I still own this?"
Autumn said the ladies encourage each other to keep up with the challenge. They had about 60 participating last year. Most were from Waco, but several were from other states.
Caryn Brown, who owns Digital Media Butterfly and is the founder of Waco's Social Media Breakfast, enjoys the clothing challenge.
"I wanted to stretch my outfit choices a little bit more," she said. "At the time, I was working in an IT (information technology) department, so I wore khakis and a nice dress shirt all the time, and this challenge really helped my break out of that rut."
Autumn said she has built up quite a collection of dresses. She thinks the real challenge, however, is trying to find different ways to wear the same dress. By wearing a bold-colored belt, basic cardigan, or chunky necklace, any dress can have a different look, she said.
"Like most women, I love finding a good bargain," she said. "A majority of my wardrobe is from The Clothesline. I think it's one of Waco's best-kept fashion secrets. I love that all the proceeds benefit Mission Waco."
Caryn and Autumn encourage others to take part in the challenge. There is a blog for those interested. Visit dressadayinmay.com to learn more.
Julie Campbell Carlson has written for Waco Today since 1997. She's always looking for interesting tidbits for her column. She can be reached at Julie_Carlson@mygrande.net