The COVID-19 crisis began its ominous appearance in the U.S. just as many college kids were leaving for spring break. My daughter, Derby, is a freshman at Sewanee: University of the South in Tennessee. She and three friends took off for the Grand Canyon and five days off the grid in early March. When they were able to reconnect with their loved ones, they learned their semester had turned upside down. Following is her account of their trip.
Our eyes widened as we looked at the gorge before us. Even though it was, well, an actual hole in the ground, my group of friends were miniscule compared to it. In that moment, with the threat of COVID-19 and the possibility of moving off our beloved mountain not quite sinking in, we needed to be tiny. We needed this hole in the ground to be mightier than us because we at this time were powerless.
We started heading toward the Grand Canyon around 6 a.m. on a Thursday morning, the first day of spring break. We were ready for the journey where we slowly would stop being informed about the pandemic occurring and get reconnected to the natural world. It took 27 hours to get to the park from my university in rural Tennessee, but we made it to our campground around midnight. My teeth chattered together as we pitched a tent in the freezing cold and pitch-black night. This would be our home for the next five nights.
The next day we trekked over to the visitors center to pick up a park map and check if any of us had a cell signal. We didn't. So, we went on to our first hike of the trip: The South Kaibab Trail.
Consisting of literal steps down into the canyon, we quickly made our way down the canyon. Our goal was to make it to the second stopping point, have lunch, and turn around. Around 10 minutes in, we made it to an overlook called Ooh Aah Point. We took a moment, ooh-ed and aah-ed but continued on into the breathtaking gorge.
After another 20 minutes we got to a break area with the name Cedar Ridge, where we all took a seat and had a quick snack. Then, we quickly were on our way, getting farther down into the canyon. People were no longer coming down in packs to get farther into the canyon, so when we got to Skeleton Point, we silently ate while looking at the landscape before us.
"Oh no," said one my friends looking down at a map. She looked over to where the top of the canyon loomed over us, an actual mountain that we will climb after we finish.
"We were supposed to stop at Cedar Ridge," she said.
She pointed at a part of the map and we all crowded around it: SKELETON POINT — HARDEST DAY HIKE POSSIBLE AT THE PARK.
We ended up hiking 6 miles roundtrip with a 2,040-foot elevation change or the equivalent of 204 flights of stairs that day.
We weren't focusing on anything around us except the canyon. And now at this time, when everything is hectic and uncertain, we texted in our group message that we want to go back to the canyon, where our only worry is getting to the top so we can say we completed another trail.
Africa Trip
Can you imagine hiking for four hours through water and mud up to your knees at an elevation of more than 7,000 feet to see an animal? Lisa and Larry Jaynes did, and said it was a magical experience. The couple spent 18 days in February in Africa, visiting Kenya and Tanzania with a short trip to Uganda to see gorillas.
"My main goal of this trip was to see the gorillas," Lisa said.
There are two types of gorilla experiences at the Bwindi Impenetrable National Park in Uganda. One is the Gorilla Trek that is limited to eight people. Participants hike until they find the gorilla family and then get to stay with them for one hour.
These gorilla families are accustomed to humans, and they may even approach the tourists. The trek usually lasts three to five hours, depending on how far the hikers must go to find the gorillas.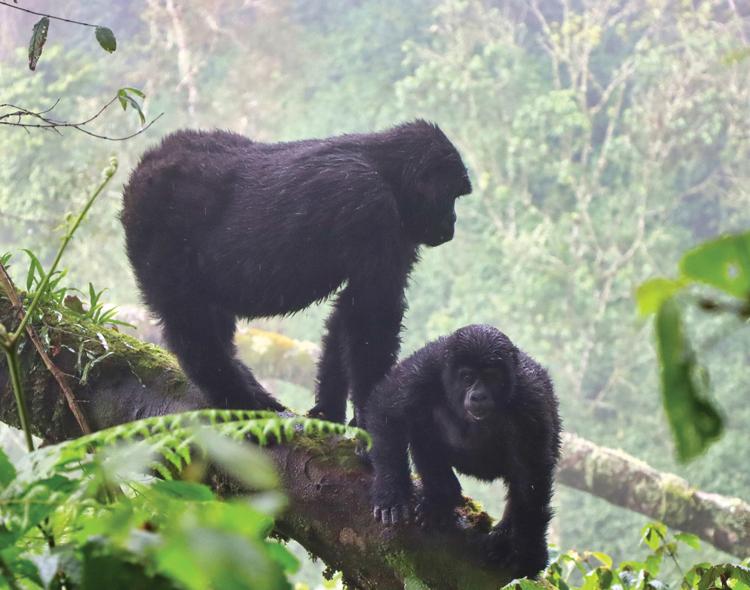 The other experience is the Gorilla Habituation, the one the Jayneses undertook and which took 10 hours, because of the difficult hike. It is limited to four people, but participants get to stay with the family for four hours.
"The gorillas on the Habituation Experience are just learning to be around humans," Lisa said. "There is a team of a ranger guide, trackers and men carrying rifles for protection from animals. The team identifies a family and begins to work with them so that they become part of the Trek experience.
"They had been working with the family we were with for around two years. There were 20 in the family, but we only saw five — a big silverback, a younger silverback, a blackback, a female and her juvenile. The first one we saw was the big silverback, who was about 20 feet away.
"The ranger guide motioned for me to sit if I wanted to. I was on the ground sitting crossed-legged, and the guide said, 'This guy likes to show off. He may act like he is going to charge you, but he won't.' In a few minutes, the gorilla stood up, turned, started beating his chest and charged. He got about 5-6 feet from me and turned and ran into the bushes."
Lisa said the hike was the most physically challenging she has ever done.
"We went on a trail that was very muddy and slippery," Lisa said. "Sometimes we were up to our calves in water and mud. In addition, we were at 7,000 feet. At one point, we went off the trail and the ranger was cutting a trail in the rainforest with a machete. We went up and down very steep terrain. We only spent around two hours with them, as they started to move to the floor of the forest to be with the rest of the family."
The Waco residents also stayed at Giraffe Manor in Kenya. Giraffe Manor is an estate built in 1932 outside Nairobi that was purchased by a family in 1974. The family expanded the size of the estate and created a giraffe sanctuary for the endangered Rothschild giraffe.
The manor has 12 rooms, and it is very hard to get a reservation (the Jayneses made theirs 13 months in advance.) The manor has an education center and a breeding program. Once babies reach a certain age, they are transferred to one of two parks that were their natural habitat.
"They keep around 10 giraffes," Lisa said. "Early every morning, the gates to the house are opened, and the giraffes wander up to the house. They have bowls of food in every room so that you can feed them from your window. Then they open the windows to the breakfast room so that the giraffes can stick their heads in while you eat.
"They have afternoon tea where they call the giraffes up by shaking food bowls. They will take food from you, and you can even get a giraffe kiss if you like. You get to spend about two hours with them. It was an amazing experience."
Larry and Lisa also visited the Lewa Wilderness Conservancy in northern Kenya to see endangered black rhinos, white rhinos and the Grevy's zebra. The second park they visited was the Olare Motorogi Conservancy located in the Masai Mara. There they had some wonderful elephant sightings, including a baby elephant the guide estimated was 1-2 weeks old.
"Our third park was the Grumeti Reserve in Tanzania," she said. "Here there were some of the most beautiful birds I have ever seen. We were treated one afternoon watching two leopard cubs playing while their mother looked on. We also saw a large group of lionesses with their cubs. The grass was so high we could not get an accurate count. Four of the cubs climbed a tree to sit in the shade. This is not common with lions. Only the cubs seem to do it and they are not near as graceful as a leopard in a tree."
"We have fallen in love with Kenya and Tanzania," she said. "To me everything on safari was magical."
Trip Down Under
Larry and Lisa Jaynes weren't the only Waco folks to get in a fantastic trip before the lockdown. Betsy and Phil Reeder, Dianne and Clay Sawyer, Rose and Roland Goertz, Jamie and Tom Valigura, plus two friends from Corpus Christi (Annette and Craig Shook) spent three weeks in Australia and New Zealand during February and March.
The group started their journey in Sydney, which Betsy said is a beautiful city with lots of green space.
"We were able to see 'Carmen' at the famous Sydney Opera House," she said. "We also saw a smaller show titled 'Six,' which was about the six wives of Henry VIII. I also didn't know that every night there is a light show at the opera house, and those were fun to see."
They took a day trip to the Blue Mountains, where they saw the beautiful Katoomba Falls, and saw lots of scarring from the horrendous fires that swept Australia. They also visited an animal reserve to see native species like kangaroos and koala bears.
"We were lucky because the reserve had just opened back up to tourists," Betsy said. "They had closed for a bit because they were caring for so many koalas that were orphaned by the fires."
The group then took its cruise to New Zealand. While many think the country is right off the coast of Australia, it actually took the ship 2.5 days to reach the coast. The Waco group and friends spent 15 days on the ship and went to the North and South Island.
"The crew called us the Texas 10," Betsy said. "The ship held less than 500 people, so it was a small ship. It could go places other ships can't."
She said New Zealand is stunning and very clean. The whole population is about 5 million people who take great pride in their country and are environmentally conscious.
"We did so much on this cruise," Betsy said. "We loved the Milford Sound, which is a fjord where the mountains go straight into the water. It is called the Southern Alps."
The group also visited Hobbiton, the set where "The Lord of the Rings" movies were filmed and which were beautifully kept, Betsy said. They also took an 8-mile walk around a bay and saw lots of wildlife, such as penguins, seals and birds, visited several wineries, loved the pristine water at the Bay of Islands and went whitewater rafting on a river.
"We liked visiting a sheep station and watching a sheep dog demonstration," Betsy said. "I didn't know that actually two different kinds of dogs are used. One goes and gets the sheep from where they are grazing and then the border collies herd the sheep into the pens. It was amazing to watch.
"We also visited a Maori village and saw how they still use traditional tools for woodworking and saw their native dances."
Betsy and Phil stayed an extra two days in Auckland and visited the wonderful New Zealand Maritime Museum, the Auckland Museum and the Botanical Gardens. They left after 23 days down under and barely made it home before the borders closed.
"The flight home was packed because airlines had already started canceling flights,' Betsy said. "So it wasn't the most comfortable experience, but I am so glad we made the trip."
Rescheduled Events
Did you hope to see Earth, Wind & Fire this month at the Providence Foundation's gala? Never fear. The foundation has postponed the gala and concert to Feb. 6, 2021. In fact, many fundraisers that were scheduled for May, May and even June have moved these events to later dates.
Horses for Healing, which benefits the REACH Therapeutic Riding Center, will take place in the fall, probably in October. REACH provides horseback riding and horse-related activities to children and adults with physical, mental or emotional challenges.
While shelter-in-place caused REACH to suspend its therapy, the center has maintained an active and fun Facebook presence in which readers can learn more about REACH's horses (or just horses in general).
Caritas might have postponed its Feast of Caring, but the nonprofit has not slowed down its service to the community. The food pantry is serving an overwhelming number of clients during the COVID-19 crisis.
The Family Health Center also finds itself at the forefront of healthcare during these times, and it has postponed its 50th anniversary gala to a date to be determined.
Meals on Wheels has continued to feed its clients, and is adding more people every day. That makes supporting its Wild Game Dinner, which has moved to Aug. 1, even more important.
Another event originally scheduled for May has moved to fall. Fuzzy Friends' Pooches on Parade will now take place Sept. 18. The event will include a fabulous champagne brunch, silent auction, people and pup models, and more.
The Cenikor Foundation's Boots, Buckles & Bling event that was supposed to happen this March will move to March 19, 2021.
Finally, Cattle Baron's Ball, which benefits the American Cancer Society, will move from its late June date to Sept. 11.
Keep checking online to learn about new dates for other popular Waco events.