As I wrote this column, Fashion Week was in full swing in New York. Attending a show or two in the Big Apple is high on my bucket list. Until I can arrange that experience, I am more than happy watching models show the latest fashions at Providence Foundation's annual Champagne Luncheon and Style Show, presented by Texas First State Bank.
Now in its 28th year, the event will take place on Friday, March 22, at the Waco Convention Center. Doors will open at 10 a.m.
The latest fashions will be brought to you by Waco's local boutiques and elite department stores. Models will hit the catwalk wearing everything from elegant evening gowns and suits for the next big Waco event, to after-5 night-on-the-town fashions, business attire, fun-casual outfits and clothing for your next beach vacation.
Proceeds from the style show will support the Providence Breast Health Center, which is celebrating its 10th anniversary in the fight against breast cancer for the men and women of the greater Waco community.
Over the last 10 years, the Providence Breast Health Center has provided patients in 10 counties with advanced, preventative, diagnostic and high-risk services in a spa-like, holistic facility. During that decade the breast center has provided more than 109,800 life-saving screenings and diagnostic mammograms, detected over 981 cancers, installed Waco's first 3-D mammogram technology and brought Waco's only breast fellowship-trained radiologist, among other accomplishments.
The style show also will feature a champagne lunch with celebrity servers, a mystery pull, and mimosas before the show. Even if you can't make it to the style show, you can still support the foundation's mission by purchasing luxury raffle tickets for such prizes as a Louis Vuitton handbag, sponsored by Waco Radiology; a $3,000 NuGenesis Medical Spa gift certificate; Boozer's Jewelry piece or a $1,000 Dillard's gift card. Prices are one ticket for $20 or six for $100.
Additionally, on March 5 the foundation will hold a Helping Hands Happy Hour from 5 to 7 p.m. at the Baylor Club. Celebrity bartenders Steve Cates, Loren Schwartz, Hal Whitaker, Dustin Drew and Jennifer Furrer will serve up the cocktails. Guests also can nibble on appetizers courtesy of the Baylor Club, preview luxury raffle items, and get a sneak peek of runway fashions from many boutiques that will be in the style show.
No ticket is necessary to enter and you do not have to be a Baylor Club member to attend. The Helping Hands Happy Hour is sponsored by Lochridge-Priest.
Tickets to the luncheon and style show cost $65 each or a table of eight for $520. Various sponsorships also are available until March 6.
For more information, contact Paige Corley, Providence Foundation events coordinator, at 254-751-4717 or paige.corley@ascension.org.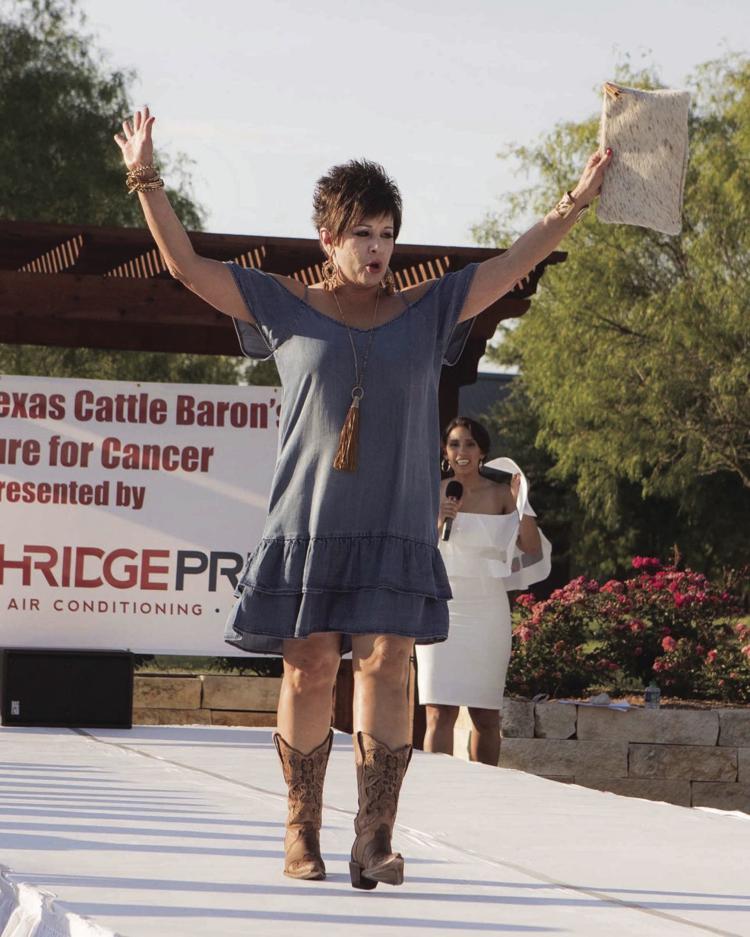 Cattle Baron's Events
The American Cancer Society of Central Texas used to focus much of its fundraising efforts on the annual Cattle Baron's Ball, and while that summer event remains immensely popular, there are now more feeder events to attract folks while generating funds for the organization. Several of those events take place during the spring.
"We want to reach as many people as possible, and we found these feeder events are popular and enable people to support our mission," said Robyn Trippe, development manager for distinguished events with the American Cancer Society of Central Texas. "For example, some people like to shoot and enjoy our Shoot for a Cure while the poker players like Bluffing for a Cure."
On March 3, the ACS will hold the second Dwayne Densman Bluffing for a Cure crawfish boil and poker tournament at The Phoenix Ballroom. The event will run from 2 to 6:30 p.m. Randy Crook from the Salty Dog will do the cooking and provide the shrimp and crawfish. Guests can purchase tickets for dinner and drinks for $50 each. If poker is your game, then ante up $100 to play in the tournament as well as eat and drink.
"Our top players at Bluffing for a Cure will move on to play in the final tournament at the Cattle Baron's Ball in June," Robyn said. "We will have no more than 10 players going on to the final, and they will all start fresh at the final tournament. Each of these players will receive a golden ticket and a guest ticket to attend the Cattle Baron's Ball."
On April 13 the third annual Shooting for a Cure – Sporting Clay Tournament will take place at Weber's Gun Range. Tickets to shoot in the tournament cost $100, which includes coffee and light breakfast, ammunition for the course, lunch and beer (after the tournament is over).
Registration opens at 11 a.m. at Weber's Gun Range, but reservations are required. Tickets can be purchased online at centraltexascattlebaronsball.org or by calling 254-753-0807.
Finally, on May 9 get ready for the 14th annual Couture for Cancer of Waco. This is a beautiful and moving style show featuring ACS heroes – cancer fighters and survivors of all ages from Waco and surrounding areas. Models are treated to a makeover and outfits from local vendors and showcase "Cattle Baron's Ball wear" while sharing their journey in their fight against this awful disease.
There will be a silent auction and lots of ways to donate to this worthwhile cause. Tickets cost $65 each or $600 for a row of 10. Tickets include heavy hors d'oeuvres and cocktails.
As in previous years, the ACS has designated a particular form of cancer to focus its efforts. This year, Cattle Baron's Ball and its feeder events will highlight pediatric brain cancer.
"We are spotlighting two families affected by this dreaded disease: John and Brenda Stephens who lost their daughter, Emily, last year after a 20-year battle with cancer, and the Evetts family, whose daughter, Layla, is currently in treatment," Robyn said.
ACS also will hold its annual Little Wranglers party for children either battling cancer or in remission. They will attend a Baylor softball or baseball game and take part in various activities. Robyn said ACS hopes to hold another Little Wranglers party in the fall for children who live or are being treated in the Temple area. ACS also plans to host a Couture for Cancer in Temple.
"People might not realize that our Cattle Baron's is the only such event south of Dallas until San Antonio. We reach 13 counties," Robyn said.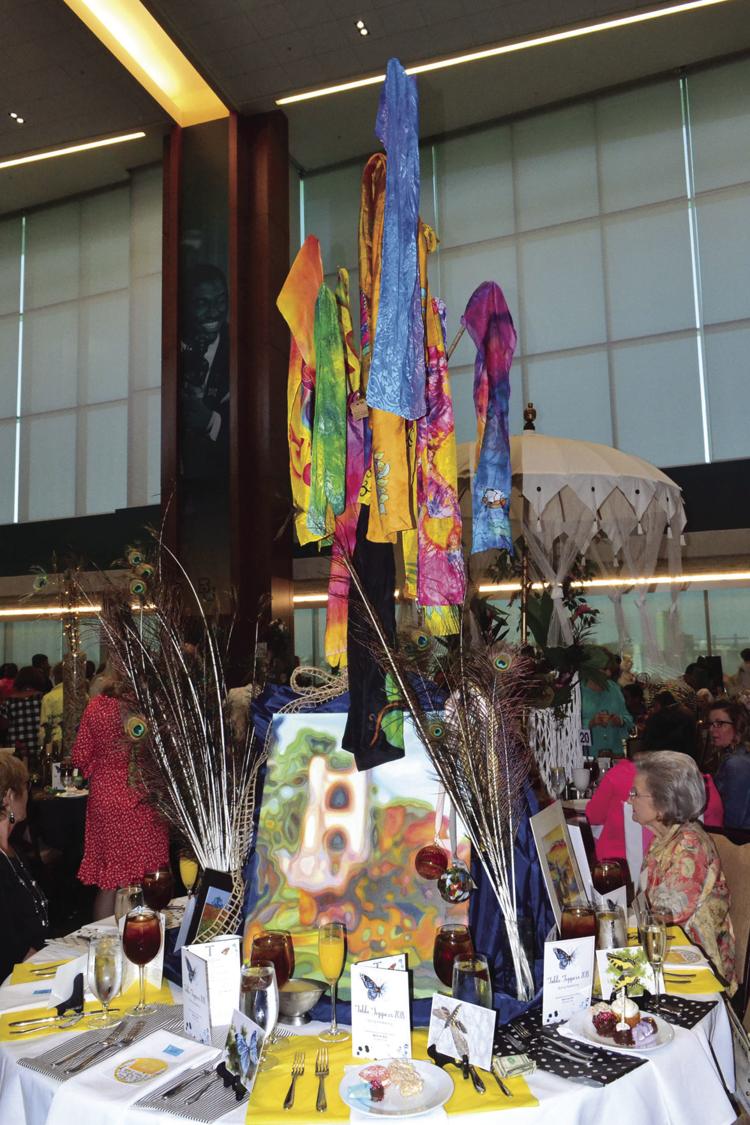 Table Toppers
Cultivate 7Twelve in downtown has served as a temporary space for the Art Center of Waco after its longtime home on the MCC campus had some structural problems. But now the Art Center has purchased some buildings on Eighth and Ninth streets and hopes to move its headquarters as soon as renovations can take place.
Table Toppers, the Art Center's high-profile fundraising event, will help raise funds for the renovation and move as well as for continuing education programs and exhibits. The annual event will be from 11 a.m. to 1 p.m. on March 21 at the Baylor Club. The event is a fun and colorful champagne luncheon that features tables decorated by local designers, businesses, organizations and schools. Guests can visit each table to enjoy exquisite detailed, amazing displays, and can speak to a representative of the organization to learn more about their offerings.
"This year we have the theme 'Building a Legacy.' We expect a large number of fabulous tablescapes," said Claire Sexton, executive director for the Art Center. "We also will have featured artists, including a potter, who will be actually creating their art at the event. Our wonderful silent auction will include once-in-a-lifetime trips to such places as Ireland, the Greek Isles, France and more. We are working with AMFund, an organization that puts together amazing vacations for nonprofit organizations."
Claire said the fundraising for the move is going well, and the center hopes to move its offices and classrooms into a small house around the time of Table Toppers. The organization has expanded its Art Lab classes for children to include a second afternoon session. The Art Center also offers studio art for older children and will once again hold its popular summer Art Camp at Hillcrest Professional Development School.
The Art Center will renovate another, larger building with completion hopefully by the middle of 2020. Then the little house can be turned into artist's spaces and even living space for visiting artists.
Early bird tickets to Table Toppers can be purchased through March 1 for $75 for Art Center members and $80 for nonmembers with the price increasing to $80 and $90. For more information, visit artcenterwaco.org.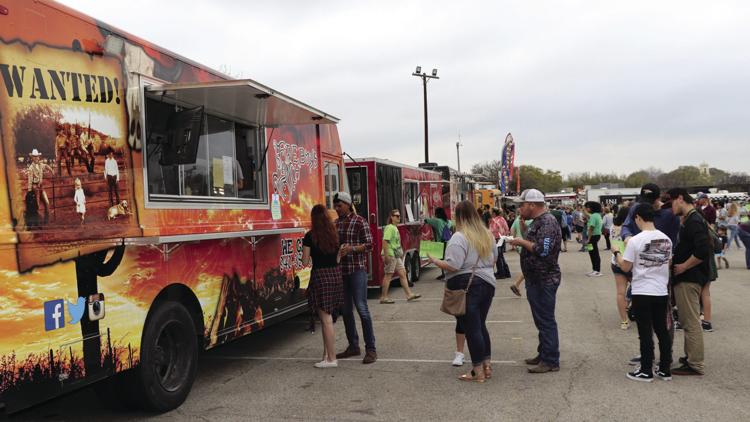 Food Truck Showdown
Waco's Food Truck Showdown has become so popular it is attracting mobile eateries from out of state. The event, hosted by the Greater Waco Chamber of Commerce, will feature trucks from throughout Texas but also Louisiana and Oklahoma.
Expect a food lineup that includes everything from "dirty gator" and bourbon blueberry bacon sliders to deep-fried chocolate chip cookie dough and funnel cake sundaes. Yum!
The showdown will take place from 10 a.m. to 8 p.m. March 16 at Heritage Square, although judging of the signature dishes will begin at 8 a.m. Patrons can vote for their favorite foods until 4 p.m. The chamber has lined up five celebrity judges this year: Lilian Halabi, owner and baker of Lily's Cakes and winner of the Food Network's "Cake Wars"; Doug Renfro, president of Renfro Foods; Charlie Morrison, chairman and CEO of Dallas-based Wingstop Inc.; Mark Schneider, president of the Texas Chefs Association and director of the culinary arts programs at TSTC; and Thanh Le, owner of Clay Pot.
A grand champion will receive a $5,000 prize. Last year, Crazy Burger of Fort Worth took home the prize.
Food will not be the only thing on the menu. Look for a kids zone, petting zoo, reptile shows, music, and a pop-up market. Beer, wine and Coke products will be available throughout the day.
The chamber is revamping its ticket system. This year patrons will visit a kiosk to purchase a card that will be scanned by vendors. Tasty Tickets will be accepted from 10 a.m. to 4 p.m. and will be available only until 3 p.m.
Food trucks will open their full menus from 4 to 8 p.m. for cash and card purchases. The showdown also will take place during Spring at the Silos, so guests can park at McLane Stadium and take a free shuttle to Heritage Square.
Bunco Fundraiser
Fancy a rousing game of bunco? The third annual "Let the Good Times Roll for the Children," sponsored by Merak No. 104 Daughters of the Nile, will be held March 9 at the Lee Lockwood Library, 2801 W. Waco Drive. Doors will open at noon and the dice will roll at 2 p.m.
Prizes will be awarded for first, second and third place. The event also will include a silent auction, lunch, raffle items and more. A registration fee of $35 includes a light lunch and two raffle tickets.
Daughters of the Nile is an international fraternal organization for women 18 years or older. Founded in Seattle in 1913, Daughters of the Nile members total 25,000 in 136 cities throughout the United States and Canada. Through its foundation, the Daughters of the Nile contributes more than $2 million annually to the Shriners Hospitals for Children to be used for the medical care and rehabilitation of children.
Since 1924, the Daughters of the Nile have given more than $56 million, second only to the Shriners themselves.
For more information and registration form, contact Patsy Mathis at 817-219-0041 or email deerrunner@windstream.net. A registration form is also available on the Facebook page "Rolling for the Children."
Panhellenic Spring Forum
I have a senior in high school. Yes, it's true. Daughter Derby, who has appeared in this column from time to time since I began writing it, will venture to Sewanee, Tennessee, in the fall.
I fully expect her to go through sorority recruitment. She and other local senior girls, plus their parents can learn about the sorority system at a special event in late March.
The Waco Alumnae Panhellenic Association will host its annual Spring Forum from 2 to 4 p.m. March 31 at First United Methodist Church. Speakers will be Eve Riley and Tam Dunn, who will answer questions from parents and potential members about sorority recruitment on college and university campuses.
All high school senior girls and college transfer students are invited to attend. For more information, visit wacopanhellenic.org.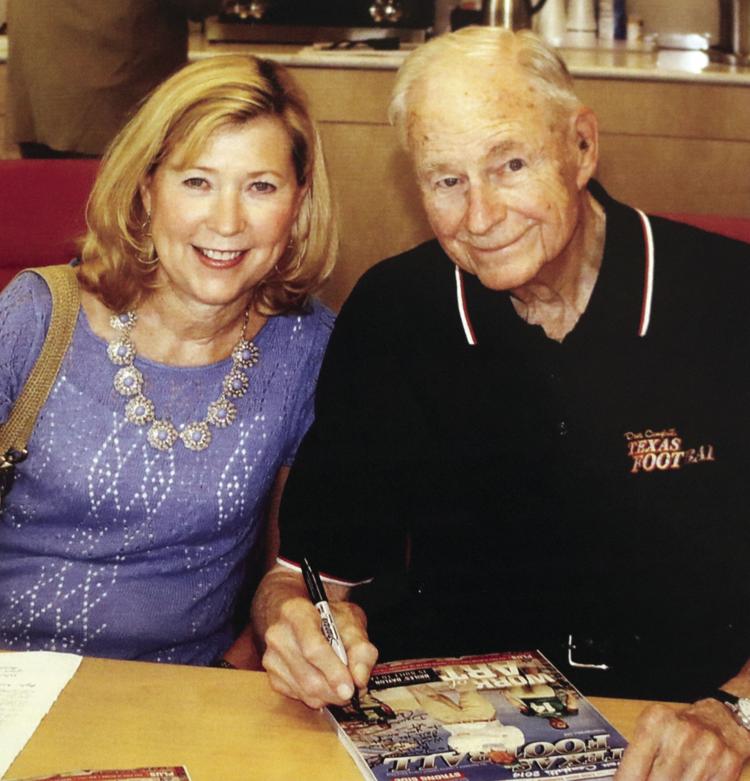 Dave Campbell Writes a Book
Just a few weeks before his 94th birthday, Dave Campbell published his first book. Now Daddy has written thousands of stories but his writing has never been compiled into book form until now. "Dave Campbell's Favorite Texas Football Stories" was released on Valentine's Day (what an appropriate gift for a sports lover), and my whole family couldn't be more excited.
Daddy started thinking about a book a few years ago. He had just retired from all his gigs, and my sister, Becky Roche, suggested he go through all his old columns, pick out his favorites and assemble them in a notebook for friends and family.
But Daddy never does anything halfway. He decided more than friends and family might be interested in stories about football in Texas.
Texas A&M University Press agreed and is the enthusiastic publisher.
"Favorite Texas Football Stories" begins in 1953 when Daddy covered his first college football game and travels until 2016 and Baylor's win at the Cactus Bowl. Daddy spent hours reading through old columns and picking out photos to accompany the stories.
The only thing I object to is that by focusing on football, some of his most memorable columns did not make the cut. Stories on the U.S. boycotting the 1980 Olympics (he quotes poet John Donne; how many sportswriters do that?); on a Cinderella horse named Canonaro II winning the Kentucky Derby; on his columns that featured "friend Snider;" on his experience parasailing in Grand Cayman in 1981; or when he was stuck at home, sick with the flu, and ended up watching "All My Children" and "General Hospital" with me.
But I hold out hope; Daddy is already talking about Volume II.
"Favorite Texas Football Stories" is available at Barnes and Noble and Amazon.