Summer is here, and that means vacation time. If you plan to catch a performance of the renowned "Texas: The Outdoor Musical" at Palo Duro Canyon near Amarillo, you might see a familiar face. Nick Atkins, who lit up the stage while a student at Waco High, has been cast in the production.
Nick, who is a musical theater student at Oklahoma City University, reported to Amarillo on May 11 to begin a two-week rehearsal period. There are over 60 musicians, singers and dancers in the cast this year. "Texas" runs from June 1 to Aug. 17, with six shows a week.
"My audition began with a mover call, for those of us that aren't the most seasoned dancers, then there was a dancer call for those that can learn a harder combo," Nick said. "After that was the singing portion, where you can either sing two songs or do one song and one monologue. Once you finish with that, you are briefly interviewed by the director, music director and choreographer. Then you're done. I got a call about a month and a half later saying I was cast in the chorus."
Nick will stay in apartments that are usually campus housing for West Texas A&M students. He said getting to perform all summer long in an outdoor theatre is a once in a lifetime opportunity.
"This is going to help my future career tremendously, because I've never performed a show more than a couple weekends," Nick said. "This is six shows a week. My lifetime goal is to perform on Broadway, and those performers have eight shows a week. This will really give me a taste of what it's like up there in New York."
I got to know Texas A&M student Isabela Lozano when she received a scholarship from the Brazos Education Foundation. Right away I knew the University High School alumna would be someone to watch.
So when she told me she would spend 10 weeks this summer in Qatar (pronounced cutter) I was intrigued.
Isabela intends to major in electrical engineering at TAMU. Her summer in Qatar is through the Halliburton Engineering Global Programs in the school of engineering.
"I had to apply to the program," she said. "The application required I look over an orientation package and take a quiz, write multiple brief statements over why I wanted to go and why I felt I was perfect for the program. I also had to write an 800-word essay that was over why I wanted to attend, what impacts it would be to my life, how I would benefit from the program and so much more."
While in Qatar, she will take Engineering Math II, Physics Engineering Lab II, Newtonian mechanics engineering and science. Her group will include 19 other students.
"I do have some butterflies about going, but my mother has always told me to never let fear limit my decisions in life," Isabela said. "She also gives me comfort by reminding me that technology is so advanced now and will be able to stay in consistent communication with them through it. I also feel like my excitement has overpowered my fear, nervousness and any apprehension that would come my way."
Before she left, Isabela attended two cultural orientations, one study abroad orientation, and an additional one-day class that covers all the cultural requirements the group must meet when over there.
"Before applying to the program I only knew we had a campus, but I never truly researched the cultural, language, currency or religions practiced in the country," she said. "However, now that my trip is official it gave me the opportunity to research more about it. I will learn firsthand what the country has to offer."
Isabela believes this program as well as a study abroad trip she took to Mexico in spring will help her future.
"I think being able to recognize, respect and celebrate different points of view will be an asset in my future job," she said. "I will also be opened to so many different languages, ways of life that will prepare me in my career to be successful in working with diverse people.
"I also feel that companies will be able to see that I was able to study in different parts of the world without anything holding me back, showing them I am bold enough to go to different parts of the world to venture out.".
Good luck to Nick and Isabela on their exciting summers.
Concerts Galore
We can usually enjoy outside activities, particularly in the evening, in June. That intense summer heat usually hits later in the summer. Outdoor concerts abound this month so grab your lawn chairs and go listen to some music.
The 21st annual Bowen MusicFest hits on June 2 at Touchdown Alley at McLane Stadium. The festival features a full day of music. Headlining this year will be Cheap Trick with full shows by Whiskey Myers, Tracy Byrd, Shane Smith & The Saints and Josh Weathers.
The popular Wade Bowen and Friends Jam will feature Wade plus Stoney LaRue, Cody Canada, Jamey Johnson, Brent Cobb, Paul Thorn, William Clark Green, Sundance Head, Kevin Fowler, Randy Rogers and Jamie Lin Wilson.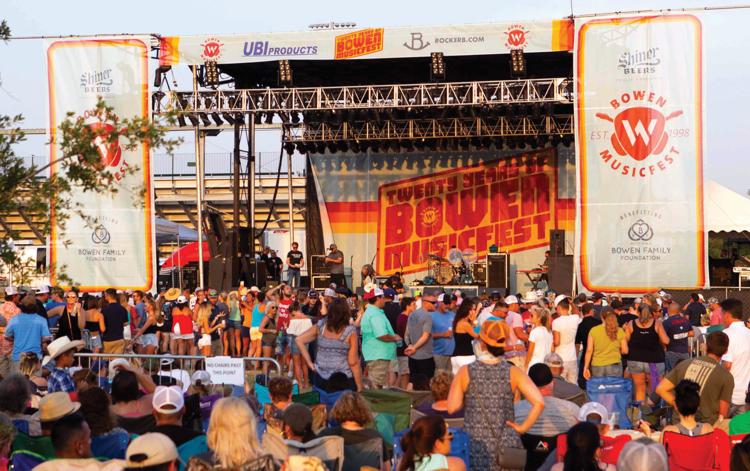 The Bowen MusicFest raises funds for organizations that help children and families. This event has raised more $3.25 million since 2009. Last year it raised $500,000. Past beneficiaries include: the March of Dimes in Waco, City of West Disaster Relief, CASA of McLennan and Hill Counties, Boys and Girls Clubs of Waco, Advocacy Center for Crime Victims and Children
Inspiración, REACH, St. Jude and the Brazos Education Foundation.
Tickets for the music festival cost $25 in advance and $30 at the gate. For more information, visit bowenfamilyfoundation.org.
The city of Woodway begins its free Midsummer Nights concert series on June 5. These free concerts take place from 8 to 9 p.m. every Wednesday this month at the Carleen Bright Arboretum.
Look for The Morticians on June 5, Touch of Grey on June 12, The Elephants Band on June 19 and Texas Heat Wave Band on June 26. For more information, visit woodway-texas.com.
Music won't be the only attraction at the arboretum. Join art lovers in the Whitehall Center at the arboretum for an Art Reception for Texas Fine Artists from 1:30 to 3 p.m. on June 23. The fine art exhibit will actually run from June 11 through July 14.
The free River Sounds concert series kicks off June 6 at MCC's Bosque River Stage. The Gimbles' Tribute to Bob Wills & Johnny Gimble will take the stage at 8 p.m. June 13 and features the Waco Jazz Orchestra with MCC Faculty Jazz Band while the Waco Community Band will perform June 20. The series will conclude June 27 with Little Joe y La Familia.
The gates open at 7 p.m. with all concerts beginning at 8 p.m. Blankets, lawn chairs, food and drinks are welcome. No glass containers or pets allowed. For more information, visit mclennan.edu/brs/.
Brazos Nights will hold its June concert on the 14th. Look for music by blues artist Charley Crockett, rock band Quaker City Night Hawks and folk singer Thomas Csorba. The gates open at 6:30 p.m. with the concert beginning at 7:30 p.m. Admission is free. For more information, visit brazosnightswaco.com.
McGraw/Meacham
(EDITOR'S NOTE: This event was canceled after the magazine was printed)
Last summer my daughter, Derby, spent two weeks at Sewanee: the University of the South in Tennessee. She was there when Pulitzer Prize-winning author Jon Meacham had a book signing. (Meacham has a house in Sewanee.)
The line to meet him stretched down the block so she didn't get to meet him. Imagine our delight to see that Meacham and Grammy Award-winning Tim McGraw will be at Magnolia Market on June 21 as they explore American history through music. Looking at their new joint book, "Songs of America," Meacham and McGraw will give an intimate, behind-the-scenes look at their friendship and what went into creating this book.
To add to the evening, the audience will get some special musical performances of songs from the book by McGraw. Every ticket includes a copy of "Songs of America: Patriotism, Protest, and the Music That Made a Nation" (a $30 value).
From "The Star-Spangled Banner" to "Born in the U.S.A.," "Songs of America" takes readers on a journey through eras in American history and the songs and performers that inspired us. Meacham looks at the history, exploring the stories behind the songs, and McGraw reflects on them as an artist and performer. Their perspectives combine to create a unique view of the role music has played in uniting and shaping a nation.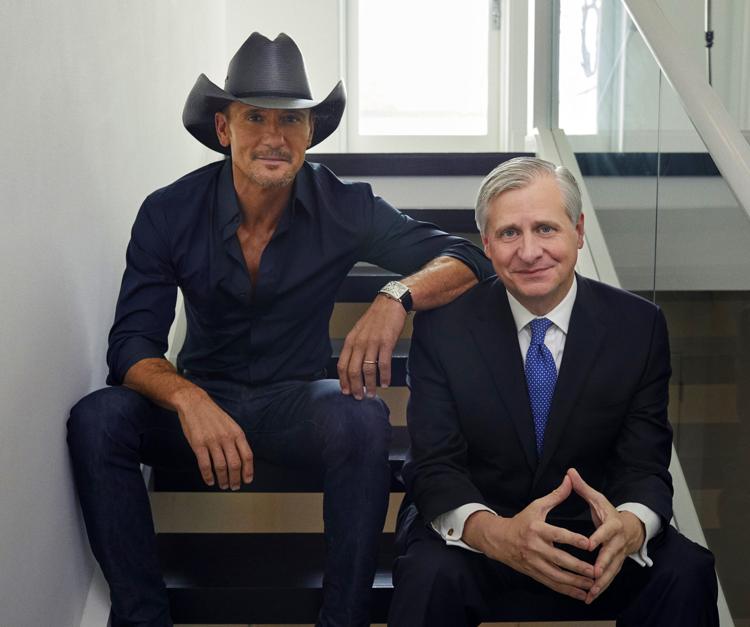 The book begins with battle hymns of the American Revolution and looks at the Civil War, women's suffrage, World War I and II, the Depression, the Civil Rights movements, the Vietnam War and more defining events. Meacham and McGraw explore the songs that defined generations, and the cultural and political climates that produced them.
Readers will discover the power of music in the lives of figures such as Harriet Tubman, Franklin Roosevelt, Eleanor Roosevelt and Martin Luther King Jr., and will learn more about some of our most beloved musicians and performers, including Marian Anderson, Elvis Presley, Sam Cooke, Aretha Franklin, Bob Dylan, Duke Ellington, Carole King, Bruce Springsteen and more.
This event is general admission, standing room only and takes place outdoors, rain or shine at Magnolia Market. A limited number of picnic tables are available on a first-come, first-serve basis on the perimeter of the lawn area. Doors open at 7 p.m., and the talk will begin at 8 p.m. Magnolia Market will be open for extended shopping hours for all ticket holders from 7-9:30 p.m.
Be the Astronaut
Prepare for lift off and discover what space travel is all about by visiting the "Be the Astronaut" exhibit at Baylor University's Mayborn Museum. The exhibit will be open throughout the summer, closing after Labor Day.
Visitors can experience the wonders of space and plan a space mission, learn about the technology and math skills required to be an astronaut and fly spaceships, pilot landers and drive rovers in this exciting exhibit.
"It is our hope that children can come here and let their imagination soar," said Charles Walter, director of the Mayborn Museum. "This exhibit will include several dramatic interactive stations that will allow them to learn basic concepts about our solar system, space travel, gravity and more."
Produced by Eureka Exhibits and designed by NASA engineers, the exhibit aims to put students in the pilot's seat of a spaceship while providing a birds-eye view of real astronaut pretraining with the use of touch-screen stations, artifacts and interactive simulator pods built to look like space capsules.
"This exhibit is designed to not only educate visitors on the reality and challenges of space travel, but hopefully inspire a new crop of budding scientists to consider viable career paths in science and technology-related fields that will help shape our nation's future," Walter said.
During this exhibit, visitors will be invited to interact with:
• Navigation Interactive Stations — where visitors can engage in mission planning as well as learn about orbits and Newton's laws, gravity, etc.
• Science Interactive Stations — where visitors can explore the equipment and technology needed to accomplish space travel missions and learn about rockets, spacesuits and spacecraft.
• Flying Capsules — a dramatic big-screen experience with pilot and co-pilot adjustable seating and controls. Visitors can launch rockets and land rovers depending on their given mission requirements.
• Spacesuit and vintage space toy displays.
Additionally, an exhibit on SpaceX will run concurrently at the museum. SpaceX has become a vital part of the industrial and social fabric of Central Texas. This exhibit features a rocket model and thruster engine, projection video, vibrant scale representation of our solar system, and some history of the rocket development and test facility in the local community of McGregor.
The "Be the Astronaut" exhibit will be there until Sept. 8. Entry into the exhibit will be included with general museum admission. Ticket prices are free for Baylor students and members, while tickets for non-members cost $8 for adults, $6 for children ages 2-12 and $7 for seniors.
Award Nominations
The Greater Waco Chamber of Commerce is seeking nominations for two awards. Nominations for the inaugural Waco Under 40 must be submitted by June 20 while nominations for the Athena Leadership Awards will not open until July 1.
Waco Under 40 will celebrate dynamic young leaders under the age of 40. Nominees should represent not only the young leaders who demonstrate a tremendous positive impact in their industries but who also go beyond the call of duty by volunteering their personal time to give back to the community and strive to make Waco a better place to live.
The chamber will recognize the honorees at a luncheon on Sept. 12 at The Phoenix. The Waco chamber will use this event to recognize rising young leaders who have distinguished themselves in their careers and in the community.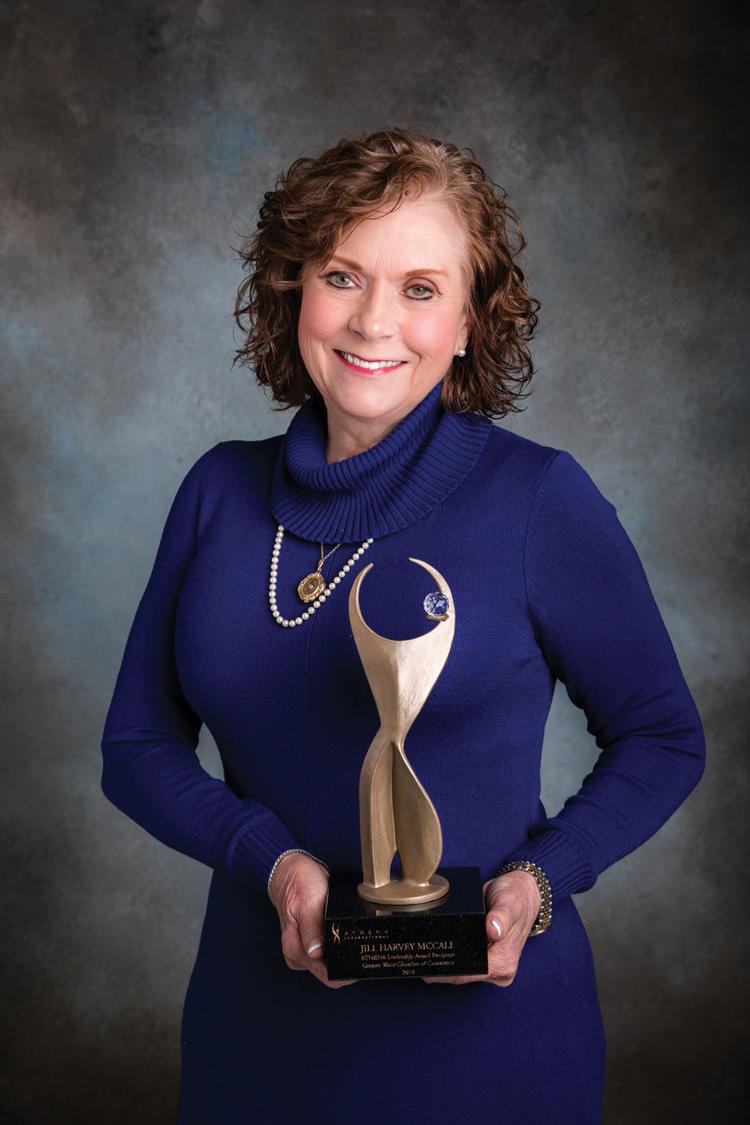 In addition to honoring the recipients, the event is intended to help motivate young people to become community leaders and provide an avenue for those over 40 to celebrate, encourage and share knowledge with the young leaders of Waco.
"Many communities recognize leaders who are under 40 and who are doing great things in the cities, businesses and organizations," said Amanda Haygood of the Greater Waco Chamber of Commerce. "The application will ask a series of questions about the nominee, and we will then follow up with the nominee. A selection committee will meet to determine the honorees."
Amanda said the number of honorees will depend on the number of nominations received. She also emphasized that the September luncheon is not just for the "under 40" set.
"This will be a community event, and we want folks of all ages to attend," she said.
The chamber also will accept nominations for the Athena Leadership Award, now in its second year. This award is woman-focused and there is no age cap on the recipient. After the chamber receives nominations, a selection committee will determine four finalists with one award winner selected. The winner will be recognized during late autumn.
Award recipients are individuals who have achieved the highest level of professional excellence; contribute time and energy to improve the quality of life for others in the community; and actively assist others, particularly women, in realizing their full leadership potential.
The Athena Award is presented annually by chambers of commerce, women's organizations and universities. The award is established through local host organizations in partnership with Athena International's national underwriters, local businesses and individual sponsors.
Since the program's inception in 1982, more than 7,000 leaders in over 500 communities have received the Athena Award in the United States, Bermuda, Canada, China, Greece, India, Russia, United Arab Emirates and the United Kingdom.
"We had an awesome response for our first year," Amanda said. "We received 22 unique nominations, and selected Jill McCall as our inaugural recipient."