Larry and Lisa Jaynes recently checked one item off their bucket list and discovered a whole host of other things that should have made that wish list. The couple traveled to Peru for three weeks this spring, ostensibly to visit the Inca ruins of Machu Picchu, but along the way they also saw the Sacred Valley, Lake Titicaca and its floating islands and took a cruise on the Amazon.
The ruined city of Machu Picchu is one of the most well-known sites in the world. The Inca city sits on a ridge with mountains as its backdrop. While some tourists will tackle the Inca Trail to the city, Larry and Lisa took a train to the base and then climbed up.
"The clouds floated in and out and the view was amazing," Lisa said. "You see these massive Inca ruins, and you have to wonder how these people constructed them. It was incredible."
The Sacred Valley and the villagers who live there also intrigued the Texans.
"The people are very poor and water is a big issue," Lisa said. "These are farming communities during the rainy season, but we went at the start of the dry season and the farming has stopped. The women weave wool or alpaca with handmade looms and sell these crafts. They live simple lives, although the government is trying to educate the children and have built some schools."
The valley also contains the famous Maras Salt Mines. Around for centuries, salt pans or shallow pools are filled with salty water from underground springs. This water evaporates, leaving behind the salt. It is thought that a civilization that predated the Inca actually constructed the pans but the Inca expanded them. Today, the local villagers have exclusive rights to harvest salt.
A flight to Lake Titicaca enabled Larry and Lisa to visit the Uros Floating Islands. These are manmade islands that have sustained a traditional way of life since the time of the Incas.
"Four families live on the islands," Lisa said. "They were constructed when the Uros Indians were fleeing from the Spanish. The islands are made of reeds and the houses from mud, straw and reeds."
A cruise along the Amazon on the river boat Aria Amazon sounded like the climax of the trip. The boat traveled through the Pacaya-Samiria National Reserve, the jungle home for a host of unique wildlife.
"We saw hundreds of different birds, three-toed sloths, monkeys and more," Lisa said. "We went to a village where the houses are on stilts. We took school supplies to the children and then they sang for us, which was very moving. We also fished for piranha using a stick and string with a piece of meat attached to the end of the string. We went caiman hunting, and our guide just pulled one in from the river. We also went anaconda hunting but didn't see any. But when we went to a village, a fisherman had caught one in a net. It was much smaller than the anaconda at our zoo."
Overall, Lisa said the trip was much more than they expected. "Everything we saw was all so different, and we fell in love with Peru and its people," she said.
Mayborn Moon Party
Houston … we have a party! In honor of the 50th anniversary of the 1969 moon landing, Baylor University's Mayborn Museum will host "Party Like It's 1969" event from 7 p.m. to 10 p.m. on July 20.
The event will include 1960s-themed hors d'oeuvres and mocktails. Guests are encouraged to dress in 1960s-era costumes and will be treated to a performance by Austin Motown tribute band Groove Knight.
During the event, both the SpaceX and the "Be the Astronaut" exhibits will be open at the museum with available photo ops for guests. Designed by NASA engineers, "Be the Astronaut" gives visitors a sense of astronaut pretraining with the use of touchscreen stations, artifacts and interactive simulator pods built to look like space capsules.
The "SpaceX: This is Rocket Science" exhibit features a rocket model and thruster engine, projection video, vibrant scale representation of our solar system along with historic facts of rocket development and the testing facility in McGregor.
"We are inviting all of our interested adult patrons to slip into their Nehru jacket or maxi skirt, tuck the kids into bed, and join us for an evening to commemorate mankind's greatest leap of the 20th century," said Charles Walter, director of the Mayborn Museum.
The historic event occurred on July 20, 1969, when Apollo 11 astronauts Neil Armstrong and Edwin "Buzz" Aldrin famously made "one small step for man, one giant leap for mankind" by landing on the moon.
"July 20th represents one of man's crowning achievements when Neil Armstrong became the first human to set foot on the moon," Walter said. "We hope this party will be a fun and playful way to celebrate one of the most historic moments our country witnessed during the 20th century."
Party tickets cost $35 each and $25 each for museum members and can be purchased at the front desk or online at www.MaybornMuseum.com.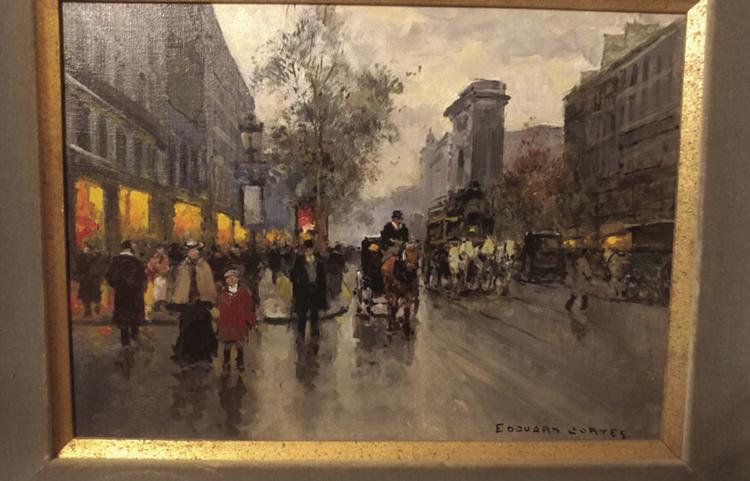 Cortes Art Exhibit
When you finish touring "Be the Astronaut" at the Mayborn, wander across the street to the Baylor Hooper-Schaefer Fine Arts Building to take in "Masters of the Martin: Edouard Leon Cortès," the current exhibit at the Martin Museum of Art.
The show contains 28 pieces by the post-impressionist painter, ranging from his most notable Paris cityscape and rural farm scenes to intimate interior views and subjects. These works are all owned by the Martin Museum and haven't been seen by the public in more than 35 years.
"Cortes' work is interesting when contextualized with what was happening around him in Europe and in the art community," said Allison Chew, director of the Martin Museum. "While artists were pursuing an avant garde approach to making new work, Cortes was so affected by the World Wars that he yearned for a time lost to those wars. His work portrays Paris in an era gone. He chose nostalgia over progress, which is in stark contrast to his contemporaries. "
Cortes was born in the small town of Lagny, east of Paris, in 1882. His father and grandfather were both accomplished artists who advised and trained the young Cortes. From the age of 17 he studied at the École des Beaux-Arts in Paris.
His early paintings reflected his life in the countryside, showing a strong relationship with nature, but in 1901 he turned his attention to Paris. In 1902 he exhibited for the first time at the Societe des Artistes in Paris. He is now considered to be one of the most popular Parisian artists of his period.
The Cortes exhibit will close in August. The next exhibition will be titled "Emergence: Art and the Incarnation of Space" and will center on Josef Albers. The show will feature his work plus the work of six other contemporary artists whom Albers influenced. It will be guest curated by Richard Davey from Nottingham Trent University in England. "Emergence" will open Aug. 29.
The museum is open from 10 a.m. to 6 p.m. Tuesday through Friday; 10 a.m. to 4 p.m. Saturday; and 1 to 4 p.m. Sunday. Admission is free.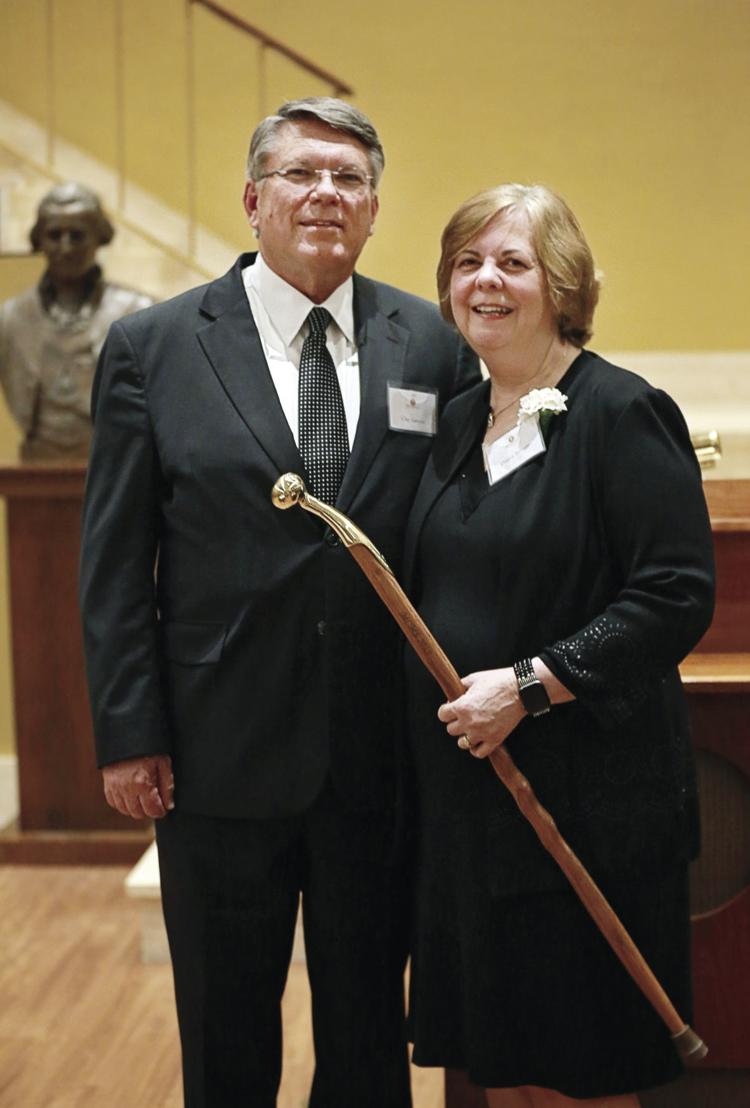 Gold-Headed Cane Recipient
Dr. Dianne Sawyer was presented with the Gold-Headed Cane Award by the McLennan County Medical Society at a banquet on May 9 at the Lee Lockwood Library. This was the 20th year the member physicians of the McLennan County Medical Society nominated and voted for one of their colleagues to receive this award.
Based on a tradition that originated in England in the 1600s, the qualifications of the recipient include professional standing, good citizenship and personal integrity, and is a symbol of respect, truth, culture and art in the medical profession. Here in the United States, many larger cities have carried it on to honor an outstanding physician with a long history of commitment to quality medicine in their community.
Only the second female physician to receive this award, Dianne attended Texas Women's University before finishing medical school at UTMB in Galveston. She completed her residency in obstetrics/gynecology at St. Luke's Hospital in Cleveland, Ohio, where she graduated as chief resident before opening her own practice in Waco in 1986.
In addition, Dianne has served on the board of the Hillcrest Family Health Clinics, Hillcrest Medical Center Foundation, Baylor Scott & White Hillcrest Foundation and American Cancer Society Medical Advisory Board, serving as chair in 2005.
Dianne doesn't limit herself to work in the medical community. She will serve this year as president of the Waco Symphony Council, a position she also held in 2009. She has been a member of the Junior League of Waco since 1991, serving as president in 2002 and serves of the board for the Rotary Club of Waco. Additionally, she has served two terms on the Waco Symphony Association board.
Dr. Sawyer has been married to husband, Dr. J. Clay Sawyer, a retired psychiatrist, for 40 years.
SurPRIZE Endings
School might have gotten out a month ago, but thanks to the Waco ISD Education Foundation, a special group of Waco ISD teachers will have innovative special projects to work on during the 2019-20 school year.
The foundation and its SurPRIZE Patrol visited 16 Waco ISD campuses in late May to surprise 26 teachers with the news that their grant applications were approved for funding for the 2019-20 school year.
This year, the foundation awarded $113,682 back to the district, bringing the total funded to more than $1.7 million over the past decade and a half.
District teachers and staff had the opportunity to apply for funding through the foundation's Innovative Grants program beginning this past fall. That program annually awards approximately $100,000 in grant funding in the four focus areas of early childhood development, enhanced programming for advanced students, extended education for staff and emphasis on student performance.
This year's grant projects span a wide array of topics and areas, from engineering, coding and blended learning initiatives to the fine arts, literacy and augmented reality.
Taylor Bledsoe, chairman of the Waco ISD Education Foundation board of directors and vice president of Sturdisteel, was present for multiple grant surprises, including a grant for 3-D printers at Waco High School named in Sturdisteel's honor.
"Each year, I'm amazed by the creativity and innovation shown through these grant applications," Bledsoe said. "Our teachers have invested time and energy to research and develop plans for new and exciting ways to educate our students. Waco ISD continues to be a vital part of our community, and my family, our business and I are proud to continue to support the district's and foundation's efforts."
In addition to district staff, foundation board members and committee members, the SurPRIZE Patrol included representatives from some of the 18 local businesses and individuals that had a grant named in their honor based on their recent support of the 13th Annual H-E-B Celebrity Cookoff.
Additionally, 10 guests, who were finalists in the Grand Prize Game at the event also received a grant named in their honor.
Applications are scored on various categories, including rationale, goals, plan of operation, communication and long-term implications. Letters of intent and full applications were screened and scored by a committee comprised of members of the foundation's board of directors and community volunteers. Each grant was scored blind by at least three committee members and the grants with the highest scores received funding.
Receiving grants this year were Ernest Amende from Indian Middle School for "Edge Reading," Yolanda Anzures & Lauren Reasor, Cedar Ridge Elementary, for "Who Shall I Be Today?"; Kandace Beckham, Greater Waco Advanced Healthcare Academy, for "Inside Out: A Virtual Human Body Exploration; " Jeff Bray, Waco High, for "1, 2, 3D Print!"; Leslie Cannon, ATLAS Academy, for "Botball Robotics-Let's Engage in STEAM" and "Computing Across the Curriculum;" Larry Carpenter, Waco ISD fine arts, for "Art Expedition: Bringing Art to Life by Bringing Art to Students;" Inga Chow-Monreal, J.H. Hines Elementary, for "Thinking OUT-side the Box;" and Marie Cleary, ATLAS Academy, for "Transforming Lives One Page at a Time."
Also, Jorge De Alva Cardenas NS Hayley Ballesteros, Provident Heights Elementary, for "PreK Travels the Community;" Carrie Forehand, Waco ISD fine arts, "ROCK in Our Li-bra-ry;" Meghan Green and Melissa Pritchard, Mountainview Elementary, for "Pause for a Moment of Science;" Erin Lange, Cedar Ridge Elementary, for "An Active Path to Success;" Caitlyn Layman and Anand Salodkar, University High, for "An APple a Day;" Cheryl McIlwain and Tyeasa Thompson, West Avenue Elementary, for "Trainin' My Brain: Drummin' and Dancin';" Matthew McMahon, Crestview Elementary, for "iPads for Techminds of Music;" Destinee Mordecai and Daniel Renfro, Cesar Chavez Middle, "Topographic That;" Elisha Oliver and Jessica Ellis, Kendrick Elementary, for "Swifter Swivel;" M. Angelica Olvera, Provident Heights Elementary, for "Shutterbug Photography;" Jeff Platt, Tennyson Middle / ATLAS Academy, for "Students Achieve, Lives Transformed, Attitudes Changed, Connections Made Rachel's Challenge;" Rebekah Raabe, Waco ISD Middle Schools, for "Exploring the World Around Us;" Kenneth Rodriguez, Dean Highland Elementary, for "Dream It, Design It, Built It;" Jo Sparks and Hannah Rawles, Alta Vista Elementary, for "World Peace & Other 5th Grade Achievements;" Dana Telep, Hillcrest PDS Elementary, for "Our Library: The Ultimate Transformer;" James Villa, Tennyson Middle, for "Real Scientists Argue: Introducing "Argument Driven Inquiry in Middle School Science;" and Paula White and Jennifer Zane, Cedar Ridge Elementary, for "Breaking Into Learning."
4th on the Brazos
After darkness falls on July 4, you can turn in almost any direction and catch sight of some fireworks. Small towns around our area light up the night, but few put on a spectacle like the city of Waco.
The city's annual Fourth on Brazos will begin at 5 p.m. at Touchdown Alley at McLane Stadium. The event will feature plenty of food trucks, a Kids Zone, interactive booths and more all topped off with fireworks.
While city organizers were working on an opening band, which will play at 6 p.m., Christone "Kingfish" Ingram will take the stage at 7:30 p.m. Before that, the popular Corndog Classic will begin at 7:15 p.m. The Waco Community Band will perform at 9 p.m. with the H-E-B Fireworks are at approximately 9:15 p.m.