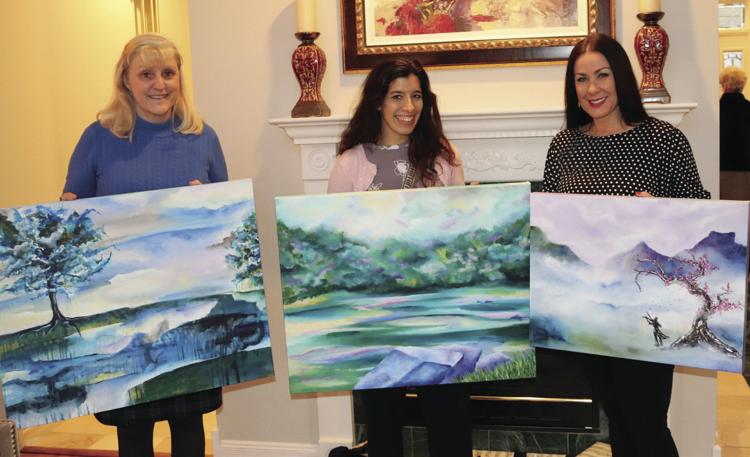 Last winter, the Waco Symphony Council held its inaugural Symphony of the City fundraiser, an event that merged food, music and art with some of the city's most striking homes.
The success of the event garnered both state and national recognition for the Waco Symphony Council. Symphony of the City has been named a recognized project by the Texas Association of Symphony Orchestras and the League of American Orchestras has selected the event from projects from around the country for presentation in roundtable format during the organization's national conference in Nashville in June.
Symphony of the City will be back for its second year on Feb. 9. The "Mysteries and Treasures of Eastern Asia" will feature a progressive cocktail party, art auction and wine pull.
Festivities will begin at Hotel Indigo, where guests will board buses at 6 p.m. and be transported to two beautiful Waco homes for cocktail parties that will feature culture, heavy hors d'oeuvres, music and art of Old Asia as well as Eclectic Asia.
"These are very modern homes that fit well with our theme," said Paula Floeck, president of the Symphony Council.
Once the adventure concludes at the homes, everyone will board the buses to be transported back to Hotel Indigo for a dessert party and wine pull along with a silent auction featuring art from wonderful local artists.
"We have some lovely pieces by well-known artists available, and our commemorative art work by Julie Milstead is really magnificent and will draw a lot of interest," Paula said.
"The painting is outside my usual style, but I embraced the opportunity," said Julie, whose college works had an Asian aspect to them.
The Waco Symphony Council formed in 1965 to support the Waco Symphony Orchestra and sponsors various events including the popular Belles and Brass program for high school students and the annual children's concert, which this year attracted more than 5,500 fourth- and fifth-graders.
"Proceeds from Symphony of the City will benefit the Waco Symphony and its great programs and help it bring in such wonderful artists as Renee Fleming, Chris Botti and Yo-Yo Ma," Paula said.
Tickets for the "Mysteries and Treasures of Eastern Asia" begin at $250 per ticket with various sponsorship levels. For more information, visit the council's Facebook page or contact the Waco Symphony office at 254-754-0851.
Churchill Program
I know if I can find a great book to give my father for a Christmas present then he will be happy. In the fall I read that a new biography on Winston Churchill had been released, so I immediately purchased it. Little did I know the author will give a presentation at McLennan Community College during February.
MCC and the McLennan Community College Foundation will host "An Evening with Winston Churchill Biographer Andrew Roberts" at 7:30 p.m. Feb. 13 in the Conference Center on the MCC campus. Admission to the event is free, but tickets are required and available through Eventbrite.
Roberts, who has a doctorate from Cambridge University, is a visiting professor at the War Studies Department of King's College, London, the Lehrman Institute Distinguished Lecturer at the New-York Historical Society, and the author of 13 books. He is a trustee of the International Churchill Society, the Margaret Thatcher Archive Trust and the National Portrait Gallery. He is also the Roger and Martha Mertz Visiting Research Fellow at the Hoover Institution at Stanford University.
Roberts' latest book, "Churchill: Walking with Destiny," was released in the United States in November and has been hailed by the Wall Street Journal as "unarguably the best single-volume biography of the man." For this work, Roberts draws from 40 new sources, including the private diaries of King George VI recorded during World War II.
Copies of Roberts' most recent book will be available for purchase at the MCC Bookstore located in the Michaelis Academic Center on campus. Books will also be available at the event, and Roberts will sign copies at the conclusion of the event.
Hearts in the Arts
The Churchill night isn't the only special event MCC has scheduled for February. The 17th annual Hearts in the Arts Theatre Gala, sponsored by the McLennan Community College Foundation, will take place Feb. 28 at the MCC Ball Performing Arts Center. The gala features the McLennan Opera and Theatre performance of the popular Gilbert and Sullivan musical, "Pirates of Penzance."
"The students involved in the 'Pirates of Penzance' are coming to rehearsal with new and exciting ideas." said professor Mandy Morrison, who is directing the show with Kelly Parker. "The character development is my favorite part of the process. We are having 'focused fun' in rehearsals and enjoying every minute of all that Gilbert and Sullivan has to offer. We are thrilled to offer a light-hearted show to our gracious Waco audience."
The Tony Award-winning "Pirates of Penzance" hit the Broadway stage in 1879, featuring the comedic twists faced by Frederic, who is released from his apprenticeship to a band of tender-hearted pirates. The show will be under the vocal direction of renowned soprano Dr. Bronwen Forbay, assistant professor of voice and opera at MCC.
"This marks the first time in recent memory that the Hearts in the Arts Gala production features the combined talents of McLennan Opera and McLennan Theatre, so the vocals will be spectacular," said Kim Patterson, executive director of the MCC Foundation. Hearts in the Arts, sponsor of the Gala, is an affinity group that supports the arts at MCC.
"As the opera consultant and individual role coach, I am pleased with the significant vocal technical progress I have observed among the cast," Bronwen said. "This collaborative effort between MCC's theater and music departments is a wonderful opportunity to help voice majors hone their acting skills and theater majors develop their singing skills.
"The students are a joy to teach. They bring so much to the table and inspire us. We're delighted to welcome Wacoans to see this fun show."
The Hearts in the Arts Theatre Gala sets sail with a 6 p.m. hors d'oeuvres and wine reception at the Ball Performing Arts Center and Fountain Plaza, followed by the musical production at 7:30 p.m. Patron tickets cost $75 and include the reception and theater performance. All proceeds benefit McLennan scholarships and special projects benefiting visual and performing arts students and faculty.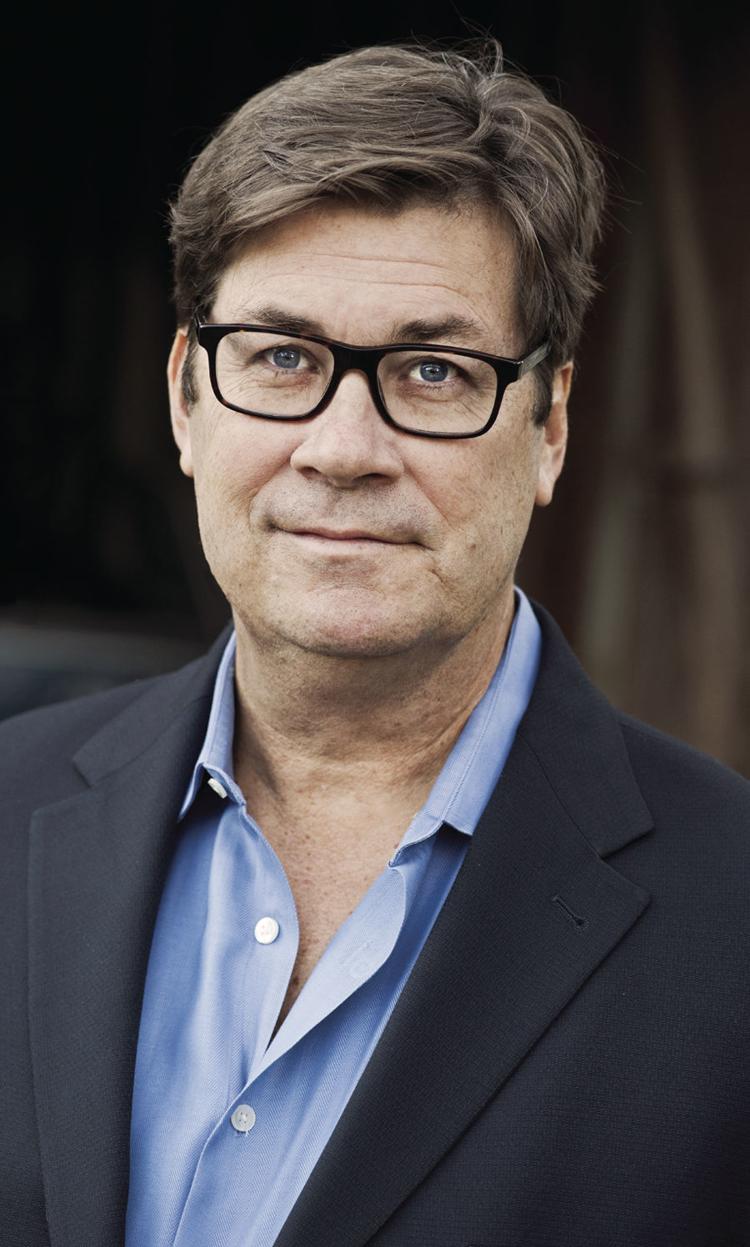 Forensic Science Program
I love to hear about true crimes, read whodunits and rarely miss an episode of PBS' "Mysteries," or CBS' "Criminal Minds" or "NCIS." So you better believe I will be in the audience at the Mayborn Museum on Feb. 7 for an intriguing and immersive event about historic crime and forensic science.
The fifth annual Director's Forum, in collaboration with the Baylor University Department of Anthropology, McLennan Community College's Criminal Justice Department, and community partners, will focus on true crime and particularly on a little-known serial killer who stalked Austin in the 1800s.
The program opens at 10 a.m. with a presentation by Skip Hollandsworth, executive editor of Texas Monthly. Skip will review his best-selling book, "The Midnight Assassin," with vivid historical detail and novelistic flair in bringing a terrifying saga to life. For more than a decade, he researched this gripping tale of murder and madness that plays out like a well-crafted whodunit.
"The Midnight Assassin," which was named a New York Times best-seller in May 2016, is a history of Austin in the year 1885 when a brutal but brilliant serial killer went on a rampage, ritualistically slaughtering seven women over the course of 12 months, and setting off a citywide panic.
Three years later, when a man nicknamed Jack the Ripper carried out a similar series of killings in the Whitechapel district of London, Scotland Yard detectives speculated that he was the Austin killer who had traveled overseas to continue to carry out his "diabolical work." In its review, the Wall Street Journal called the book a "thoroughly researched, excitingly written history" and an "absorbing work."
At 11 a.m. a panel discussion regarding "Investigating Forensic Science" will take place. Ron Singer, technical and administrative director of the Tarrant County Medical Examiner's Office, will moderate this panel of forensic experts with questions that expand the topics of the forensic science and investigate its value in solving crimes. Then from 1 to 2:30 p.m., visitors will be able to experience forensic science up close through demonstrations and discussions with experts and museum staff throughout the museum.
Admission to the Director's Forum is included with general admission to the Mayborn Museum. Museum members and Baylor University students receive free admission. For more information, call 254-710-1110 or visit baylor.edu/mayborn.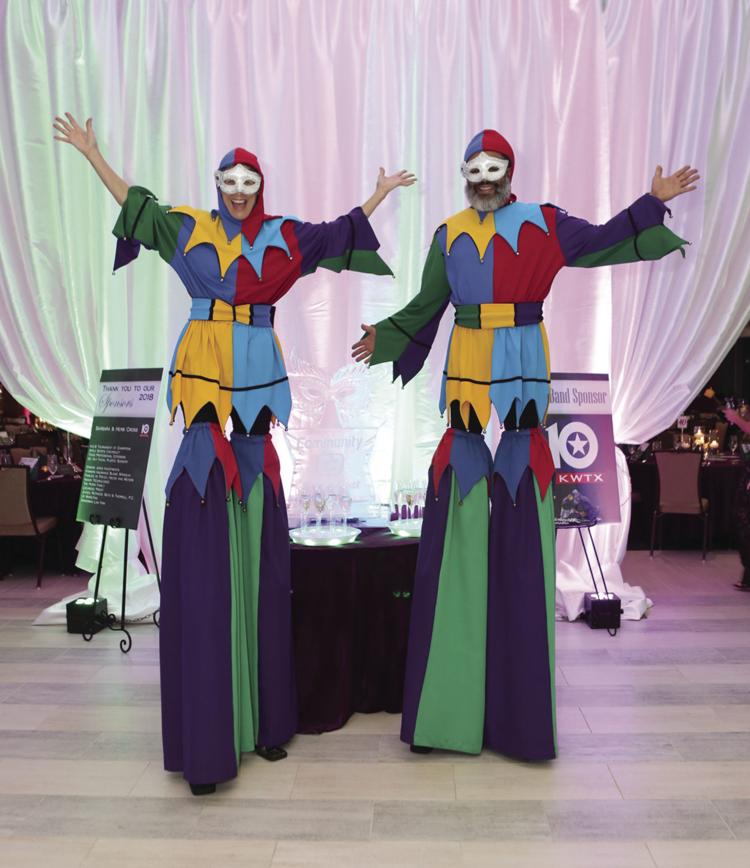 Mardi Gras Ball
Mardi Gras might not roll around until early March, but local folks can celebrate the day of indulgence on Feb. 23 at the seventh annual Mardi Gras Ball, benefiting the Advocacy Center for Crime Victims and Children. Expect dinner, dancing, casino games and more.
"Our committee members have come up with some fun, new ideas like the casino," said Nikki Rhea, marketing director for the Advocacy Center. "We won't have a raffle this year, but we will award a grand prize to the guest who has the best night at the casino tables."
The evening will feature music by party band In10City, dinner, an open bar and a breakfast buffet at 11 p.m. The party will end at midnight. And just like New Orleans, a Mardi Gras queen and king will be crowned.
"Our queen and king, who are our honorary chairs, are chosen based on their volunteer involvement as well as gifts and donations. This year, Dr. Soo Battle and J.T. Buice, co-founder of Kainos Technologies, will reign," Nikki said.
The ball serves to raise awareness for the Advocacy Center. A portion of the evening will be reserved to highlight programs, such as the emergency assistance fund.
"The Mardi Gras Ball brings awareness," Nikki said. "A majority of our guests don't exactly know what we do, so we take this time to educate them."
To get people in the party mood, the Advocacy Center partnered with G2 in January for a fashion preview. Guests enjoyed light cocktails while they saw the latest party fashion. Mardi Gras guests are encouraged to wear formal wear and masks, although those masks usually come off during the night.
The ball will begin at 7 p.m. at the Baylor Club. Tables and sponsorships are available. For more information, visit wacomardigrasball.com.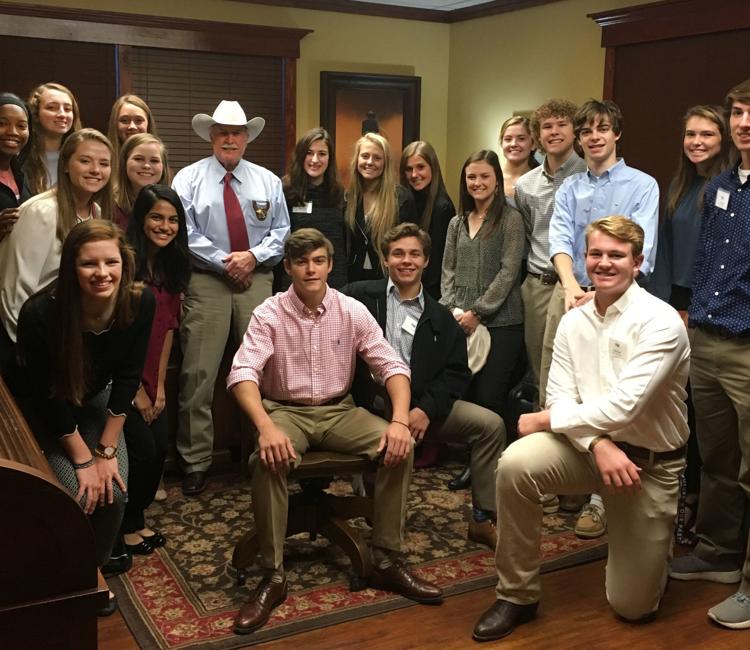 Teen Leadership Waco
A new crop of high school students will spend the year learning about the various components of the city as the newest Teen Leadership Waco class, a program sponsored by the Greater Waco Chamber of Commerce.
Teen Leadership Waco consists of a program orientation and eight workshop days in which students are excused from school to visit and hear from various leaders in the community. Each program day has a theme. This year, the class will participate in City County Day, Healthcare Day, Community/Non-Profit Day, Business Day, Diversity Day, Education Day and Judicial Day. The class also will work on team building during a ropes course, will complete individual service hours and do a class service project.
Michael Wood, a senior at Waco High, served as president for the 2018 class.
"Teen Leadership Waco has provided me with the opportunity to learn about a variety of operations within our community," he said. "In addition, this organization honed my leadership skills while also strengthening my ability to work with others in order to accomplish goals."
The 2019 class includes Emily Jenkins and Nathan Vanderpool from China Spring High School; Stephen Weatherman from Crawford High; Emily Polansky from Eagle Christian Academy; Preston Bradley from Live Oak Classical School; Graham Pirkle, Gabriella Lomenzo and Rylee Ritchie from Lorena High; Julieana Arnett, Morgan Powers, Jackie Clark, Grace Bowman, Codi McMillan and Madelyn Martinez from Midway High; Kate Youens and Christopher Trepinski from Reicher Catholic High; Holley Anderson, Kylie Rogers, Lanie Taylor, Deven Patel and Liam Dietz from Vanguard College Preparatory School; and Isabella Riggs, Graham Braunstein, Neal DuPuy and Rebecca Heldenbrand from Waco High.
People's Law School
Since 2005, the People's Law School, hosted by Baylor Law School, has educated community members about their legal rights and has made law concepts more user-friendly. This year's program will take place Feb. 9 at the law school and will include a number of new courses, many that reflect current events. Participants can choose three hourlong courses from those offered.
Current courses planned include A Behind the Scenes Look at Jury Selection; Family Law I and II; Birthright Citizenship and the 14th Amendment; Understanding the Prosecutor's Role: The Criminal Justice System, Plea Bargains and the Prosecutor's Obligation; Hiring and Working with Your Attorney; Law School: How to Get In; Understanding Gun Trusts and Other Gun Regulations; Veterans' Rights; Wills and Estate Planning; Elder Law; Introduction to Special Education Law; Local Planning and Zoning Laws; Texas Community Property: What is It and How to Protect It; Finding the Law; and Debt Collection.
The substance of a course on special prosecutors, impeachment and other issues will not be finalized until closer to the event.
The event is free and open to the public. Registration will begin at 8:30 a.m. with courses beginning at 9 a.m. The event will end by 12:45 p.m. For more information, visit baylor.edu/law.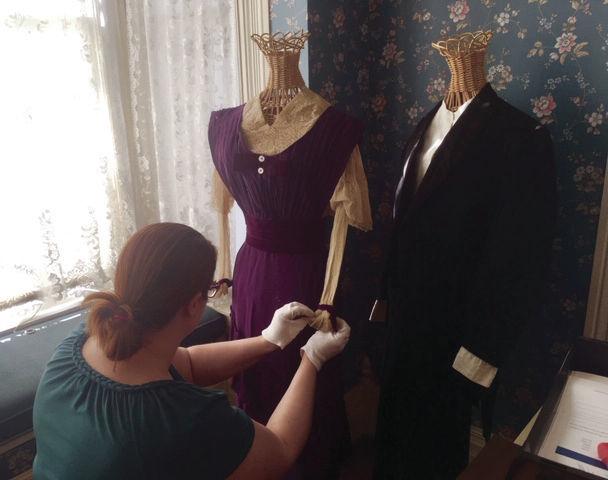 HWF Exhibit
I'm a big fan of the PBS mini-series "Victoria," which looks at the life of the long-reigning English queen. Did you know that many debutante traditions, such as wearing white dresses and gloves, were put in place by the British monarch? You can learn about these traditions and more at "Coming of Age," a new exhibit from the Historic Waco Foundation.
The exhibit will be new curator Jenni Opalinski's first full-scale exhibition for HWF.
"I started looking at debutante traditions in the England, which were very restrictive, and then I examine the transition into American practices with highlights of local Waco traditions," Jenni said. "For the local traditions, I researched the quinceanera, Jack and Jill of America Presentation Ball, Cotton Palace and Hedonia. I learned a lot through my research. For example, many groups, such as Jack and Jill, not only present young people but also hold classes to make sure they have the tools they will need as adults."
The exhibit will take place in the double parlor at East Terrace. Jenni used items from HWF's collection for portions of the exhibit. Highlights of the exhibition include music that will transport visitors to a debutante ball during the Edwardian Age, Edwardian fashions from the Heritage Collection representing attire worn at a traditional debutante ball, and a look at how modern debutante balls today are still influenced by the traditions and customs of Edwardian debutante balls.
"This will not be your typical museum experience," Jenni said. "Items will not be behind glass or ropes. We want this to feel accessible to all people. We also hope visitors really engage with our docents, who will have much more information than what will be seen. I did a great deal of research and all that will be included in the docent guide."
"Coming of Age" opens Feb. 9 and will run until July 7. The exhibit is included in the admission price at East Terrace.
HWF also will resume its Family Funday in February. Children and their parents can make Valentine crafts, cards and more during "Love Is in the Air" from 1 to 4 p.m. on Feb. 10 at McCulloch House. Then on March 2, HWF will celebrate Texas Independence Day with a special Funday at East Terrace. Family Fundays cost $10 per family.
"We have an exciting year planned with themes that coordinate with each month," said Julie Olivere, marketing director for HWF.
For more information about "Coming of Age" or Family Fundays, visit historicwaco.org.
Mission Waco Banquet
Make plans to attend Mission Waco's annual banquet at 6 p.m. Feb. 19, at the Waco Convention Center. Dr. D.Z. Cofield, senior pastor of the historic Good Hope Missionary Baptist Church in Houston, will deliver the keynote address. Additionally, outstanding volunteers will be honored.
Sponsorship levels range from $425 to $5,000 with individual tickets priced at $55. For more information, contact Mission Waco at 254-753-4900.