It's August and that means it's time for kids to return to school. It won't be long before school book fairs move into libraries and other spaces.
"The Boy Who Cried Werewolf" ("Monsterstreet #1"), written by former Waco resident Jonathan Reynolds, has been chosen as part of the exclusive list for school book fairs in fall 2019. If you're part of the thousands of schools worldwide that host book fairs or have order forms sent home to your kids, be on the lookout for it. Jonathan, grandson of late Baylor president Herbert Reynolds, graduated from Midway High and Baylor and now lives in Salado.
"Monsterstreet" is a series of spooky standalone stories that can be read in any order and are similar to the "Goosebumps" series. Each book has short chapters and cliffhangers to keep young reluctant readers turning the pages.
The first two books were released on July 2, with the third book releasing on Sept. 3 and the fourth in summer 2020. The series is geared toward 8- to 12-year-olds (third through seventh grade), although Jonathan has heard from the parents of multiple first- and second-graders who have said their kids have finished the books in less than a day.
Jonathan got the idea for "The Boy Who Cried Werewolf" 11 years ago when he was working on another story.
"I was in the Piney Woods of East Texas," he said. "Some people I had met there had offered to let me write at their cabin for a couple weeks over winter break. The cabin and surrounding woods were eerily dark and secluded. The owners said that no one in their family for three generations had ever stayed in that cabin alone overnight because it got so spooky.
"I ended up spending 10 nights there alone working on that other project, and one night the woods inspired me with an idea for a werewolf story. I spent the next four nights by the stone fireplace writing the first draft of what eventually became 'The Boy Who Cried Werewolf.' I revisited the manuscript off and on between other projects for the next several years until I had a draft worth submitting."
Jonathan signed with his agent in 2015 and she shopped the series during the fall of 2017. Renowned publisher HarperCollins picked it up.
"It felt and still feels like winning the lottery because I know what it's like to be those millions of writers trying to get a major publisher to buy their work," Jonathan said. "I was lucky to get with an editor who had grown up on the same books and movies that I did in the 1980s and 1990s, so we really connected."
Along with a top publisher, "Monsterstreet" also grabbed an endorsement from one of the giants in kids' books -- R.L. Stine.
"I was sitting at my desk working on Book #4 in the 'Monsterstreet' series when I received the email from my editor that had R.L. Stine's full blurb. I was floored and had to stop work for the rest of the day because my head was spinning.
"I was able to correspond with Stine a couple days later and told him the only other time in my life when I had ever felt that elated was when Ray Bradbury called me about 12 years ago after I sent a letter to his house one Halloween night. Stine was thrilled at this, because he was also a huge fan of Bradbury and has a framed letter from him.
"I guess you could say we're both Bradbury's progeny. But of course, Stine is the best-selling children's book author of all time, having sold over 400 million books during his career last time I checked."
Jonathan will soon jump into his next novel series, but in the meantime he is busy promoting "Monsterstreet" while working on a graduate degree at Harvard (he is working on his thesis on the American Transcendentalists), running his travel agency with his wife, Rebekah, and being a dad.
"(Writing) was far more work and sacrifices than I ever imagined — especially during the years when I had no idea if there was light at the end of the tunnel," Jonathan said. "But I'd do it all again in a heartbeat. Not to sound cliché, but we only get one life and a certain amount of hours and years to do something meaningful with our lives.
"I spent a lot of my youth in graveyards contemplating the stories others had lived before me. I've always felt that our dreams are precious and to neglect them is to do a great disservice to ourselves and to the world. That's one of the many lessons that graveyards have taught me."
Casino Party
Fancy some games of chance? Maybe a little roulette or some blackjack? How about helping local kids while making your wagers? Then make plans to attend the third annual Boys and Girls Club of Waco casino party.
Wild West Casino Night will take place Aug. 10 at the Baylor Club. The party will run from 6 to 11 p.m. and will feature casino games, dinner, drinks, music, live and silent auctions and more. All proceeds will support the Boys and Girls Club mission.
The Waco club was established in 1909, and it is the oldest club in the state. The club works with local children, ages 6 through 18, both during the school year and summer. The club offers after-school programs in which a club van picks up participants from school and takes them to one of the club's two branches. The children then can play in sports leagues, receive help with homework from tutors, learn about healthy lifestyles and even have dinner.
The summer program runs from 7:30 a.m. to 5:30 p.m. Monday through Friday and includes breakfast and lunch and a variety of programming, including fun field trips. In April the club opened its new Teen Center at the Joe Troy Brownfield Memorial Branch on North 21st Street. Kids, ages 12 and over, use it for their summer activities.
The local club received a Lowes "Renovation Across the Nation" grant as well as other donations to fill in an indoor swimming pool and create two areas for teens in its place. The center now has a half-court basketball goal, gaming center with pool, foosball, ping pong, a college readiness center, snack bar and space to work on school work.
The club averages 150 children per day during the school year. That number mushrooms to 250 children daily who participate in the summer program. Children can join the club for $15 a week, and scholarships are available.
"We never want to turn someone away because of their financial situation," said executive branch director April Rosier. "We depend on fundraising events, like our casino night, to support our mission and all our wonderful activities."
Individual tickets to the Wild West Casino Night cost $150. For more information, visit bgcwaco.org.
Margarita & Salsa Festival
Margaritas and music go together like chips and salsa, and you can have it all at the 24th Annual Margarita & Salsa Festival on Aug. 24 at the Extraco Events Center. The gates open at 6 p.m. and the first performer takes the stage at 7 p.m.
Four of the hottest acts in Texas country music will take the stage that night. The eclectic, country-soul group Shinyribs will kick off the evening, followed by singer-songwriter William Clark Green. Texas country musician and Waco native Wade Bowen will perform Saturday evening, followed by fan favorites, the Josh Abbott Band.
The Margarita & Salsa contests are returning to the festival again this year. Restaurants are invited to submit entries for the margarita and salsa division, and individuals are invited to submit entries for the margarita division. Compete for bragging rights and top honors, including People's Choice and Judges' Choice. For more information about the contests, visit margaritasalsa.com.
Want to partake in the tasty fun? Before the live music begins, check out all of the entries in the margarita and salsa contests. Whether you like your salsa spicy or mild, there is sure to be something for every salsa aficionado. Purchase a tasting cup to sample all of the fun, unique margaritas entered in the contest and cast your vote for the People's Choice Award. If you like craft beer, be sure to purchase a tasting cup to try some local brews.
General admission tickets cost $30 in advance and $35 on the day of show. VIP tickets, which include admission, drinks, food and parking, cost $200 and a VIP table for 10 goes for $2,000.
Tickets can be purchased online at margaritasalsa.com or by visiting the Extraco Events Center box office at 4601 Bosque Blvd. between the hours of 8 a.m. to 5 p.m. All proceeds from this event benefit the Heart O' Texas Fair & Rodeo Scholarship Program.
In May, the Heart O' Texas Fair & Rodeo awarded $153,000 in scholarships to 48 Central Texas students. Since its beginning, more than $3 million has been given to the youth of Central Texas.
Symphony Belles and Brass Program
Other than prom, high school students don't have that many chances to get really dressed up in formal clothes. The Waco Symphony Council gives kids an additional event to wear formal attire while gaining stage presence, leadership skills, music appreciation and more through its Belles and Brass program. Enrollment is now open to participate in the 2019-20 program.
Belles and Brass, which started with the 1965-66 concert season, is open to area high school students — sophomore and junior girls and junior boys — to raise awareness of the symphony. It also gives participants an opportunity to meet other area students with whom they might not ordinarily associate. The program culminates the spring of their junior year with a formal presentation at a Waco Symphony Orchestra concert.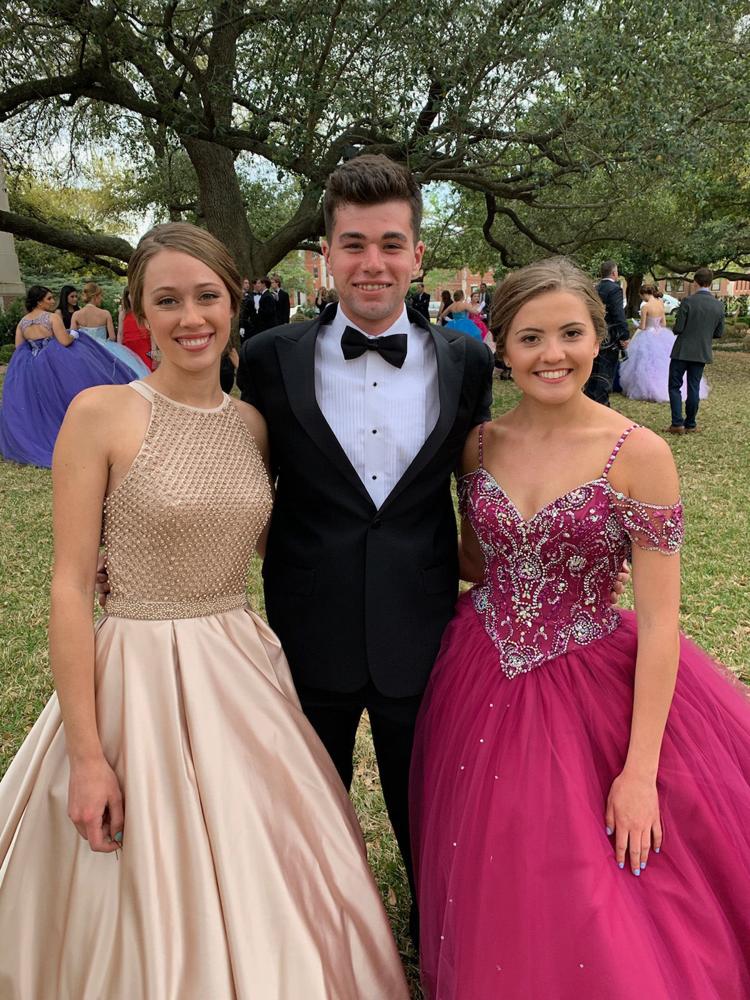 The Belle program for high school girls begins the sophomore year and lasts for two years while the Brass program takes place during the junior year. During their time of service, the kids attend music appreciation courses, usher at symphony concerts, and volunteer at council fundraisers and other events that vary from year to year.
In addition, they attend a ropes course activity to promote leadership and teamwork. The Waco Symphony Council recently added another component to help these future business and community leaders by implementing a dinner etiquette seminar, complete with a multi-course formal dinner.
This year's program will begin with orientation and picture day on Sept. 15. Music appreciation will take place on Sept. 29 with the ropes course scheduled for Oct. 20. The Belles and Brass presentation will take place at the Waco Symphony concert on March 21.
Requirements for the program include buying Waco Symphony season tickets at the sustainer level or higher and joining the Waco Symphony Council, among others. For more details on the requirements and to register for the program, visit wacosymphonycouncil.com.
Seasons of Style Fashion Show
Whether you buy through international online stores like ThreadUP and Poshmark or at a local thrift store, wearing secondhand clothes has a cool factor. The inaugural Seasons of Style fashion show will raise awareness of the Caritas Hidden Treasures thrift store program while raising funds to help those who face hunger and financial challenges every day.
The new event will begin at 11:30 a.m. Sept. 5 at The Venue, 110 Ritchie Road in Woodway. The luncheon will be catered by George's.
The style show portion of the event will feature clothing from Another Season Consignments and Hidden Treasures and will be modeled by local Caritas supporters. Patrons also can shop for clothing, accessories and houseware treasures from Hidden Treasures. Guests will hear from Caritas clients about how Caritas has helped them.
Funds raised will help to provide food to area families in need and also help support Caritas client services programs. Clients can earn certifications allowing them to obtain jobs or better jobs, and receive help with financial planning for the future. Caritas also offers clothing vouchers to those in need and provides affordable items at its two thrift stores.
Hunger is an ongoing problem in the Waco community with poverty rates above the average for our nation. Nearly 30 percent of city residents live at or below the poverty level. Caritas exists to help reduce those numbers.
Tickets cost $40 per person or $400 for a sponsored table of eight. To purchase tickets or tables, contact Ann Owen, Caritas assistant executive director, at 753-4593, ext. 213, or visit caritas-waco.org.
Theater Stars
I am always amazed by the talented folks who take the stage for Waco Civic Theatre productions. On Aug. 17, I can see a lot of them in one place during "Stars! Rockin' on Heaven's Door." This one-night-only tribute show, which will begin at 6:30 p.m., serves as a fundraising event for the theater.
A number of Waco residents will portray artists who could be found in Rock 'n' Roll Heaven. Expect to see newscaster Ann Harder as Doris Day, Bill Selby as Jim Croce and Charity Gaines as Donna Summer. Prince will be there as will Glen Campbell, Luther Vandross, Selena, Tom Petty and more. There will even be a tribute to the Eagles; original member Glenn Frey died in 2016.
Special events coordinator Cathy Hawes will take the stage as Karen Carpenter. "This will be a fun evening," she said. "In addition to a great show, we will have a silent auction with various experiences. For example, last year we had an auction item that included a limo ride, dinner and a show."
Audience members will vote for their favorite performer with cash tips. The winner will sing an encore number. Folks who purchase a VIP ticket will arrive early for cocktails, hors d'oeuvre and special performances.
All this will help raise money for such things as children's theater and education opportunities," she said. "The civic theater has a robust program for children who want to be on stage, but it always brings local children to the theater."
The theater has a school matinee day during December, she said. "We will have about 600 kids in to see 'The Best Christmas Pageant Ever.' Some of these kids have never been to a live theater performance. It is always a fabulous day."
Tickets for a two-seat table at "Stars!" cost $75 per person with other seating options available. VIP tickets cost an additional $50 per person. Don't forget to reserve seats for all the great fall shows, beginning with "Calendar Girls" in September. To purchase tickets for the fundraiser or shows, visit wacocivictheatre.org.