Caritas' annual Feast of Caring Soup Cook-Off will be bittersweet this year as the community and the organization thanks and honors Executive Director Buddy Edwards, who will retire at the end of May.
The event will take place at 6 p.m. April 14 in the Brazos Room at the Waco Convention Center.
Buddy is a lifelong resident of Waco, who attended Waco public schools and graduated from Richfield High School in 1968. He earned his bachelor's degree in sociology from Baylor in 1972 and obtained a master's degree in social work from the University of Texas at Arlington in 1976.
Buddy worked as the director of planning and research and grants officer for 29 years at Hillcrest Baptist Medical Center. He came to Caritas as assistant executive director in August 2007 and has been executive director since December 2008.
Buddy worked as a Caritas volunteer beginning in the mid-1980s. He served on the public relations committee and was public relations chairperson for a number of years. Buddy also represents Caritas on the Waco-McLennan County Hunger Coalition and is a member of the Rotary Club of Waco. He has served on numerous nonprofit boards in Waco and is currently on the board of Youth Connection Inc. In addition to his time at Caritas, Buddy performs with the '50s-'60s musical group The Morticians.
For Buddy, it has been incredibly rewarding to see improvements in peoples' lives through what Caritas does — whether it is helping people address food insecurity issues or assisting them in obtaining vocational education or employment.
"I have truly enjoyed talking with the people Caritas serves and hearing from them how our services have been helpful and have made a difference in their lives," Buddy said. "Caritas clients are striving hard to make ends meet while they face tough, uphill battles. It's important to realize that any of us could one day need help from Caritas — all it takes is one or two catastrophic events such as a divorce, loss of a job, serious illness or accident, and what we thought was a secure existence is suddenly turned upside down and outside help is indispensable."
For over 40 years, Caritas has hosted a symbolic event to raise awareness and funds to help our neighbors who are less fortunate. Thousands of guests have attended the annual Feast of Caring to share a simple meal of soup and bread to humanize the needs of so many in our community.
In 2020, the Feast of Caring event will continue with its popular "soup cook-off" format, inviting local restaurants and caterers to showcase their specialty soups and/or desserts while raising awareness of those who face hunger every day. Guests at the event can vote on the People's Choice award for their favorite soup and dessert.
Additionally, a panel of secret judges will determine the best soup and dessert and the best decorated booth. The event also includes silent and audible auctions.
The 2019 Feast of Caring raised $93,000 and was attended by close to 400 guests. These funds helped to provide food to 258 families for one year. Caritas' goal for 2020 is to raise $95,000.
Horses for Healing
I love horses. Put me around a horse and I'm happy. The creatures are definitely magical. I'm not the only one to feel this way. The REACH Therapeutic Riding Center has allowed a number of area adults and kids to discover the healing power of horses.
REACH provides horseback riding and horse-related activities to disabled children and adults. The organization began operation in the fall of 2007 at the old Camp Val Verde near McGregor. At that time, REACH had two horses and three to four students. Now, approximately 55 riders with disabilities take part in various kinds of therapy each week.
"We have children as young as 3 years old and adults as old as 65 in our program," Executive Director Kristin Bolfing-Volcik said. "We have had visually impaired participants, people with mobility issues, people with autism who have benefitted from our equine therapy."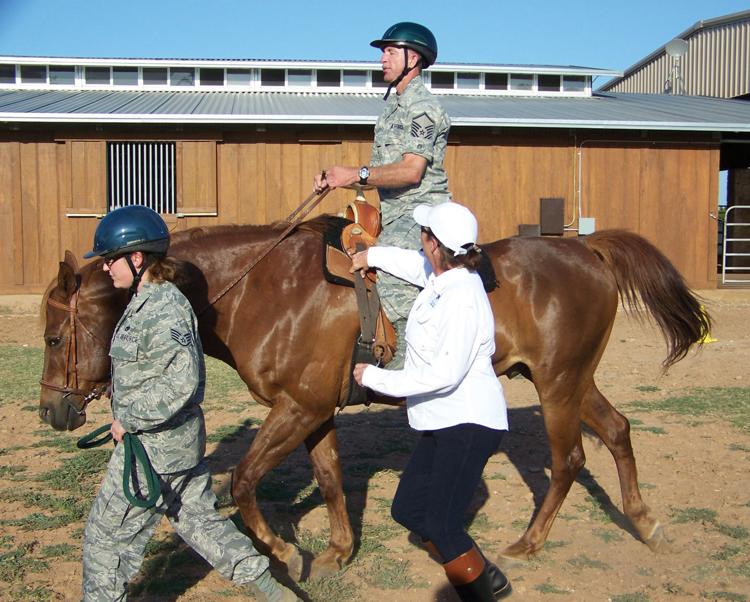 She explained that clients with mobility issues can strengthen core muscles from riding horses. Other physical benefits include improved balance and posture; slowing down of muscle degeneration; improving fine and gross motor skills; and improved hand-eye coordination.
"Working with our horses also motivates our clients," Kristin said. "For example, we have had clients whose first words have been 'walk on' when riding."
REACH also works with military veterans as part of its Horses for Warriors program. This free program is open to U.S. veterans and service members who have a diagnosis of PTSD, traumatic brain injury, amputations, burns and neurological impairment.
The program meets once a week for two hours in the evening. Everyone meets in the dining hall for dinner and fellowship. Before heading to the barn, there is a short discussion and perhaps a video defining what the evening's activities at the barn will include.
REACH currently keeps eight to 10 horses that they either own or have been loaned. These horses range from basic farm horses to highly bred and trained animals.
"We have one horse named Bliss that has competed in dressage," Kristin said. "Dressage horses are trained to react to the rider's slightest movement so I thought she would never be able to work with our clients. Instead, she is so attuned to her rider that she can anticipate her rider is about to have a seizure. When that happens, she will stop moving until the seizure passes."
There is no doubt that programs such as REACH cost money. To help fund its mission, the organization will hold its annual Horses for Healing fundraiser from 6:30 to 10:30 p.m. April 17 at its facilities. Guests will enjoy dinner, catered by Blanek's, live music, and auctions including one in which patrons can bid on the care of the horses. Tickets cost $75 per person. For more information, visit reachtrc.org or call 848-7888.
Family Health Center's 50th
Happy anniversary to the Family Health Center. The medical facility is turning 50 and will celebrate with a special gala on April 30 at the Baylor Club. The event will feature dinner, live music and a program.
"We are not inviting a guest speaker this year," said Carlos Hinojosa, director of development. "Instead we will have a panel discussion with people who have been instrumental to the Family Health Center, from those folks who were so helpful in getting the center off the ground to those who can talk about future plans. We also will have a big announcement."
The Family Health Center has variously been called Waco Family Practice or the Community Health Clinic. It officially started in July 1970 in what was once Providence Hospital on 18th Street and Colcord Avenue.
The idea for FHC began in the late 1960s, when there was a shortage of physicians in McLennan County. With support from the city and county, the Waco Residency Program was established to train recent medical student graduates in family practice. Since that time, more than 400 physicians have completed their residency training in family medicine.
The FHC now has 16 locations around the Waco area that offer a wide range of services from medical, dental to behavioral health.
Recently, the FHC added to its programs for women and children. This department is responsible for advancing existing services for these special populations and has already secured more than $50,000 in grant funds to support black mothers and infants.
In January the department created the role of women's health navigator, a nurse who acts as an advocate for women, children and teens in the system through quick appointment scheduling, one-on-one consultation and referrals to various outside resources.
The FHC's Integrated Behavioral Health Program was given the Texas Academy of Family Physicians Innovators Award. This $10,000 award recognized FHC as the best clinic system in Texas for utilizing care that brings behavioral health professionals into exam rooms during the same time as primary care physicians — a practice that is not yet mainstream but maximizes the time patients spend with doctors.
The Moody Foundation also provided a grant for $542,000 over three years to provide a four-tiered stepped care treatment approach for children with behavior disorders who are patients at FHC.
Other recent developments include upgrading the radiology department, publishing the Waco Guide to Psychopharmacology, and giving away 1,300 free boxes of produce during the most recent Produce Prescriptions season.
Tickets to the 50th anniversary gala cost $180 each, and reservations are required. For more information about the event, contact Carlos at 254-723-4392.
Wild Game Dinner
I am not a fan of eating wild game because I basically think it tastes, well, gamey. I changed my mind two years ago when I attended the inaugural Wild Game Dinner, benefitting Meals on Wheels Waco.
The dinner is back this year and by the time its guest chefs have worked their culinary magic, it'll be fit for the most refined of palates. Feast on some of the most succulent wild game you will ever have an opportunity to eat, including scimitar, horned oryx, axis, red stag, nilgai, venison, grilled oysters, wild salmon, shaved venison and as well as wonderful side dishes and desserts.
"The community really seems to like this event," Meals on Wheels Waco Executive Director Debbie King said. "People who donated the meat for our first event have been asking when we were doing it again. Everyone is just really excited."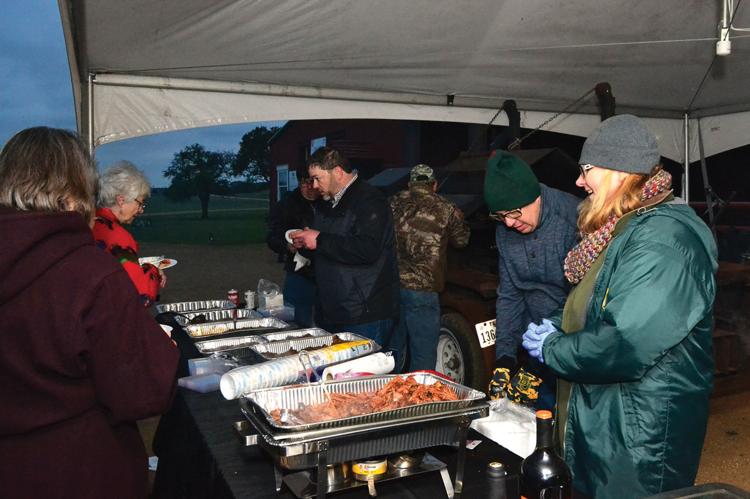 The evening will not only feature some fabulous and exotic food but also live and silent auctions, valet parking and music by Michael Hix and the Classix.
"He is an entertainer, not just a musician," Debbie said. "The audience will have a great time. And we are lucky to have a donor underwrite the expense."
This special event will be held at the ranch of Ambassador Lyndon and Kay Olson's ranch from 5:30 to 10 p.m. May 2. Funds raised from the dinner will go toward helping wipe out the Meals on Wheels Waco wait list.
Meals on Wheels Waco has 800 clients on average for home delivery of meals. The organization works in McLennan, Hill and Falls counties. Last summer, 165 people were on the waitlist. That has since shrunk to approximately 48.
"We hate to tell people that they have to go on a waitlist, and it will take four to eight weeks for them to start receiving meals," Debbie said. "Often our clients do not have family nearby and our volunteers are the only friendly face they see during the week. Additionally, by providing good healthy meals, we are helping our clients stay away from the ER and hospitalization, which in turn reduces healthcare costs. Our senior population is only going to grow."
For more information on tickets, visit WildGameDinnerforMOW on Facebook or call 254-752-0316.
Youth Connection Conference
Youth Connection Inc. is gearing up for its 24th annual conference. "Moving Forward: Effective Ways to Impact Others" will take place from 9 a.m. to 4:30 p.m. April 24 at the MCC Conference Center.
The conference will feature dynamic presentations by Kevin Tutt and Michael Daggs, owners of Tutt & Daggs, Creative Performance Improvement. The duo will perform at every session with the exception of the morning presentation by inspirational speaker and author Darryl W. Thomas Jr.
"There is no other training opportunity like this for professionals offered in the community," Youth Connection Inc. Executive Director Carolyn Nichols said. "Our speakers will bring timely and usable information to the conference attendees.
"This is an exceptional conference designed to provide new insights and skills for professionals in a variety of fields. It will provide beneficial information for those working in business, education, church or their personal life."
An attendance fee of $75 will include lunch and program materials. A special $20 student fee is available with current student ID. Continuing education credits will be available for an additional fee of $10. The conference is approved for social workers, licensed professional counselors, psychologists and any other group that will accept the conference as continuing education for that individual.