For some Waco sports fans, watching the Women's World Cup at the local pub is quickly growing into a tradition.
Baylor professor of mechanical engineering Dr. Anne Spence was wearing her United States Women's National Team red jersey and waiting for The Dancing Bear Pub to open just before 2 p.m. on Tuesday afternoon. Moments later, the door swung open and she joined new soccer-watching pal Laura Farley at the bar in time for the opening kickoff.
The soccer fans didn't have to wait long for the fun to reach fever pitch as US midfielder Kelley O'Hara sent a perfect crossing pass through the box and forward Christen Press nailed a header into the back of the net.
Spence and Farley celebrated the excellent play and especially Press' shot. They discussed whether or not it was Press' first goal of this World Cup and moments later a message on the screen confirmed that it was.
These soccer fans know their team. Spence said it's been gratifying to cheer for a squad that has a well-defined mission.
"I think what sets them apart is not only what they've done on the field, but how they've come together off the field to really improve the status of the game for women, to increase the visibility," Spence said. "They are such a talented team."
A few feet away, Baylor graduate student Vanessa Zuck watched the match with her fiance, Kieran Cressy, from Stoke-on-Trent, England, and their friends Katie Valenzuela, Joelle Axton and Elise Peterson. Although Cressy was the only Brit in the group, there didn't seem to be too much tension when the Americans scored first.
But Cressy had his moment when England forward Ellen White scored an equalizing goal. Less than 20 minutes into the match, the soccer fans at The Dancing Bear were being treated to an offensive duel.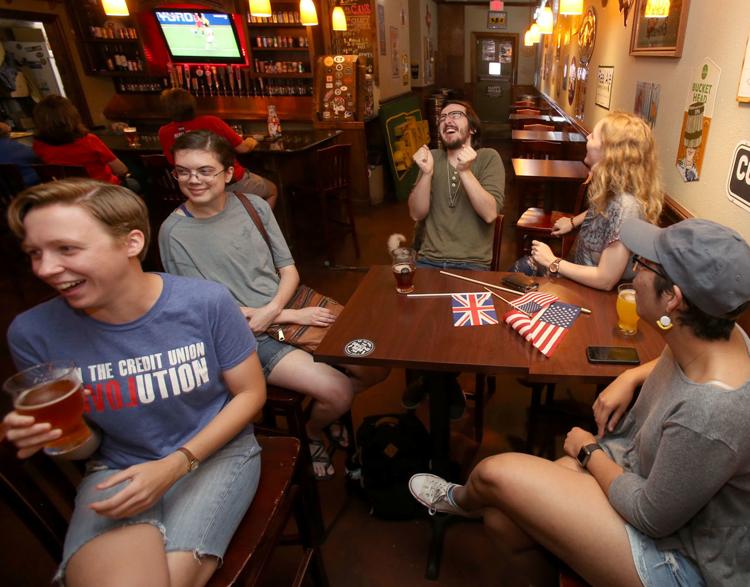 All the better for pub owner Paxton Dove, who has gone in for television sponsorship of the last two Women's World Cups.
"They're good," Dove said, explaining his logic for investing advertising dollars in women's soccer.
The Dancing Bear opened early on Tuesday, the pub doesn't usually start business until 4 p.m. But this has been the routine for both the men's and women's World Cup as well as some English Premiere League games.
"We're kind of becoming a soccer bar. A couple of our bartenders are Chelsea fans," Dove said, referring to the EPL's Chelsea F.C. "So they don't mind coming in early to work when Chelsea is playing."
The Dancing Bear is not alone in opening its doors for Women's World Cup fans. On Monday, Barnett's Public House issued the Tweet "They just keep winning! Join us tomorrow for the USWNT semi-final game at 2 pm!"
Sure enough, like at the Dancing Bear, a dozen or so soccer fans attentively watched the World Cup action at Barnett's on Tuesday afternoon.
It's not just adults in pubs who have been gripped by this World Cup.
Because most of the games have been played in the evening in France, many Americans have had to track the matches online or find a way to watch during work hours.
But it's ideal afternoon viewing for younger up-and-coming soccer players.
Halle Webb, who will be a seventh grader at Midway Middle School when the fall semester begins, started playing soccer a little less than three years ago. This is her first go-around following the American women as they chase World Cup glory.
"I really like watching them, and not just because they're from the US, but because they're good," Webb said.
Although not an avid sports watcher in general, Webb said her experience playing in her age division at Heart of Texas Soccer has made the game open up for her while watching this World Cup.
"In HOT (soccer) it seems like people freak out when they get the ball because people are running at you," Webb said. "In the World Cup, they have a reason to freak out because everyone is so good, but they don't. They know what they want to do with the ball and where they want to put it."
After the US Women's National Team survived and advanced with a 2-1 victory over England on Tuesday, area soccer fans will get one more chance to find a spot and tune in.
The US takes the World Cup final stage on Saturday morning when it faces the winner of Wednesday's semifinal between The Netherlands and Sweden.