Coming off their 1983 College World Series championship, the Texas Longhorns faced a major league dilemma.
How do you replace pitchers as gifted as Roger Clemens and Calvin Schiraldi? Not to mention Kirk Killingsworth and Mike Capel, who rounded out one of the best pitching staffs in college baseball history. All four were selected in the MLB draft, with Clemens and Schiraldi going in the first round.
But in walked Greg Swindell, a left-hander from Houston Sharpstown who didn't throw as fast as Clemens but could spot the ball on a dime. Nobody wanted the ball more in crucial situations than Swindell.
"Greg is one of the most ultra-competitive people I've ever met," said former Longhorns infielder Ty Harrington, now in his 20th year as Texas State's baseball coach. "The bigger the game, the bigger the moment, he always wanted the ball. He gave us a chance to win every Friday night game, and we usually did."
Swindell became Texas' ace for the next three years as he compiled a 43-8 record and a 1.92 ERA with 13 saves while leading the Longhorns to consecutive appearances in the CWS championship game in 1984-85. His 501 career strikeouts and 14 shutouts are still Texas records.
Chosen in the first round of the 1986 draft by the Cleveland Indians, Swindell went on to pitch 17 years for six major league teams, compiling a 123-122 record with a 3.86 ERA.
On Saturday, Swindell will be inducted with the 2019 class into the Texas Sports Hall of Fame.
"Being from the state and playing at Texas makes me even more proud to be inducted," Swindell said. "Then I see the names and people going in with me. It's quite an honor to be brought up in the same breath with them and everybody else in the Hall of Fame."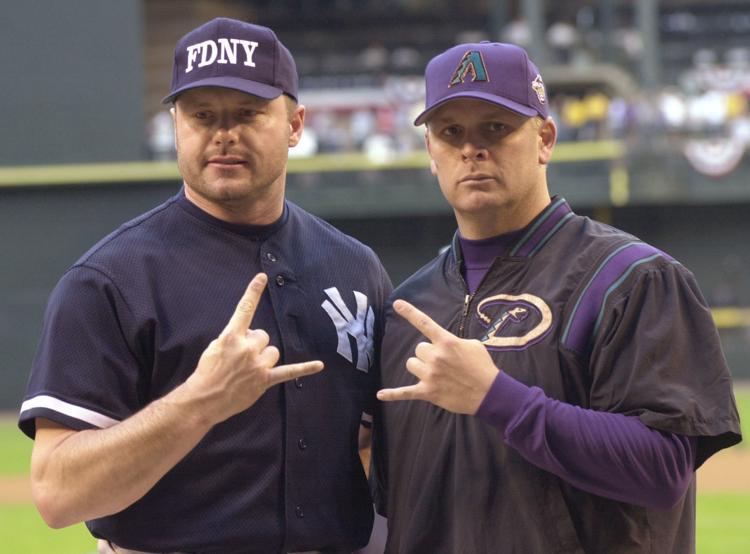 A remarkably resilient arm allowed Swindell to put up big numbers throughout his college and major league careers. Pitching for the Longhorns, Swindell often threw the full nine innings on Friday before coach Cliff Gustafson brought him back in relief Saturday to complete a three-game series.
"Greg was our ace and co-ace," said former Longhorns first baseman and pitcher Rusty Richards. "He would pitch on Friday night and Coach Gus would bring him back on Saturday to relieve. How the man pitched until close to 40, I don't know. But he did it because he was used a lot. Coach Gus knew what he had in Greg, the kind of competitor and talent, and he was going to ride him."
Swindell's greatest mentor as a youth was his father, Harold Swindell, who taught him how to spot a fastball and throw the curve. He also had a great role model in his older brother, Corky Swindell, who went on to star for the Houston Cougars.
"My dad taught me the proper way to release the ball and concentrate on the target a little more," Swindell said. "My dad taught me at a young age to make hitters earn their way on. They're going to make outs because there are more ways to get an out than a hit. Just put the ball over the plate."
Pitching with control became even more ingrained when Swindell played Pony League baseball.
"We had to make 20 pitches at the end of practice, and for every one that didn't hit the mitt, we had to run a lap around the field," Swindell said. "I think I got up to 18 of 20."
During his high school years, Swindell starred for a powerful Houston Sharpstown baseball program that won the Class 5A state title in 1982. On a team filled with future Division I baseball players, Swindell was the catalyst, as he finished 14-0 with an 0.65 ERA during his junior year.
"Greg's fastball wasn't the high heat of Nolan Ryan or Roger Clemens," said Richards, who was Swindell's Sharpstown teammate before joining him at Texas. "What made him successful was that he could hit his spots. He had a different gear on his fastball. His fastball would get 10 feet from home plate and look like it would pick up speed and jump."
When they arrived at Texas in the fall of 1983, Swindell told Richards he would give him a break by just throwing fastballs and no breaking pitches to him during practice. Richards said thanks, but no thanks.
"Being a friend, Greg told me he would just throw fastballs," Richards said. "But he wasn't doing me any favors because I couldn't hit his fastball. I said, 'I appreciate it buddy, but I don't appreciate it because I can't hit it.'"
Gustafson quickly learned what all the fuss was about as Swindell stepped into the ace role and led the Longhorns to the 1984 College World Series championship game where they dropped a 3-1 decision to Augie Garrido's Cal State Fullerton team.
"My freshman year, we were ranked early and just jelled and became a really good team," Swindell said. "We made it to Omaha and probably should have won. I started against Eddie Delzer from Fullerton in the championship game, and he was just tricky enough and beat us."
Texas' 1985 team was another juggernaut led by a powerful offense and the pitching of Swindell and future major leaguer Bruce Ruffin. Swindell tied a Texas record by winning 19 games and still holds the school record with 204 strikeouts that season.
But once again, the Longhorns stopped short of winning the championship as Miami beat them in the last two games to take the title.
"We were in the catbird's seat, but Miami beat me 2-1 and then they beat us again to win it," Swindell said. "It's something we wanted and still hurts bad now because we had it right there. Put playing in Omaha was always a pretty fun environment because it's your first time playing in front of 22,000 or 23,000 fans, and you have to grow up fast."
The Longhorns failed to make the 1986 CWS, but the Cleveland Indians picked Swindell in the first round of the major league draft. Later that season, they brought him up to the majors.
"I signed July 31st and three weeks later I was in Cleveland," Swindell said. "I had reached a dream, but I didn't know it would happen so fast. I was tired and my adrenaline was going, and it was surreal being in Cleveland because I had never been there in my life. Roger Clemens was in the other dugout for the Boston Red Sox. I gave up six runs and got into the fourth, but our bullpen gave up 18 and we lost 24-5. When I see people from Cleveland, everybody remembers that game."
Swindell settled down and went 5-2 with a 4.23 ERA in nine starts as a rookie in 1986, and showed ace-like qualities by going 18-14 with a 3.20 ERA for the struggling Indians in 1988.
In 1989, Swindell made the All-Star game in Anaheim, Calif., where he found himself in the same bullpen as boyhood hero Nolan Ryan of the Texas Rangers.
"I called him Mr. Ryan and gave him a cup of water," Swindell said. "I asked him if he was nervous. I thought if Nolan Ryan is nervous, what are we going to do? Then the bullpen gate opened and everybody in the crowd stood up for him."
Swindell went 60-55 in six seasons for mediocre Indians teams before going 12-8 with a 2.70 ERA for Cincinnati in 1992. Traded to his hometown Houston Astros, Swindell went 30-31 in his first three seasons before he was traded to Cleveland in 1996, where he continued his transition to the bullpen.
Swindell became a full-time reliever with the Minnesota Twins in 1997. Throughout his major league career, Swindell sharpened his pitching repertoire by throwing a variety of pitches, but his ability to spot his fastball and pitch with control were always his best qualities.
"I was still a fastball pitcher, but I needed to come up with a sharper slider and later came up with split finger," Swindell said. "My fastest pitch was 93 mph maybe. It prolonged my career by going to the bullpen and I ended up as a reliever my last seven years."
With his baseball career near an end, Swindell finally played for his first World Series team with the Arizona Diamondbacks in 2001. He didn't give up a run in 2.2 innings in three relief appearances as the Diamondbacks beat the three-time defending champion Yankees in seven games.
But the biggest impact that World Series made on Swindell was going to Ground Zero in Manhattan following the 9/11 terrorist attacks.
"We went to Ground Zero and met a lot of people, and it was special to do it," Swindell said. "We went to the little firehouse across the street (from the fallen World Trade Center twin towers) to meet firemen and policemen, the first responders. When we went to the stadium, you forgot about everything that went on in the world for a few hours. At the ballpark, President George Bush threw out the first pitch. It was really an out of body experience that this thing was really happening."
After retiring from baseball in 2002, Swindell had coaching stints under Harrington at Texas State and under Garrido at Texas. He and his wife, Sarah, have four children and two grandchildren.
Swindell has broadcast Texas baseball games for the Longhorn Network since 2011, where he is joined by former Longhorns All-American and MLB player Keith Moreland.
He's never stopped learning about the game he loves, and likes to see baseball impact the lives of young players like it did for him.
"I've learned more about the game broadcasting than playing, just listening to Keith Moreland talk about hitting and positioning," Swindell said. "I was just on the mound when I was playing. I like to see the players mature under (Longhorns coach) David Pierce and his staff, and grow up to be men on the field and even better men off the field."
Jason Witten caught 1,152 passes in 15 years for the Dallas Cowboys. No Houston Texans player ever brought in more balls than Andre Johnson.
Tony Franklin was among the last of a strange, dying breed: the barefoot kicker.
Highland Park High School has been a Texas football powerhouse for many, many years. Back in the 1960s, the Scots were scheduled to play the L…
Imagine if a young tennis prodigy came along today, and she never lost a match at Wimbledon, the Australian Open or the French Open. Imagine s…