Imagine if a young tennis prodigy came along today, and she never lost a match at Wimbledon, the Australian Open or the French Open. Imagine she won the calendar-year Grand Slam, and if she rattled off 50 wins in a row.
You'd never be able to escape her face. She'd grace every magazine cover, she'd make the rounds on every late-night TV talk show. She'd be one of the most famous athletes in the world.
Maureen Connolly Brinker produced just such a career.
Connolly Brinker won nine Grand Slam singles titles over a four-season span from 1951-54. In 1953, she became the first women's tennis player in history to win the Grand Slam, that is, claiming all four major tournament titles in a single year. To this day, only two other players can claim the same – Margaret Court in 1970 and Steffi Graf in 1988.
"What I really find fascinating is that players who know their history are so inspired by the legacy that Mom left at such a young age," said Brenda Bottom, the youngest daughter of Connolly Brinker. "Her competitors were all older than her. But there are still players who know about her legacy, and inspired about what she accomplished and how she went about it."
Connolly Brinker would have been remembered as one of the sport's all-time greats even if she had won nine Grand Slam titles over two decades rather than just three years. But she was a comet – streaking across the sky for just a flash.
That said, you don't forget a comet's beauty and grace. Connolly Brinker's impact undeniably lives on even 50 years after her death in 1969. The latest evidence: She'll be posthumously inducted to the Texas Sports Hall of Fame as part of the seven-member Class of 2019 on March 30.
Born in San Diego, Calif., in September 1934, Maureen Connolly was the first child of Martin and Jessamine Connolly. Her parents divorced when she was 3 years old, leaving Jessamine to raise Maureen on a spartan existence.
"My grandmother, great aunt and my mother all lived together, and there was very little money to spend on incidentals," said Cindy Brinker Simmons, Maureen's oldest daughter. "They were just trying to survive."
Even as a little girl, Connolly exhibited a deep competitive fire. She gravitated to sports early on, and she didn't like losing.
"Mom was what many would call a tomboy," Brinker Simmons said. "She was feminine, but very athletic, so gifted athletically that she often played sports with the boys."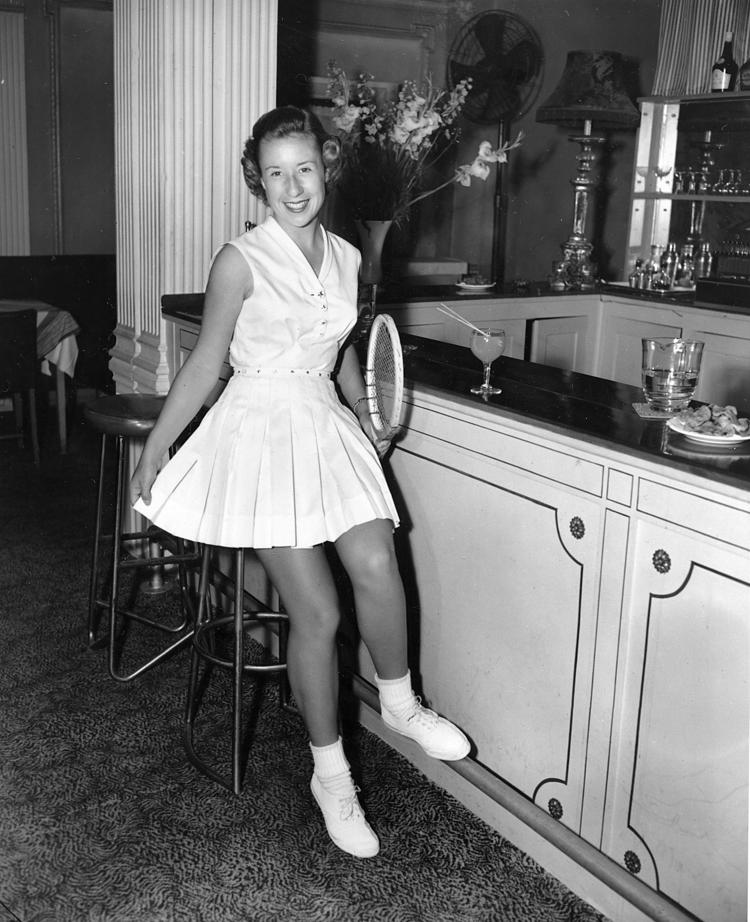 There were some public tennis courts near her house, and when Connolly was 10 years old she landed a gig shagging balls. The local tennis pro Wilbur Folsom took Maureen under his wing and started teaching her the basics of the game. "She was just enamored with the sport of tennis from then on," Brinker Simmons said.
The genesis of 'Little Mo'
Maureen attacked the sport – and the net – from the get-go, displaying a powerful forehand and a no-less formidable backhand that belied her young age. So much so that when she was 11, a sportswriter from the local San Diego Union-Tribune, Nelson Fisher, christened her with a nickname that would stick – "Little Mo."
"He likened Mom's powerful groundstrokes to the battleship, the USS Missouri," Brinker Simmons said. "He said that her groundstrokes 'rendered her opponents shell-shocked.' And, of course, the abbreviation for Missouri is Mo. The battleship was sometimes called the Mighty Mo or the Big Mo, so Mom became known as Little Mo."
Little Mo's competitive streak stood out as plainly as her swing. In her first competitive tournament in 1945, a 13-and-under event in La Jolla, Calif., Connolly played well enough to reach the final before losing to an older girl, Ann Bissell.
The result didn't sit well with Maureen.
"I was no ordinary little girl, and tennis to me, even then, was much more than game," she wrote in her 1957 autobiography "Forehand Drive." "Defeat was unendurable. It could not be talked away by the sympathy of an understanding parent. It must be avenged! Beating Ann Bissell became my single biggest goal in life."
Maureen started winning tournaments, but didn't face Bissell again until the next year. In that match, a highly motivated Little Mo pulled no punches in taking down Bissell in straight sets, 8-6, 6-2.
Within two years, Connolly was the No. 2-ranked junior player in the state of California. Her hometown of San Diego embraced her, and the city issued travel grants to sponsor Connolly in national and international tournaments. To this day, the Maureen Connolly Brinker Foundation helps fund travel expenses for junior players, because Maureen wanted to give back in the way she'd been helped herself.
In 1950, Connolly won both the national junior girls singles titles as well as the doubles crown with her friend and partner Patsy Zellmer. By the next year, she brought her game to an even grander stage.
Grand Slam breakthrough
Though she'd competed in the U.S. Open in both '49 and '50 as a 13 and 14-year-old, respectively, Connolly's game – and her trademark ferocity – had matured by 1951. At the 1951 U.S. Open in Forest Hills, N.Y., she cut through all comers like a buzzsaw before outlasting Shirley Fry, 6-3, 1-6, 6-4, in the final. Suddenly, at age 16, Connolly was the youngest U.S. Open champion in history.
What's more, she was just getting started. Connolly never lost another Grand Slam event in which she entered. In 1952, she won Wimbledon and repeated as U.S. Open champ. The next year she played all four Grand Slam events for the first time – and won them all without dropping a single set. She won 14 tournaments in all in 1953 at the tender age of 18, was named the Associated Press Female Athlete of the Year for the third consecutive year, and just as memorably, she got engaged to Naval officer Norman Brinker.
"Mom always loved horses. She was a caring, compassionate person, and she loved animals, loved horses," Brinker Simmons said. "My dad was stationed in San Diego starting in 1952, and he enjoyed competing in the modern pentathlon. … He stabled his horse at the same stables that my Mom and uncle ran. Mom was writing a column for the San Diego Union Tribune at the time, and she saw that Dad was handsome, so she interviewed Dad, and her first question was, 'Are you married?' And he answered, 'No, and I'm dedicated to staying that way.'"
Connolly's 1954 season started by mirroring the kind of dominance her 1953 year possessed. She won the first 10 tournaments in which she played, including both the French Open and Wimbledon for her eighth and ninth Grand Slam titles, respectively.
But in July her career took an unexpected detour on the back of her beloved horse, Colonel Merryboy. Connolly was riding in San Diego when a passing concrete mixer truck startled Colonel Merryboy and he jumped, pinning Maureen between the truck and the horse. She broke her right fibula and suffered torn muscles and other injuries in the accident.
What few could have expected is that Connolly's tennis career was effectively over. She attempted a comeback in 1955, but she experienced shooting pains in her leg during an exhibition match, and she announced her retirement soon thereafter.
Finding a new way
"Tennis was all Mom knew. She identified as a tennis player," Cindy Brinker Simmons said. "It even said 'Tennis Player' as her occupation on her passport."
It was time to embrace a new life, and Little Mo did so with gusto. She and Norman married in June of 1955. Cindy came along in 1957, Brenda followed two years later. The family moved to Dallas, opening up a new restaurant chain called Steak and Ale.
Maureen didn't leave tennis, instead pouring her love of the game into a new generation of players.
"She really loved coaching," Brenda Bottom said of her mother. "We would often have players come and stay with us, we had a large extra bedroom, and we'd have guests come and stay for a number of days. She'd work with kids in the local schools. Even though she couldn't play anymore, she still stayed involved in the game, and was still passionate about it. She was passionate about youth tennis, which is why she started the Maureen Connolly Brinker Tennis Foundation."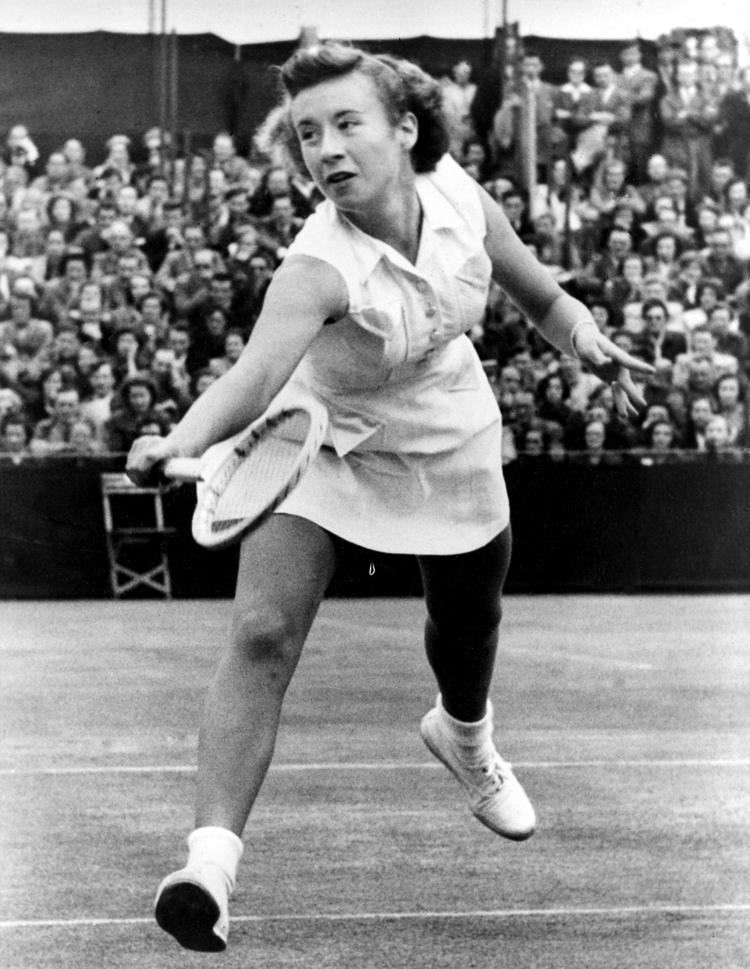 Indeed, in 1968, Maureen and her friend Nancy Jeffett started the foundation with the ambition of providing resources and instruction to junior tennis players. The foundation has helped develop thousands of players over the past half-century, and puts on several tournaments, headlined by the "Road to the Little Mo Nationals" for players ages 8-12. Top American pros like Andy Roddick, Sloane Stephens and Madison Keys all came up through the MCB program.
"That's why Brenda and I always like to say that she was a remarkable woman who just happened to be a very good tennis player," Brinker Simmons said. "She was a champion as much off the court as she was on."
Unfortunately, Maureen never lived to see much of what her foundation achieved. She died of cancer in June 1969, at age 34.
"I was 12 and Brenda was 10 when it happened, and I remember we had to decide what Mom's marker, her gravestone, would say," Cindy said. "My Dad pulled us together for a family meeting, and we were like, 'What can we say? How do you capture a life?' And here's what we put – we had her name between two rackets, 1934 to 1969, and we said, 'A Gallant Lady: Wife, Mother, Champion.' Because that's what she was. She was so courageous, and so humble. Mom was so humble it took your breath away."
Fifty years later, Maureen Connolly Brinker's enduring legacy lives on. It is manifested in the lives of her daughters, who carry on the work of her foundation as President (Cindy) and Vice-President (Brenda), respectively. It is seen in the play of countless young boys and girls who may not have had the opportunity to play tennis otherwise. Soon enough, Maureen's legacy will even be seen in the occasional mail box, as the U.S. Postal Service will roll out a "Little Mo" forever stamp nationwide on April 23. The stamp required four years worth of phone calls, emails and legal documentation to become a reality, but her daughters are overjoyed that it's happening in time for the 50th anniversary of their mother's passing.
"It was a privilege and a pleasure to work with the U.S. Postal Service on the Little Mo forever stamp," Brinker Simmons said. "It's so exciting that Mom's esteemed legacy still lives on."
And now Connolly Brinker will join the immortals in the Texas Sports Hall of Fame. Her tennis career – and her life — came and went in an instant, but she won't ever be forgotten.
"I've got everything I want. Everything I've had, I got through tennis," Connolly Brinker wrote in her autobiography. "It gave me a terribly exciting life. I met so many people in exalted positions. It opened so many doors and it's still opening them. I've had a wonderful life. If I should leave tomorrow, I've had the experience of 20 people."