Eighteen out of 22. That's the record of Scott Phillips, Texas high school football coach. In 22 years of coaching, he took his teams to the playoffs in 18 of those seasons. While that may be impressive, it could have very easily been 21 of 22 seasons, but that's part of the story.
Phillips was born in Kerrville, and the family lived in Junction. He was raised there and played football there until he graduated in 1970. He played running back and cornerback for the Eagles, but not so well that any colleges came calling.
Still, college was always in the plans.
"My parents wanted me and my brother to get a college education," Phillips said. "They wanted us to get a degree in business, but my passion was sports. My brother said he wanted to get a degree in physical education. When my parents didn't object, I knew I wanted a physical ed degree, with a health minor."
Phillips began his coaching career east of Beaumont at West Hardin High School as an assistant. After one year, one of his fellow associate coaches got a head coaching job at High Island on the Texas coast, and he brought Phillips along. There were two coaches on staff that year.
The team had a winning record, after only winning two games in the previous three years, so the district allowed them another assistant. After three years as an assistant, where High Island, a Class B team, lost the state championship to Wheeler, Phillips became the head coach.
The first year as head coach, the Cardinals went 9-1 and tied for the district championship. Only one team qualified for the playoffs in those years, and a coin toss determined that the Cardinals would stay home. The next year, High Island again tied for a district title with a 9-1 record. This time, though, the deciding factor wasn't a coin toss. Instead, the district had a new rule, and a point differential formula was used to determine district champ. The Cardinals lost out again.
The next three years, Phillips' teams left nothing to chance, reaching the playoffs each year. In 1985, Class 2A Groveton called and Phillips moved his family there. The Groveton Indians had a good team, losing in the state playoffs to Electra on penetrations. They lost to Refugio, 0-0, in 1987, again on penetrations, then fell to Hughes Springs in the 1988 playoffs before winning it all in 1989 against Lorena.
After five years in Groveton, Phillips took on the duties at Waxahachie. It was a move up in classes, from 2A to 4A. He had watched the team in off-season practices.
"I saw the types of players they had and knew it would be a good job," he said.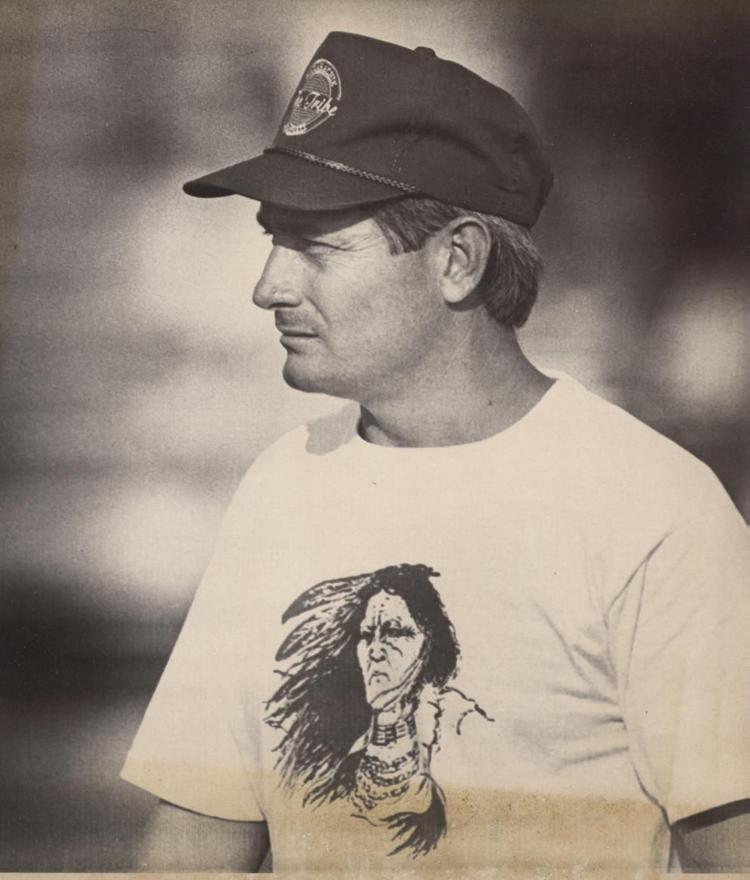 Phillips piloted Waxahachie to a pair of quarterfinal appearances before the team broke through and won the state title in 1992.
After Waxahachie, Phillips was open to new challenges and moved to Plano. Not Plano, the longtime juggneraut. No, he went to Plano East. Seven out of the eight years Phillips was head coach there, they went to the playoffs. The one year they didn't make it, Plano had an ineligible player. The district decision makers disqualified Plano and moved Plano East into the playoffs. Two days later, an appeal to Austin reversed the decision and moved Plano back in.
Perhaps it was the fun in going to the "other" team that led Phillips to his last school he coached. Odessa Permian is famous for "Friday Night Lights" and numerous state titles. Instead, Phillips took on the duties at Odessa High. The first year, Odessa went 4-1 in non-district, then dropped all five district games. That was the last time Phillips coached a team that fell short of the playoffs. His last two years, Odessa High beat Permian in both seasons.
Phillips' philosophy in coaching was to help people. "I believed in telling the players I loved them," said Phillips, "and I believed in discipline. I didn't allow profanity or facial hair. They all adhered to the discipline."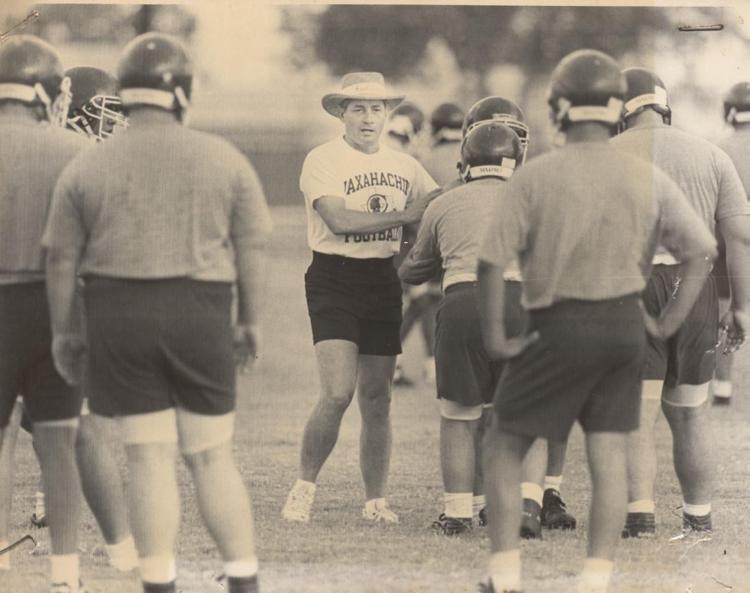 His proudest moment was when Waxahachie won the state title, beating A&M Consolidated in the Astrodome. What made the moment so special was that Phillips was able to hand the state championship trophy to his son, one of his players.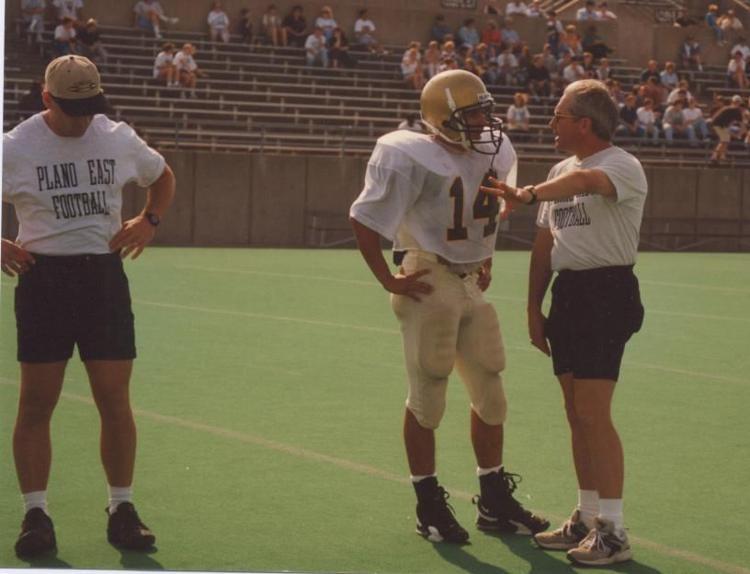 Oh, yes. Plano East is famous in Texas high school football lore not only for the success it had under Phillips, but for a very bizarre game in the 1994 playoffs. It was early in the playoffs, and the Panthers were playing at Texas Stadium against John Tyler from Tyler. With just over four minutes to go, JT had built a 41-17 lead. Seemingly everyone knew the game was over. JT put its backups in the game, and no one expected Plano East to make a game of it.
After Tyler's touchdown that brought them to 41, they kicked off. With the subs in on defense, Plano East was able to score quickly, cutting the lead to 41-24. Of course, everyone expected an on-side kick. John Tyler got the kick, but the return man was hit hard enough to jar the ball loose, and the Panthers recovered. A few plays later, the score was 41-31.
Again, everyone knew an onside kick was coming. The ball didn't travel 10 yards, but a Tyler player touched the ball, and Plano East recovered. Again, a Panther score, and a third onside kick attempt. This one was perfect, and the Panthers recovered again.
With 24 seconds left, Plano East led, 44-41. The stands were going wild. The Panthers had been able to contain the Lions' kick returns, and the decision was made to kick it deep. The Lions got the kick at the three, and the return man didn't stop running until he had crossed the goal line.
Plano East had a time for a play or two, but the game ended with a Panther loss. John Tyler went on to win the state championship that year.
What do you say to a team who had no hope, but didn't give up? To a team that seemingly had accomplished one of the greatest comebacks, only to see it slip away in the closing seconds?
"Everybody is just crying," Phillips recalled. "All you can say is you did all you could. I couldn't ask for anything more from them."
When asked about if he had any regrets in his career, his answer was short and to the point: "None at all."
The Texas High School Football Hall of Fame has no regrets, either, in naming Phillips to its hallowed ranks.
During the 27 years he spent at Fox Sports Southwest, Jon Heidtke helped oversee coverage of all manner of sports, from the NBA to Major Leagu…
Few people have been more integral to Waco sports history than Ken Casner.
To this day, more than 35 years later, the 1983 Daingerfield team is still spoken about with reverential tones in East Texas.
Coahoma, Texas, is a small town of less than a thousand people sitting on Interstate 20, midway between Big Spring and Colorado City. The Dair…
At a recent NFL event in New Jersey, Ken Houston found himself sitting next to his friend "Mean" Joe Greene. Houston was wearing the Pro Footb…
These days, a lot of people like to talk about how hard they work.
When Stephenville won its first two Class 4A state championships in the early 1990s, there wasn't a more versatile player on the field than Ja…
As 34-year-old Adrian Peterson prepares for his 13th NFL season, his nickname "All Day" becomes more and more fitting with each sunrise.