Growing up in Copperas Cove, Robert Griffin III never dreamed of winning the Heisman Trophy or being inducted into the Texas Sports Hall of Fame.
He just wanted his father to come back alive.
In the wake of 9/11, Robert Griffin Jr. did a tour of duty for the U.S. Army in Afghanistan. Fortunately for the Griffin family, he made it back home safely.
"It was like my dad's last day of work, and he stopped from retiring because he had to go to war," Griffin III said. "He went over to do a tour in Afghanistan and prayerfully he came back. Most of my thoughts were of my parents coming home and making them proud."
As his athletic and leadership talents became more apparent, Griffin III made a lot of people proud in Central Texas.
After helping Copperas Cove become a Texas high school football power, Griffin followed coach Art Briles to Baylor and steered the Bears to their first bowl appearance in 16 years in 2010.
During a phenomenal 2011 season, Griffin emerged as the best quarterback in college football as he won Baylor's only Heisman Trophy. The Bears won 10 games for the first time in 31 years and capped their season with a thrilling 67-56 win over Washington in the Alamo Bowl.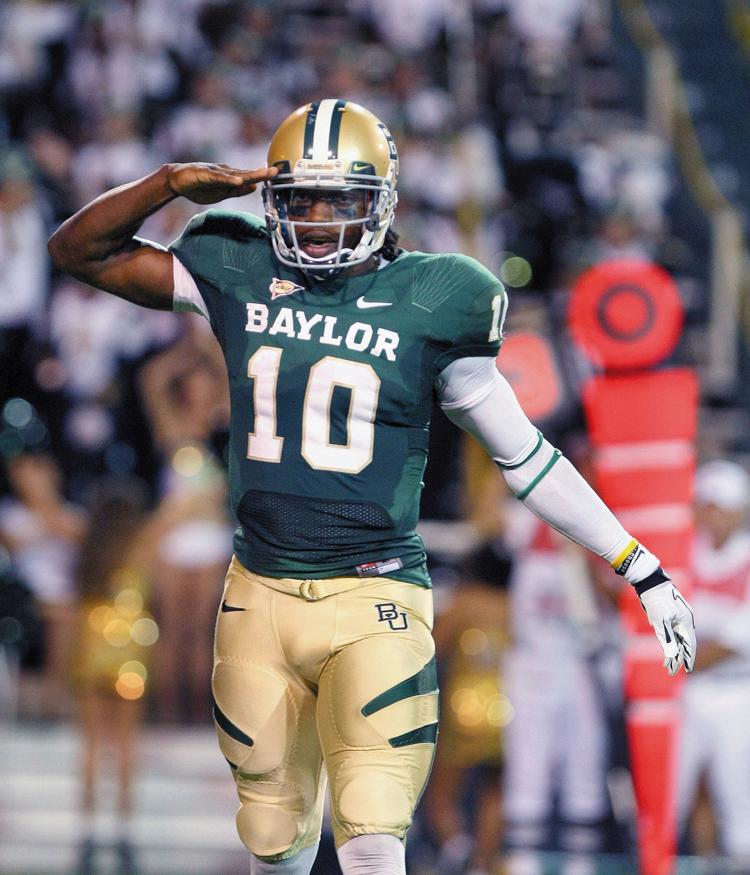 Griffin's breakthrough season led to the Washington Redskins selecting him No. 2 overall in the 2012 draft. He earned offensive rookie of the year and led the Redskins to the playoffs before injuries sent his career into a tailspin.
Now he's part of the 2020 class of the Texas Sports Hall of Fame where he'll join notable past inductees like Roger Staubach, Troy Aikman and Warren Moon. Unlike those three quarterbacks, Griffin played both high school and college football in Texas.
"It's definitely an honor," Griffin said. "It's something I never thought about growing up. But my dad trained me and it's been a heck of a journey, and I've had great coaches and teammates."
Though Griffin never played at Baylor's McLane Stadium, he certainly helped build it by sparking the football program's resurgence and capturing the Heisman.
When he returns to Waco, it still seems surreal that his statute stands outside the stadium along the Brazos River.
"It's weird honestly when I take my wife and kids there," Griffin said. "I look at most people with statutes, and they're 60 or 70 years old. There are no words I can say that can express how thrilled I am about it. Coach (Briles) said we're going to Baylor to do something that's never been done before, and we did."
Though Griffin turned 30 in February and will begin his third season as a backup quarterback for the Baltimore Ravens, he refuses to think that he already reached the pinnacle of his NFL career with his tremendous rookie season.
Optimism and unwavering trust in his abilities have always fueled Griffin, and he still believes he's got a comeback left in him.
"Has it gone the way I wanted?" Griffin said. "No it hasn't, but when do things go in life like you think they're supposed to be? Kurt Warner didn't start until he was 30 and he's a Hall of Famer. I still can do everything I plan to do. I've been healthy the last four years. In football terms, I feel I have at least 10 years of upper echelon football left in me."
During his time with the Ravens, Griffin has been a valuable mentor for young quarterback Lamar Jackson. Like Griffin, Jackson won the Heisman Trophy at Louisville in 2016 before the Ravens chose him in the first round of the 2018 draft.
Jackson has called Griffin a role model, and it's easy to see why. Combining dangerous passing and running skills, both quarterbacks are cut from the same cloth.
Last year, Jackson was named the NFL's most valuable player after passing for 3,127 yards and 36 touchdowns and rushing for 1,206 yards and seven scores while leading the Ravens to the AFC playoffs.
"When we took Lamar in the draft, I tweeted that I can't want to get to work with the young buck," Griffin said. "One of the TV commentators said I don't know why I said this because he (Griffin) is about to be cut. But it turned out the guy they drafted plays exactly like me.
"Who would be a better guy than one who runs and moves like him, looks like him?" Griffin said. "He's been great, he's been awesome. He's got a special talent. I appreciate the fact that I've been able to experience this with him and our group. I've tried to help him every step of the way, be a guiding light."
Serving as a mentor to a young quarterback is a completely different role than Griffin has ever experienced before. His unique talent and intellect always pushed him into the spotlight.
It was that way at Copperas Cove, where he passed for 2,001 yards and 25 touchdowns and rushed for 876 yards and eight scores as a junior in 2006 before passing for 1,356 yards and 16 touchdowns while rushing for 1,285 yards and 24 scores as a senior in 2007.
Griffin led the Bulldawgs to a 13-2 record and a trip to the 2007 Class 4A Division I championship game where Lamar Consolidated slipped away with a 20-14 win.
Despite his obvious quarterback skills, some college coaches projected him as a wide receiver or defensive back. But then-Houston coach Art Briles saw his versatility at quarterback, leading Griffin to commit to the Cougars.
When Briles became Baylor's coach following the 2007 season, Griffin quickly changed his allegiance to the Bears.
Though Griffin didn't start his first college game in 2008 against Wake Forest, he quickly replaced senior Kirby Freeman on the fourth series of the game. The Demon Deacons blew out the Bears, 41-13, but Griffin showed glimpses of his athleticism.
Though Griffin continued to show promise, the Bears went on to finish 4-8 for their 13th straight losing season. But Griffin didn't think a lack of talent was the Bears' biggest issue.
"When I first got to Baylor, I had seen the scores and records in the past, and I expected to be the best athlete," Griffin said. "But when I saw guys that were there like (running back) Jay Finley and (wide receiver) Ernest Smith, I realized I wasn't the fastest or the strongest. I looked at it and asked 'Why did those guys not win more games?' But we didn't know how to win."
With a year under his belt, Griffin expected to break through with a winning season in 2009. But he went down with a season-ending knee injury in the third game as the Bears finished 4-8 again.
Griffin felt like he let the whole team down. He wanted badly for the Bears to make their first bowl game since the 1994 Alamo Bowl. But he wanted it more for seniors like linebacker Joe Pawelek and safety Jordan Lake than himself.
"Those are the guys I felt like deserved a bowl game," Griffin said. "I felt I owed it to them. When I tore my ACL and I knew I wasn't going to play football any more that season, I felt like I let those guys down."
Griffin came to Baylor as a two-sport athlete as he was one of the top junior hurdlers in the world during his high school years.
As a member of Baylor's track team, Griffin won the 400-meter hurdles title at both the Big 12 championship and the NCAA midwest regionals before placing third in the NCAA outdoor championships. He was good enough to earn an invitation to the 2008 U.S. Olympic Trials where he reached the semifinals.
But after his knee injury, he decided to focus on football. The 6-3 Griffin bulked up from 209 to 229 pounds.
"The reason I bulked up was because I told the coaches and my family that I was dedicating myself to football," Griffin said. "I needed to put on strength to have durability. I showed people that I meant business and we made a bowl game."
With Griffin passing for 3,501 yards and 22 touchdowns and rushing for 635 yards and eight scores, the Bears finished 7-6 in 2010 for their first winning season since 1995.
The Bears clinched bowl eligibility with a 47-42 homecoming win over Kansas State on Oct. 23 as Griffin threw for a then career-high 404 yards and four touchdowns. Jubilant Baylor fans stormed the field at Floyd Casey Stadium after the game.
"I don't think the LSUs or Michigans, Ohio States or Florida States of this world can understand what a big deal that was," Griffin said. "I had barely been alive 16 years, but I understood the burden of those years were on us to go ahead and win and end the bowl drought. What a gorilla that was on our backs before we became a winner."
Though the Bears ended the season with four straight losses, including a 38-14 loss to Illinois in the Texas Bowl, anticipation for the 2011 season was sky high.
Griffin lived up to the hype as he completed 72.4 percent of his passes for 4,293 yards and 37 touchdowns with just six interceptions while also rushing for 699 yards and 10 scores. This time the Bears didn't falter down the stretch as they won their last six games to finish 10-3.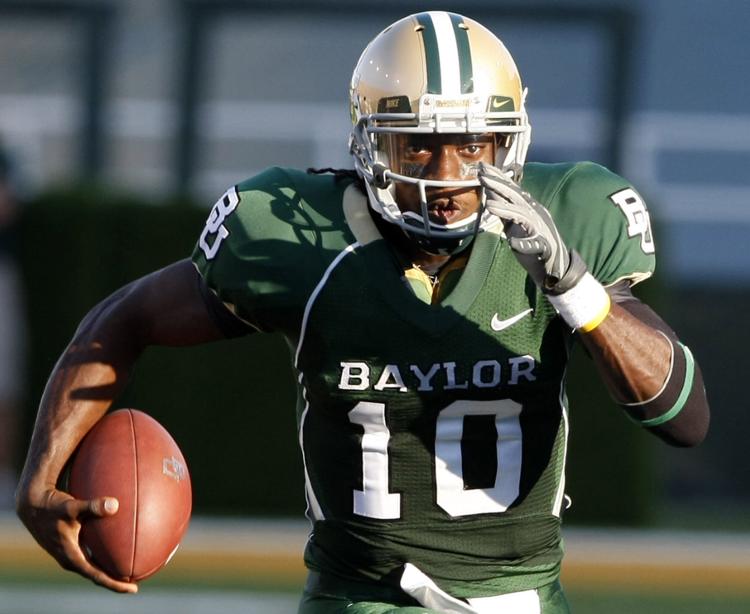 The Bears' biggest moment came in a 45-38 win over Oklahoma on Nov. 19 when Griffin scrambled to escape pressure and rifled a 34-yard pass to Terrance Williams for the winning touchdown with eight seconds remaining.
"I was moving to the left and threw to the right," Griffin said. "Terrance ran a vertical route and broke off to the right and I threw the ball. Terrance caught the ball and the crowd erupted. If I had thrown it a split second later it wouldn't have been a touchdown."
Griffin was invited to the Heisman Trophy ceremony in New York City where he faced stiff competition against Stanford quarterback Andrew Luck, Alabama running back Trent Richardson, Wisconsin running back Montee Ball and LSU defensive back Tyrann Mathieu.
But Briles comforted Griffin moments before the announcement.
"Coach Briles sat me down and put his arm around me and said 'Don't worry Griffy, we're about to take this one home,'" Griffin said. "Then they said, 'Robert Griffin, Baylor University,' and the rest is history. I remember the reaction in Waco, and it sent chills down my spine. One thing I'll always remember is you don't know how much something means to people until you do it. A kid from a private school won a national award. That was our national championship."
Griffin was at his charismatic best on that December night in the Big Apple. Dressed in a black pinstripe suit, Griffin lifted his pants leg to reveal Superman socks complete with a red cape.
"When you go to a Heisman ceremony, you should wear your best suit, shoes and socks," Griffin said.
Briles had seen Griffin's flair for the big moment throughout his four seasons at Baylor. Following his spectacular 2011 season, Briles had no doubt that Griffin would take home the Heisman.
"This outcome, in our minds, wasn't by chance — it was by design," Briles said at the Heisman ceremony. "Robert has been preparing himself to be the best he can be for four years at Baylor."
Throughout his rookie season with the Redskins, Griffin showed his passing and running skills translated well to the NFL as he passed for 3,200 yards and 20 touchdowns while rushing for 815 yards and seven scores.
But Griffin suffered a knee sprain near the end of the regular season and re-injured his knee in a playoff loss to Seattle. Though Griffin came back to throw for 3,203 yards and 16 scores in 2013, Kirk Cousins ended the season as the starting quarterback.
Griffin suffered an ankle injury in 2014 and a concussion in 2015 before the Redskins released him in 2016. Signed by the Cleveland Browns, Griffin earned the starting role but suffered a shoulder injury in the season opener. He came back to start five games but was released the following spring.
While Griffin still believes he's got some great NFL seasons remaining, he knows he'll always have a home at Baylor.
After his pro career is over, he hopes to come back to Baylor one day as an athletic director or a university administrator.
"Baylor is family, it's home," Griffin said. "I feel like I want to be a bigger part of the university, a bigger ambassador for the university. When it all ends, I want to be in an administrative job with the university. I know the history and what it is. Every time I go back, I feel the love from the students and the faculty and I want to give that love back."