AUSTIN — The eyes, sad and yearning, draw you in, paralyzing observers in place. This is Robert Hurst's third crack at painting famed Texas songwriter Aaron Barker, and if the eyes are any indication this one will be a keeper.
Finally averting his own gaze, a visitor asks, "How long does it take to do one painting?"
Hurst replies that he started the Barker piece the night before, to the amazement of his guests.
"Now, it's not finished," he quickly adds. "I'm going to go in and screw it up somehow, because that's what I do."
That bit of self-deprecating humor reveals an ever-present side to Hurst's personality. Every creative soul, after all, is its own toughest critic. But Hurst's reputation as one of the state's most stunning artists is no punchline.
For the past 22 years, the Austin-based painter has canvassed the Texas sports landscape with exquisite, memorable brush strokes. As the official artist for Waco's Texas Sports Hall of Fame, Hurst has captured the essence of the sprightly, 5-foot-3, 110-pound Olympic gymnast Nastia Liukin, to the sprawling, 7-foot-1, 325-pound basketball behemoth Shaquille O'Neal, along with all manner of people in between. In all, he has taken more than 170 Hall of Fame inductees and preserved their likenesses for posterity via paint.
"Robert knows the subject. That's what makes it special," said Jay Black, vice president of museum operations for the Texas Sports Hall of Fame. "He's not just playing around or copying photographs completely. He knows the subject, and it comes through in his work."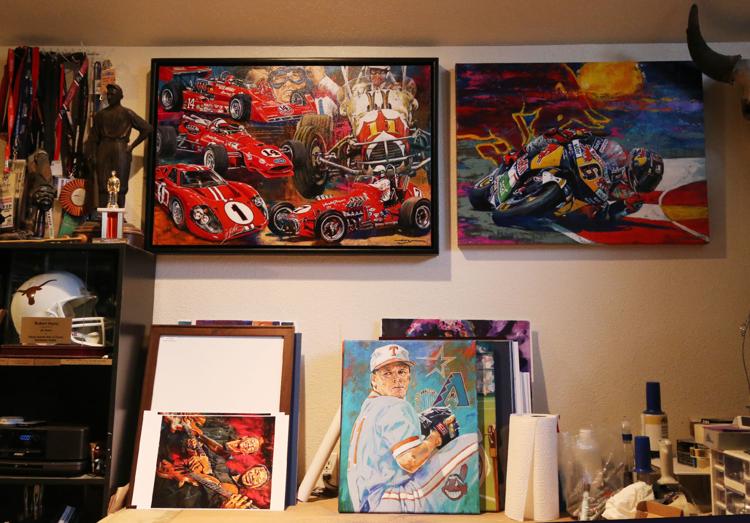 For as long as he can remember, Hurst, who turned 60 on Thursday, loved to doodle. He grew up in Houston, and as a child he observed the world around him and then tried to replicate what he had seen on paper. The earliest subjects of his drawings were animals, his friends and musicians he liked. "Back then, Jimi Hendrix and whoever," he said.
When he was 11, he got his first paying job. He wanted a motorcycle, and his mother told him he would have to buy it himself. Hurst enjoyed sports, but usually rode the bench, a byproduct of impaired vision that resulted in him wearing a clunky, thick set of glasses.
"My vision was so bad up until high school," Hurst said. "Those are really your growing-up years, baseball, football, that kind of stuff. In football, they always put me in the front line, and I hated playing line. I wanted to be a linebacker. I loved watching the play take shape and anticipating what was going to happen. In fact, the only game my coach ever put me in as a safety, I made two interceptions, three tackles, recovered a fumble. And the next game I was right back on the line."
Instead, Hurst pursued martial arts, mostly judo, and then in college at Stephen F. Austin University he joined the rugby club. Yet art remained a passion.
After college, Hurst meandered from job to job, seldom staying long at any one of them. He drafted for an architectural rendering firm in Houston. He pumped gas at an Exxon station. He framed pictures at hobby shops.
Hurst recently figured out that, in all, he had held down 48 jobs in his life — "Paycheck jobs, not just cutting somebody's grass," he said — and had been fired from 43 of them. Don't feel too bad though. He won a bet with his brother, who disputed the job total until seeing the list.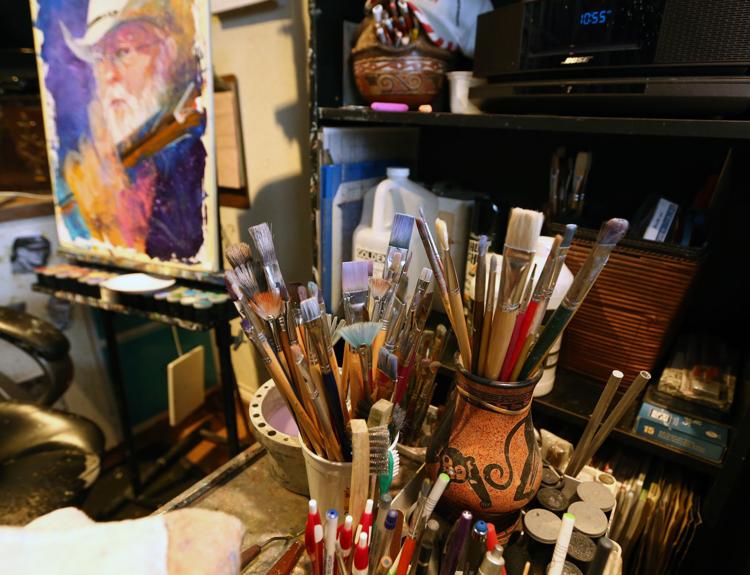 In 1985, Hurst moved from his longtime hometown of Houston to Austin, a city to he visited often over the years.
"I wasn't happy in Houston anymore, and Austin always kind of had an allure for me," Hurst said. "I knew I belonged here. Something about Austin and me were supposed to be. I moved here in 1985 with two boxes of clothes, took the Greyhound bus, and got dropped off literally two blocks from where I was going to live."
In Austin, Hurst nibbled around the edges of the art world for a while, continuing to work in frame shops. But it allowed him to meet people who would help shape the direction of his life. One was Dalhart Windberg, a Texas artist renowned for his resplendent still life and landscape images. Another was his future wife, Pam.
It was Pam who encouraged Robert to turn his love for art into a full-time career.
"I guess we'd been married about a year and a half or so, and she told me that she knew that I was supposed to be an artist the first time she came to my house," Hurst said. "I was living in a studio apartment, and it had a little balcony, a ledge. And then downstairs, the only stick of furniture I had was my drawing table and paintings and my stuff. She said, 'That's always been where you heart was.'"
At the time, Hurst was making $6.25 an hour working at a frame shop.
"She said, you're not keeping the household above water here, why don't you pursue this? Because that's who you are," Hurst said. "I gave it a shot, and about six months later was when Earl Campbell commissioned me to do the piece for him, and everything just fell into order after that. Really, it snowballed, and it snowballed fast. Earl knows — I give him all the credit in the world for starting my career."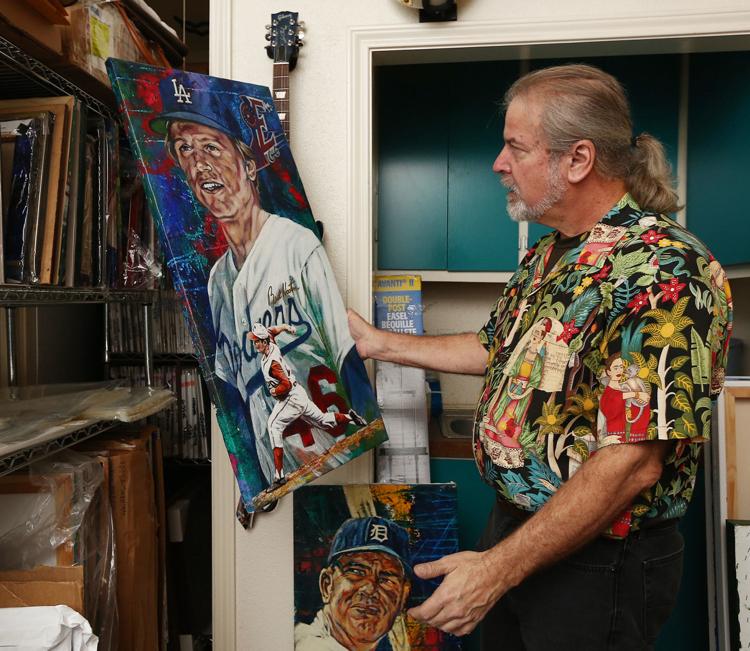 When it comes to Texas football icons, few match Campbell. A high school legend in Tyler, he gained the nickname the "Tyler Rose." Campbell went on to rush for 4,443 yards at the University of Texas, winning the Heisman Trophy in 1977. Then he embarked on a Hall of Fame NFL career, mostly with the Houston Oilers.
At an Austin street festival, a man noticed Hurst's work and requested a custom painting of Campbell from the artist. "And I was like, 'Earl! He's my guy — Houston Earlers, and all that.'"
Hurst completed the painting, which featured Campbell running over a would-be tackler from SMU, and then asked the customer, somewhat naively, if he wanted Campbell to sign it. Hurst didn't know Campbell at the time, and it took him three days of navigating various layers of University of Texas administration to make contact with the former running back.
"Finally, Earl said, 'Have him bring it on by,' so I went to his office and showed it to him, and he said, 'How much did you get for that?' I said, 'About 200 bucks.' And Earl said, 'I want one,'" Hurst said.
Hurst was elated. All he could think was, Earl Campbell, the Tyler Rose, has commissioned me to do a painting. As it turned out, though, it was not just one painting. It was four more, and each time Campbell wanted the exact same image as the original.
"He put one in his office, one in his home, one in his restaurant, and one somewhere else," Hurst said.
Soon, Hurst and Campbell formed a partnership. Hurst had prints produced of the Campbell painting, brought them to the ex-football star to sign, then sold them and split the profits with Campbell, "fifty-fifty," Hurst said. After a year of that arrangement, Campbell essentially bought Hurst out of the contract, allowing the artist to take home all future profits.
"That became my nest egg," Hurst said. "I started doing sports memorabilia shows, started doing the nationals, the Super Bowls, the all-star games. That's how I got picked up by Arlington, the Texas Rangers."
Shortly after the Rangers built Globe Life Park, then known as The Ballpark in Arlington, they opened up an art gallery in the ballpark. Hurst started supplying the Rangers with various pieces, and on his journeys up and down Interstate 35 he always took notice of the Texas Sports Hall of Fame in Waco.
"I just walked in with a portfolio, probably still have it, and I just said, hey, I have this idea. Have you ever used artwork for your inductees in the past?" Hurst said. "My idea was, let me do the paintings of the inductees and get them to sign it and sell them. And they said, 'Well, how much is this going to cost us?' And I said, I'll cover all the costs up front. I just want to give it a whirl."
Black remembers that 1996 meeting. He and then-Hall of Fame executive director Steve Fallon wanted to present the inductees with something grander than a plaque. Hurst's proposal seemed perfect, even if there were some growing pains along the way.
"When he stopped by and we were talking, brainstorming, I said, 'Hey, let's do an art show, an event here at the Hall of Fame,'" Black said. "I knew (football player-turned-artist) Tex Coulter, and then there was a third guy who did more multimedia stuff and shadow boxes. … And the show just flopped. Nobody came. I think I ended up buying something from all three artists, I felt so bad. But the good thing is, we developed a relationship with Robert that's been going strong since 1997."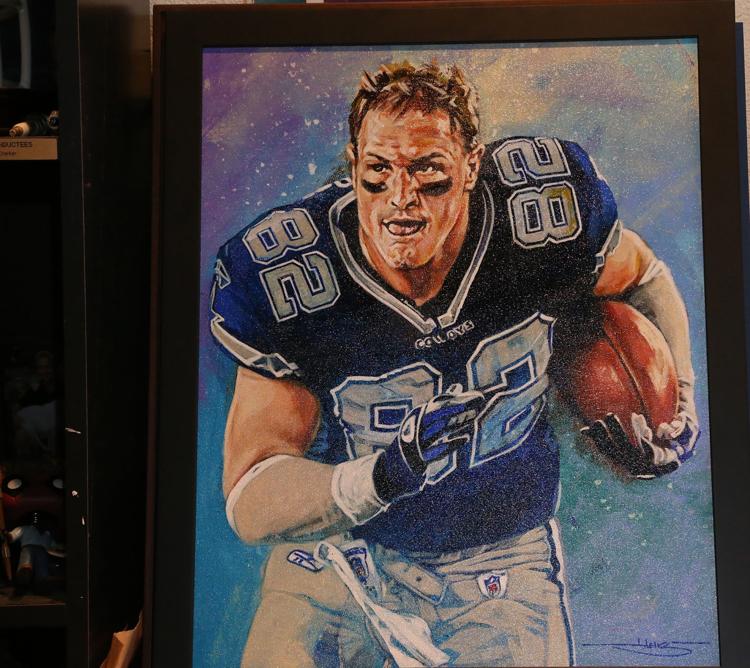 Hurst's style falls somewhere in the middle of the palette between abstract and realism. His subjects are instantly recognizable. This past week, as Hurst invited the Tribune-Herald into his studio at his home in Austin, a painting of a helmetless Jason Witten, the recently retired Dallas Cowboys tight end and upcoming Hall of Fame inductee, leaned atop a work table. There was no confusing that it was Witten.
But there are blurred edges and splashes of background color that do not really exist together in nature, providing what Hurst calls "interest" to his pieces.
"His use of color is so striking," Black said. "He has a unique style, and it was perfect for what we were looking for."
Some of his techniques have evolved over time. Some came about by dumb luck.
"I paint by process of elimination. Essentially, I'm a lazy artist. All of that (color) is background, I just filled in a few spots."
He traveled to an outdoor art show in Phoenix some years back where it rained all three days he was there. He ended up painting outside in the rain, and as he scraped some paint off a wet canvas one evening he accidentally landed on a marbling effect he still employs in his work today.
"I said, 'This is kind of cool.' You just kind of discovered something," Hurst said. "A lot of my painting is what isn't there. That's what makes it fun."
Through his work for the Hall of Fame, Hurst has been able to rub shoulders with some of the state's greatest sporting legends. He contacts each of the inductees before ever dipping brush into jar, wanting to know if there is any image in particular they want represented in their portrait.
"A lot of time the spouses will provide the photographs, because a lot of times the inductees don't know where anything is," he said.
After his artwork is unveiled on the day of the inductions, Hurst often likes to hang back and eavesdrop on conversations by the inductees' spouses and family members.
"That's when you hear the reality," he said, smiling.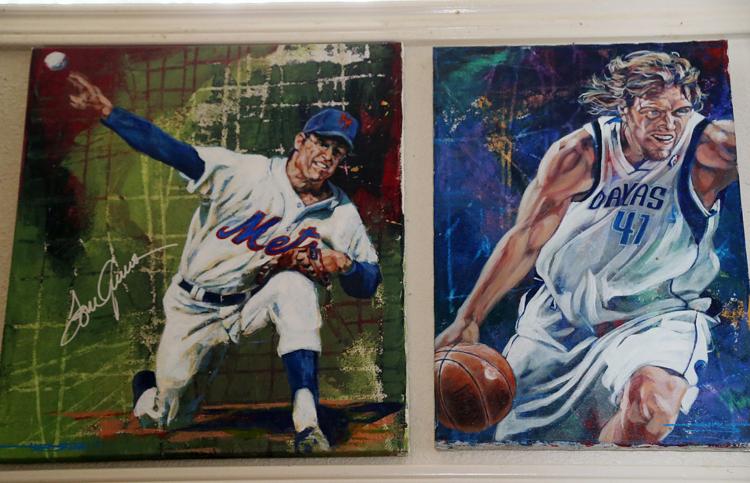 Hurst has not hit a home run in every at-bat, at least not in his own estimation. He was never satisfied with the painting he did of 2005 inductee Augie Garrido, the former University of Texas baseball coach who owns the NCAA's all-time wins record. Eleven years later, Garrido went into the College Baseball Hall of Fame, and Hurst — who had taken on the role of that organization's official artist as well — produced another painting that again did not meet with his own approval.
"And I live here in Austin, I (saw) Augie all the time. I could do him blindfolded," Hurst said. "I know what he looks like. So I just wasn't happy with that piece either. But he went in and signed the prints and everything, and these guys are really nice about the work, generally."
But Hurst could not get past it, and during a conversation with Garrido at the 2016 College Baseball Hall of Fame ceremony the artist broached the idea of a third painting.
"I know when a piece isn't right. And I knew with him, neither of the pieces I'd done worked. … I said, 'Augie, I'm really sorry about the painting I did," Hurst said. "I know what you look like, I know I can paint you. It's almost like I'm too close.' We'd met a dozen times before that but had never really talked. I said, 'I really want to do something new of you, something you're happy with, I'm happy with. I'm not happy with these.' I think that he thought that was really cool that when something sucks, I'm willing to say it sucks.
"So I did another painting of him and he was really happy with it, and I gave him (a print). And he came over here and signed all the prints for me."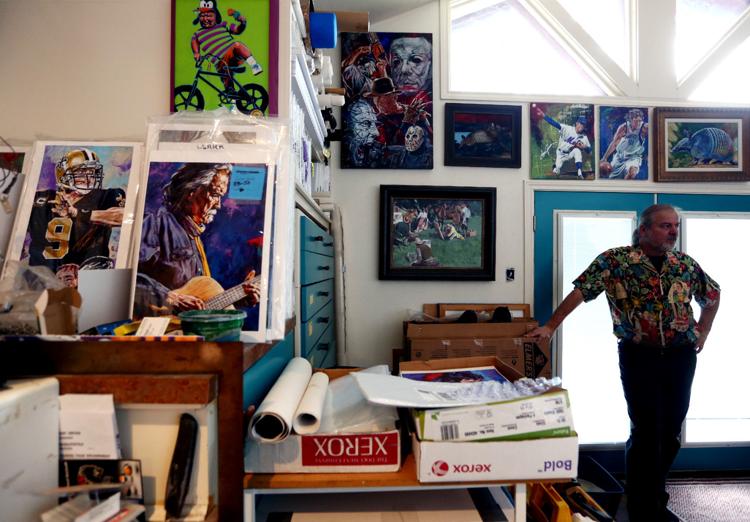 As Hurst tells stories, he pulls out original paintings he produced in the past. His all-time favorite of a Texas Sports Hall of Famer is the one he did of 2001 inductee Norm Cash, a former big-league slugger with the Detroit Tigers who hailed from Justiceburg, between Abilene and Lubbock.
"To me, this painting is perfection. There's nothing in the painting that I see that I would change. I love this mess," Hurst said, pointing at a splatter of black in the background.
Hurst is a fan at heart, and he loves meeting the athletes. One of his all-time favorite characters, other than Earl Campbell, of course, is "Slinging" Sammy Baugh, the former TCU and Washington Redskins great. Hurst visited Baugh at his West Texas ranch one year, and the Pro Football Hall of Famer, known for his lack of pretentiousness, regaled his visitor with rollicking stories replete with colorful adjectives.
"He made me a peanut butter and jelly sandwich," Hurst said. "Every other word out of his mouth was, 'You can't repeat it.' If he can't be at home that night, he's not leaving. Somebody told me to ask him about his Cotton Bowl trophy, and he had no idea if he even had one. He had this little hallway that was piled with trophies and stuff, and he was like, 'Oh, here it is.' It was broken in half, but it was there.
"I asked him about his three-legged dog. I said, 'Oh, what's your dog's name?' He said, 'I never named him.' I was like, 'Tripod?'"
Since first uniting with the Texas Sports Hall of Fame in 1996, Hurst has parlayed his experience there into roles as the official artist for the College Baseball Hall of Fame and the Texas Heritage Songwriters Hall of Fame.
It keeps him busy, but that is not a problem. He is his own boss and follows his own schedule, usually padding into his studio in the late afternoon or evening. Those 43 past pink slips simply comprised the paper trail he followed to his dream job.
"I'm a native Texan, I'm an ex-athlete, I'm an artist, and to be the artist for the Texas Sports Hall of Fame … I'm real happy with it," Hurst said. "I'm doing exactly what I want to do, painting exactly what I want to paint, with the Texas Sports Hall of Fame and the other halls of fame — the College Baseball Hall of Fame and the Texas Heritage Songwriters Hall of Fame.
"Those are kind of my gigs, my work, but I've gotten to know a lot of the people, the athletes, musicians, that type of stuff. And who can complain?"