Every new class that enters the Texas High School Football Hall of Fame has a unique makeup and feel that's defined by the individuals who are honored.
But they all have something in common, too. Each year the incoming class manages to reflect the grandeur of the history of Texas high school football.
The Class of 2019 was no exception as it included an active NFL star, a four-time state championship coach, another coach who was on the sideline for one of the most famous games in Lone Star State high school football lore, and a Pro Football Hall of Famer.
As the inductees gathered for a press conference and an autograph session at the Texas Sports Hall of Fame on Saturday afternoon, many of those in attendance were focused on Washington Redskins running back Adrian Peterson.
But Peterson was in awe of the moment.
"It's really special for me," Peterson said. "When I got the call that I was being inducted into the Texas High School Hall of Fame, I was smiling ear to ear. It's such a big accomplishment being from Texas and just knowing the history of Texas football."
Texas High School Football Hall of Fame banquet: May 4, 2019
Photos by Jose Yau
The Texas High School Football Hall of Fame annually inducts one player from each decade along with two Eddie Joseph Coaching Award inductees and a special contributor. The 2019 class included Peterson of Palestine from the 2000s, Jason Bragg of Stephenville from the 1990s, Willie Everett of Daingerfield from the 1980s, Putt Choate of Coahoma from the 1970s, Ken Houston of Lufkin Dunbar from the 1960s, and Ken Casner of Waco High from the 1950s and before.
The Eddie Joseph Coaching Award winners were T.J. Mills of Sealy, and Scott Phillips of Groveton, Waxahachie and Plano East. TV executive Jon Heidtke was inducted as the Dave Campbell Contributor to the Game.
The banquet honoring the inductees was held Saturday night at the Ferrell Center. It's annually a chance for former coaches and players and their family, friends and fans to gather and swap football stories.
"I've got a lot of people coming from Junction, my home town, a lot of my coaches that I haven't seen in a long time, they're going to be here tonight," Phillips said. "It's going to be like a family reunion for me and I'm excited about that."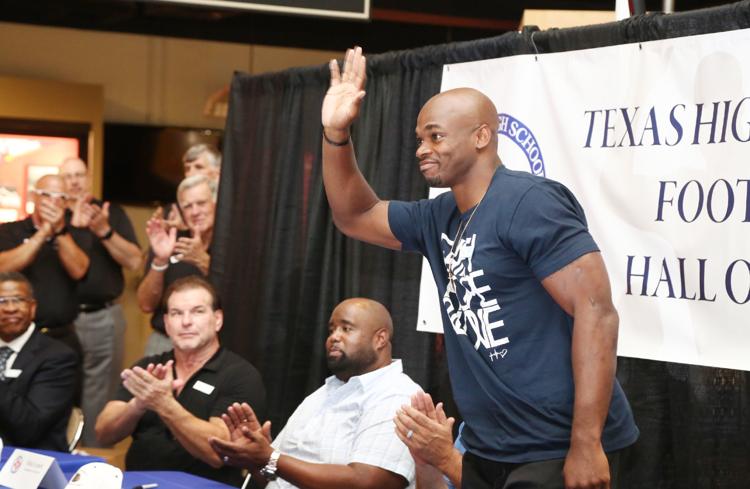 Phillips is most commonly remembered for his Plano East team's third-round playoff game against Tyler John Tyler in 1994. That's when the Panthers erased Tyler's 41-17 lead in the final three minutes of the fourth quarter. Plano East went ahead 44-41 only the see the Lions return a kickoff for a touchdown in the final 20 seconds and walk away with the victory.
"That's the one everybody wants to talk about," Phillips said. "That's the one I'm famous for losing. But the comeback was great. Our kids never gave up, never quit. It was a tremendous game."
The game Phillips enjoys talking about most was his Waxahachie team's 4A state championship in 1992.
"My son was a senior on the team and we drove 82 yards at the end of the game to take the 28-24 lead and then we went for it on fourth-and-two on our own 48-yard line to seal the deal," Phillips said. "And I got to hand the 4A state championship trophy to my son."
As 34-year-old Adrian Peterson prepares for his 13th NFL season, his nickname "All Day" becomes more and more fitting with each sunrise.
Eighteen out of 22. That's the record of Scott Phillips, Texas high school football coach. In 22 years of coaching, he took his teams to the p…
During the 27 years he spent at Fox Sports Southwest, Jon Heidtke helped oversee coverage of all manner of sports, from the NBA to Major Leagu…