Tony Franklin was among the last of a strange, dying breed: the barefoot kicker.
Since Franklin last played in the NFL 30 years ago, barefoot kickers have gone the way of the T-formation as kicking shoes have become lighter, more streamlined and designed to allow kickers to strike the ball for distance and accuracy while still giving the toe plenty of protection.
Franklin lauds the advancements in shoe technology. He might even wear a shoe if he was kicking today.
"These young'uns have better sense now," Franklin said. "All I know is I had a lot of unused right shoes in my career."
No barefoot kicker ever did it better than Franklin.
Kicking for Texas A&M in 1976, he set an NCAA record with a 64-yard field goal in the first quarter against Baylor and then broke it with a 65-yarder in the fourth quarter. As a rookie kicking for the Philadelphia Eagles in 1979, Franklin boomed a 59-yarder against the Dallas Cowboys, the team he grew up rooting for.
Standing just 5-8, Franklin kept his shoe off long enough to hit 56 field goals in four years at Texas A&M and 177 field goals in his 10-year NFL career.
"For a man that size kicking barefooted, I've never seen a guy hit it like that and be so accurate," said former All-America Texas A&M defensive lineman Jacob Green, who played 13 years in the NFL. "He was one of a kind."
Franklin will become the first kicker inducted into the Texas Sports Hall of Fame in the 2019 class on March 30. The only one punter in the hall of fame is Sammy Baugh, who was better known as one of the most legendary quarterbacks in NFL history.
"I'm used to people saying 'You're just a blankety-blank kicker," Franklin said. "But we're no different than anyone, we like to compete. It's quite an honor to be in with the guys in the Texas Sports Hall of Fame, and it will be nice to be remembered with them."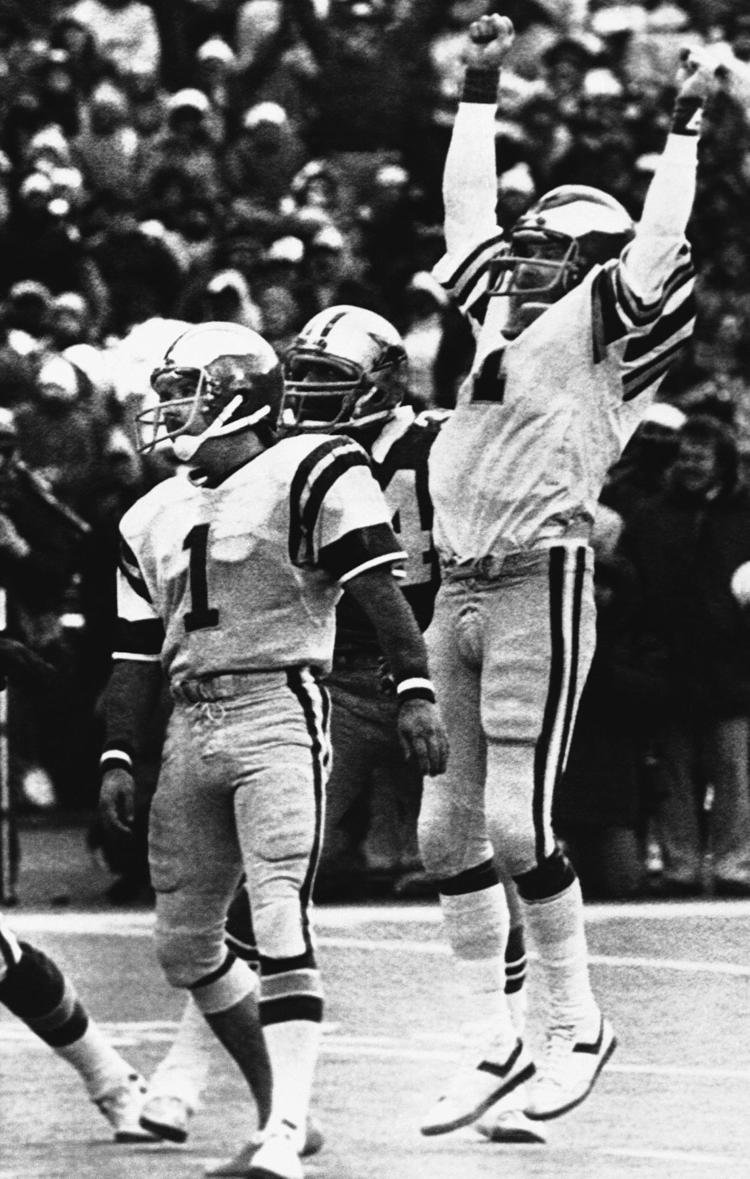 Mike Renfro, Franklin's high school teammate at Fort Worth Arlington Heights who went on to star in college at TCU and in the NFL at Houston and Dallas, said he has been nominated for induction into the Texas Sports Hall of Fame. But he jokingly said he got squeezed out by a kicker.
"If they're going to let kickers play football, he deserves to be in hall of fame," Renfro laughed. "It's well deserved because he's one of the greatest kickers in college football and was outstanding in the NFL. I'm glad he got his honor. Tony was a really good athlete who figured out he could kick."
Discovering his barefoot kicking style was somewhat of an accident.
Before his sophomore year of football at Arlington Heights in 1972, Franklin tore ligaments in his left ankle and couldn't run well enough to play safety. So he started messing around kicking the football.
Failing to find distance or accuracy kicking with a shoe, he pulled it off his right foot.
"All of a sudden I hit everything I kicked, and a long way too," Franklin said. "I was all-district and all-county as a free safety, but there wasn't much demand (in college) for 5-8, 159-pound safety. So I concentrated on kicking."
Franklin wore a sock over his bare foot before shedding it at Texas A&M, but it was strange for his high school teammates to see a player without cleats.
"Really? Come on," Renfro said. "November and December can be pretty chilly. Are you still going to have the shoe off?"
Franklin drilled a 51-yard field goal during his sophomore year and set a state record with a 58-yarder as a senior. Despite his range and accuracy, most colleges didn't offer kickers a scholarship straight out of high school. They usually had to walk on and prove themselves at the college level before getting a scholarship.
Franklin got an offer from New Mexico State, but didn't want to drive back and forth to Las Cruces, N.M. Oklahoma and Nebraska asked him to walk on, and TCU eventually offered him a full scholarship.
But when Texas A&M coach Emory Bellard said he'd give him a full scholarship, it was an offer he couldn't refuse.
"Emory said, 'I'm going to give you the opportunity to become the first full scholarship kicker in school history," Franklin said. "I was ready to sign."
Like his high school teammates, a kicker walking around without a shoe was an unusual sight for his Texas A&M teammates.
"When I first saw him I said, 'You forgot your shoe,'" Green said. "But he could kick it. Field goal range for us was getting inside the 45-yard line. We knew he was going to kick 50-yarders, but then he was kicking 64 and 65-yarders."
Franklin became the Aggies' No. 1 kicker as a freshman as he hit 12 field goals in 1975 for a Southwest Conference tri-championship team. During his All-American sophomore year, Franklin nailed 16 field goals, including the two memorable NCAA record-setting long shots in a 24-0 win over Baylor on Oct. 16, 1976 at Kyle Field.
"It was misty and damp with a wind out of the north at 6 mph," Franklin said. "The first one from 64 yards I didn't hit it that good, but it kept going and fell over the crossbar. The one from 65 yards I absolutely crushed. It would have been good from 70. It was probably the best ball I ever hit except the 59-yarder at Texas Stadium against the Cowboys."
On the same day, Abilene Christian kicker Ove Johansson set an NAIA record with a 69-yard field goal that Franklin said had the benefit of a strong wind.
The late 1970s was the golden era for SWC kickers as Texas' Russell Erxleben and Arkansas' Steve Little broke Franklin's NCAA record by drilling 67-yard field goals in 1977. There was some controversy because those kickers used old, well-used balls that they were familiar with while Franklin kicked balls that were provided for the teams during the games.
Though they were exceptional kickers, Franklin never saw Erxleben and Little as competition.
"There were three kickers in the SWC at that time who could hit the ball far," Franklin said. "I just concentrated on what I do. Records are meant to be broken, so I didn't get caught up in that."
After hitting 28 field goals over his last two seasons at Texas A&M, Franklin hoped the Dallas Cowboys would select him in the 1979 draft. But they waited too long as the Eagles picked him in the third round.
"Absolutely I was a Cowboys fan," Franklin said. "Every time he came for a pro day, (Cowboys scout) Gil Brandt said we're going to draft you. He took (future wife) Sally and I up in Rudder Tower and said we're going to draft you. I was a die-hard Cowboys fan, but they waited too long."
Franklin quickly learned how deeply the Eagles' fans hated the Cowboys. During the Iran Hostage Crisis in the early 1980s, they had a special name for "America's Team."
"Their fans called the Cowboys Iran's team," Franklin said. "You couldn't be a Cowboys fan up there in Philadelphia. Hell hath no fury like Philly fans. I remember being there when they threw snowballs at us on the sideline with transistor radio batteries in them."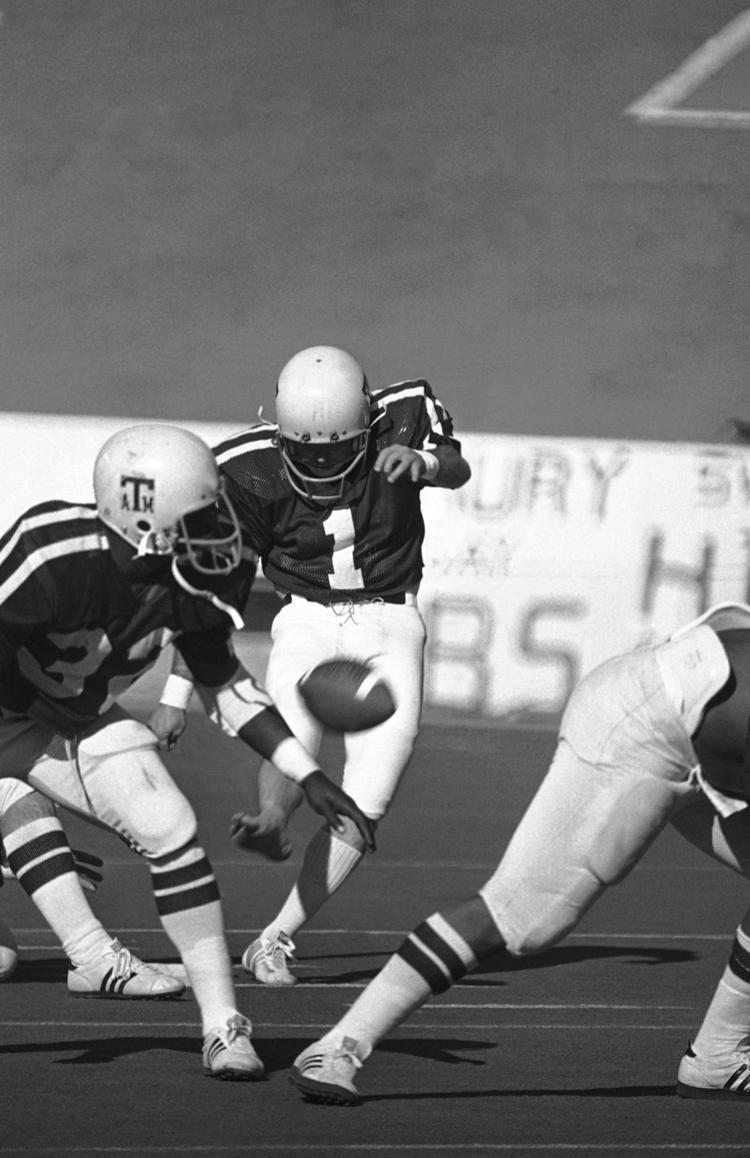 Franklin felt fortunate the Eagles drafted him during a peak period in team history as they reached the 1981 Super Bowl after winning the NFC East with a 12-4 record during the 1980 regular season under hyper-intense coach Dick Vermeil.
Philadelphia's superb defense and special teams were complemented by an offense that featured quarterback Ron Jaworski, running back Wilbert Montgomery and wide receiver Harold Carmichael. After hitting 23 field goals as a rookie in 1979, Franklin nailed 16 field goals and 48 extra points in 1980.
Though the Eagles dropped a 27-10 decision to the Oakland Raiders in the Super Bowl, Franklin and his teammates developed an incredible bond.
"Dick Vermeil was a great motivator and worked tirelessly to put us in position to win games," Franklin said. "We had the No. 1 defense in the NFL and the best special teams, and our offense was more than adequate. I loved Ron Jaworski. He took a lot of punishment. One time he almost bit his tongue in half and was back in the game two plays later."
Franklin continued to enjoy solid seasons for the Eagles before he was traded to the New England Patriots in 1984. He kicked 24 of 30 field goals for the Patriots' 1985 AFC championship team that was pounded by the Chicago Bears, 46-10, in the Super Bowl.
Franklin delivered his best season for the Patriots in 1986 as he made the Pro Bowl after leading the NFL with 140 points while kicking a career-high 32 of 41 field goals. He played one more season with the Patriots before finishing his career in 1988 with the Miami Dolphins.
Sometimes he thinks about the fortune he could have made if he was kicking in the NFL today.
"I got a chance to play for great coaches in the pros, and I was very happy with it," Franklin said. "But I'd like to play today with the money guys are making. My last two contracts I was the highest paid kicker in the NFL, and the most I ever made was $400,000. Now they're making $3.5 to 6 million. You can sign one contract and you're set for life."
Franklin has lived in San Antonio since 1980 and has been in the auto finance business for the last 29 years. He and his wife Sally own a ranch outside of Junction, the south Texas town where former Texas A&M coach Bear Bryant famously put his team through a brutal training camp before the 1954 season.
He was happy to give his sons, Don and Shea, his two Super Bowl rings. Not bad for an undersized high school safety who began kicking barefoot just to see if it would work. It did and he accumulated a bunch of abandoned right shoes to prove it.
Every once in a while, sports fans get a glimpse, during the heat of battle, into their hero's soul.
Imagine if a young tennis prodigy came along today, and she never lost a match at Wimbledon, the Australian Open or the French Open. Imagine s…