Texan pride is an unmistakable thing, and anyone who has lived in the state for any length of time is imbued with at least a bit of it. Sometimes it shows up in a, "Yeah, we're bigger and better than you" type of swagger, and why not? It's a pretty great place.
But Texans are also a grateful people, and that even extends to the greatest athletes to come through the state. A humble spirit of thankfulness poured out of the new induction class to the Texas Sports Hall of Fame, as they were honored at a press conference Saturday at the museum itself and later at a banquet at the Waco Convention Center.
"(It means) everything. I'm born and raised here," said a choked-up Greg Swindell, a former All-American pitcher at the University of Texas and longtime major leaguer. "I can't believe nobody else has cried. I'm a Texan, and that means everything. It's the greatest state, and to have played high school here, college ball here, and played a little bit of pro ball for Houston, the saying is, you don't have to ask if somebody is from Texas when you meet them, give them five minutes and they'll let you know. It's truly a honor, and I'm very humbled to be from here and now here, it's great."
In addition to Swindell, the rest of the seven-member class of 2019 included NFL greats Andre Johnson of the Houston Texans and Jason Witten of the Dallas Cowboys, former Texas A&M and NFL kicker Tony Franklin, former Outland Trophy winner Loyd Phillips of the University of Arkansas, basketball great Nancy Lieberman, and tennis star Maureen Connolly Brinker, who was inducted posthumously.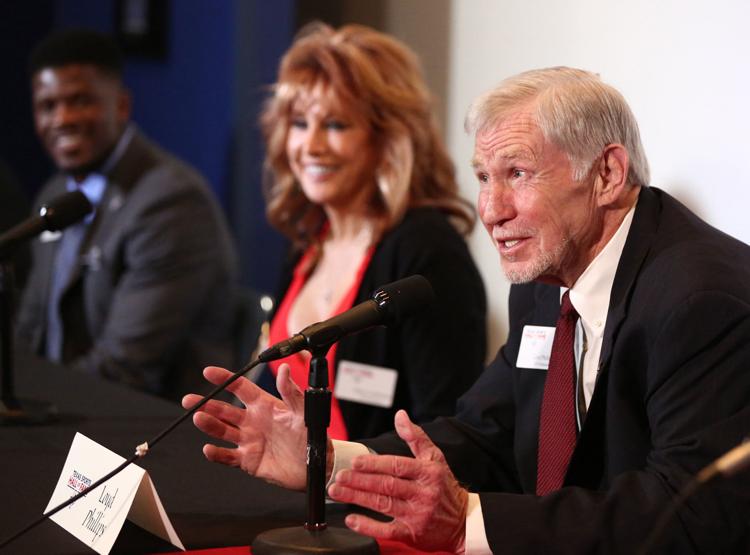 Texas Sports Hall of Fame induction banquet: March 30, 2019
Photos by Michael Bancale