Take a sport that's already exciting, and kick it up a notch. That's the sport of aerial surfing.
The premier aerial surfers bring their skills to Waco Saturday at the BSR Cable Park for the second annual Stab High competition. The gates open at 10 a.m. with the competition kicking off at 3 p.m.
According to Aaron Carrera, director of partnerships with Stab Magazine, how aerial surfing began is unclear, but it probably began in California in the mid-90s. Carrera says the competition is similar to skateboarding, only on water.
"Aerial surfing is all done above the lip," Carrera said. "Traditional surfing takes place on the wave, and the lip is the top of the wave."
The competition will feature 22 competitors, each trying to advance to the second round of the contest. Each surfer gets eight waves, four left waves and four right waves. The surfers ride the waves with the idea of achieving a decent lift above the wave, where the action of the aerial takes place.
It's here that the surfer does spins, flips and other actions similar to skateboarders. The surfers are judged by the difficulty and creativity of the movements.
There are five judges, each judge rating the ride from 0-10, 10 being the highest score. A surfer can earn up to 50 points for a ride, though Carrera points out that no one has ever achieved the 50-point score.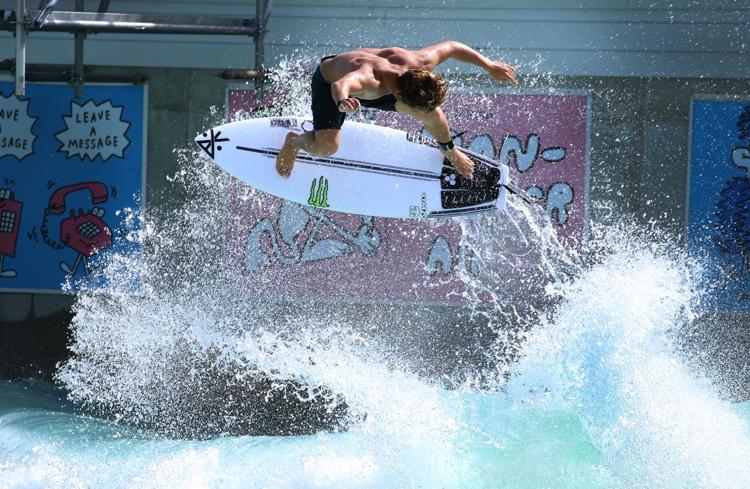 In order to earn 10 points from a judge, Carrera says, "It has to be a never-been-done-before action with serious height."
Six surfers with the highest scores will then advance to a final round, with the highest score winning it all.
The cost is $41.50 for general admission, with children under 12 gaining free admission. For those who want an additional experience, the VIP tickets can be purchased for $175.
With the VIP pass comes complementary non-alcohol drinks and food, free access to the VIP deck and a gift bag. Food will be provided by Rosarito, Steel City Pops, Little Brisket by Guess Family BBQ, Nana's Lunchbox & Sweets, Oh My Juice, BRU Coffee, Peached Tortilla, Waffle O'Licious & Union Wine Co.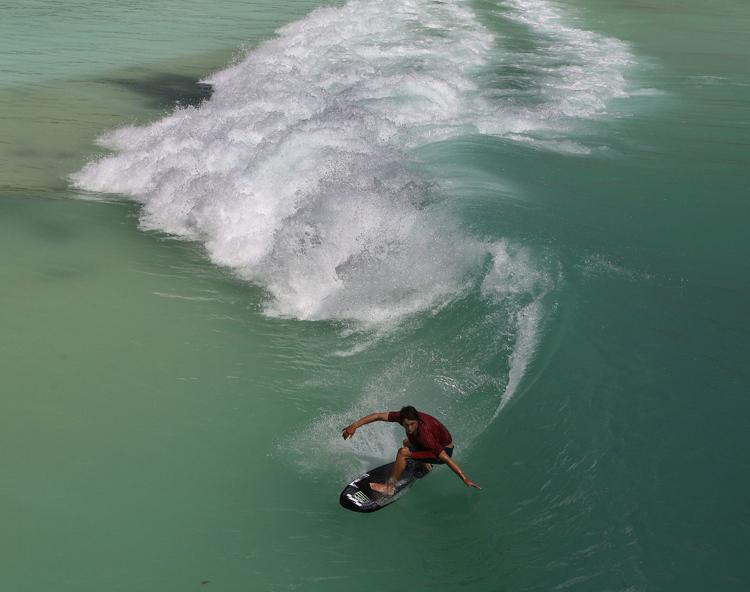 Last year was the first year for the Stab High competition. The magazine had been looking for a way to promote the sport, and the idea of creating a first of its kind aerial competition in a wave pool. The facilities at BSR fit the bill. Using influence from pop culture, the decision was to combine the competition with a massive pool party, and the result was far better than anticipated.
Along with the men's competition, Stab is helping to create a women's event, encouraging young girls 15 years and younger to learn aerial surfing. The group is called the Lady Bird division. The Lady Birds will also compete Saturday.
"We wanted young girls who excelled in surfing to advance the sport," Carrera said.
The idea of a big pool party will continue in this year's event. "We're really looking for 2,500-3,000 people," according to Carrera. "We've brought in DJs from New York and Sydney, Australia."