Nuni Omot was born 23 years ago in a Kenyan refugee camp where his family stayed for three years after trekking more than 400 miles to escape war-torn Ethiopia.
Omot has never been back to Kenya since his chaotic childhood, but he wants to return someday.
Now a senior for the Baylor basketball team, Omot hopes to have the means to help struggling families from his native country find a better life.
"I'd love to go back to help and be there and experience it," Omot said. "I was a baby, so I don't remember anything at all. But my family told me it was crazy, something you see in movies. My ultimate goal, my dream is to play in the NBA, just to make enough money to provide for my family and help other people who have helped us."
To see Omot today, it would be hard to guess that he was born into such dire circumstances. He plays basketball with a joy and self assurance that belies his desperate upbringing. As a key contributor off the bench, the 6-9 forward gives the Bears a lift in a variety of ways whether it's his 3-point shooting, vicious slams or defensive aggressiveness.
Most of all, he's become a great teammate who inspires his Baylor brothers in arms.
"I think he's a great guy, and the things he's been through have made him the guy he is now," said Baylor center Jo Lual-Acuil. "It's a testament to how strong his character is to be able to get through stuff like that. You see him he's always got a smile on his face and is always working hard. Regardless of what he does in his life, I think he's going to be real successful because he's so articulate in everything he does and he's so personable. He's one of those guys whose personality attracts people."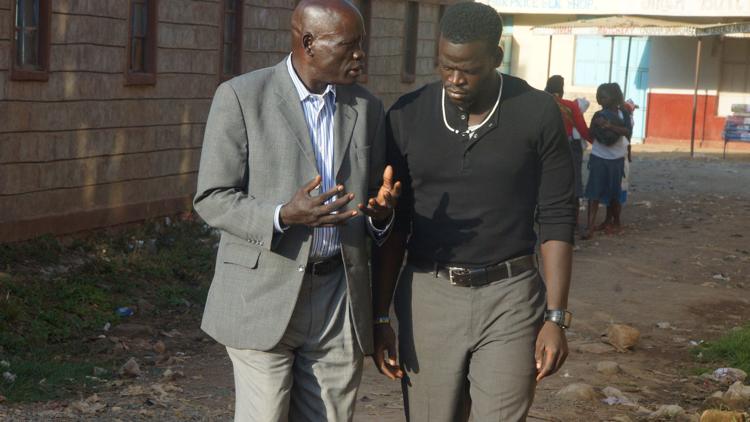 In the early 1990s, a prolonged civil war was raging in Ethiopia with Eritrean separatists fighting for independence. To escape the violence, Omot's mother, father and older brother Aba walked and caught rides under the coverage of darkness for more than 400 miles from Gambela, Ethiopia, to reach safety at the Kenyan border.
"We had to leave Ethiopia because there was a war going on," Aba Omot said. "The government was changing and rules were changing, and the area became very dangerous. We had to leave because the government was attacking people. My mom said we had to make the decision to leave, it wasn't pre-planned. She had heard that people were dying."
The Omot family found shelter and food wherever they could on the two-week journey to Kenya. They usually traveled at night to escape being captured or killed by soldiers.
"Sometimes we had to hide and some people would drive us somewhere," said Nuni's mother, Pillow. "Finding food wasn't easy. It was also difficult once we got to camp."
After arriving at the Kenyan border at Moyale, the family was arrested by police who were ordered to prevent anyone from leaving Ethiopia. Aba said the family was imprisoned for a week before being sent to a refugee camp in Ifo, Kenya, with the help of United Nations officials.
The Omot family had relatives in Sioux Falls, South Dakota, and hoped to receive travel documents quickly to be cleared to come to the United States. But it turned into a three-year wait in the refugee camp. Nuni was born in 1994 amid hot, crowded conditions with little food.
"They'd give us food for a month and it would be gone within a week," Aba Omot said.
Disease was also a constant worry at the refugee camp, especially for young children like Nuni.
"In the refugee camp after Nuni was born, there was a lot of flooding and he almost go pneumonia," Pillow said. "We didn't have enough food. Sometimes Nuni would ask are we going to have food for a night, and we'd have nothing."
In 1996, Pillow, Aba and Nuni were cleared to travel to the United States, and received financial support from the Lutheran Immigration and Refugee Service.
But Nuni's father, Kwot, had to stay behind because he didn't pass medical testing. He finally arrived in the United States in November 2016, and Nuni hopes to see him for the first time since his childhood days at one of Baylor's remaining home games.
"I think he might come to Senior Night (on Feb. 27)," Nuni said. "It's a relief honestly because it's big having a father in my life. Not having one your whole life, obviously it wasn't his choice, but to be able to finally meet him is really big."
After living in South Dakota for a year, Pillow and her two sons moved to the Minneapolis-St. Paul area where Aba often looked after his younger brother while their mother worked different jobs to support them.
"She was working, constantly working," Aba said. "She barely came to our sporting events because of that. It was tough and she had to learn a new language. She tried to go to college but she didn't have time to spend on herself. She worked at Menards and the Burlington Coat Factory and now works at a senior living center taking care of people."
Nuni admires how much his mother sacrificed to raise her two sons, and continues to draw a lot of strength from her.
"She's had to sacrifice a lot, she's been through the most anyone's ever been through," Nuni said. "Her making the decision to leave the refugee camp to provide for my brother and me was really dangerous, but that was a risk she had to do. She always took care of us."
Aba became a track and football standout at Mahtomedi (Minn.) High School and earned a scholarship to the University of St. Thomas, an NCAA Division III school in St. Paul. Nuni admired his older brother and also wanted to excel in sports.
After playing football, baseball and soccer, Nuni hit a growth spurt in high school and began concentrating on basketball. He was a late bloomer who played on the Mahtomedi junior varsity as a junior before making the varsity as a senior.
"I grew a lot, six inches in one summer," Nuni said. "I grew and started loving it because it was a sport where you could work extremely hard and notice drastic changes right away. I wanted to quit at first because I was so clumsy. But my brother told me to practice and focus on it, and that's what I did. He was a big influence on me. He's helped me through almost everything in my life."
Despite averaging 18 points and six rebounds as a senior, Nuni was overlooked by NCAA Division I schools and drew limited attention from Division II schools. He signed with Division II Concordia University in St. Paul where he averaged 12.4 points and 5.5 rebounds as a redshirt freshman in 2014-15.
Nuni kept growing in college and reached 6-9. He also developed an attractive skill set that allowed him to be a versatile player who could bury 3-pointers and drive to the basket for emphatic dunks. He began thinking that he could play at the Division I level.
"Out of high school, I had zero Division I offers," Nuni said. "I probably had two Division II offers and three NAIA offers. When I committed, I thought I probably wouldn't be able to go D-I. That year I sat out I was working like crazy, at least two or three times a day, working on my game. I just got a lot better. I continued growing in college. All of a sudden I thought I had a chance to play at a big school because I had gotten so much better."
To get more attention from Division I schools, Omot decided to transfer as a third-year sophomore to Indian Hills Community College, a NJCAA power in Ottumwa, Iowa. He enjoyed a superb 2015-16 season as he averaged 12.2 points and 5.4 rebounds for a team that finished 29-5.
Division I schools poured to Indian Hills to see Omot, who was rated the No. 2 NJCAA small forward by 247Sports.com. Omot signed with Baylor after seeing the family atmosphere that Scott Drew and his staff had created.
"When I got to Indians Hills, I was amazed by how many schools were there, and they were high major colleges," Omot said. "A lot of them liked me a lot and called me and texted me, and said to save their number. When I came on my visit to Baylor, I liked all the people and the players. I knew they were known for long, athletic wings. I fit that caliber and that's what drew me here."
Omot had to sit out his first semester at Baylor due to an academic issue but became a productive player off the bench for the Bears as last season progressed.
In Baylor's Big 12 opening win over Oklahoma last year, he pulled down nine rebounds in 16 minutes. He scored 14 points in a win over Texas, and continued to provide solid minutes as the Bears reached the Sweet 16.
Omot opened this season as a starter and scored 15 points in Baylor's opener against Central Arkansas and followed with a 12-point performance against Texas A&M-Corpus Christi. In the games leading up to the Big 12, he hit double figures four straight times, including a career-high 30-point outburst against Randall followed by a 22-point performance against Texas Southern.
But Omot began to struggle in Big 12 play as he hit just four of 12 shots in the first three games. He was replaced by redshirt freshman Mark Vital in the starting lineup, but didn't sulk and kept working to improve his game.
"Nobody is excited when their role changes, if you're a starter going to the bench," Drew said. "But at the same time it is what it is and how you handle it. He's done a great job handling it. Nuni has been real critical and real important to our success."
Omot rebounded with a 14-point performance at Kansas and a 23-point outburst at Oklahoma where he hit all six 3-point attempts and scored 23 points. He's been instrumental in Baylor's last two wins as he scored nine points against Iowa State and 14 against Oklahoma State.
For the season, he's Baylor's third leading scorer with a 9.9-point average while pulling down 3.9 rebounds and shooting a team-high 41.2 percent from 3-point range.
When his Baylor career is over, Omot hopes to get a shot to play in the NBA next season. But before then he wants to help the Bears reach the NCAA tournament. He's also looking forward to his mother and father possibly attending their first games at the Ferrell Center in the upcoming weeks.
Omot has often talked about his childhood experiences and admiration for his mother's sacrifices throughout his life with Lual-Acuil, who had a similar background as a refugee from Sudan.
"I'm very close to my mom and he's very close to his mom," Lual-Acuil said. "His mom is a very strong figure in his life and has done some incredible things to get his family to where they are now. That's kind of similar to what my mom did. I really admire his love for his mom and how much he cares about his mom, and how much he cares about family because that's how I am."
Pillow is thankful that her sacrifices have paid off with both of her sons receiving college educations and competing in sports. They've all come a long way since those desperate times in Kenya.
"I think God has been on my side to be able to support them," Pillow said. "It's not easy raising boys as a single mom, and I'm so proud of them."