At city-owned Cottonwood Creek Golf Course, private Ridgewood Country Club and semi-private Bear Ridge Golf Club, dozens of local residents, all maintaining appropriate space, were taking advantage of one of the last vestiges of open-air freedom in these uncertain times.
Most statewide golf courses have followed the same pattern as the golf layouts in Waco. Inside food services are closed, as are the post-round 19th hole and clubhouses, plus 18th green handshakes were out. Outside snack bars and beverage carts kept golfers well-fed and well-lubricated.
Waco's Larry Simms said he got an early phone call which spurred him into action.
"My friends called me and said they were going to play, and I didn't have anything else better to do so I came out with them," Simms said. "This is the safest place to be. I think there is only four of us playing so that seems pretty right. We meet requirements, right, Waco?"
Asked if he was worried about being on the open air course during a time of crisis, Simms said going outside with friends was the least of his worries.
"Am I worried? No, you've got to live your life," he said.
Waco's Jim Mathis got a similar call from a good friend about heading out to the golf course.
"I said, 'Great, but what are we going to do tomorrow?' He said we're going to play golf then as well," Mathis said.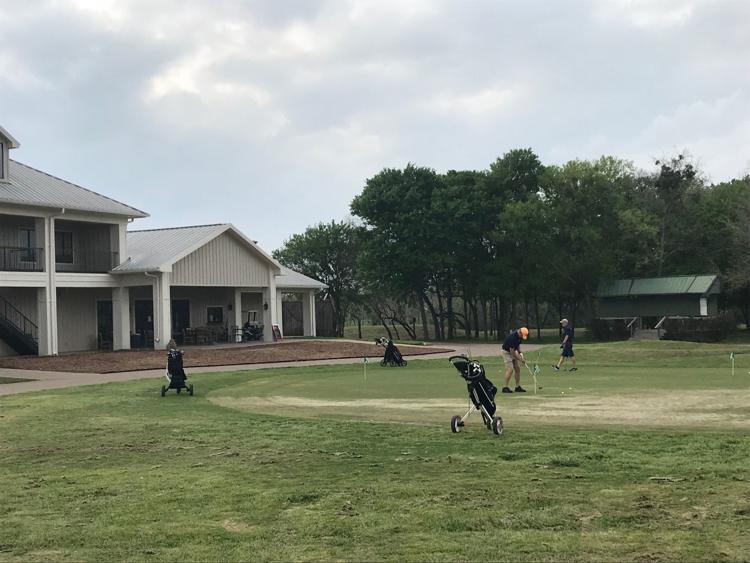 The practice range at Bear Ridge Golf Club, formerly known as Twin Rivers, was nearly filled with golfers, each spaced several feet apart, while working on their games and enjoying the weather and fresh air.
"We can be together. My son is learning the game and this was a good time to practice. There are no qualms about being outside with a few people," said Mike Lively. "We've got a good wind today and sunshine, it's time to learn the game here in Waco."
Added Mike's son Nathan: "I want to continue to get better, get a feel for the game, and be confident. I was not worried about (the virus). I've got fresh air and sunshine."
Cottonwood Creek golf director Kenny Duron said a high school tournament was canceled at his course this week, but nearly 80 golfers showed up to play in the afternoon, equally spaced over the 174-acre golf course, practice facility and short course.
Duron said he's seen an increase in younger players, who are out of school. Overall, golfers expressed their happiness with getting out of the house in what they deemed a safe environment.
"I think this is the safest place I can be," said China Spring resident Ron Peoples, just after finishing a Wednesday round at Cottonwood Creek. "I can't be in a bar, can't be in a restaurant, a gym, but I can come out here outdoors all the time, so why stop now?
"I don't have a worry at all. There are usually more people out here than this, but it's still a good number. I don't think people should be running scared, that's for sure. I really hope they don't take this away from us."
Other players agreed that a round of golf seemed like a worthy diversion from the house.
"It's a nice day. I'm enjoying it with my daughter who is new to the game, so she needed some work," said Waco's Brent Hubbell, who stood on the Cottonwood Creek putting green watching his daughter, Rhio, attempting to sink putts of various lengths. "I'm practicing social distancing. Being safe. That's the world that we live in now, right?"