Hundreds of athletes finished their endurance challenges by crossing the Suspension Bridge at the end of TriWaco on Sunday morning.
But few of them received a bigger cheer at the end of the race than the mother-son team of Madeleine and Keegan Harrison of Plano.
They started the TriWaco sprint course with Keegan, 11, riding in a raft that Madeleine pulled for the 400-meter swim. Keegan moved to a buggy for the bike leg and then a stroller for the run to the finish line. The Harrisons finished the TriWaco sprint race in 2 hours, 8 minutes and 7 seconds.
It was an impressive and admirable achievement for the Harrisons, but it's just part of their story.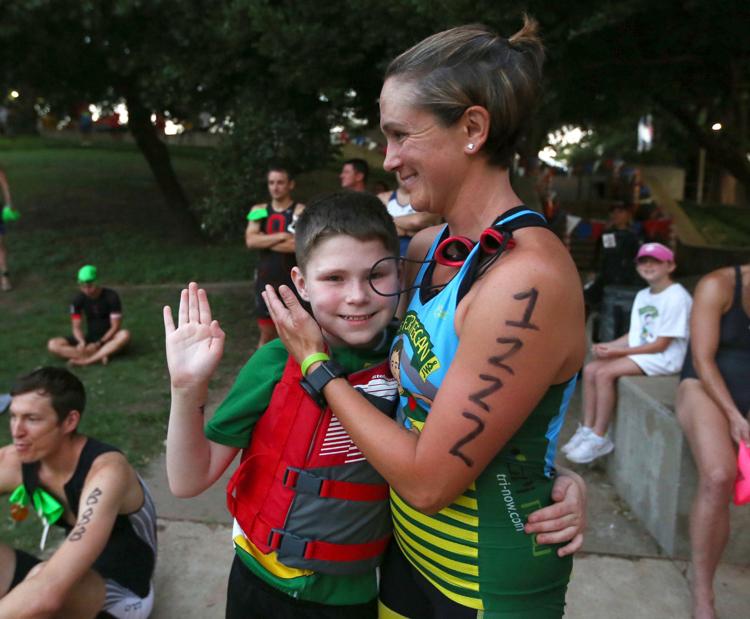 Keegan was born with a congenital heart defect and received a heart transplant when he was just seven days old, making him the youngest recipient of a new heart in Texas at the time. Since then, he has faced a series of health and developmental obstacles, but Keegan and his family have just kept going.
"We wanted to make sure that he knew that if we were doing something and he wanted to do it, we would make it happen," Madeleine Harrison said. "This is actually our second sprint that we've done as a team."
Madeleine Harrison, a 2001 Baylor graduate, has been running triathlons, marathons and road races for 20 years. As her children, Keegan and Audrey, 8, have grown up, they've enjoyed crossing the finish line with their mom at the end of road races.
But triathlons, being more intense, have different standards. So if Keegan was going to cross the finish line in TriWaco, he needed to go the distance.
"Really, I think the best thing for me is seeing how happy he gets when people are cheering for him on the course and he gets excited," Madeleine said. "He can get locked on to one particular thing. Like on the run today, he saw the sign that said, 'Follow me to the zoo.' So he didn't really want to finish the race. He got locked on to the fact that the zoo was right there, like, 'Mom, let's go to the zoo.' But so many athletes were cheering for him, that it really brought him back."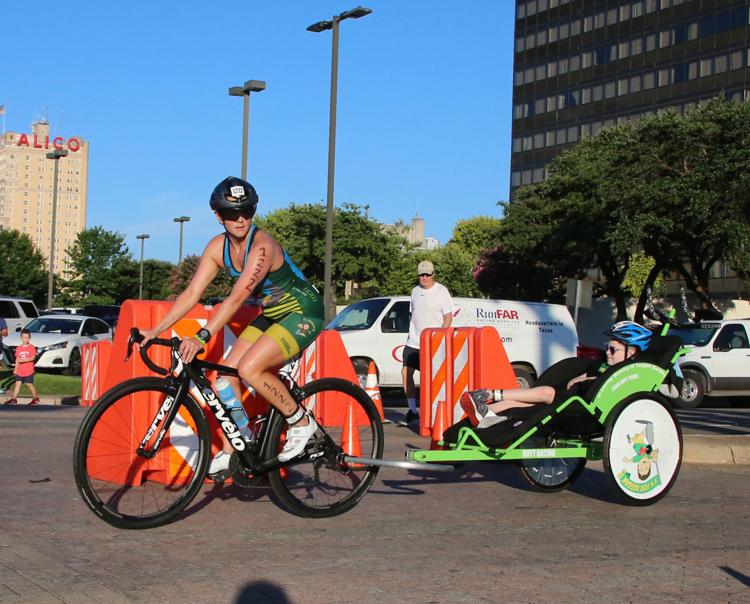 Keegan's racing stroller was emblazoned with the "Ks for Keegan" logo. Ks for Keegan is a nonprofit organization that teams with races to raise awareness of the need for organ donation.
"There's really few other places we can reach so many people," Harrison said. "Not only can we reach the athletes, but we can also reach the volunteers and the staff and everyone else. It's a really good way to spread the word."
It was a good day to race for the Ks for Keegan team and plenty of others on the course.
Lee Boyd of Woodway won the TriWaco Sprint Men's 35-39 division with a chip time of 1:13:30. He thought he might have beaten his personal record of 1:12, but it was a quality race nonetheless.
"It was a good day," Boyd said. "It was a good run. I was about 30 seconds faster than average on my run. The bike was good. The swim was hard. It had a current for half of it, it was a little stronger, I would imagine because of the rain last night. I swam yesterday and it wasn't bad, but today it was a little harder."
Boyd has now finished 13 triathlons to go along with 4 marathons and 15 half marathons.
"Sprint's my favorite because you can just go 100 percent, all the way out," Boyd said. "You don't have to pace yourself. "
About a half hour behind Boyd, former Major Leaguer Thomas Field finished his first endurance race of any kind. Field played football and baseball at Midway and Texas State before being drafted by the Colorado Rockies in 2008. He made it to the majors and played parts of four seasons with the Rockies, Angels and Rangers before retiring after the 2017 season.
Field said swinging a bat, taking infield and generally staying in shape for baseball didn't really prepare him for the triathlon sprint.
"This is a whole other level of athleticism," Field said. "The endurance part of this is unmatched. I really undershot the swim and how important it is to train for that."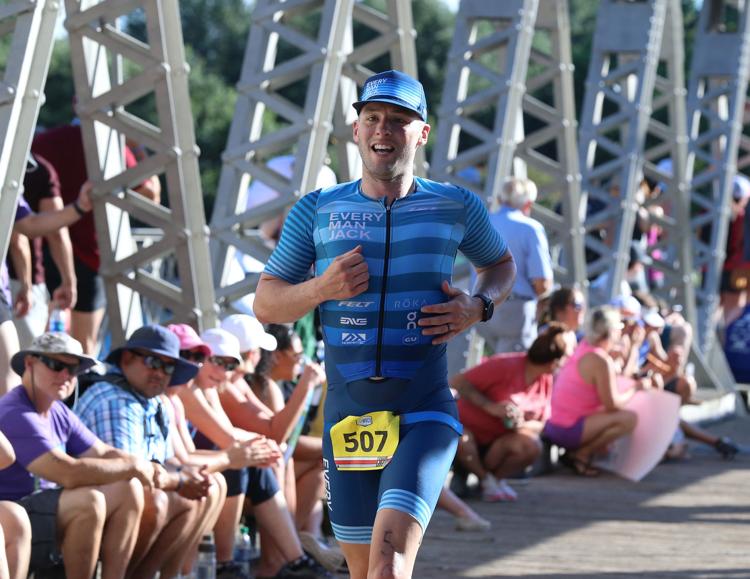 In the Olympic triathlon division, Benjamin Fuqua set a personal record of 2:03:38 to win the TriWaco overall men's title. He said he paced himself through the swim and back legs, then moved into first place in the 10K run.
"I passed (Peter Murray of McGregor) at like mile 2.5," Fuqua said. "He was behind me last year in third place and I knew he was a really good swimmer and cyclist. I knew I would probably have to run really fast to catch him. I ended up catching him in the hills in Cameron Park and tried to run as fast I could away from him."
Murray finished second at 2:07:46.
Rebecca Marrou of New Braunfels won the women's overall title with a time of 2:13:42, a little more than five minutes in front of Natasha Van Der Merwe of Austin (2:19:17).