Thursday's game was a showcase of explosive running backs between Teague and Troy, but the Trojans defense was able to keep the Lions from putting up points as Troy was victorious, 44-17, at WISD Stadium.
Teague took the ball to start the game which saw halfback Nemier Herod pick up yardage for the Lions with a 61-yard carry. The drive ended up stalling with Teague earning the first points of the game thanks to a 30-yard field goal for Uriel Medina.
Troy would have a chance to respond as they took over on offense. The Trojans leaned heavily on running back Zach Hrbacek, a sparkplug for the team accruing 186 rushing yards in the first half alone. Troy quarterback Ben Presley scored on a quarterback sneak that gave the Trojans the lead as they responded to the early Teague field goal.
The lead for Troy was short-lived as Teague wide receiver Drew Satterwhite took the ensuing kickoff 76 yards to the house earning the Lions the lead. The Teague defense came up with another big play as the they found a way to block a Troy field goal that would have tied the game.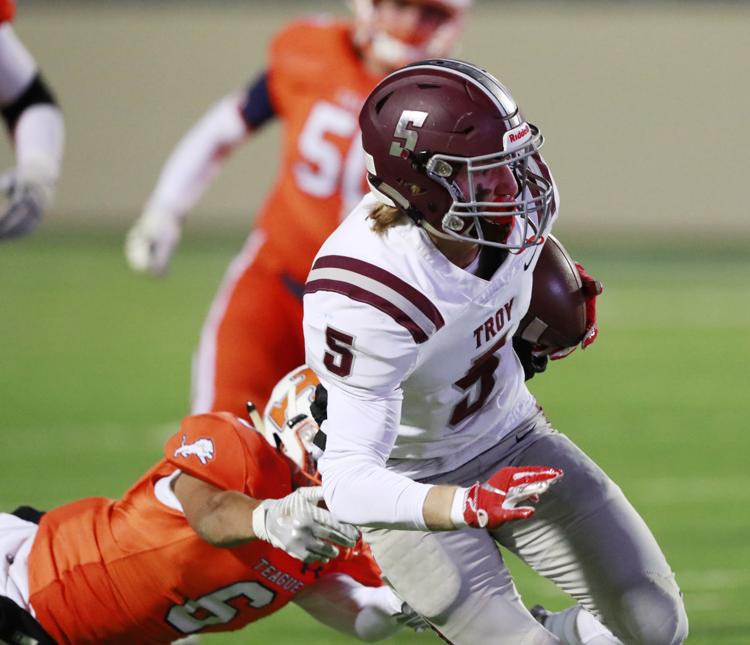 Troy's defense responded with an impactful next play as Tyler Jarolik intercepted a pass and took it 29 yards in for a score. The Trojans added two more touchdowns by Hrbacek, who caught a pass from Presley for a 39 yard score and then took one in with a 63 yard scamper giving Troy a 28-10 halftime lead.
The Trojans opened the second half with another touchdown on their first drive as Presley found Beau Workman from 30 yards out. Teague was unable to find a way to cut the into the deficit, and Troy capitalized on their next drive as back up tail back Xavier Hernandez covered 32 yards for another Trojan touchdown.
Teague was able stop the bleeding momentarily as they strung together a drive that ended with Satterwhite catching a five yard touchdown pass from quarterback Jake Callahan. Troy's offense remained explosive even in the fourth quarter, but Teague's defense continued to give it their best effort forcing a turnover on downs the following drive.
All the momentum the Lions had quickly faded as Troy's Sam Jones was able to snag an interception, which resulted in the Trojans adding more points to the scoreboard thanks to a Josh McKissick 20-yard field goal. Those would be the final points of the night.
The Troy Trojans will meet the Crockett Bulldogs in the area round of the UIL 3A Division 1 playoffs next week at a site and time to be announced after the Bulldogs shut out Anahuac, 49-0, in Conroe on Thursday night.