AUSTIN — It was a mad scene once Kermitria Ward's last strikeout zipped into Kelley Schaefer's glove for the final out.
There was a dogpile, dancing and plenty of joyful embraces.
In the middle of the championship milieu was Sherry Rogers, no longer attempting to hold back the flood of emotions damming up since she announced her retirement from the Midway softball team earlier this year. The Midway skipper with more wins than any other coach in Texas softball history ended her career perched on the mountain top.
Win No. 486 may have been her last, but it was undoubtedly one of the sweetest.
Kermitria Ward pitched a no-hitter from the circle Saturday, and she drove home the winning run in the top of the eighth inning to hand Midway a 1-0 Class 4A championship game victory over Magnolia at McCombs Field.
The state title is Rogers' second with Midway (36-5-1), the other one coming in 1998. On the eve of her retirement, which was coming after the game win or lose, her second state title was the perfect ending to a storybook career.
"I've been to the movies a lot, and I haven't seen (a better story). Maybe Blindside; that was pretty amazing," said Rogers, who patrolled Midway's third-base line for 18 years. "But other than that, this is the greatest way to finish. Oh my gosh, what a script."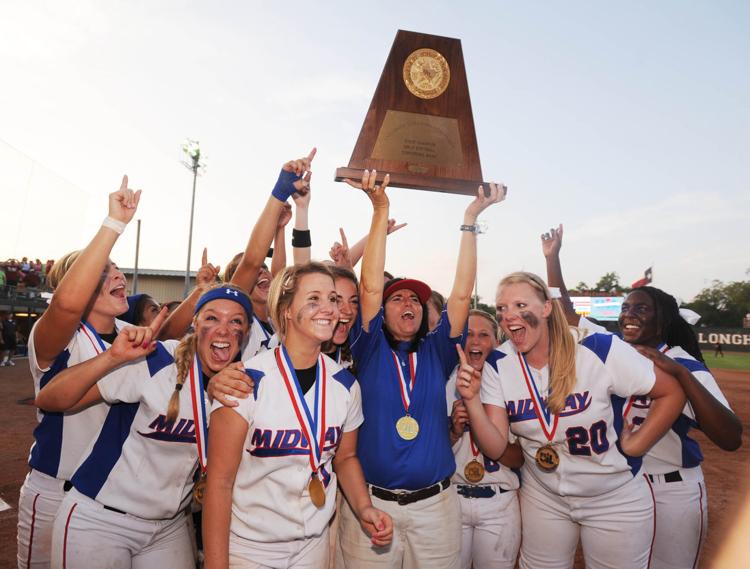 Much of it was authored by Ward's do-everything performance against Magnolia (33-13), which earned her the tournament MVP award. Her enigmatic rise ball was particularly sharp Saturday, and she ran her season record to 30-1 by going eight superb innings and striking out 15 batters. She only faced 27.
Her no-hitter was the 11th in the history of the UIL state softball tournament, and the first in 4A since 1997.
"It was not easy," Ward said. "We had to think about the pitches we were throwing, and we had to throw them. I couldn't have done it without the defense, they were great, and we just had fun out there."
In essence, Ward scrabbled together one of her best pitching performances and accounted for the lion's share of Midway's offense.
She had two of the team's four hits, and her RBI to left center in the eighth set off the Midway cheering section in loud celebration.
The game slogged through seven completely defensive-minded innings before Ward's theatrics. Finally, in the eighth inning, Midway got a break.
Sydney Watson drilled a sharp grounder to second, but Magnolia's Emily Cox bobbled the ball and Watson took first base, Midway's first base runner since the fourth inning. A batter later, Monique Miller reached first thanks to a ball that flew past the first baseman, and the runners advanced to second and third base with a single out.
That flipped the lineup back to the top of the order, which brought up Ward.
"I just swung," Ward said. "I wanted to be the person in that position. I wanted to be the one that got the winning run."
After fouling back Adair's first offering, she got a meaty pitch — no small feat against Adair — and slapped the second one into left center, which fell in front of center fielder Victoria Birdwell. To be sure, Watson waited on it to fall at third base before joyously galloping home.
"At first I was like, 'Got to tag up, got to tag up,' " Watson said. "But then I saw it and I knew that it was a hit, and I just took off. I wanted to hug Kermitria and just run over to her, but I couldn't."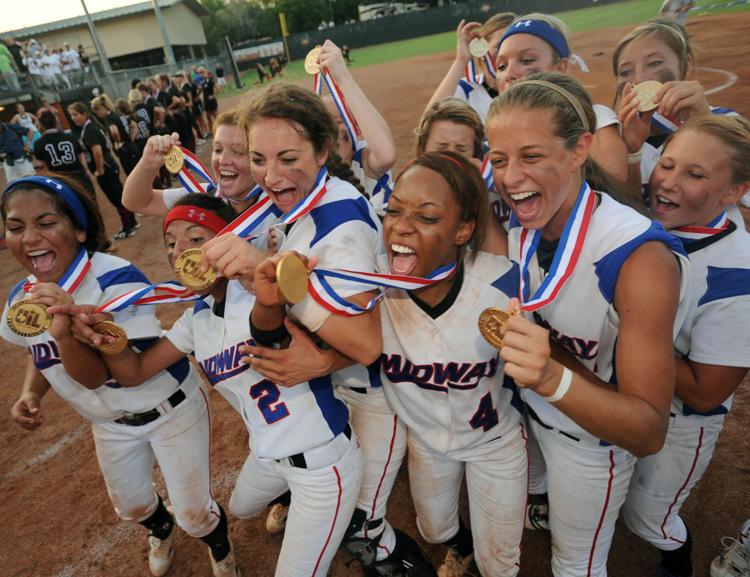 That time was soon in coming. Ward mowed down the side in the bottom half of the eighth, and she finally struck out Jackie Baimbridge to start the celebration. The Pantherettes mugged for the cameras after the game and accepted their gold medals with glee.
"I was getting out of the kids' way in the dugout, because I knew they were going to be running out," Rogers said. "I'm someone who takes it one at a time, and when we got that first out I could taste it a little bit, I'm not going to lie."
Ward and Adair turned the game into a mostly uneventful affair from an offensive standpoint. From the fourth through the sixth innings, they combined to set down 17 straight batters, and there were just nine total base runners all night. The extent of Magnolia's offense came off the scraps left by Ward's three walks. In the fourth inning, a walk to Ariel Hovis put a runner on with one out, and a sac bunt moved her to second. It was the first and only time the Lady Bulldogs got a runner that far.
For Rogers, the countless close games and extra-inning nailbiters the team endured throughout the playoffs was a blessing in disguise.
Saturday's game marked the seventh one-run game in 11 playoff games this year. Every one of those were wins.
"Our region helped us, thank you region," Rogers said. "They pushed us the whole way. Our district pushed us."
It's almost enough to make Rogers want to come back. Almost. "I'll come back to watch," Rogers said. "I can't write it any better than this."