During the 27 years he spent at Fox Sports Southwest, Jon Heidtke helped oversee coverage of all manner of sports, from the NBA to Major League Baseball to the NHL.
Yet Texas high school football still holds a prominent place in his heart.
Heidtke was one of the driving forces who helped make the dream of a single-site Texas football state championship event a reality. It took many years to make it happen, but today the UIL state football championships draw as many as 200,000 fans over the course of 12 title games, which are all televised with high production value by Fox Southwest.
On Saturday, Heidtke's efforts will be rewarded with induction to the Texas High School Football Hall of Fame, as the 2019 Dave Campbell Contributor to the Game.
"It was a shock (to get that news), and I'm extremely humbled," Heidtke said. "As a little kid in Taylor, Texas, watching the Ducks play high school football, to think of yourself in a Hall of Fame someday would have been unimaginable. … And what an honor to be associated with Dave Campbell. When you look up in the dictionary what it means to cover Texas high school football, his picture is there."
Heidtke's family moved from Taylor to Amarillo during his childhood. He said that his athletic endeavors were never anything to write home about – "There weren't a lot of coaches looking for 5-7, 130-pound athletes," he said – so he opted to explore sports from the media side of things instead.
"I worked for the student newspaper, and I grew up admiring Putt Powell (of the Amarillo Globe-News)," Heidtke said. "Then one piece I was able to do in high school, I was able to interview and chat with Putt, and that just solidified this idea of covering sports."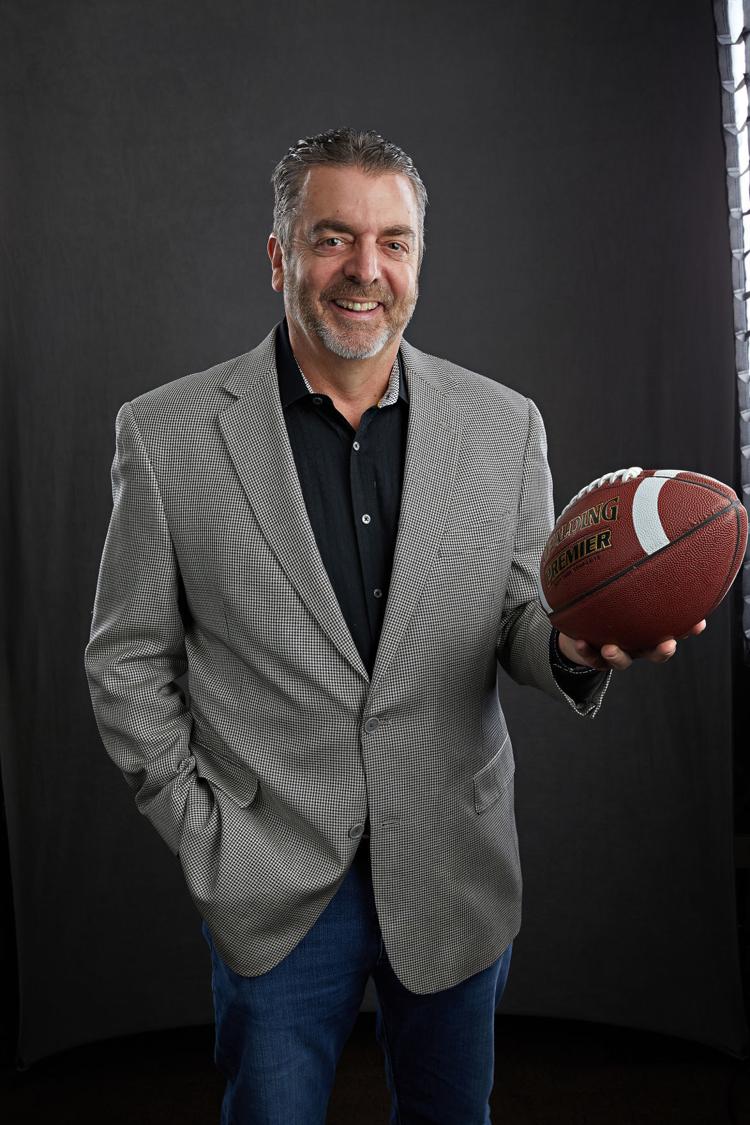 Heidtke enrolled at Texas A&M after high school, pursuing a broadcast journalism degree. But he continued to chase the glow of Friday night's lights as a freelancer, or stringer, for The Eagle in Bryan-College Station.
"Robert Cessna hired me to cover high school football games, and I remember I'd drive around to little towns in the area like Normangee and Bremond, and it was so much fun to be part of the high school football experience," Heidtke said. "So whenever I see Cease, I tell him it's because of him I got into this."
Heidtke remembered at one small-town game where an extra point kick sailed over a fence into a cow pasture, sending townfolk scrambling with flashlights into that field to try to find the ball. Another time Heidtke was set to drive to Normangee to cover a game and asked Cessna where the football stadium was located.
"Cease said, 'Just follow the lights,' and he was right," Heidtke recalled.
After graduation from A&M, Heidtke had a stint calling games for the Beaumont Golden Gators, a minor league baseball team that won the Texas League in 1983. Later, he moved on to television positions in St. Louis and Chicago, and also had a stint working for ESPN.
In 1989, a man named Joe King sought out Heidtke to see if he'd be interested in joining what was then known as HSE, a regional cable TV network that provided coverage of several Texas pro teams.
"The rest is kind of history," Heidtke said. "I've been back in Texas ever since."
Heidtke, as President and General Manager, helped HSE, which re-branded as Fox Sports Southwest in 1996, grow into one of the more successful regional sports networks in the country. In 1992, he brokered a deal with the UIL to provide coverage of various Texas high school sporting events, and began working toward his vision of bringing all the state championship football games to a single destination.
"To me, Texas high school football in the 1980s still had the feeling of having a certain mythology, a lore, about it," Heidtke said. "And when I'd travel around to other states, like you'd go to Indiana, and you'd see a single site for basketball. Same for Kentucky. And I just always thought, how cool would it be to have all the state football championships under one roof? The crowds would be spectacular."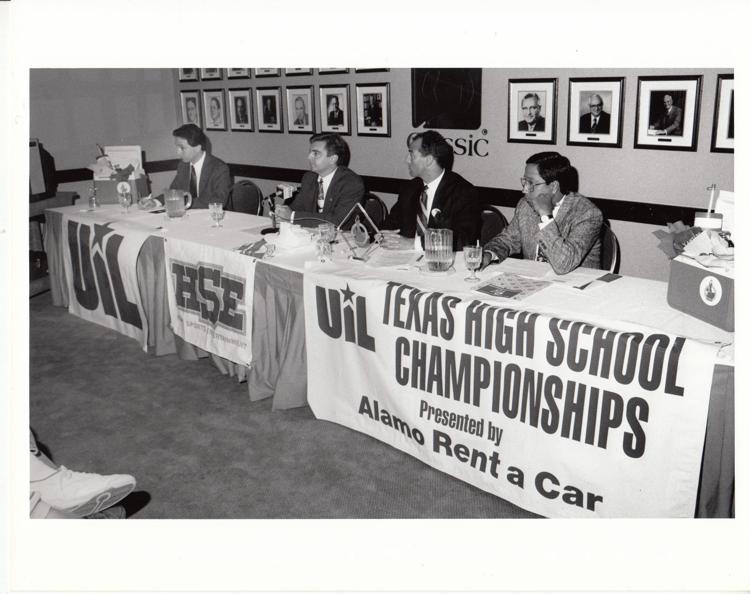 Heidtke soon discovered that getting the Texas high school coaches on board with the idea would be tougher than he thought. Many coaches were married to the old way of picking a neutral site right after the state semifinal game.
"I remember a series of meetings where I just felt like I was banging my head against the wall," Heidtke said. "I just didn't think they were seeing the big picture. I tried to tell them, just think if your fans knew where the game was going to be at the start of the year. Theoretically, you could have even bigger crowds, with more revenue."
At one point, Heidtke thought the whole venture might be dead in the water. He remembers encountering Donnie Duncan, a former Big 12 associate athletic director, following one meeting with the THSCA, and Duncan noticing that Heidtke looked down on his luck.
"I kind of lamented my story, how it was frustrating that so many couldn't see the big picture," he said. "And Donnie threw his arm around me, gave me this fatherly smile and said, 'You can try to tell football coaches something, but you can't tell them much.'"
Once sponsors started getting on board, the idea picked up steam. Heidtke traveled to Orlando, Fla., for a sales pitch with Mark Cannon, the Vice President for Alamo Rent-a-Car.
"We were kind of giving him the slow pitch, hadn't even finished the opening preamble, and he said, 'I love it. It's like wrapping our company with the state flag of Texas.' In all my years, we never had a pitch that easy," Heidtke said.
Other sponsors, like Ford and Dairy Queen, followed. Eventually, Class 5A (now 6A) agreed to a single site state title game, and once coaches in other classifications saw the success of how it worked, it opened the door for the single site event the UIL utilizes today.
In 2007, the THSCA presented Heidtke with the Distinguished Service Award, the organization's highest honor outside of the coaching profession.
In 2016, after 27 years at Fox Sports Southwest, Heidtke took a position with Learfield/IMG College Sports, working with the company and Texas A&M on various marketing and business ventures and partnerships. His three children are A&M grads, so he loves being back in College Station.
But every December when the UIL state football games roll around, Heidtke can't help but tune in and watch with pride.
"There is certainly some gratification there, that the vision grew to the showcase it is today," he said. "It worked better than I could ever have imagined."
Few people have been more integral to Waco sports history than Ken Casner.
To this day, more than 35 years later, the 1983 Daingerfield team is still spoken about with reverential tones in East Texas.
Coahoma, Texas, is a small town of less than a thousand people sitting on Interstate 20, midway between Big Spring and Colorado City. The Dair…
At a recent NFL event in New Jersey, Ken Houston found himself sitting next to his friend "Mean" Joe Greene. Houston was wearing the Pro Footb…
These days, a lot of people like to talk about how hard they work.
When Stephenville won its first two Class 4A state championships in the early 1990s, there wasn't a more versatile player on the field than Ja…
Eighteen out of 22. That's the record of Scott Phillips, Texas high school football coach. In 22 years of coaching, he took his teams to the p…
As 34-year-old Adrian Peterson prepares for his 13th NFL season, his nickname "All Day" becomes more and more fitting with each sunrise.