When it came to handling the clutch, Maddison Kettler proved automatic.
No hitter in Central Texas shifted her stick into drive in those pressure-packed moments any better than the West senior. If the Lady Trojans needed a big hit, they felt assured that Kettler would produce when it was her turn at bat.
"She really had a lot of clutch hits for us," West coach Guyla Smith said. "I think about that Malakoff game. Little River was also another clutch game. Not that the rest weren't, but she always came through in those clutch situations. When she didn't get them, she'd come around the next time and get it. She'd make that adjustment."
Now, Kettler's reliable-as-the-sunset bat work while propelling the Lady Trojans to their first state championship has garnered her the Tribune-Herald's Super Centex Player of the Year honor.
Kettler first carved out her niche in West's batting order in 2013 as a freshman. But she has steadily advanced her talents ever since, and this year she torched opposing pitchers for a .645 average, 51 runs scored, five home runs, 49 RBIs and 22 stolen bases. Her slugging percentage was over a thousand.
Plus, as Smith noted, Kettler routinely produced the Rolex hit — the one both timely and dazzling.
Kettler said she usually didn't feel nervous in such situations, given the preparation she had put in beforehand.
"I'm not really worried about that," Kettler said. "I put in the work to do the job. I know my team has helped me to get in that situation and they rely on me. I just trust my stuff."
The work started before she could even spell the word softball. Basically from the time she could walk, Kettler had a bat or ball in her hand.
In addition to her coaching duties, Smith also works at the middle school for West. She recognized Kettler's unique fire and work ethic when she was a sixth grader.
"Maddison has had me for six years. Poor thing," Smith said. "It's been fun watching her develop. From the get-go, she wanted to go to Baylor. … But 24-7, eat, sleep, drink it, that's what she does. She's worked her butt off to get where she's at."
More so than in previous years, Kettler spoke loudly this season while carrying a big stick. Smith said she "pulled the senior card," and that leadership made a significant impact in West's run to the Class 3A state title.
"I definitely sensed it. It was my last year, I was going to give it my best," Kettler said. "A little more leadership and take-charge (attitude) with the other seniors."
In the state title game, Kettler smashed two hits and drove in three runs as West clobbered Colorado City, 11-0, in a five-inning run-rule victory. The moment solidified a season-long quest for the Lady Trojans. But in the initial seconds after the final out was recorded, Kettler said she found herself in a delirious — but giddy — daze.
"During the moment I was in shock, knowing we finally did go to state and we won it," she said. "It's just an incredible feeling. Not many can say what it feels like."
Kettler will play for Baylor next year, as she's been committed to the Lady Bears since before her freshman season for West. She is anxious to begin what she calls the "next chapter."
But she also won't soon forget the history that she and her West teammates scripted this year.
"Just the good times, the friendships I've created there," Kettler said. "Being able to have fun and play softball. It's a great town and I'm proud to be a part of it."
Coach of the Year: Guyla Smith, West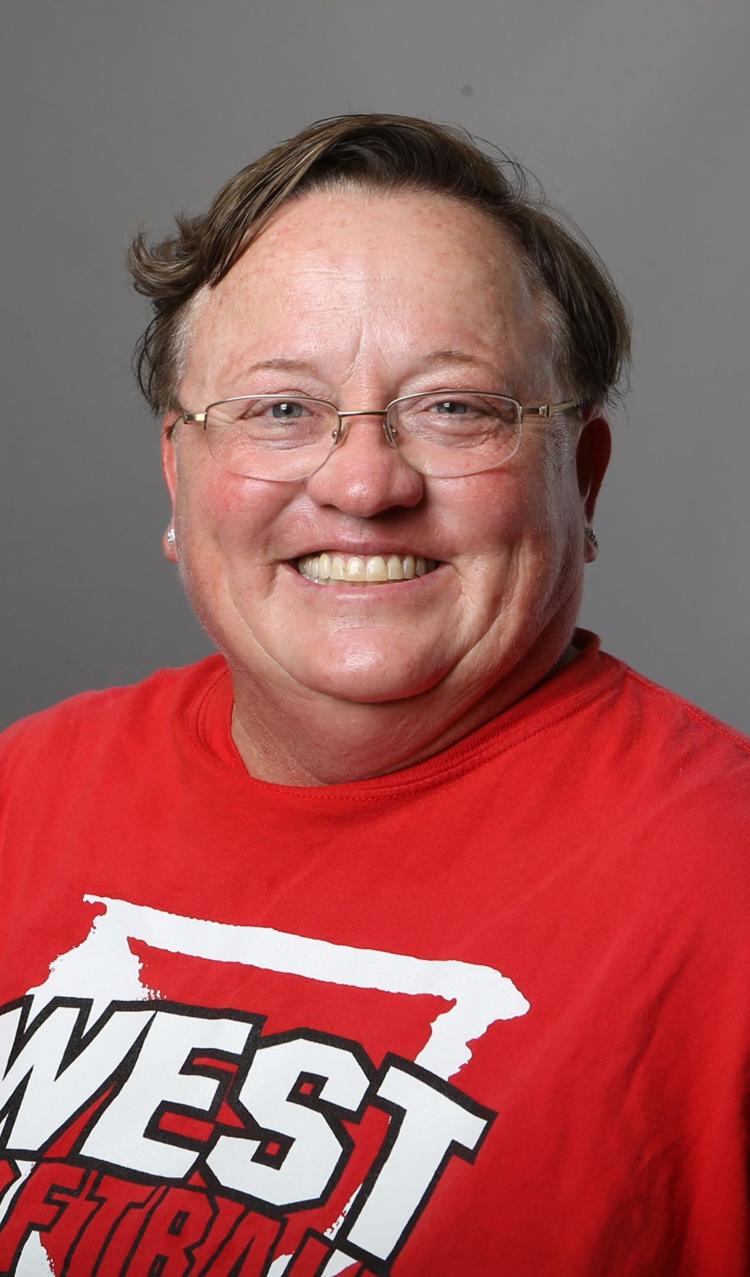 Early in the season, when Guyla Smith broke her West team out of huddles at practice, the players offered up a prophetic message, albeit in hushed tones.
"One of our goals is obviously to win district, to go on from district," Smith said. "That particular group just said, real quietly, they'd say, 'State.' After I'd break them out, they'd say, 'State.' Then they'd look at me to see if I'd say anything. I didn't, I was like, 'Let's roll with it. Heck, yeah.'"
Eventually, the whispers gave way to screams of joy. West finally broke through and won it all in Smith's sixth trip to the state tournament. Along the way, Smith became the state's all-time leader in softball coaching wins, claiming her milestone 575th victory in February.
Senior shortstop Maddison Kettler said that the team wanted to win it for Smith even more than themselves.
"It was about 99 percent for her," Kettler said. "She had put us where we were. We couldn't have done it without her."
In her 26 years as West coach, Smith has fielded an array of teams she believed were fully capable of grasping the UIL's most prized hardware. She had that same feeling about this year's group, but found herself constantly evaluating their true potential.
At the start of the year, the Lady Trojans sliced through the Mansfield tournament like a nuclear-powered weed eater. Later came the Midway tournament, where West suffered close losses to state-ranked, higher-classification foes like Robinson and Midway. A 1-0 loss to Class 6A Belton and the Lady Tigers' Super Centex ace Sidney Holman also signaled to Smith that her bunch had something special brewing.
"In the back of your mind, you're going, 'We're pretty good,'" she said.
But Smith knew that it would require more than talent. As the season progressed, every piece settled into place. A lack of dugout drama helped. Pitcher Danielle Nors took her command to another level. The team's hitters, led by Kettler, offered ample run support, including 17 double-digit scoring outings.
Once West defeated Santa Gertrudis Academy and its hard-throwing hurler Saidi Castillo in the state semifinals, the Lady Trojans could practically taste the Gatorade bath. In fact, Smith even predicted a run-rule in the finale. She had scouted the team's state championship foe Colorado City, and was confident that her team could pop a big number on the scoreboard.
Smith tried her best to act nonchalant when West finished off its final win. Then she thought better of it.
After ending her season with a loss 25 times before, including five previous trips to state, she figured the time was right to cut loose.
"It's kind of funny, the picture in the paper of me (raising my hands). I was like, 'OK, we won it, I'm going to be as cool as a cucumber," Smith said. "I'm going to be cool and just walk around.' Then it was like, 'No, I'm not! Yeah!' I went crazy. We had finally won it.
"Let's celebrate, what the heck. There's nothing about being cool with that."
Newcomer of Year: Shelby Carter, Robinson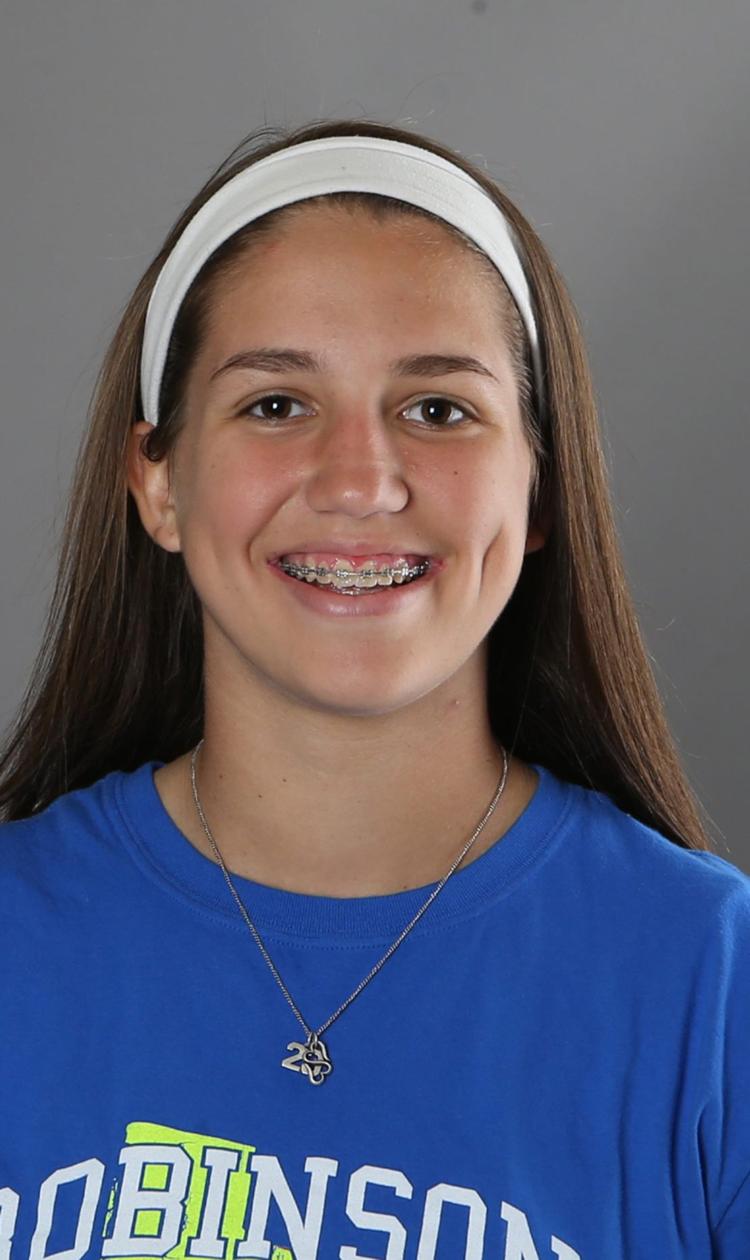 Patience is a virtue not usually associated with high school freshmen.
Robinson's Shelby Carter is different that way, though. Her discerning eye and patient approach at the plate paid off mightily in her first varsity season, as she hit .559 as the leadoff batter for one of the most potent hitting attacks in the state.
"I was kind of nervous at first, but then I realized it's just like the regular travel ball I play or the ball I've played before," Carter said. "I was kind of surprised I did that well."
Robinson coach Robert Cervenka described Carter as far more "fundamentally sound" than the typical freshman.
"She knows that swinging at a lot of balls out of the strike zone won't help her chances," he said. "She knows her strike zone. She's just a gamer."
---
2016 SUPER CENTEX SOFTBALL TEAM

FIRST TEAM

Pos
Player
Cl
Avg
RBIs
School
C
Bethany Edwards
So
.461
43
Belton
IF
Taylor Ellis
Sr
.547
48
Midway
IF
Elexus Trenkle
Sr
.612
59
Hillsboro
IF
Kristen Green
Jr
.508
61
Robinson
IF
Maddison Kettler
Sr
.645
49
West
OF
Jordyn Baugh
Jr
.485
62
Robinson
OF
Rhein Trochim
Jr
.483
21
Midway
OF
Logan Lacina
Sr
.509
29
Crawford
UT
Rebeca Fajardo
So
.440
25
University
DH
Cassie Pavlas
Jr
.424
54
West
Pitchers
Cl
W-L
ERA
School
Hannah Wolfe
Sr
28-2
1.20
Robinson
Ashton Chambers
Sr
20-5
1.72
Crawford
Kylee Benton
Sr
16-4
1.66
Reicher
Sidney Holman
Sr
29-4
0.46
Belton
Danielle Nors
Jr
35-5
1.07
West
Lizzie Donaldson
Sr
17-5
1.42
Bosqueville
Player of the Year: Maddison Kettler, Sr, West
Coach of the Year: Guyla Smith, West
Newcomer of the Year: Shelby Carter, Fr, Robinson

SECOND TEAM

Pos
Player
Cl
Avg
RBIs
School
C
Morgan Payne
Sr
.347
31
Lorena
C
Kayley Hale
So
.545
44
Moody
IF
Samone Jennings
Sr
.540
44
Bosqueville
IF
Avery Drake
Fr
.504
28
Belton
IF
Erin Kadlacek
Sr
.528
19
Riesel
IF
Joani Kohlscheen
So
.466
46
Crawford
OF
Harley Koerth
Fr
.494
34
Robinson
OF
Haley Moore
Jr
.427
19
Midway
OF
Aaliyah Lewis
Sr
.356
27
Bosqueville
UT
Carigan Suggs
Sr
.376
41
West
DH
Hillaree Schwartz
Sr
.642
34
Frost
DH
Kayla Haberman
Sr
.795
33
Vanguard
Pitchers
Cl
W-L
ERA
School
Kathryn Reed
So
11-4
2.04
Axtell
Savanah Martinez
Sr
—
1.68
Riesel
Jae Moore
Sr
17-3
0.56
Frost
Chandlar Coskrey
Sr
16-1
1.57
Midway
Kathryn Smith
So
—
2.97
Vanguard

Honorable mention

Brittany Frillou, Axtell; Kaitlyn Jones, Destynie Moore, Caleigh Robinson, Kendall Mraz and Meredith Lusby, Belton; Jessie Ramirez, Bosqueville; Reagan Reed, Connally; Ashley Johnson and Cambree Aguirre, Crawford; Ashley Weatherford, Hamilton; Morgan Ling, Aaliyah McCullen and Sophie Wideman, Midway; Ana Watson, Katie Guffey, Jailene Gonzales and Maddy Gonzales, Reicher; Kaylee Wood, Riesel; Tatum Stephens, Natalie Hoelscher and Dani Denger, Robinson; Ariana Perales and Ashley Estrada, University; Gaby DuPree, Kendee Hilliard and Brooke Haberman, Vanguard; Mia Pokudla, Emeri Eubanks and Julia Wernet, West
---
First-team profiles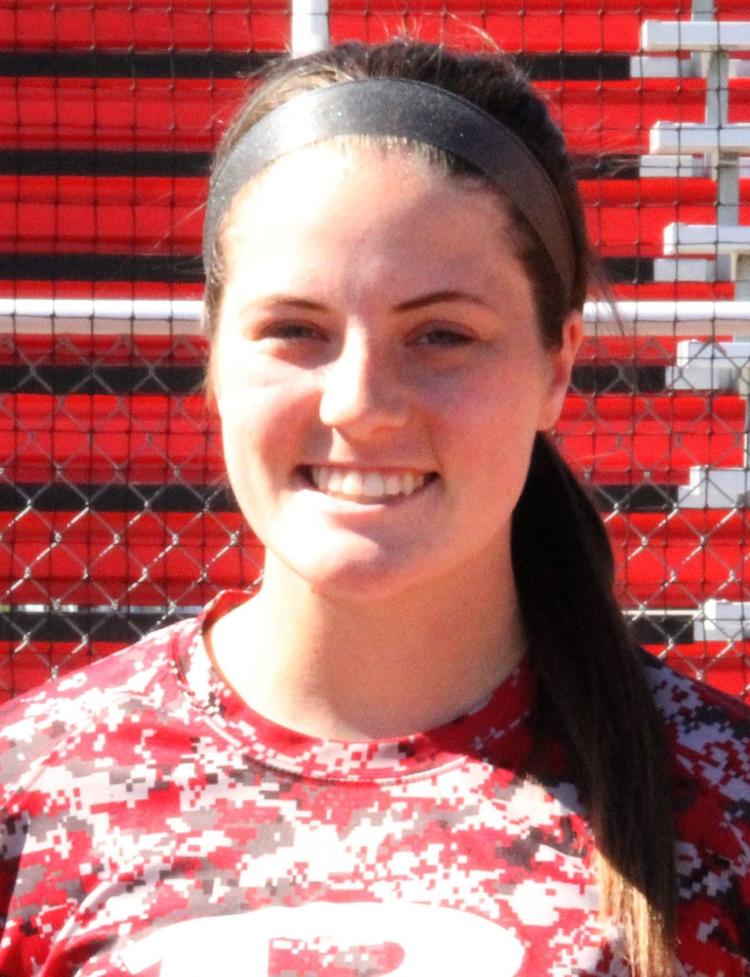 Sophomore slugger belted 10 HRs, 43 RBIs for district champs.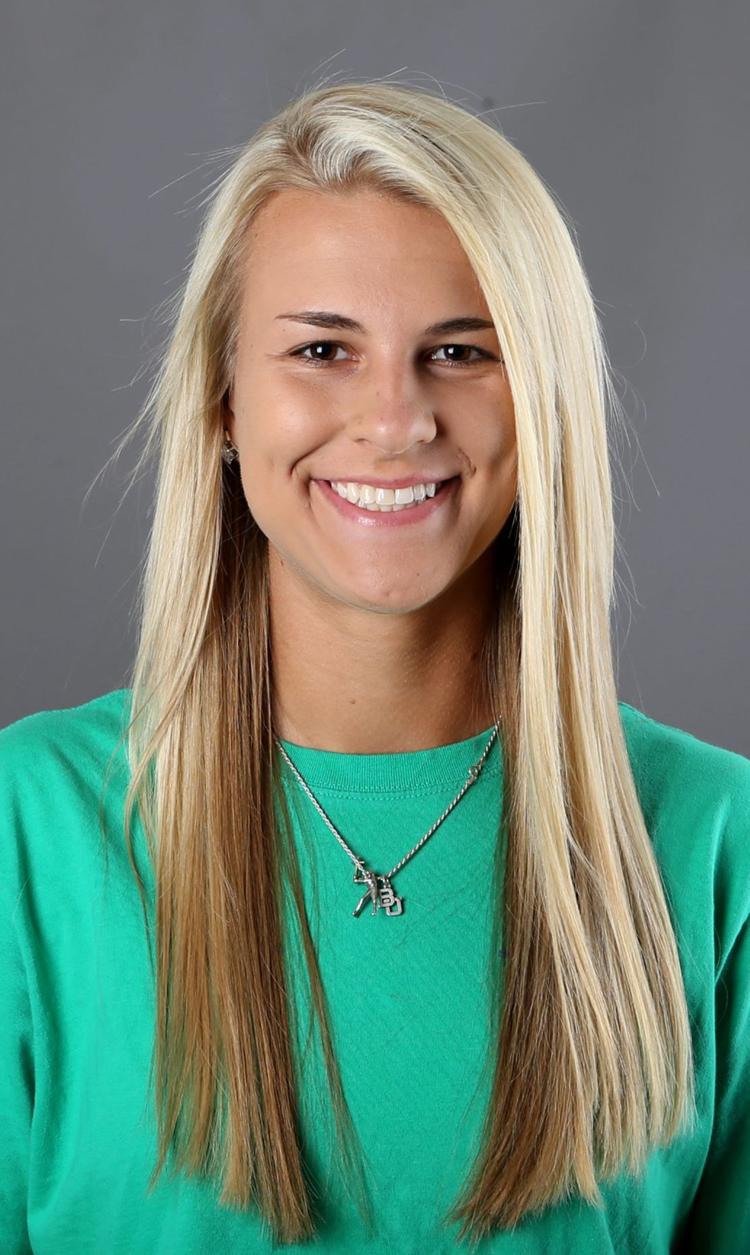 Baylor signee won 12-6A's top defensive award, also hit .547.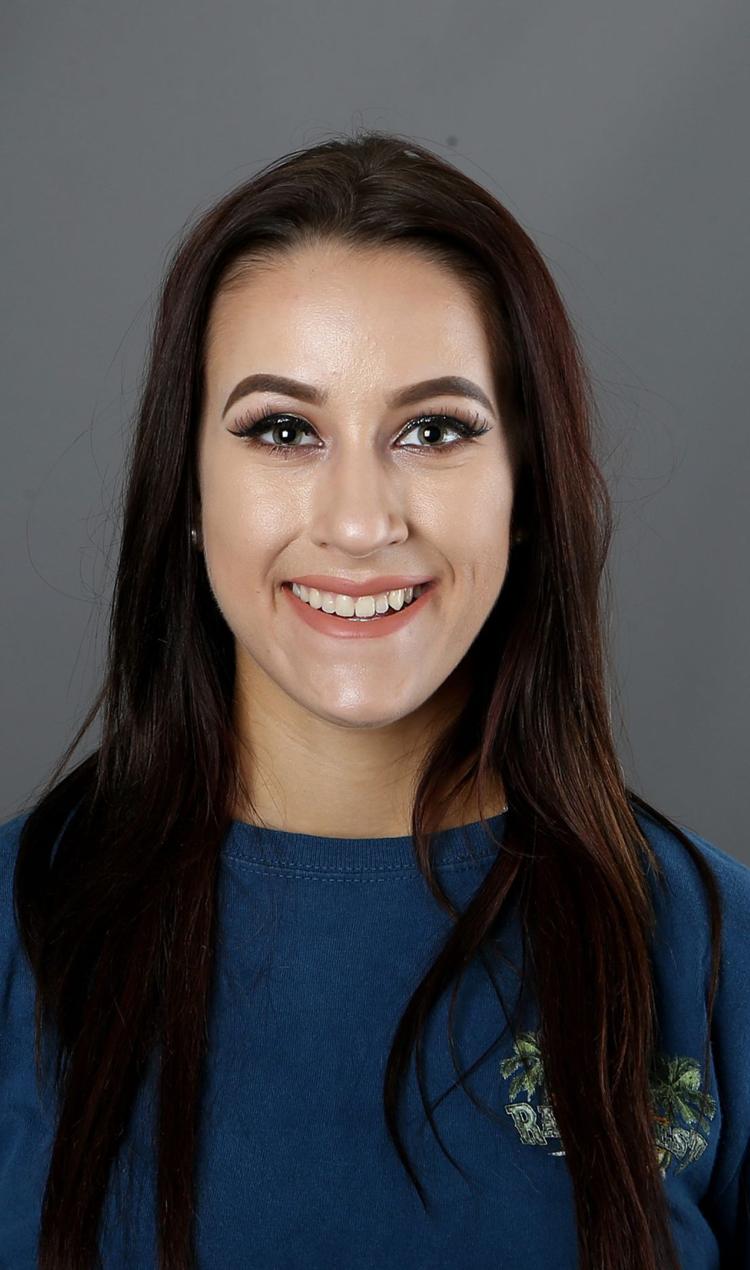 District offensive MVP popped 11 homers, drove in 59 runs.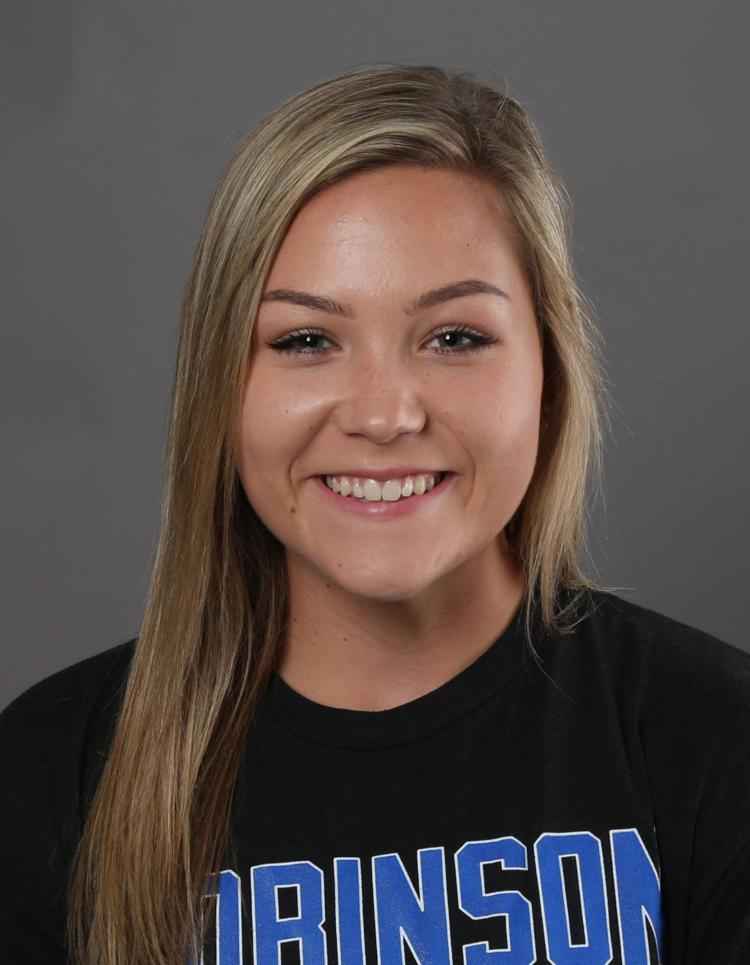 Rock-solid batsmith tagged 8 homers, also fielded at .998 clip.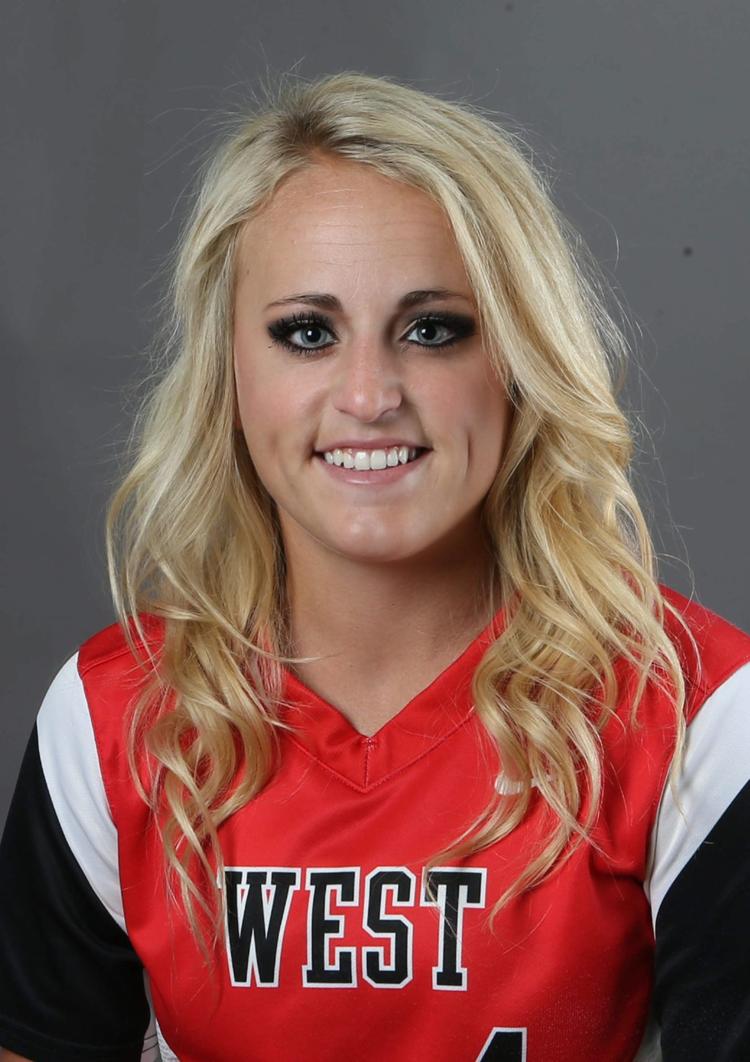 BU-bound slugger rapped 69 hits for state champs.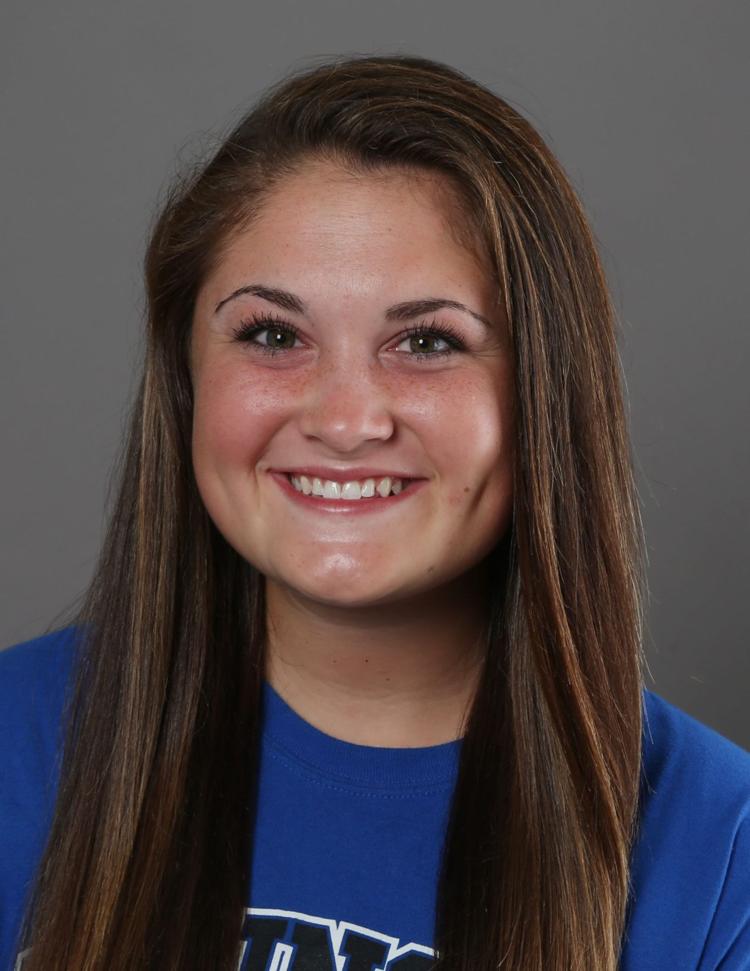 Baugh didn't make an error in center, also drilled 7 home runs.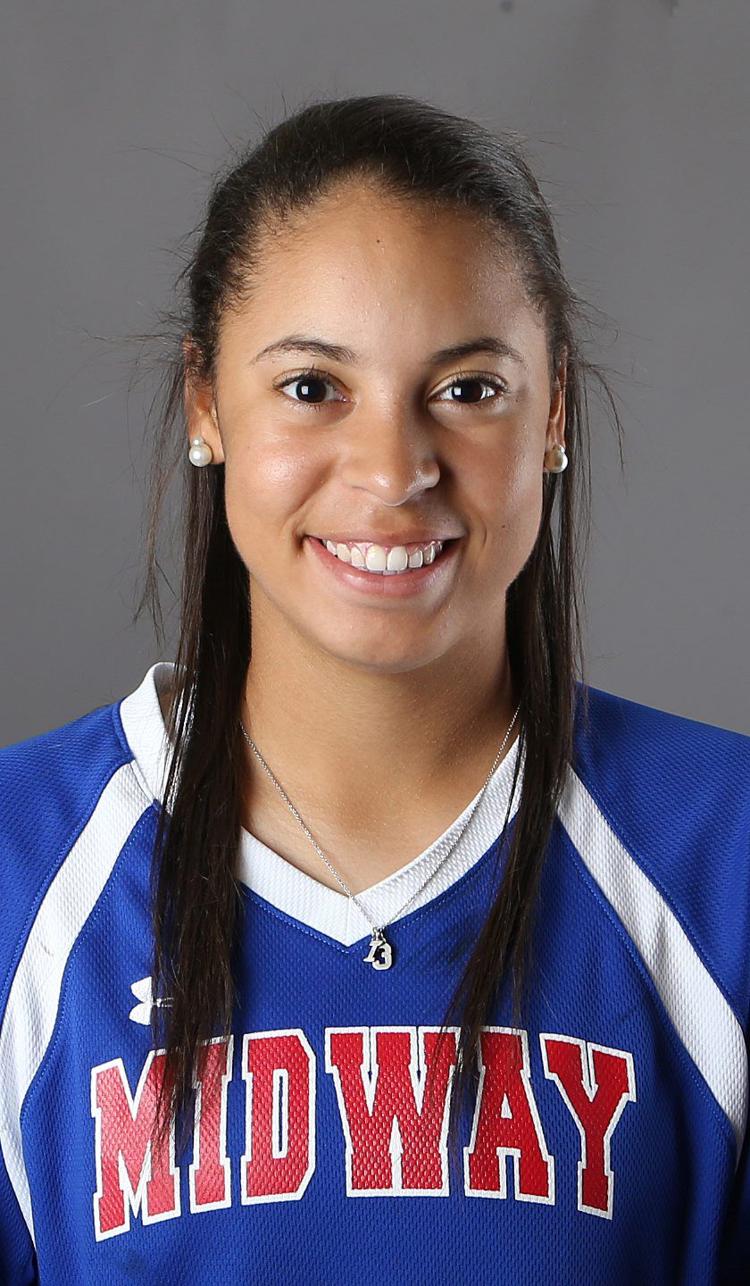 Illinois commit blazed on basepaths, with 30 SBs, 44 runs.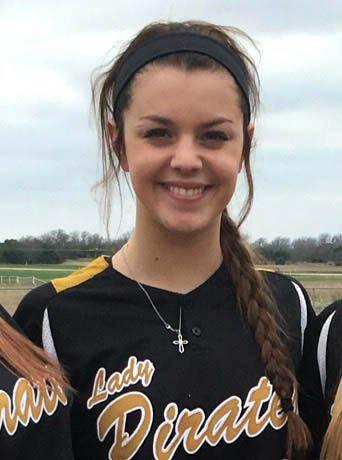 Table-setter for Pirate offense hit .509 with 43 runs, 14 steals.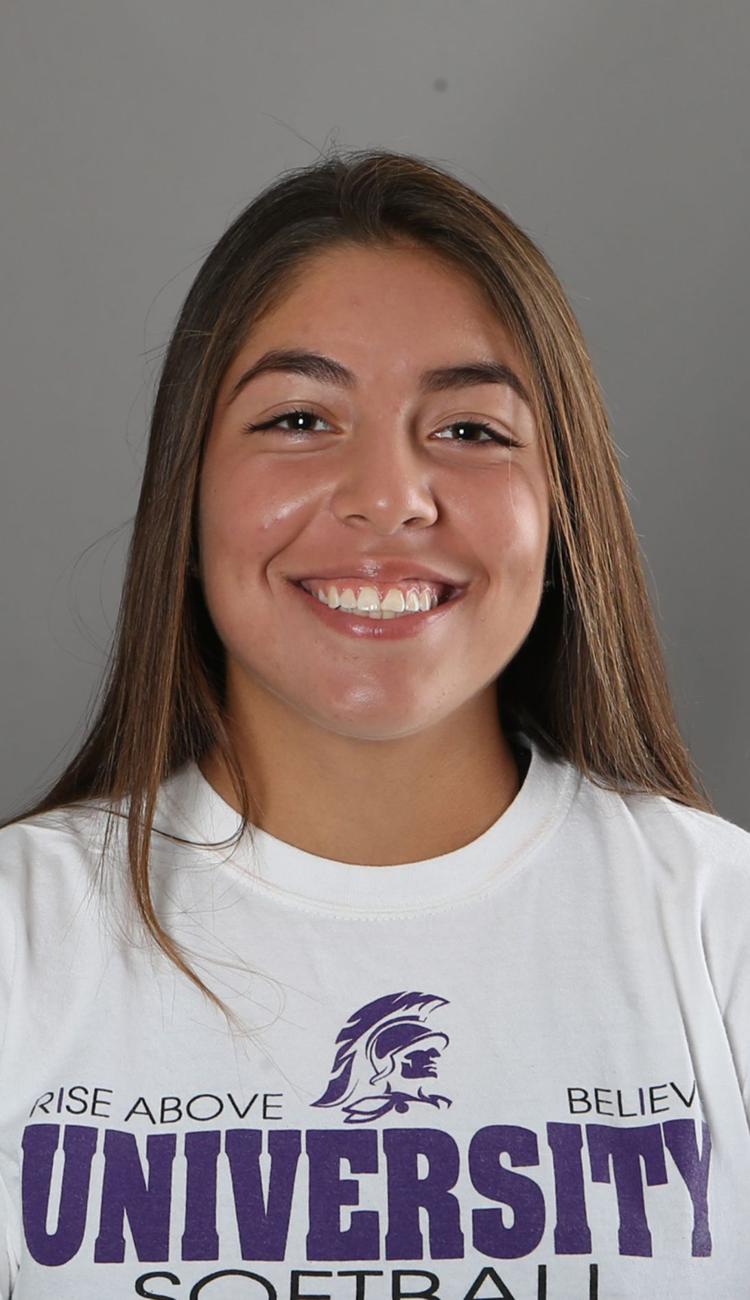 17-5A offensive MVP tallied .440 batting average, with 39 runs.
Steady hitter provided 56 hits, 50 RBIs for Lady Trojans.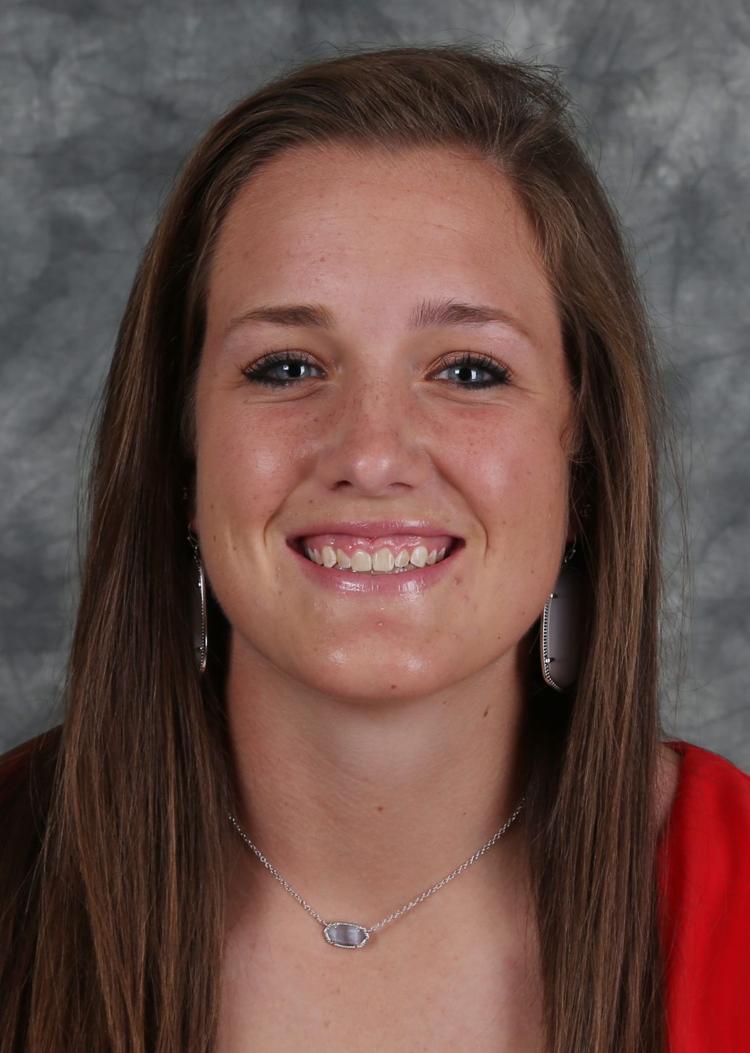 Houston signee went 28-2 for one of state's top 4A ball clubs.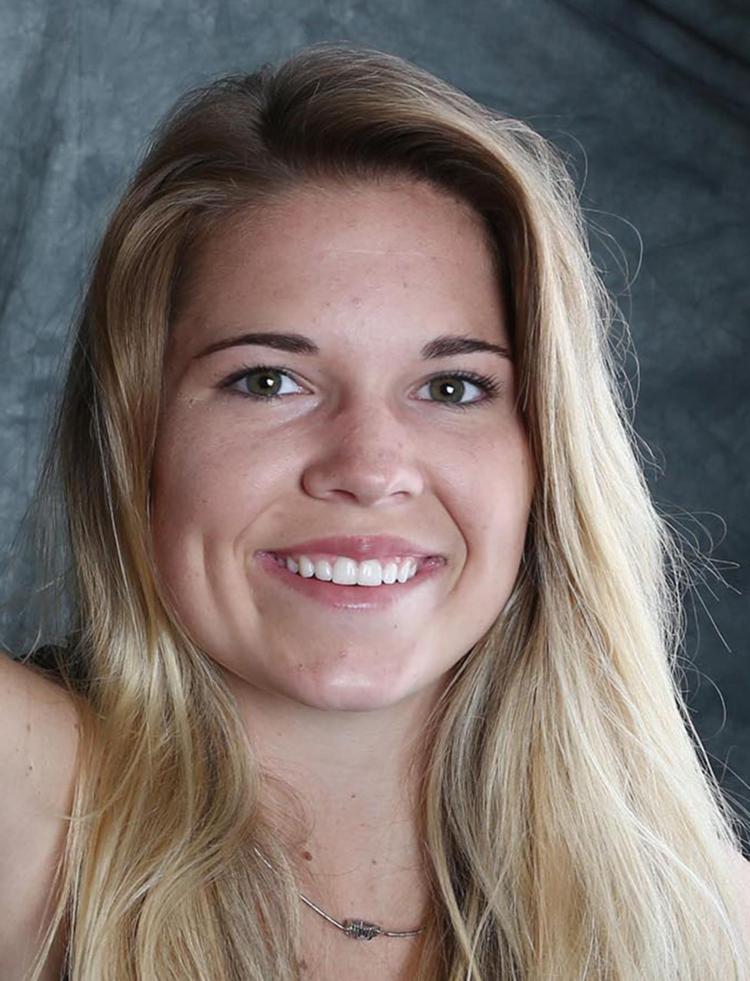 10-2A's pitcher of year hurled Pirates back to state again.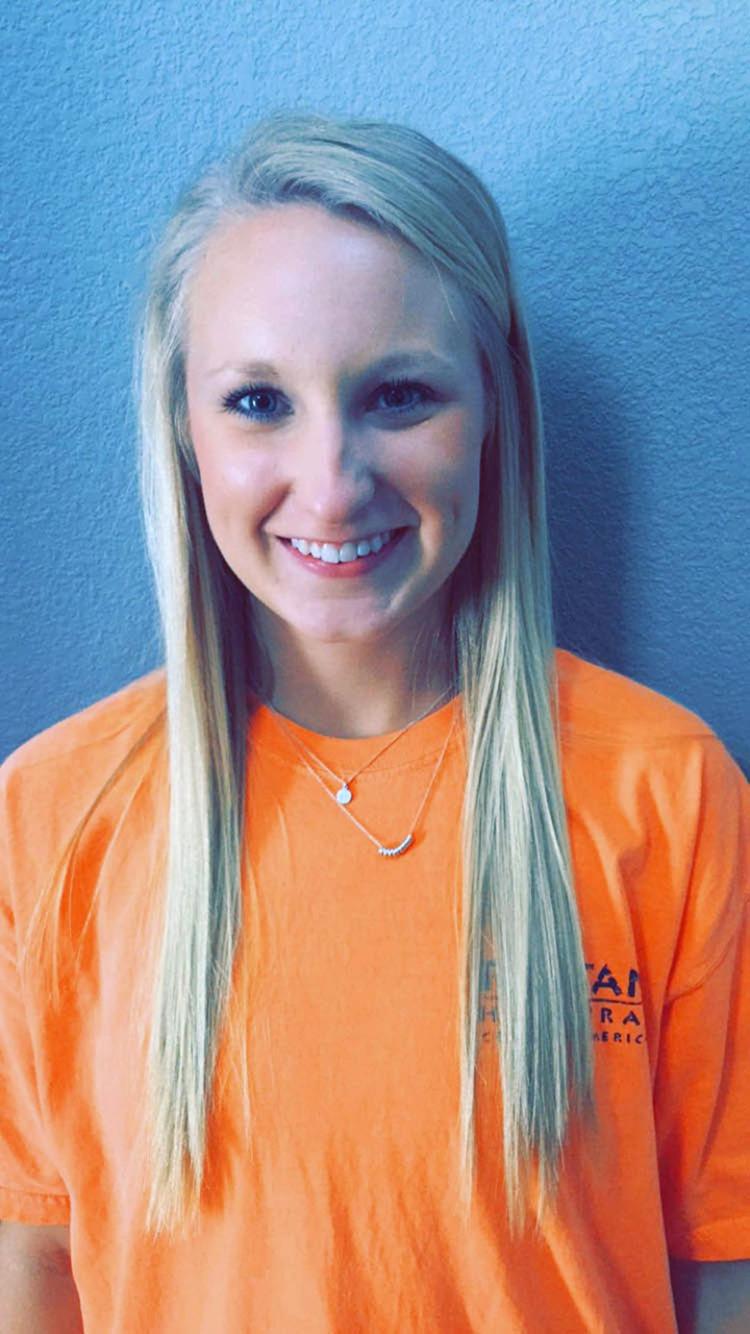 2 shutouts, 1 no-hitter in her 16-4 record.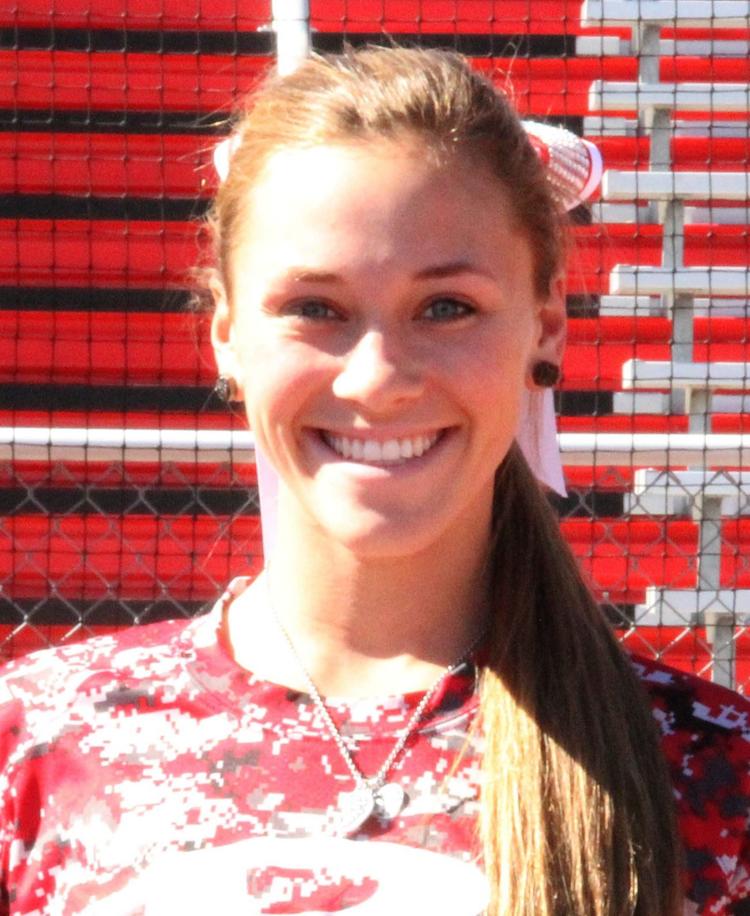 ACU signee set school strikeout record for 3rd time, fanning 354.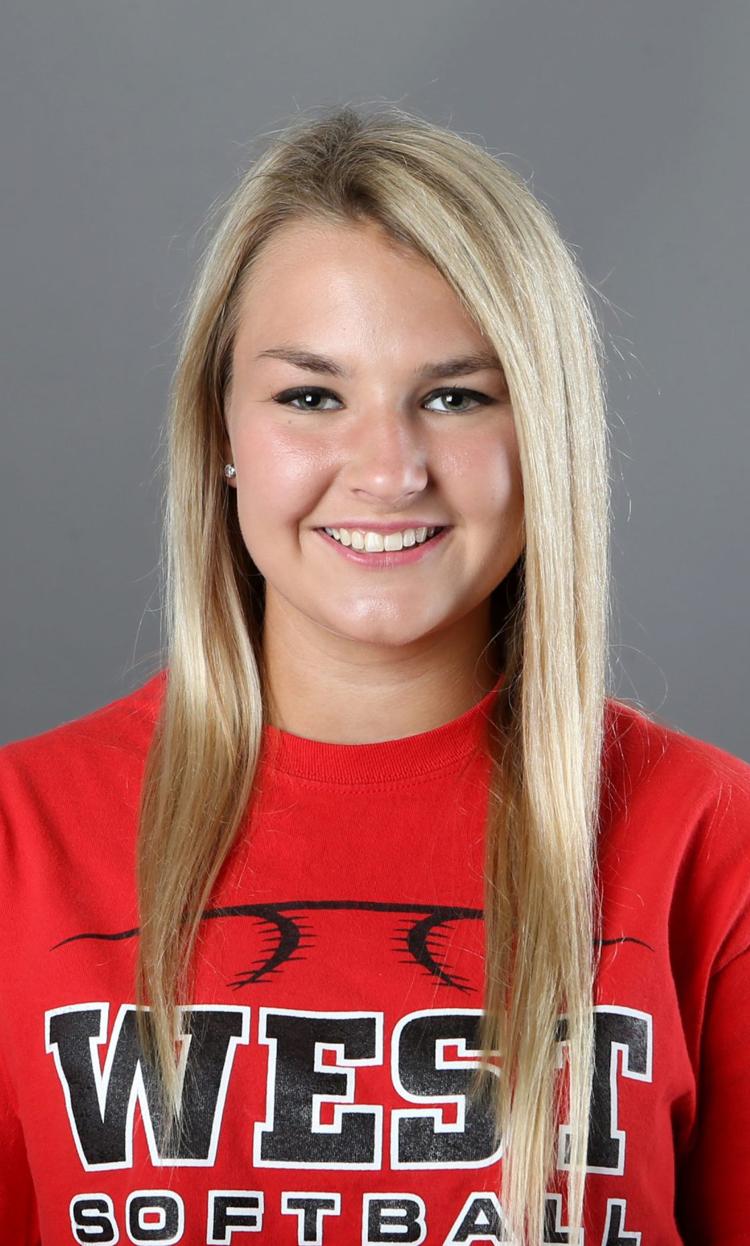 Spinning ball with aplomb, ace racked up 360 strikeouts.
Texas State signee excelled at plate, in circle as 10-2A MVP.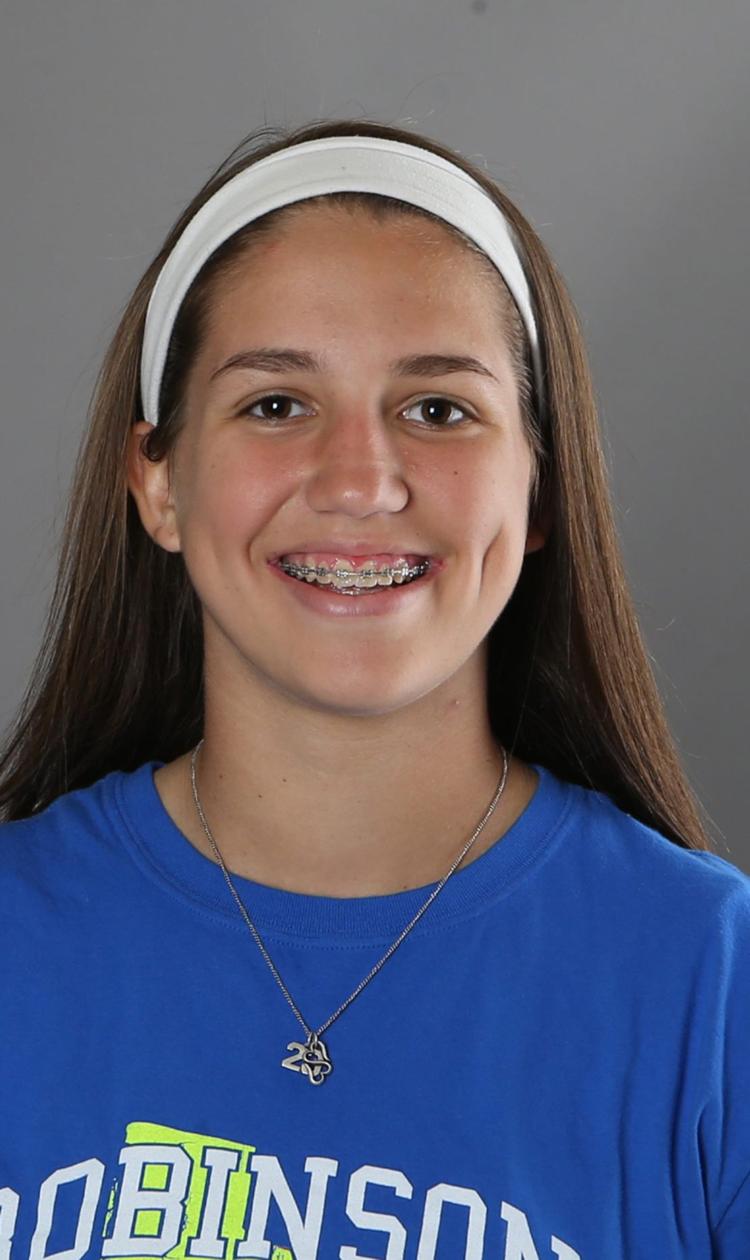 As leadoff hitter of potent offense, newcomer had 69 hits.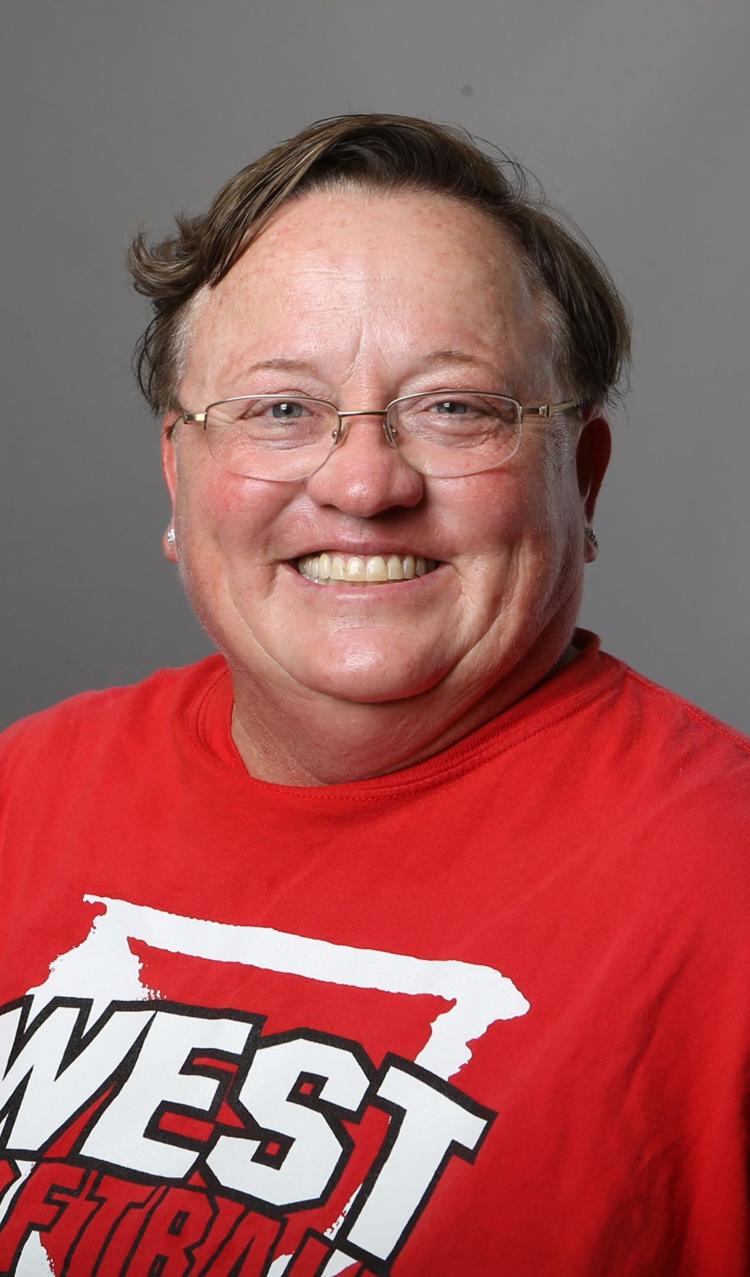 In midst of setting career wins record, also nabbed state title.