As the classic basketball film Hoosiers illustrates, the goal is 10 feet high no matter where you play.
What measures differently from gym to gym is the expectation level. In the basketball mecca of Mexia, the standard of acceptability shoots right on through the roof and into the clouds.
"The basketball tradition in Mexia is very big. It's never low at all," senior guard Curk Harris said. "You always have to go high above the standards. It's a small town, really. You're going to hear about it when you play bad, but when you play good you're going to hear about it even more."
This year, the chatter around town was downright musical. Before the season, it would have been fair to predict a rebuilding season for Mexia. Harris was the only starter back from a team that made its traditional stop at the regional tournament in 2014. In spite of that roster turnover, Harris carried the Blackcats back to that same lofty perch, while elevating his own play to previously unseen heights. For his efforts, Harris is the Trib's 2014-15 Super Centex Player of the Year.
"We only had two guys who saw minutes last year," Mexia coach Tony Leamon said. "We had a whole bunch of new players who had to adjust to the varsity game, who had to get up to speed. Curk was the guy who carried the load."
It shouldn't have surprised that Harris was tough enough to handle such heavy lifting. Besides operating as a hard-hitting safety in football, Harris had shown fortitude earlier in high school when he suffered a broken leg while attempting a dunk.
Harris didn't just rehab his leg while he was on crutches. He also seized the moment to revamp his entire jump shot. His father Curtis suggested the alteration, since Curk had utilized a push shot from the chest up until that point, a shot that figured to be easier to block, especially when the shooter is coming off a severe leg injury.
"I was outside with a brace on my leg, with one crutch, out there shooting, working on my form," Harris said. "Momma didn't like it, but we had to do it."
Considering Harris had already rehabilitated his leg and his jumper, a simple change in role as a senior provided a much less rugged challenge. His junior season, Harris started at shooting guard, basically operating as a spot-up shooter for a veteran-laden team.
This season Leamon needed Harris to expand his game. He started the senior at the point guard spot, while also working him in the post on occasion, given Harris' willingness to mix it up among the trees. Harris flourished with the added responsibility, nearly doubling his scoring average to 18.8 while also pulling down a team-best 8.6 rebounds a game.
"Last year I was mainly a shooter. This year I knew I had more roles," Harris said. "I had to fill in certain spots, more than what I did last year. The teammates who were coming in, they knew some things, but they didn't have a lot of experience. I had to show the way to them."
Early in the season, Mexia played in the prestigious Whataburger Tournament in Dallas. The Blackcats fell short of the title, but Harris said the team began to tap into their potential at that event.
Credit Harris with expanding that potential. He piggy-backed the Blackcats to the regional tournament with a memorable performance in the regional quarterfinals against Palestine. The Wildcats held a lead late in the game before Harris exploded in the final five minutes of regulation and in overtime. Harris poured in 41 points, knocking down 4 of 8 shots from 3-point land, as Mexia punched its ticket to Huntsville with an 81-78 win. He also plucked 11 rebounds and picked off two steals.
"Whatever we needed, I just had to make sure I did it, really," Harris said.
Several smaller colleges are courting the 6-foot-2 Harris, and he intends to decide on a destination soon. Wherever that may be, it had better promote an expectation of success, because Harris won't feel at home anywhere else.
"I'm a big competitor. I don't like losing at all," he said. "What I love about basketball is just the passion to be able to play. I'm blessed with talent. I've just got to use it."
Coach of Year: Rodney Smith, University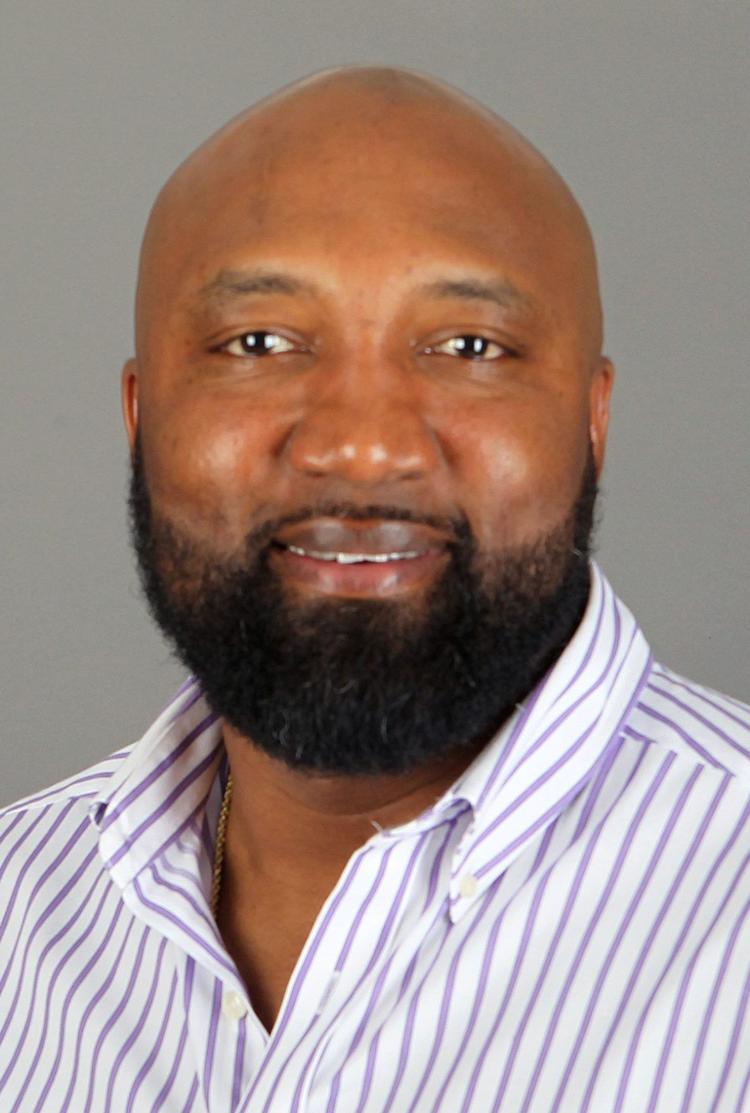 There is no official UIL basketball action during the summer. Still, the University Trojans used that summer vacation as a time to pour a foundation for this season.
Rodney Smith witnessed it every day. The players' commitment to offseason workouts was stronger than what Smith had seen in years.
"Man, I just think some guys stepped up last summer," Smith said. "They were like, 'We're better than this. The program is better than this.' They put it on their own shoulders, and it started in the summertime."
Those summer scrimmages and sweltering weightlifting sessions had lasting benefits once the season rolled around. University rebounded from a 10-18 season in 2014 to go 26-6 this year and claim the program's third district title in the past four years. Smith's precise architectural guidance in constructing that turnaround won him the Trib's Super Centex Coach of the Year honor for the first time in his career.
Smith tends to relate to his players well, as he's walked in their high-tops. A former basketball and football standout at both University High and Baylor, he appreciates the challenges athletes face. What he wants out of his players is a dedication to the team above all.
"When I played, it wasn't about how many points you scored, it was all about that W," said Smith, the Trib's Super Centex Athlete of the Year in 1993-94. "So I can relate to kids about sharing the basketball. I tell them all the time, if you're on and you score 25, that's great. But I don't care. I want us to share the basketball and find the open shot. I think that's what people want to come see."
This year's Trojans embraced that idea of evenly distributing the wealth. Six University players averaged between 5.5 points and 13.6 points per game, and just about everyone had their moment in the scoring spotlight.
It resulted in a district title and a return to the postseason, where the Trojans' shooting touch disappeared in an 83-67 second-round loss to Houston Madison. University missed a combined 35 free throws and layups in that defeat, Smith said. "That wasn't us," the coach said.
At least the Trojans are getting back to being themselves.
"We started three seniors, a junior and a sophomore, but two sophomores were the first ones off the bench," Smith said. "I'm just excited for these guys to get the opportunity: 'It's my turn to start. Let's see what I can do.' I think they'll be successful."
Newcomer of Year: Trajan Snell, Connally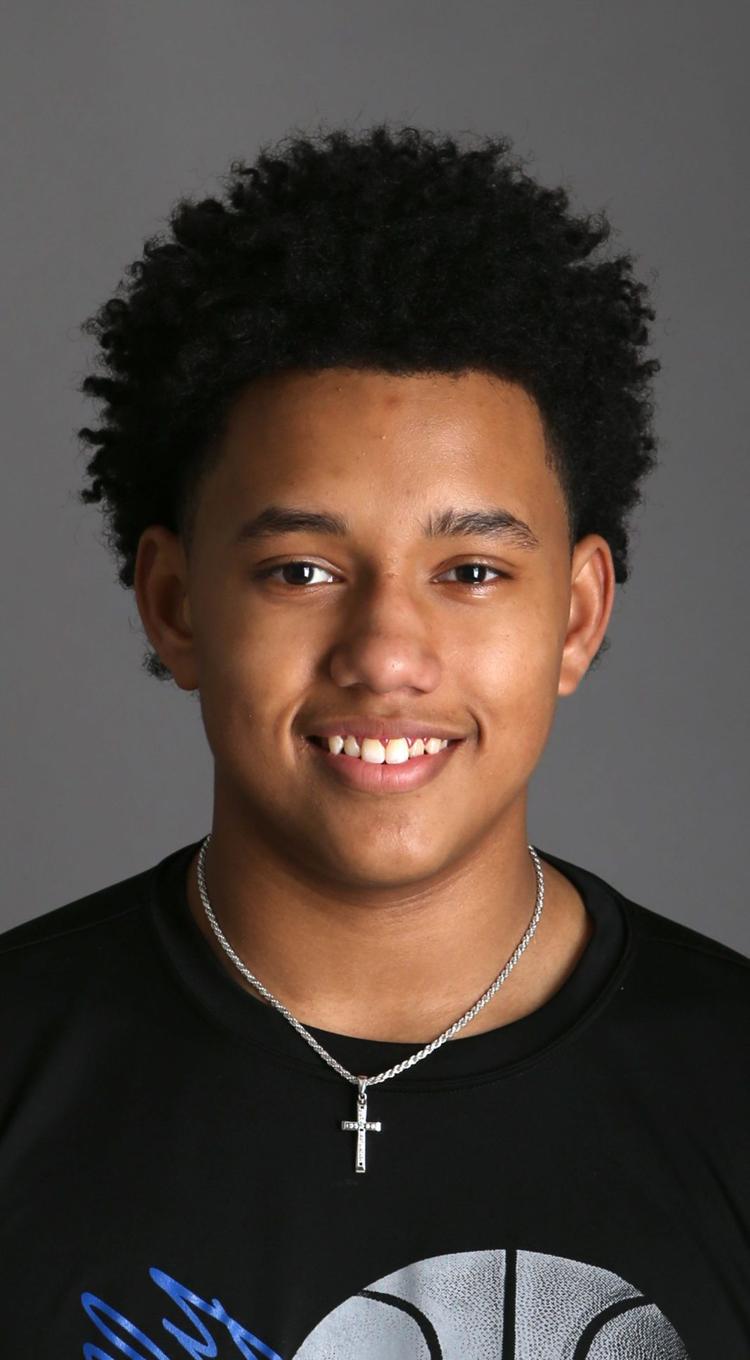 Trajan Snell heard the comments, and they bugged him. How could they not? When people are whispering, 'Aw, he's only on the varsity because his dad is the coach,' it's more than a little annoying.
At any rate, Snell made the naysayers eat their words. The Connally freshman proved himself more than worthy of his spot on the court, averaging 10 points, 4 rebounds, 4.5 assists and 5 steals in his high school debut. He was a unanimous pick for the Newcomer of the Year honor in District 17-4A, and now he's the Trib's top newcomer as well.
"I was just trying to be the best that I can be, trying to prove everybody wrong," Trajan said. "Prove my dad right."
Since his father Quinton has served as Connally's head coach for the past 16 years, Trajan has lived with basketball his whole life. He was chasing a ball around by a year old, and by age 3 he had figured out how to dribble a full-size basketball.
Despite Trajan's genetic disposition to the game, Quinton Snell resisted the idea of putting his son on the varsity as a freshman. But last summer Trajan proved he was ready with some stellar showings against top-flight AAU competition.
"I fought it, trying not to make it work," Quinton Snell said. "But as we looked at personnel and the needs of our team, I had to do it. He played on a travel team during the summer and the last three tournaments they played in the summer, oh my gosh, this guy turned it on."
That experience — and a feathery shooting stroke — served Trajan well this season. He shot 50 percent from the floor, 38 percent from beyond the 3-point arc and 70 percent from the line.
Suddenly, the kid whose worthiness had been called into question was now the kid who must be game-planned for at all costs.
"As the year went on, you could kind of tell the importance of him to our team," Quinton Snell said, "because the other teams' defenses tried to stay attached to him: 'We can't get let this guy get loose on us.' "
---
2015 SUPER CENTEX BOYS' BASKETBALL TEAM
FIRST TEAM
Pos
Player
Ht
Cl
School
PPG
RPG
Other
G
Curk Harris
6-2
Sr
Mexia
18.8
8.6
2.8 assists
G
Blaine Listach
5-9
Sr
Rapoport
22.8
6.3
1.7 steals
G
Blake Dwyer
5-11
Jr
Reicher
26.2
2.7
3.7 steals
G
Brandon Benson
6-2
Jr
La Vega
16.3
4.7
2.1 steals
G
Jordan Evans
5-11
Sr
University
13.6
1.6
1.5 steals
G
Zarious Wilson
6-0
Jr
Waco High
20.7
7.2
43% treys
G
Zay Dixon
5-6
Sr
Teague
19.7
3.7
4.1 steals
G
Jaylon Player
6-0
Sr
Methodist Home
26.6
6.8
4.8 steals
G
Ty Sadler
6-2
Jr
Vanguard
19.0
4.0
52% FG
F
Trevian Medlock
6-4
Sr
Mart
20.0
12.4
3.8 blocks
F
Josh Lockhart
6-1
Sr
Robinson
14.8
8.5
Off. MVP
F
Dillon Elder
6-4
Sr
Whitney
10.7
8.0
2.0 blocks
Player of the Year: Curk Harris, G, Mexia
Newcomer of the Year: Trajan Snell, G, Connally
Coach of the Year: Rodney Smith, University
SECOND TEAM
Pos
Player
Ht
Cl
School
PPG
RPG
Other
G
Israel Williams
6-0
Sr
Connally
15.0
5.5
3.0 steals
G
Paul Humphrey
5-8
Sr
Marlin
16.6
1.5
2.0 assists
G
Adam Beckner
5-10
Sr
Hamilton
13.0
4.0
5.0 assists
G
Amariye Blunson
5-8
Jr
La Vega
12.1
3.1
2.3 assists
G
Paul McCaw
5-10
Sr
Live Oak
16.0
5.3
2.0 steals
G
Matron Gerald
5-9
Jr
Mexia
12.8
3.1
2.8 assists
G
Tristan Sadoski
6-2
Jr
Whitney
13.0
4.0
62 treys
G
Darrius Colvin
6-1
Sr
Midway
13.2
4.0
91 treys
G
K. Cunningham
5-7
Sr
Fairfield
11.0
4.0
4.3 assists
G
Tyler Sawyer
6-2
Jr
Vanguard
18.1
3.5
50% FG
F
Ish Hook
6-5
Sr
University
10.9
4.6
1.1 blocks
P
Riley Reich
6-3
Sr
Hamilton
12.3
10.4
1.2 blocks
Honorable mention
Josh Carter and Drew Hayes, Bosqueville; Ben May and Brandon Mize, China Spring; Kristian Brown, Connally; Roderick Calhoun, Coolidge; Dominic Brackens, Fairfield; Kedrick James, La Vega; Chase Hill, Live Oak; Griffin Peevey and Jack Donahue, Lorena; Devlon Noble Jr., Marlin; De'Nerian Thomas, Mart; Austin Ferguson and Brandon Gange, Methodist Home; Tarik Ray, Mexia; Xavier Armstead, Midway; Kenny Wilson, Rapoport; Jacob Fuentes, Robinson; Tyrese Heard, Teague; Davis Boehm, Vanguard; Arbrick Jackson, Waco High
---
18-4A MVP spurred Blackcats' return to regional tourney.
High flier soared to 22 ppg, won 17-2A MVP for district champs.
Sniper put up 26 ppg, drilled 106 bombs from 3-point territory.
2-time district MVP excelled on both ends of court.
Carved up defenses for 13.6 ppg as Trojans snatched 17-5A title.
Deadly 3-point marksman hit 43%, averaged 20.7 ppg.
Diminutive dynamo harrassed opponents, averaging 4.1 steals.
Area's top scorer filled up nets to tune of 26.6 average, 6.8 boards.
Midway transfer made easy transition, shooting 52 percent.
18-2A MVP not only scored big, but blocked 3.8 shots defensively.
Crafty vet produced in paint despite frequently undersized.
Emerged as reliable low-post presence for district champs.
17-4A top newcomer displayed deadeye shooting in 1st season.
Former Trojan, BU athlete oversaw 16-victory increase.